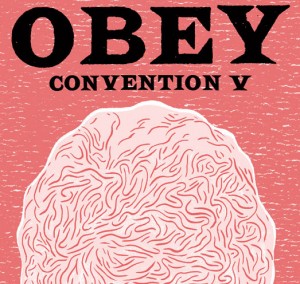 Obey Convention V
Halifax, NS

From the Haligonian envy of

Aaron Levin

:

After a year hiatus, Halifax's "festival of damaged music and art" returns to meld the minds of all fringeward folk daring enough to visit Canada's creative zenith. The Obey phenomenon is not one to take lightly; an intense weekend of dense and creative sinusoids exploding within the tightest and most inspiring community in Canada; a beacon for the creative minds and disparate youth scattered within isolated communities; four days of unadulterated experimental glory. Without hyperbole, it's one of the most important musical happenings in Canada, and we are most humbled to be a part of such a vision. So, please, join us in Halifax and seek salvation upon the alter of OBEY.

Full Festival Guide

# Weird Canada + Obey Showcase - Date: Friday, June 1st, 2011: - Location: The Bus Stop (2203 Gottingen Street, Halifax) - Price: $10 - Link:

facebook

- Lineup: -

The Pink Noise

(Montreal, QC) -

The Soupcans

(Toronto, ON) -

Feel Alright

(Calgary, AB) -

Crosss

(Toronto, ON / Halifax, NS) -

Monomyth

(Halifax, NS) -

DJ Aaron Levin

(Toronto, ON) # Full Obey Convention V Lineup Bloodshot Bill (Montreal) Bill Orcutt (San Francisco) Catbag Crosss Chief Thundercloud Eric Copeland (New York) Gary War (New York) Guilt Hey Mother Death Husband /Knife & The Drone Jay Crocker Jerry Granelli J fm (Toronto) Feel Alright (Calgary) Monomyth Nightfall Old & Weird The Pink Noise (Montreal) Random Cuts (ex-Mutators—Vancouver) Shearing Pinx (Vancouver) The Soupcans (Toronto) Strong Boss (Montreal) Torso Transfixed & Body Language (Montreal/Halifax) You'll Never Get to Heaven (London, ON) Wolfcow (Toronto) + DJ Aaron Levin and host Jesse Locke DJ B Wagg & General Purpose DJ Projections by J. Lachance Turret Room Video Installation by James Gauvreau

+ Many more installations, projects, zine fairs, record fairs, and other delightful happenings.