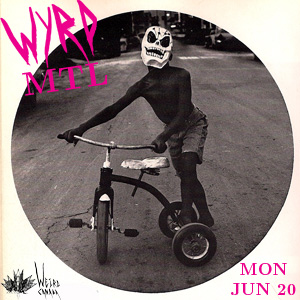 This month, Montreal's seminal experimental music festival Suoni Per Il Popolo announced a partial lineup for 2011, including the first wave of WYRD MTL. Today, we open the floodgates for a full announcement, including information on the MEGA MERCH BAZAAR. Much like our daily operation and its Western Canadian festival counterparts, this year's inauguration of Wyrd's expansion into Montreal will spotlight a coast-spanning cross-section of the Northernly subterranean. Over the course of a single jam-packed evening, 11 artists will bounce back and forth between the main stage and a special floor stage built specifically for this show. The infamous Grumman Taco Truck will be on-site all night after doors open at 7 pm, so come early and chow down on the best tacos in town! WYRD MTL will also include a MEGA MERCH BAZAAR featuring visual art, purveyors of printed matter and Canada's finest record labels. These will include Arbutus, Divorce, Fixture, Scotch Tapes, Bruised Tongue, Campaign For Infinity, Fluorescent Friends, Electric Voice, Hobo Cult, Fadeaway Tapes, Los Discos Enfantasmos, They Live We Sleep, Vintage Violence, Totally Disconnected, Planet of the Tapes, Dream Sequence and many more TBA. p.s. Keep your eyes peeled for the announcement of TWO MORE SURPRISE ARTISTS in the coming weeks! ///// français ///// La semaine dernière, le festival de musique expérimentale Suoni Per Il Popolo a lancé sa programmation partielle pour l'édition de 2011, incluant une brève mention à propos du WYRD MTL. Aujourd'hui, nous levons le voile sur la programmation entière de l'événement, incluant le MEGA BAZAAR. Dans l'esprit de weirdcanada.com et des WYRD FEST de la côte pacifique, cette édition inaugurale montréalaise mettra l'accent sur un éventail de sonorités underground nordiques, d'un océan à l'autre. Le WYRD MTL, c'est onze artistes qui se succéderont en un soir seulement, alternant entre la scène principale et une scène de parterre spécialement conçue pour l'événement. De plus, l'excellente taqueria ambulante Grumman sera aussi sur place toute la soirée, dès l'ouverture des portes à 19h. Arrivez tôt et profitez des meilleurs tacos en ville ! p.s. Gardez les yeux ouverts pour DEUX AUTRES ARTISTES incontournables qui seront annoncés d'ici les prochaines semaines.

/////////////////// WYRD MTL ///////////////////

Weird Canada et Suoni Per Il Popolo ... présentent... WYRD MTL June 20, 2011 La Sala Rossa Montréal, QC D'EON (Montreal, QC) ---> Terry meets Teddy Riley on a g-funk rollercoaster Lantern (Montreal/Halifax/Philadelphia) ---> Psych-blues freak-outs from the Zachary Fairbrother smoke ring Dreamcatcher (Montreal, QC) ---> Mind-smudging experimental spookery Duzheknew (Halifax, NS) ---> Jittery pop charisma and fourth world whirligigs Ultrathin (Montreal, QC) ---> Scab-blasting noise-rock from three skinny dudes Feral Children (Saskatoon, SK) ---> Lysergic bounce to the ounce and full-throated croons Hobo Expanding Cult Band (Montreal, QC) ---> A one-off collaboration from Hobo Cubes, Femminieli, JLK, Sundrips, Element Kuuda and more Headaches (Toronto, ON) ---> Cortex dream jams from the cyborg mind of Landon Speers Shortpants Romance (Montreal, QC) ---> Blitzkrieg garage punk and femme fatale charms Rob Feulner (Montreal, QC) ---> Will be providing his signature VHS warped visuals throughout the show.