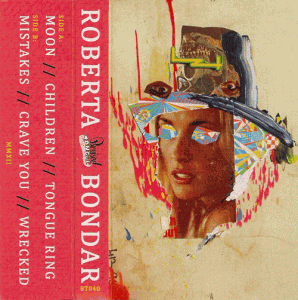 Roberta Bondar
Roberta Bondar EP
Ottawa, ON

From the outernationalism of
Jared Majeski
:
Man, space is
cool
. The sheer limitlessness and expanse makes it rife for uninhibited interpretation and dissection. I'm sure you've at least heard the name Roberta Bondar before – probably stuck somewhere in your
elementary subconscious
. Part of a historical menagerie of
noteworthy Canucks
, Bondar now shares a moniker with four young Ottawa weirdos. Their debut EP, a cassette released on heavy-feeling Bruised Tongue, is a hyper-modern swig of what Canadian indie may be decades in the future. With a couple tracks eclipsing the seven-minute mark, Roberta Bondar (the band) is retracing the steps of Canada's original femi-naut. While most of these songs venture deep into blackness ("Tongue Rings", "Crave You"), there certainly are some more solarized tunes. "Mistakes" stretches over fragments of
vogue 90s slackerism
while the oretic, half-time happiness of "Wrecked" seems right in the gimbals of
satellite-spinning no-wavers
. Remember: we're not alone, so let's keep
twirling, twirling, twirling
into oblivion.