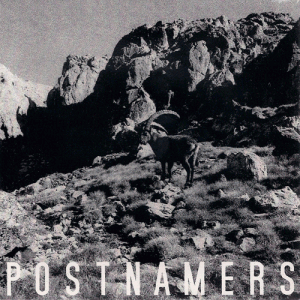 Matthew A. Wilkinson
Post Namers
(Self Released)
Winnipeg, MB

From the blasphemous antonyms of
David Ferris
:
That
Post Namers
is an album full of electronics seems at first like a departure within a departure, but actually makes perfect sense for somebody with a penchant for sacred imagery. Who, if not
Wilkinson
, with his predilections towards the sacred and profane, would benefit more from having the ability of make sound reverberate through limitless space and virtual cathedrals? Just as places of religious significance were architecturally designed for
acoustics
, Wilkinson erects 13 places of worship for his songs; each a unique spiritual monument, jutting upwards like some ecclesial finger and decorated with demented frescoes. Perhaps he recorded "Last Summer I Moved Venus" in the Hagia Spohia, where the holiest of
Benedictine
vocals float through reverent chambers of seemingly infinite dimensions. "Skyscrapers in Paris", with its spindly
Deceit
guitars and unrelenting ghost chant, could have been recorded in the Wat Rong Khun or
St. Basilica
. Essential devotional listening.