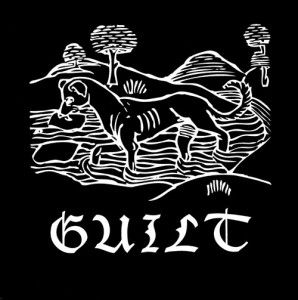 Guilt
Guilt
(Self Released)
Halifax, NS

From the haggard fiction of Graeme Langdon:

There are some records that speak for themselves, but others bellow, bark, and bawl as if something more than your simple satisfaction was at stake. With their first effort as Guilt, Halifax's Matthew Grimson and Craig Leonard have assembled an astonishingly unique cycle of robust industrial music from little more than synthesizer and electronics, drum machine, and Grimson's sputtered prose-poetry. By foregrounding this last element the album aligns itself with other records that similarly privilege the demented musings of their literate masterminds such as Stephen Jesse Bernstein's

Prison

album and

A Lot of People Would Like to See Armand Schaubroeck… Dead

, but Guilt conjures a more mutant music through the stretched notes, plosive bursts, and maniac cadences of Grimson's unique delivery.

[audio:http://weirdcanada.com/binary/Weird_Canada-Guilt-Piggy.mp3|titles=Guilt - Piggy] Guilt - Piggy

This raggedly original record is equally remarkable for the fine line it cuts between the industrial revolutions you might enjoy from that clutch of records what darkens da Expedit between yer Phycus and Psyche holdings and the chilly synth music some Montrealers have been fashioning to beat the sticky heat of the Maple Summer. It's a stretch to associate Guilt with either homegrown Corpus (or, Corpusse, in Canadian English), but goddamn if there ain't something exemplary about this exceptional fuckin' record, which burrows through the anhedonic bleakness and vexed convictions of our era and returns with a glimmer of hope for music, ideas, and the attitudes that hold 'em together in this besotted land. You may know Leonard from his endeavors with Mitchell Wiebe and Dave Ewenson in the industrial-rhumba trio

Catbag

, but he earns his keep as an artist and educator at the Nova Scotia College of Art and Design. His visual art suggests an interest in systems and information entropy, and these concerns are evident in his nearly-structural contributions to this project. The duo's other half, Grimson, is an almost criminally under-celebrated icon of the East Coast music scene with a repertoire of some 900 recorded songs to his name and connections to such folks as the Sloan boys (they cover a tune of his on their pseudo-party album) and Joel Plaskett. Over the years, Grimson has cultivated the image and sounds of a saltier Warren Zevon, but Guilt represents a surprising new tangent for the man, with only his baroque lyricism uniting past and present.

[audio:http://weirdcanada.com/binary/Weird_Canada-Guilt-Adult_Braces.mp3|titles=Guilt - Adult Braces] Guilt - Adult Braces

Beneath Grimson's poetry, Leonard's roughly tailored moves give the impression of an impeccable industrial outfit. While the man certainly looks fetching in a ruffled tuxedo shirt, he plays it relatively austere here, with programmed percussion serving as the propulsive base for his chopped and screwed synth-bass figures. On the album's opener, for example, a cardiac beat is slowly deconstructed through the introduction of a four-note synth line, piercing sine waves, and overdriven guitar squeal. On "Piggy", the beat shuffles to the edge of the dance floor as a walking bass line is jostled about on a detuned synthesizer. And on "Skin Islands", a mantric pulse is conjured with only syncopated synth notes. Through the careful layering of saxophone skronk and electronic bleeps the song builds up to a drop that will leave you wondering if The Units knew a lick about high-pressure days. On the B-side, "The Trunk" is the most atmospheric song-poem on the album, with a distant rumble and a sparse piano line providing its skeletal rhythm. It is a haunting number that ends abruptly when Grimson poses an enigmatic question. After that, the duo launch into a Sightings-esque jammer with the positively pigfuck assault of "Adult Braces." Lyrically, the album is a haggard tramp through the muck of a great many topics, though a fascination with parricide provides the work with something of an organizing principle. Over the course of the album, the great crime is addressed in literal and figurative terms, as mere act and the stuff of both atmosphere and politics. Take "Midnight Hanging." On the album's opener Grimson sets the mood with a bad trip bricolage of references to the authors, characters, and scenarios of wantonly hardboiled and noir fiction. "A witness handler, I'm a witless Chandler behind Richard Starks smile", he bellows. And through this creative confusion of patrimony, he is able to reference some of the genre's great figures and double the subversive take on authority that is the genre's central premise. "Just like when Mike Hammer breaks a woman's jaw," he coos, "the Spillane breaks." In "Piggy," parricide is confronted in its literal sense, with the song's eponymous narrator completing the act that ultimately stumps the empowered axe-man in Meatloaf's "Wasted Youth." "I killed my parents," proclaims Piggy; "I'm covered in their blood." But what can a Pig do when his parents are "a bunch of fucking assholes" and his father says he shouldn't smoke pot? The song frightens because it follows the youthful rebelliousness of punk rock to the end of the line; but Grimson is not afraid to consider the consequences of such a piss in the abyss as things go sour for the hapless Piggy when he is caught in flagrante. But whereas Oedipus is blinded for his crime, the ailing figment of Grimson's imagination is left speechless and confined to a wheelchair, with his caretakers unable to "tell if he farted or spoke." Some of Grimson's most humourous lines come when he extends this parricidal hostility to the lordly authority of rock 'n' roll's supposed heroes. "I beat up Mick Jones after the sound check," he moans on "Midnight Hanging," but he "thought the Clash were shit" so this offense can be excused. In fact, they sounded "worse than Jagger's digital dick," so the persecution was practically warranted. And yet, Grimson reserves some of his most biting critique for the impotent institutions that maintain the culture of mediocrity in which these figures thrive. The CBC, for example, "is what a moron sees when he does not know what he has to be;" and who could argue, with the fine work our Harperian Candidate has wrought on the once noble broadcaster? How long, one wonders, till the damn service is administered entirely by the establishment functionaries that frighten poor Piggy because "None of them are even unfaithful?" "Even to Joni," as Grimson growls; "and Joni sucks, she's awful, she's worse than Lou Reed… And you gotta try pretty hard to be worse than Lou Reed!"

On the backside of the album, the logic of the parricidal act is extended to consider the coup d'état, with a bleary-eyed Grimson imagining himself as the "intellectual" amongst a FLQ splinter-cell that is threatening to blow up a disco after taking its DJ hostage. As the situation intensifies, the character comes to question the cause before fleeing to Greenwich Village where he can live like a draft dodger in reverse, with his fellow Manhattanites unaware of his past. Interestingly, Grimson abandons the fiction at the song's mid-point so that he can reminisce about his time as a youngster living in Montreal during the October Crisis. "The FLQ was the first punk rock I ever heard," he recalls of his time "in an official shut down, [a] police state… Thanks Mr. Trudeau." Une goutte de sang tomba sur le suaire, as they say… but was that Hugo or Huggy Bear? At any rate, it would be worth your time to reflect on the apparently coincidental origination of this song and this moment in Grimson's former province, where an idiot premier and his corrupted party have been turning pirouettes on our civil liberties for months now. And if you are willing to agree that this track might have something to say about the connections between this era and that, you might also note how Jacqueline Lachance's video for "Piggy" recalls Joyce Wieland's Pierre Vallières through its tight close-ups on a mouth speaking the words of this percipient mouthpiece. Of course, Grimson has a whole lot more to say on the album, so you'll have to pick it up to get a fuller sense of what he's on about. Over the course of the record's five long songs he conjures the uncanny image of a frightening and noble proposition: youth's disaffection maintained into middle age. Add Leonard's punkish provocations to the mix and you have yourself an album that matches the severity of our times with an industrial beatitude that is the diametrical opposite of the empty pleasantry that has come to dominate the so-called underground in our country. There is something more than mere gratification at stake in Guilt's vorticular shuffle, and they are not afraid to put it all on the line with this singular first album.