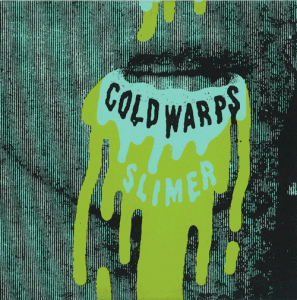 Cold Warps
Slimer
(Fundog)
Halifax, NS

From the dream creepery of
Alison Lang
:
Sometimes it's good to take a break to keep the people hungry, and in the case of Halifax's sweetie pop-punkers Cold Warps, absence makes the heart grow fuzzier. The foursome — who currently maintain a long-distance relationship with their Ottawa-based guitarist Dom Taylor — released a tantalizing
smattering of demos
and a
Cheap Trick cover
after their last tape, and
Slimer
marks their first physical release in around two years. While the songs remain breezy on the surface, with the usual hooks that unspool for days, the music itself boasts a bit more gnarl and heft - a tiny bit grungier, a little heavy and
head-y
. It's August now, so let's close with a cottage analogy: the boys still have their feet planted
on the beach
, but
Slimer
dips a toe into the swampy shit at the bottom of the lake —
the secret of the ooze
.