Tag: zoe christmas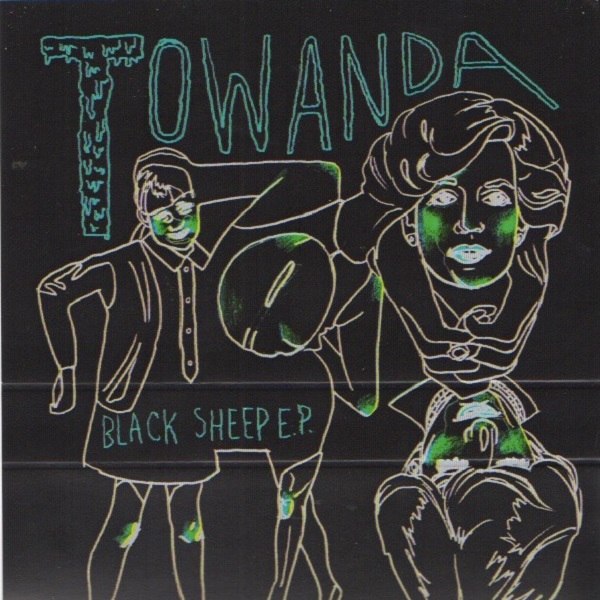 Towanda
Black Sheep
Montreal, QC
From the visual reveries of Simon Provencher:
Evoking rich gouache painted by the best preschoolers in the class, Black Sheep is lively, rich, energetic and almost naïve in its simplicity. This album gives us a powerful brushstroke of vocals that resonates through textured distortions, creating impressive feline rhythms. Without a doubt, there is a ton of creative genius behind and inside the haze of Towanda.
Des rêveries plasticiennes de Simon Provencher:
(From the Bescherelle of Zoë Christmas)
Rappelant une gouache épaisse, peinte par le plus talentueux des enfants de la garderie, Black Sheep est vif, immédiat, énergique et presque naïf par sa simplicité. On obtient, dans la galette, un puissant coup de pinceau vocal étoffé par des distorsions aux textures de carton mouillé et des rythmes fauves redoutables. Un génie créatif indéniable est évident derrière et dans le fuzz!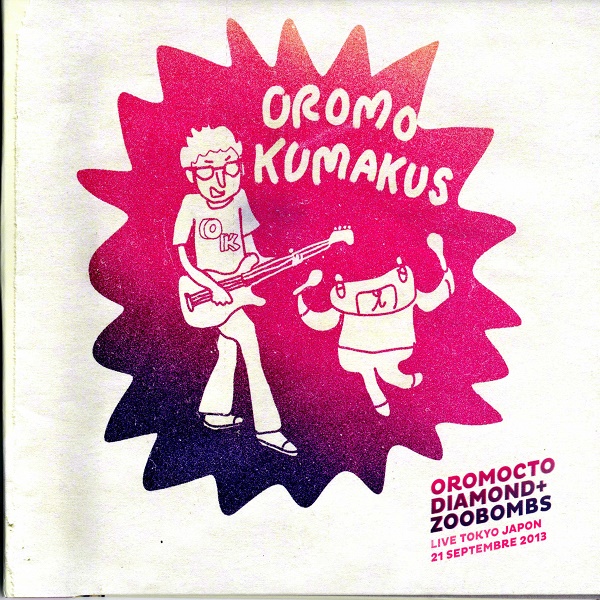 Oromocto Diamond / Zoobombs
Oromo Kumakus
(P572)
Quebec, QC
From the degenerate monstrosity of Benoit Arcand:
The brute energy of Oromo Kumakus gushes from everywhere and intrudes on your favourite paradoxes: time and space. Zenon is shooting herself in the foot while Oromocto Diamonds fly to Tokyo for a one-night collaboration – a 22 hour flight for 22 minutes of music – with the brute but docile force of Zoobombs.
Everything dilates, everything implodes. The music, fueled by the promise of the last night, dilapidates its energy into the spirit of being snapped up by eternity. The old wounds of Zenon crackle in the roll of rock past and future. The fire is saved.
De la monstruosité dégénérée de Benoit Arcand:
(From the Bescherelle of Zoë Christmas)
L'énergie brute d'Oromo Kumakus fuse de partout et piétine les plates-bandes de vos paradoxe préférés; le temps, l'espace : Zénon se tire dans le pied pendant qu'Oromocto Diamonds s'envole vers Tokyo pour une collaboration d'un soir –un vol de 22 heures pour 22 minutes de musique– avec la force brute ductile de Zoobombs.
Tout se dilate, tout implose. La musique, attisée par la promesse de la dernière nuit, dilapide son énergie dans l'espoir d'être happée par l'éternité. Les vieilles blessure de Zénon grésillent dans le roulis du rock passé et à venir. Le feu est sauf.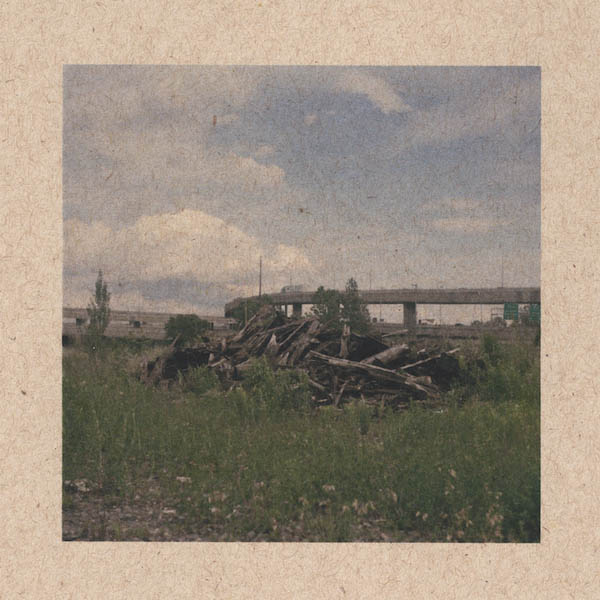 Big Brave
Feral Verdure
(Build a Fort)
Montréal, QC
From the survivalism of Nicolas Coutlée:
(Translation from the Bescherelle of Zoë Christmas )
At arms, brothers and sisters. The intruder is closing in. Clouds besiege the city, but the rain refuses to fall. Muffled explosions leak from some. Heavy air glides like lead in the deserted streets, while sad cries escape from portholes. The enemy lingers, but the time to conquer all has come. The living will be missed as the soldiers slay one another. And when all is dead, the rain will wash away the waste and will restore the flora and fauna. A prophet of misfortune, Big Brave proclaim their Earth-shattering return. A brutal and primitive requiem for civilization in damnation.
Du survivalisme de Nicolas Coutlée:
Aux armes, frères et sœurs. L'envahisseur approche. Les nuages assiègent la cité, mais la pluie refuse de tomber. Seules éclatent quelques sourdes déflagrations. L'air lourd plane comme un parfum de plomb dans les rues désertes, alors que des chants tristes s'échappent des soupiraux. L'ennemi tarde, mais le temps vient à bout de tout. Les vivres viendront à manquer, les soldats, à s'entre-tuer. Et quand tous seront morts, la pluie nettoiera les décombres et, avec elle, reviendront les bêtes et les végétaux. Prophète du malheur des uns, Big Brave annonce ce retour forcé à la terre. Requiem brutal et primitif pour civilisation en perdition.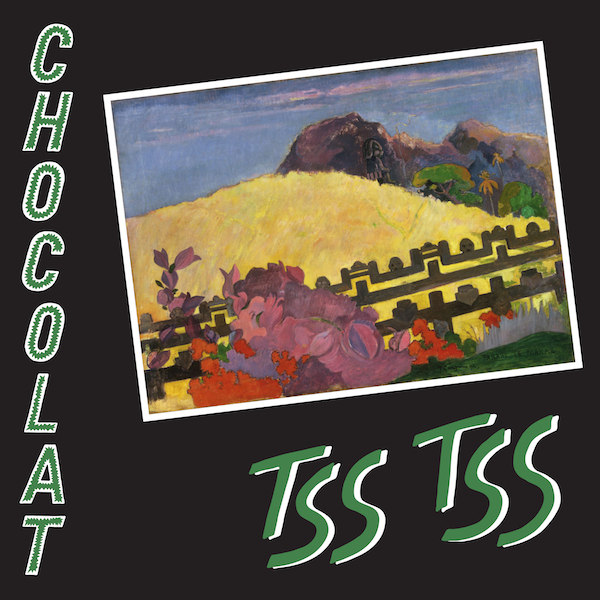 Montreal's addictive Chocolat have proved it again on Tss Tss.
Chocolat
Tss Tss
Montréal, QC
From the sweet tooth of Nicolas Coutlée:
(Translation from the Bescherelle of Zoë Christmas)
All kids love chocolate, sugar, the innocent and comforting taste of Caramilk – perfect for balancing out a daily Ritalin intake. But with age, tastebuds develop and palettes refine. New bitter desires emerge. What we thought was immutable and childlike becomes convoluted with sweet, aphrodisiac flavors, making the senses move beyond repeated riffs and "Montagnes Sacrées.".JPG) Fluttering eyelids, dribble on the chin, the chocoholic nod of the head in a hypnotic trance. A subtle aftertaste of peyote you say? As soon as it starts, the piece is devoured. Watch out, physical dependance on Chocolat is a scientifically proven fact!
De la dent sucrée de Nicolas Coutlée:
Tous les enfants aiment le chocolat, le sucre, le goût innocent et réconfortant d'une bonne caramilk, parfaite pour contrebalancer le ritalin quotidien. Mais en vieillissant, les papilles se développent, le palais se raffine. De nouveaux désirs d'amertume apparaissent. Ce qu'on croyait unidimensionnel, immuable et réservé aux gamins se complexifie d'arômes suaves et aphrodisiaques, fait voyager les sens par-delà les notes répétées et les montagnes sacrées.JPG). Les yeux révulsés, un filet de bave au menton, le cacaomane dodeline de la tête en pleine transe hypnotique. Subtil arrière-goût de peyotl, vous dîtes? Aussitôt entamée, la tablette est engloutie. Attention, la dépendance physique à Chocolat est un fait scientifique avéré!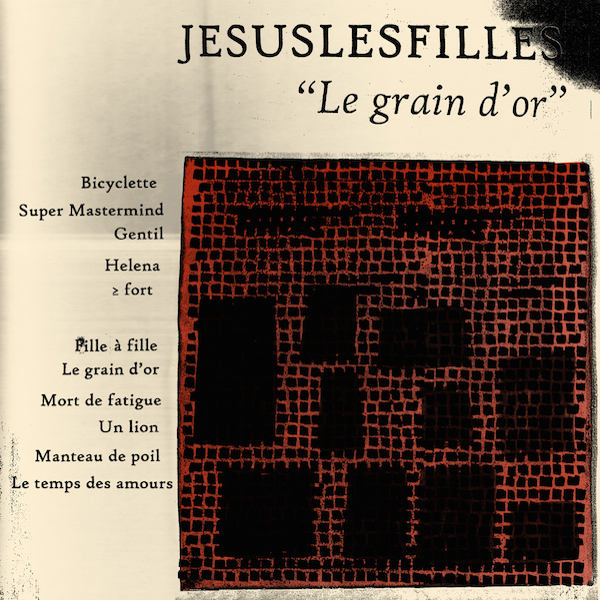 Montreal's Jesuslesfilles hold the secret to eternal youth with "Le grain d'or".
Jesuslesfilles
"Le grain d'or"
Montréal, QC
From the creatine diet of Nicolas Coutlée:
(From the Bescherelle of Zoë Christmas)
"Eat your crust if you want to grow up." Mother's advice was taken by Jesuslesfilles. Stuffed with growth hormones the band of lost children has built muscle to their sound since their last feast: creatine-doped production, protein guitar riffs and melodic milkshakes, the fat percentage on this new body is next to nothing, while their prepubescent voices still haven't broken. Do Jesuslesfilles hold the secret to eternal youth? The essence of juvenility in a pill, "Le grain d'or" helps maintain a healthy immaturity.
Du régime à la créatine de Nicolas Coutlée:
« Mange tes croûtes si tu veux être grand plus tard. » Les conseils de môman, Jesuslesfilles les a écoutés. Gavé aux hormones de croissance accélérée, le son de la troupe d'enfants perdus a pris du muscle depuis son dernier banquet : production dopée à la créatine, riffs de guitare protéinés et shakes de concentré mélodique, l'indice de masse grasse de ce nouveau corps frôle le zéro, mais les voix prépubères des bambins devenus colosses n'ont toujours pas mué. Jesuslesfilles détiendrait-il le secret de l'adolescence éternelle? Eau de jouvence en comprimé, "Le grain d'or" contribue au maintien d'une saine immaturité.
---