Tag: zen mystery fogg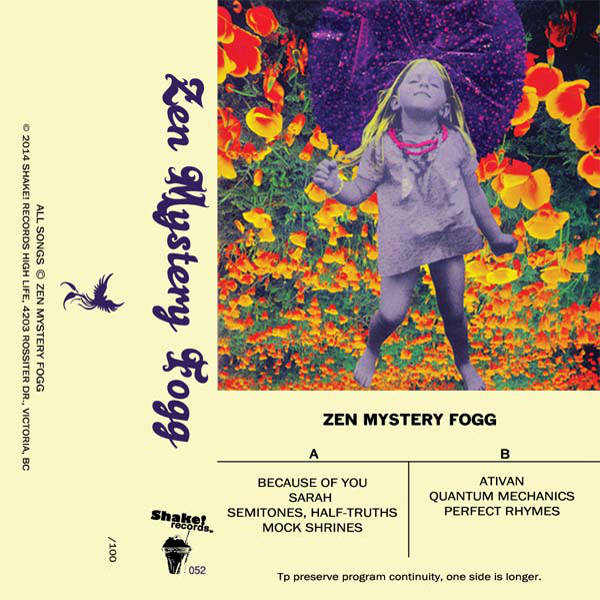 Zen Mystery Fogg
Zen Mystery Fogg
Vancouver, BC
From the smeared sneer of Taylor Benjamin Burgess:
Get your last glimpse before the sun goes down — Zen Mystery Fogg are twice as hard to see amongst the shadows. They like to be hidden and crank up the haze. Their fuzz and reverb pedals are their black lipstick smeared across a sneer. You wanna hate but you just oh-so-adore. Choose to give in, and this cass'll give you a great big smack on the head. You'll be seeing stars after your nights turn to daze.
Du rictus barbouillé de Taylor Benjamin Burgess:
(Traduit par Jessica Grenier)
Jetez un dernier regard avant le coucher du soleil – Zen Mystery Fogg sont encore plus difficiles à voir dans l'obscurité. Ils aiment épaissir le brouillard pour se cacher. Les pédales de fuzz et de reverb sont le rouge à lèvres noir qui barbouille leur rictus. Tu aimerais les détester, mais c'est tellllement adorable. Si tu te laisses séduire, tu recevras un beau gros bec sur le front. Même quand la confusion aura supplanté la nuit, tu verras des étoiles.

Zen Mystery Fogg – Because Of You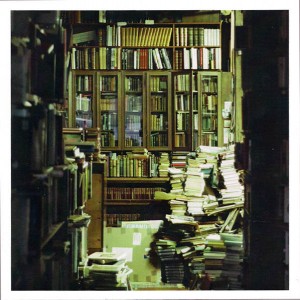 Zen Mystery Fogg
Racoon b/w Detour
Vancouver, BC
From the foggy dome of Kyle Valade:
Sweet but far too short, the party that is the Racoon 7" burns fast, fuzzily and with a hint of sentimentality. Chase Franson's vocals don't layer on top of the noise but come from right inside it, like a democratic haze of sound that also harbors a banshee, floor tom, and some real good garage rock. The lyrics are difficult to pick out, but that seems to be calculated, enhancing the dream-like substance that Zen Mystery Fogg has created. Not dream-like in a Mazzy Star kind of way, more like when you're trying to remember one of those odysseys that happens once every couple of years after last call. Kingfisher Bluez sure knows how to pick 'em.
Du foyer brumeux de Kyle Valade:
(Traduit dans la rêverie par Audrey Roy)
Douce, mais clairement trop courte, la fête que nous propose le Racoon 7po s'embrase rapidement en fumée avec une certaine touche d'émotions. La voix de Chase Franson ne couvre pas la chanson, mais vient plutôt de l'intérieur, comme un son sortant d'une épaisse brume qui hébergerait également une banshee, un tom sur pied et du bon vieux rock de garage. La difficulté à comprendre les paroles semble avoir été prévue par Zen Mystery Fogg dans le but d'intensifier l'essence rêveuse de leur création. Ce n'est pas comme le type de rêverie que nous donnerait Mazzy Star, mais plutôt comme lorsqu'on essaie de se souvenir de ces odyssées, à la sortie des bars, qui n'arrivent qu'une fois aux quelques années. Kingfisher Bluez a un talent incontestable pour les dénicher.
---