Tag: zebra pulse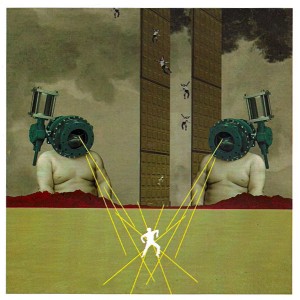 Zebra Pulse
Heh, Vay Bae-Bays
Edmonton, AB
From the bald ego of Jared Majeski:
Now comfortably ensconced in four-piecedom, Peace Country picaros Zebra Pulse have a new full length of electronic boundary-making: phonetic digital trills, cracked vinyl fuzz and percussive gangles steering the ship (close) to oblivion. Possibly less harsh but more layered and clear, Heh, Vay Bae-Bays is somewhat surprisingly their first studio recording, and if the song titles are any indication, proves to be a weird, funny and uncomfortably profound experience. This latest noise confessional was released to the world the only way possible: enlisting a droid-inspired street artist and hiding said droids along with cassettes of b-side studio recordings around the city for people to find.
Have you ever taken a trip and not known at all where you were heading? That's the kind of steeze oozing from the Zebra Pulse gaskets. Just another day in The City of Champs.
De l'ego flagrant de Jared Majeski:
(Traduit par Natalie Binda)
Maintenant confortablement constitué en quatuor, Zebra Pulse, les picaros de la Rivière de la Paix, repousse les frontières de l'électronique avec leur nouvel album : trilles vocales numériques, crépitements de vinyle fuzzé et rythmes dégingandés guidant le navire jusqu'à l'oubli (ou tout près). Sans doute moins cru mais plus limpide et texturé, Heh, Vay Bae-Bays, étonnamment leur premier enregistrement studio, se révèle, si on se fie aux titres de chansons, une expérience bizarre, drôle et inconfortablement profonde. Ce plus récent cri du coeur noise a été livré au monde de la seule façon possible : avec l'aide d'un artiste de rue passionné de droïdes, des cassettes de b-sides accompagnées des dits droïdes ont été dissimulées en ville afin d'être retrouvées. Avez-vous déjà fait un voyage en ignorant votre destination? Voilà exactement le genre d'attitude pénarde qui émane de la mécanique de Zebra Pulse. Un autre jour dans la Ville des Champions.
Zebra Pulse – The Rusted Bones of Home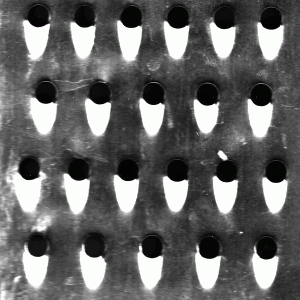 Various Artists
2012
Edmonton, AB
From the deaf ears of David Ferris:
In Edmonton — a city where the fringes often seem unusually frayed — there is a Galapagos-style splitting off from the rest of reality. This has clearly manifested itself in the sheer strangeness of its experimental/noise scene, which exists without any scene-politics, division or egos: just a bunch of genuinely weird people getting together once or twice a month to make some really "out-there" shit under the guise of the Ramshackle Day Parade shows. The 2012 Ramshackle compilation pulls a raw core-sample out of this underbelly of outsiders-among-outsiders.
Listen carefully and the following will eventually become quite audible, coming into focus like a Magic Eye: dads loading their massive home-made analog synthesizer rigs into the backdoor of Bohemia; stoned overtone singing in sewer pipes (perhaps the work of some C.H.U.D.-like entities); every fourth performer burning incense and every fifth performer requiring decoder rings and/or 3D glasses; classical composers trying to make your fucking ears bleed; people listening without earplugs, risking tinnitus but savouring it like sex without a condom; a strict 5:1 contact mike to saxophone ratio; dozens of people collaboratively blasting noise generated by custom software on their smartphones, which have been networked together by a performer; Fluxus gags; shows with loyal turnouts of 5-60; revisionist Noir and cosmic keys; sometimes a drunk random in the back, yelling "play some songs"; Potier piling layers of brutal scrapings onto further layers of brutal scrapings; performers with crippling stage-fright playing underneath blankets like trembling ghosts; a bizarro world where extended technique is the norm and normal musicianship has become alienating; the homeless and marginalized constantly pounding at the venue's glass window, peering in, drawn to something that sounds universally unfamiliar, then coming into the front door and trying to barge in for free. Check it out.
Des oreilles sourdes de David Ferris:
La culture d'Edmonton, dont les marges sont particulièrement éclectiques, semble aussi déconnectée de la réalité que les îles Galapagos. Ceci se manifeste nettement dans l'étrangeté pure de sa scène expérimentale/noise, sans division, ego ni politique : tout simplement, une ou deux fois par mois, une poignée de gens complètement bizarres se rassemblent sous la bannière Ramshackledayparade pour créer des sons excentriques. La compilation Ramshackle 2012 expose le noyau vital de ce groupe de marginaux de la marge.
L'écoute attentive révèle des images audibles, à la manière d'un autostéréogramme, de pères de famille transportant des installations massives de synthétiseurs analogues dans la porte arrière du Bohemia; de chants diphoniques intoxiqués dans les égouts (à la C.H.U.D.); de l'encens que le quart des artistes font brûler sur scène; d'anneaux de décodage et de lunettes 3D; de compositeurs classiques qui essaient de vous faire saigner des oreilles; d'auditeurs sans bouchons, risquant l'acouphène pour le plaisir; de pas moins de cinq micros contact par saxophone; de douzaines d'artistes émettant simultanément et sans coordination des bruits générés par des logiciels qu'ils ont eux-même construits sur leurs téléphones intelligents; de gags à la Fluxus; d'auditoires de 5 à 60 personnes; de claviers cosmiques et de styles film-noir révisionnistes; d'un ivrogne occasionnel au fond de la salle qui crie « Jouez des chansons! »; de Potier qui empile couche par-dessus couche de raclures sonores brutales; d'artistes qui jouent sous des couvertures, comme des fantômes tremblants, parce qu'ils ont un trac paralysant. C'est un monde de Bizarro où les techniques de jeu étendues et alternatives sont de mise et les musiciens « normaux » sont aliénants, et où les sans-abri et les marginaux frappent à la fenêtre du bar en regardant à travers, attirés par ce qui est universellement dépaysant, et essaient d'entrer gratuitement. Écoutez pour voir.
Meat Force – Drifting Towards Darkness At Noone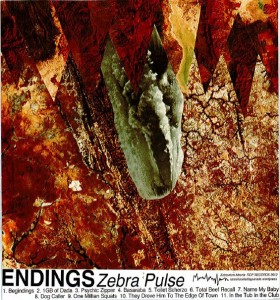 Zebra Pulse
Endings
Edmonton, AB
From the blown Rockfords of Jared Majeski:
Zebra Pulse (ZP) is Parker Thiessen, Owen Strasky and Dave Schaefer — three small-town technotricians, who for the past five years have schlepped around Western Canada hawking music that's more art and science; harshly beautiful and intriguing. Left, right, up and down the EQ meter they go, leaving one of two schools behind: the confused or the converted. Right now, the noise "scene" in Edmonton has grown mightily thanks in-part to ZP, including a ramshackle record label, monthly noise showcase and a cadre of talented multimedia creators. ZP has accomplished in a short few years what many other musicians dream of: wearing diapers and blimp suits on stage, smashing through glass tables in Lethbridge, and embarking on their own no-lympic tour happening at the same time as the actual Olympics. But on their latest release Endings, ZP have outdone themselves. The trio is now a quartet, and features an acoustic musician for the first time: former Outdoor Miners savant percussionist Sean Macintosh. With warbled cassette abstracts, homemade noisemakers, an ever-growing collection of electronics and layers upon layers of sampled vinyl, this may be the group's most "accessible" record to date. ZP has pushed — and will likely continue to push — the boundaries of what one considers "music" this side of the Medicine Line. Cover art by Brandi Strauss.
Des amplis pétés de Jared Majeski:
Zebra Pulse est constitué de Parker Thiessen, Owen Strasky et Dave Schaefer, trois technotriciens originaires de petites villes, qui parcourent l'Ouest du Canada depuis cinq ans pour promouvoir leur musique aussi artistique que scientifique, d'une beauté étrange et rude, qui ne laisse personne indifférent :à l'issue de leurs bidouillages effrénés, on est soit confus ou converti. La scène noise d'Edmonton a beaucoup grandi grâce à eux, accueillant maintenant une maison de disques « délabrée », une série de concerts mensuels et un noyau de créateurs multimédia talentueux. Les membres de Zebra Pulse ont accompli en quelques années ce dont beaucoup d'autres rêvent : concerts en couches pour bébé et costumes de ballons dirigeables, destruction de tables en verre à Lethbridge, et même leur propre tournée « no-lympique » en même temps que les Jeux olympiques. Et pourtant, ils se surpassent encore sur ce nouvel album, Endings. Le trio est désormais quatuor suite à l'intégration de leur premier musicien acoustique, l'ancien percussioniste savant des Outdoor Miners, Sean Macintosh. C'est peut-être leur album le plus accessible à date, rassemblant des sonorités de cassettes chevrotantes, des machines à bruit bricolées maison, de plus en plus de sons électroniques et des échantillons de vinyles superposés. ZP repoussent de nouveau les limites de ce que l'on appelle de la musique au nord du 49e parallèle… et ils ne sont pas près d'arrêter. Pochette de l'album par Brandi Strauss.
---