Tag: young guv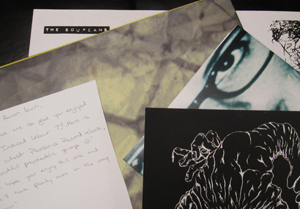 Pleasence Records
Toronto, ON


Swirling within the endless cosmos of polyphonic doctrine, Toronto's Pleasence Records remain an ardent force of diversity alongside the orthogonal streams of TO's new underground. Their catalog grows in dimension with each mind-boggling effort, exemplified by the soft yacht-rock of Young Guv easing into Man Made Hill's burnt fidelity. I was stoked to hear that Managing Editor Jesse Locke met with the head honchos from Pleasence this week. Dig below.
Aaron Levin
Big Lurch
Weird Canada
weirdcanada.com
Man Made Hill – Hard Breeze Is Gonna Blow
1 :: How did you launch your label and why? C.R.E.A.M.?
We were both at an Induced Labour show in early 2010 where Leslie (Predy) smashed a pint glass off the stage, dove into the shards, and was dragged by her pants around her ankles by the crowd. Deirdre later picked the glass out of her ass. That night we both fell in love with them. Later that spring, over some very fine homemade Italian food with friends, Deirdre stated her intention to release their record and James wanted in. The record took a while to put out so we released a Vagina Bison tape, a 7″ split from Gay/White Suede, and a 7″ EP from Suitcase Sam in the interim. By the time the Induced Labour record came out, we were already working with more artists. It's been rolling steadily ever since.
2 :: To date, which of your releases has been: a) the best-seller, b) your favourite and c) the biggest bummer?
Young Guv & The Scuzz has undoubtedly been our best seller. We've sold that record all over the world. He also recorded the Tropics, Huckleberry Friends, and Gay/Sexy Merlin records we've put out. He's one of the most prolific guys in Toronto right now. The Soupcans and Suitcase Sam have also worked very hard to get their records out there, selling a few at every show, playing as often as they can around town and touring Canada and the States.
As for B, that's like picking your favourite child. We're so proud of them all! Our favourite is usually whatever we're working at the moment, since usually that means we're listening to it over and over and over before the final press. You become quite intimate with the record, like you've known it for years.
The only time it feels like a bummer is when a record we really love doesn't have the immediate impact we feel it deserves. We become like angry parents at their kid's hockey game.
3 :: What sets you apart from other labels? Music, art, liner notes, posters, glossy 8.5" x 11" head-shots?
We initially connected over music by both being record collectors. Deirdre works at She Said Boom records in Toronto and James would hang out there for hours browsing, yakking about bands, listening to different records. We like to think there's a certain diversity in our catalog that reflects our broad tastes. We never wanted to have a genre label that would only release a specific style. I don't think we could ever commit to that, there's just too much different stuff we're into.
4 :: Future plans? What can grippers look forward to gripping?
By this time next year you'll be hearing records by Pon De Replay, Fleshtone Aura, John Milner You're So Boss, Wasted Nymph, Odonis Odonis, a VHS tape of the last Induced Labour performance, and hopefully a few others.
Pleasence Records Discography (to date)
PR000::Vagina Bison – Self Titled(2010, Cassette)
PR001::Induced Labour – Self Titled(2010, 7″)
PR002::Gay/White Suede – Split(2010, 7″)
PR003::Suitcase Sam – Get It To Go(2010, 7″)
PR004::Pleasence T-Shirt
PR005::The Soupcans – Erotic Nightmare(2010, 12″)
PR006::Sexy Merlin – Self Titled(2011, 7″)
PR007::Gay/Sexy Merlin – Self Titled(2011, 7″)
PR008::Young Guv & The Scuzz – Bedroom Eyes b/w Rumors(2011, 7″)
PR009::Tropics – Pale Trash b/w Earmarked(2011, 7″)
PR010::Huckleberry Friends – Vision b/w Disaster Keyz(2011, 7″)
PR011::The Pink Noise – Gilded Flowers(2011, 12″)
PR012::Man Made Hill/Young Truck – (2011, 12″)
(Traduit par Odile Leclerc)


Tourbillonnant dans l'infini cosmos de doctrine polyphoniques, les Pleasence Records de Toronto restent une force ardente de diversité au long des courants orthogonaux du nouveaux sous-terrain de TO. Leur catalogue grandit en dimensions avec chaque effort ahurissant, exemplifié par le doux rock de yacht de Young Guy se relâchant dans la fidélité brûlée de Man Made Hill. Je fus excité d'entendre que l'éditeur en chef, Jesse Locke, a rencontré le grand patron de Pleasence cette semaine. Creusez ci-dessous.
Aaron Levin
Gros vacillement.
Weird Canada
weirdcanada.com

Man Made Hill – Hard Breeze Is Gonna Blow
1:: Comment avez-vous lancé votre label et pourquoi? C.R.E.A.M.?
Nous étions tous les deux à un spectacle de Induced Labour au début de 2010 où Leslie (Predy) a écrasé une chope de verre hors de la scène, a plongé dans les éclats et fut tirée par ses pantalons autour de ses chevilles par la foule. Deirdre a ramassé plus tard le verre hors de son derrière. Cette nuit là, nous avons tous deux tombé en amour avec eux. Plus tard ce printemps là, en mangeant un repas de mets italiens finement préparé maison avec des amis, Deirdre a déclaré son intention de faire sortir leur enregistrement et James le voulais. L'enregistrement a pris un certain temps à faire alors on a sorti une cassette de Vagina Bison, un 7'' divisé de Gay/White Suede, et un 7'' EP de Suitcase Sam dans l'intérim. Par le temps que l'enregistrement d' Induced Labour fut sorti, Nous travaillions déjà avec plus d'artistes. Ça l'a roulé stablement depuis ce temps là.
2:: Jusqu'à maintenant, laquelle de vos sorties a été: a) la meilleure vente b) votre préférée et c) la plus grosse déception?
Young Guy & The Scuzz ont sans aucun doute été nos meilleures ventes. On a vendu cet enregistrement partout autour du monde. Il a aussi enregistré les records de Tropics, HuckleBerry Friends et Gay/Sexy Merlin que nous avons faits. Il est un des mecs les plus prolifiques à Toronto présentement. Les Soupcans et Suitcase Sam ont aussi travaillé très dur pour faire sortir leur enregistrement, en vendant quelques uns à chaque spectacle, jouant aussi souvent qu'ils le pouvaient autour de la ville et faisant des tournées au Canada et dans les États. Pour B, c'Est comme choisir ton enfant préféré, nous en sommes tous fières!! Notre préféré est habituellement peu importe sur quoi on travaille présentement, puisque ça veut dire qu'on l'écoute encore et encore et encore avant le pressage final. Vous devenez plutôt intime avec le record, comme si vous l'Aviez connu pour des années. Les seules fois que c'est ressenti comme une déception c'Est quand un record qu'on aime vraiment n'a pas l'impact immédiat que nous sentons qu'il mérite. Nous devenons comme des parents fâchés à la partie d'hockey de leur enfant.
3:: Qu'est-ce qui vous différencie des autres labels? De la musique, de l'art, des livrets, des affiches, de reluisant 8.5'' x 11'' et des photos?
Nous avions initialement connectés avec la musique en étant tous deux des collectionneurs de records. Deirdre travaille aux enregistrements She Said Boom à Toronto et James allait là pendant heures, se promenant et jacassant à propos de groupes, écoutant différents enregistrements. Nous aimons penser qu'il y a une certaine diversité dans nos catalogue qui reflète nos larges goûts. Nous n'avons jamais voulu avoir un label genre qui sortirait seulement un style spécifique. Je ne pense pas qu'on pourrait s'engager à ça, il y a juste trop de trucs différent que nous aimons.
4 :: Des plans futurs? Qu'est-ce que les saisisseurs peuvent avoir hâte de saisir?
By this time next year you'll be hearing records by a VHS tape of the last Induced Labour performance, and hopefully a few others. À ce temps si l'année prochaine vous entendrez des records de Pon De Replay, Fleshtone Aura, John Milner You're So Boss, Wasted Nymph, Odonis Odonis, par une cassette VHS de la dernière performance de Induced Labour et on espère, quelques unes de plus.
Pleasence Records Discography (à date)
PR000::Vagina Bison – Self Titled(2010, Cassette)
PR001::Induced Labour – Self Titled(2010, 7″)
PR002::Gay/White Suede – Split(2010, 7″)
PR003::Suitcase Sam – Get It To Go(2010, 7″)
PR004::Pleasence T-Shirt
PR005::The Soupcans – Erotic Nightmare(2010, 12″)
PR006::Sexy Merlin – Self Titled(2011, 7″)
PR007::Gay/Sexy Merlin – Self Titled(2011, 7″)
PR008::Young Guv & The Scuzz – Bedroom Eyes b/w Rumors(2011, 7″)
PR009::Tropics – Pale Trash b/w Earmarked(2011, 7″)
PR010::Huckleberry Friends – Vision b/w Disaster Keyz(2011, 7″)
PR011::The Pink Noise – Gilded Flowers(2011, 12″)
PR012::Man Made Hill/Young Truck – (2011, 12″)
Young Guv + The Scuzz
Bedroom Eyes b/w Rumors
Toronto, ON
From the bedroom eyes of Aaron Levin:
The Guv has leaped from a formidable garage-punk stronghold deep into the nefarious waters of arena rock (via The Scuzz). Stadium crowds howl as tsunamis generated from Young Guv's buoyant body hurl us through power pop plurality. Rafts of saxophone hook thousands of gripping hands while Guv's bedroom eyes lure us into AOR oblivion. Let those pure of grip linger in the beautiful eye of the storm. Godspeed to the rest of you.
Des yeux d'alcôve d'Aaron Levin: (Traduit par l'œil du cyclone de Maya Keshav)
The Guv a sauté d'un bastion impressionnant de garage-punk dans les profondeurs des eaux malfaisants d'arena rock (via The Scuzz). Les foules de stade hurlent pendant que les tsunamis créés par le corps entraînant de Young Guv nous lance à travers la pluralité power pop. Les radeaux de saxophone prennent des milliers de mains serrants pendant que les yeux excités de Guv nous attirent dans l'oubli AOR. Ceux qui sont les acheteurs purs peuvent rester dans le bel œil du cyclone. Bonne route aux autres.
Young Guv + The Scuzz – Bedroom Eyes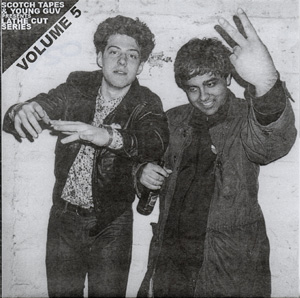 From the Latonic vibes of Aaron Levin:
Actual Water return with flourishing pop familiarity. A veritable anthem for teen lovers (and burnt, middle-aged adults yearning for a sip from the fountain of popular youth), "Latoya" is an instance source of vibronic sensation, driving romantic conviction through your ectoplasm into the eternal core of your quad-valve palpitator. Steady twelve-string madness, insatiable marimba, and a hilariously rad back-up vocal bonanza complete the ridiculously summery attitude, granting this fifth lathe the title of "infinite jam."
Des ondes latoniques d'Aaron Levin: (Traduit par Maya Keshav)
Actual Water est de retour avec la familiarité florissante de pop. Un hymne véritable pour les amoureux adolescents (ainsi que les adultes d'âge mûr fatigués qui ont envie de siroter de la fontaine de jouvence populaire), "Latoya" est une source immédiate de sensation vibronique, en poussant ta conviction romantique à travers ton ectoplasme dans le fond eternel de ton cœur. La folie stable de douze cordes, le marimba insatiable, et une fête absolument hilarante de chant finissent l'attitude ridiculement estivale, en donnant ce cinquième morceau le titre de "bœuf infini".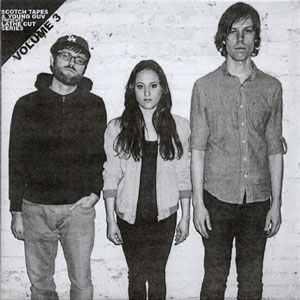 Bruised Knees
Badwater & Holy See's Horror
Toronto, ON
From the tainted caps of Aaron Levin:
Yet another face-melting insertion within the Scotch Tapes and Young Guv lathe series. Two slabs of soylent plastic were necessary to capture the wikked vibrations emerging from Toronto's Bruised Knees. Eerie, synthetic mellowtones are sandwiched between cultic clamor and shattering shimmer, spinning psychedelic sinusoids around our sonic horizon. The Huckleberry influence runs deep within the wincing metal and triplic drummery; thud, thud, thud, thud, burn burn burn burn. What else lay dorment in Guv's lair? Grip before the patina groweth.
Des casquettes tâchées d'Aaron Levin: (Traduit par Odile Leclerc)
Encore une autre insertion fondeuse de face avec la série de tour de Scotch Tapes et Young Guv. Deux tranches de plastique soylent furent nécessaires pour capturer les violentes vibrations émergeant de Bruised Knees de Toronto. De sinistres tons veloutés sont pris en sandwich entre la clameur culte et le fracassant chatoiement, tournant des sinusoïdes psychédéliques autour de notre horizon sonique. L'influence Huckleberry est profondément ancrée dans le métal tressaillant et le triple tambourinement; tap, tap, tap, tap, brûle, brûle, brûle, brûle. Quoi d'autre reposent endormi dans la tanière de Guy? Attrapez avant que la patine croît.
Bruised Knees – Holy See's Horror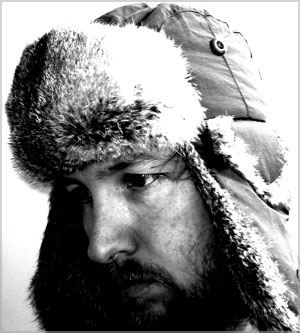 Interview with: Al Bjornaa
From: Scotch Tapes
(conducted by: Zachary Fairbrother)
Batchawana Bay, ON
Scotch Tapes has quickly become Canada's premier cassette label, pumping out thousands of tapes to brilliant minds all around the world. In addition to the plethora of magnetic strips crafted in the ghettos of rural Ontario, Scotch Tapes has been capturing Toronto's burgeoning underground punk scene via plastic lathe-cut brilliance in a collaborative series with Young Guv's Ben Cook. In 2011, they embarked on yet-another lathe-series with Montreal's No Vacation. As 2011 began with the redesign of Scotch Tapes' rather hilarious website and their subsequent world domination, we decided to link Zacharay Fairbrother with Scotch Tapes founder and sole-proprietor Al Bjornaa for a featured chat about his rural adventuring.
Aaron Levin
Weird Canada
www.weirdcanada.com
/////////////// AL BJORNAA INFERRED VIEWS ///////////////
Zachary: I'm into how landscapes and environment influence people's creativity. Why do you base your label where you do [Batchawana Bay]? How do the often cosmopolitan sounds play out in your environment
Al: I base Scotch out of Batchawana Bay because it's close to my family. I have lived all over the country but this has always been home. There have been some health issues in the Bjornaa family the past few years and its been nice to be able to help out. We run a family fishing business and I have had to take a larger role in that. Plus it's a beautiful area. I live on the beach! The north shore of Lake Superior is my favourite place on Earth.
I have always been a huge music fan. Both of my parents love music. Although their tastes may differ from mine, they passed on a passion for good music. Most of the people who live in my area think the music I release sounds like a "badger caught in a wood chipper" but most people from the area think its cool that I run a record label in such a small place. Whenever I go for coffee or breakfast at the local diner, everyone always asks how the label is doing.
I have heard of your beach shows. I hope you will you be doing more of this. Who has played? What was your favorite?
I haven't done an actual beach show in ages but I have had a lot of bands pass through here and hang out for a day or two. Its a tough area to get a decent show. I mean I could likely set up a show in Sault Ste. Marie (which is notorious for TERRIBLE shows) or they can hang out here for a night, have some drinks, go swimming and get a good meal. I am hoping that this year with a new space, I can host more bands and maybe do some recordings and send them back on the road with a new tape or lathe. Some of the best times I've had drinking/ hanging out/ recording have been with Play Guitar, The Famines, Dirty Beaches, Grown-Ups, Gobble Gobble, Nobunny… There are tons. I am hoping to make Batchawana Bay a "must-stop" for bands touring Canada. Not to play shows but to have a great day off mid-tour where they can do laundry, relax, jump in the lake, maybe practice some new stuff they have been working on. 2011 is already getting booked up at Casa de Al with Bucketseat stopping here in March.
I see that your label is doing some collaborative splits. How did this come about?
Yeah. I wanted to work with a few cool labels. I have a lathe series coming out with No Vacation Records (Brett Wagg from Pink Noise/ Campaign For Infinity) Brett basically just asked if I would be interested and since I love the music he puts out, I was totally in. I also put out a 7″ with No Clear Records from Florida. I imagine if any label contacted me and I liked the band, I would probably be interested. I know that Ben Cook (Fucked Up, Young Guv, etc) and I have a few co-releases lined up for his new label, Marvelous Music, as well. We will be co-releasing the Roommates LP this summer/ fall.
I see you have a vast list of upcoming releases. Are all these going to happen??!
You bet your sweet buttocks! In the first two years of Scotch, I released almost 200 tapes. I take the label very seriously. Its become more than a hobby. It's basically a second full-time job. I plan on putting out about 70 tapes, 30 lathes and 10 vinyl releases in 2011. There are times when I get tired and need a break… and those are the times where I just take like 2-3 weeks off, don't check emails and basically disappear. But when I do that, I normally come back with 4-5 releases at once.
What is up with the lathe series? Does the type of Lathe reflect the artist?
Well… I have two series going. There is the Scotch/ Young Guv series. Ben Cook [of Young Guv] records all the bands that share his jam space and then we release a song or two from them. So far, I have put flexis out for Huckleberry Friends, Tropics, Bruised Knees & Lonely Wholesome with Actual Water, Dentata, Wyrd Visions and I think 2 more to come. The other series is the aforementioned series with No Vacation. There are some pretty killer bands scheduled for that like FNU Ronnies and Factums (who I LOVE!) The type of lathe really doesn't come into play. I mean the one I did for We All Inherit The Moon HAD to be a square plexiglass lathe because of the ideas they had for the art but most bands don't really care that much. They just think lathes are fun.
Do you think there is a Canadian Sound? And what from your perspective are the sounds of the different scenes within Canada?
I don't think there is a specific Canadian sound. It's such a vast area geographically that it's tough to narrow down one sound. I think Vancouver has a great weirdo punk scene with bands like Shearing Pinx, Nu Sensae, Twin Crystals, etc. who really have their own genre that isn't like anything else in the country. When you move into the prairies you have bands like Myelin Sheaths, Fist City, Grown-Ups, Moby Dicks… sort of that heavy garage punk stuff. They all totally feed off of each other. Ontario is sort of weird. Toronto is just starting to get a good scene again. I think the bands that Ben and I are releasing on the lathe series are going to get big really fast this year. That jam space is oooozing talent. Montreal always has a great scene. I think that city spawns some of the most creative and unique artists. And the whole Halifax scene… that city reminds me of Portland, Oregon. EVERYONE is in a band and creates visual art and silkscreens t-shirts and makes zines and drinks good beer if they can afford it but will drink shit if that's all they have and dresses cool without thinking they dress cool. One of my absolute favourite cities on the planet!
What has got you most excited about 2011?
SUMMER! I hate winter more than anything! That and doing this interview for Weird Canada! Thanks, Zach…
(Traduit par Odile Leclerc)
Scotch Tapes est rapidement devenu le premier label de cassette au Canada, pompant des milliers de cassettes vers des esprits brillants tout autour du monde. En addition au pléthore de bandes magnétiques bricolées dans les ghettos de l'Ontario rural, Scotch Tapes a capturé la bourgeonnante scène punk clandestine de Toronto via la brillance taillé en plastique dans une série collaborative avec Ben Cook de Young Guv. En 2011, ils embarquaient encore sur une autre série de tour avec No Vacation de Montréal. Alors que 2011 commençait avec le plutôt hilarant site web reconçu de Scotch Tapes et leur domination mondiale subséquente, nous avons décidé de lier Zachary Fairbrother avec le fondateur de Scotch Tapes et unique propriétaire Al Bjorna pour une conversation en vedette à propos de ses aventures rurales.
Aaron Levin
Weird Canada
www.weirdcanada.com
/////////////// LES VUES INFÉRÉES D'AL BJORNAA ///////////////
Zachary: Je m'intéresse à comment les paysages et l'environnement influencent la créativité des gens. Pourquoi fondez-vous votre label où vous faites [Batchawana Bay]? Comment les sons très souvent cosmopolites se déroulent-ils dans votre environnement?
Al: Je fonde Scotch à Batchawana Bay parce que c'est près de ma famille. J'ai vécu partout au pays, mais cela à toujours été ma maison. Il y a eu quelques problèmes de santé dans la famille Bjornaa au cours des dernières années et ce fut bien de pouvoir aider. Nous avons un business de pêche familial et J'ai du prendre un rôle important dans celui-ci. Plus, c'est une belle région. Je vis sur la plage! La côte nord du Lac Supérieur est mon endroit préféré sur Terre. J'ai toujours été un grand fan de musique. Mes deux parents aimaient la musque. Malgré que leurs goûts pouvaient être différents des miens, ils ont passé une passion pour de la bonne musique. La plupart des gens qui vivent dans ma région pensent que la musique que je sors sonne comme ''un putois pris dans une déchiqueteuse à bois'', mais beaucoup de gens de la région pensent que c'est cool que j'ai un label d'enregistrement dans un si petit endroit. Peu importe quand je vais chercher un café ou un déjeuner au resto local, tout le monde me demande comment va le label.
J'ai entendu parler de vos spectacles de plage. J'espère que vous en ferez plus. Qui a joué? Qui était votre préféré?
Je n'ai pas fait un actuel spectacle de plage depuis longtemps, mais j'ai eu beaucoup de groupes qui sont passé par ici et qui sont resté pour un jour ou deux. C'est une région difficile pour avoir un spectacle décent. Je veux dire, je pourrais arranger un spectacle à Sault ste. Marie (qui est reconnu pour ces spectacles TERRIBLES) ou ils peuvent rester ici pour une nuit, prendre quelques verres, aller nager et avoir un bon repas. J'espère que cette année, avec un nouvel espace, Je pourrai accueillir plus de groupes et peut-être faire plus d'enregistrements et les renvoyer sur la route avec une nouvelle cassette ou tour. Quelque uns des meilleurs temps que j'ai eu à boire/sortir/ enregistrer ont été avec Play Guitar, The Famines, Dirty Beaches, Grown-Ups, GOBBLE GOBBLE, Nobunny…il y en a des tonnes. J'espère de faire Batchawana Bay un ''doit arrêter'' pour les gorupes en tournéee au Canada. Pas pour faire des spectacles, mais pour avoir une super journée de congé au milieu de la tournée où ils peuvent faire leur lavage, relaxer, sauter dans le lac et peut-être pratiquer quelque chose de nouveau qu'ils avaient travaillé. 2011 se fait déjà réserver à la Casa de Al avec Bucketseat qui arrête en Mars.
Je vois que votre label fait des séparations collaboratives, comment est-ce que c'est arrivé?
Yeah. Je voulais travailler avec quelques labels cool. J'ai des séries de tours qui sortent avec No Vacation Records (Brett Wagg from Pink Noise/ Campaign For Infinity) Brette m'a juste demandé si j'étais intéressé et puisque j'aime la musique qu'il fiat, j'étais totalement d'accord. J'ai aussi sorti un 7'' avec No Clear Records de Floride. J'imagine que si n'importe quel label me contactait et que j'aimais le groupe, je serais probablement intéressé. Je sais que Ben Cook (Fucked Up, Young Guv, etc) et moi avons quelques co-mise en vente en attente pour son nouveau label, Marvelous Music aussi. Nous allons faire une co-sortie pour le LP de Roommates cet été/automne.
Je vois que vous avez une vaste liste des futures mise en vente. Vont-elles toutes arrivées?
Vous en pariez votre joli derrière! Dans les premières deux années de Scotch, J'ai sorti presque 200 cassettes. Je prends le label au sérieux. C'est devenu plus qu'un hobby. C'est pratiquement un deuxième travail à temps plein. Je planifie de faire sortir 70 cassettes, 30 tours et 10 vinyles en 2011. Il y a des temps où je deviens fatigué et que j'ai besoin d'une pause…Et ces temps sont ceux où je prends juste comme 2-3 semaines de congés, je ne regarde pas mes e-mails, je disparais pratiquement. Mais quand je fais ça, je reviens normalement avec 4-5 sorties en même tmeps.
Que ce passe-t-il avec les séries de tour? Est-ce que le type de tour réfléchit l'artiste?
Bien…J'ai deux series qui s'en viennent. Il y a les séries Scotch/Young Guy. Ben Cook [de Young Guy] enregistre tout les groupes qui partagent son espace de jam et puis nous sortons une chanson ou deux de ceux-là. Jusqu'à maintenant, j'ai sortis flexis pour Huckleberry Friends, Tropics, Bruised Kness & Lonely Wholesome avec Actual Water, Dentata, Wyrd Visions et je pense que qu'il y en 2 qui s'en viennent. L'autre série est la série susnommée avec No Vacation. Il a quelques bons groupes à l'horaire pour ça comme FNU Ronnies et Factums (que J'ADORE!). Le type de tour n'a pas vraiment de rôle. Je veux dire, celui que j'ai fait pour We All Inherit The Moon DEVAIT être un carré de tour en plexiglas parce que les idées qu'ils avaient pour l'art, mais la plupart des groupes ne s'en soucient pas autant. Ils pensent juste que les tours sont amusants.
Est-ce que vous pensez qu'il y a un son Canadien? Et quelle parties de votre perspective sont les sons des différentes scènes au Canada.
Je ne pense pas qu'il y a un son Canadien spécifique. C'est tellement une vaste région géographiquement parlant que c'est difficile de rétrécir le tout à un son. Je pense que Vancouver a une super scène de punk bizarre avec des groupes comme Shearing Pinx, Nu Sensae, Twin Cristals, etc. qui ont vraiment leur propre genre qui n'est pas comme quelque chose d'autre au pays. Quand vous bouger dans les prairies, vous avez des groupes comme Myelin Sheaths, Fist City, Grown-Ups, Moby Dicks….ce genre de truc de lourd punk de garage. Ils se nourrissent tous les uns des autres. Ontario est genre bizarre. Toronto commence à peine à avoir une bonne scène à nouveau. Je pense que les groupes que Ben et moi mettons en vente sur la série de tour va rapidement devenir importante cette année. Cet espace jam déborde de talents. Montréal a toujours une super scène. Je pense que cette ville pond quelque uns des artistes créatifs les plus uniques. Et toute la scène d'Halifax…Cette ville me rappelle Portland, Oregon. TOUT LE MONDE est dans un bande et créer de l'art visuel et des t-shirts sérigraphiques et fait des magazines et boivent de la bonne bière s'ils peuvent se l'offrir, mais vont prendre de la merde si c'est tout ce qu'il y a et ils s'habillent cool sans même penser qu'ils s'habillent cool. Une de mes absolument villes favorites sur la planète.
Qu'est-ce qui vous excite le plus pour 2011?
L'ÉTÉ! Je déteste l'hiver plus que tout! Ça et faire cet interview pour Weird Canada! Merci Zach…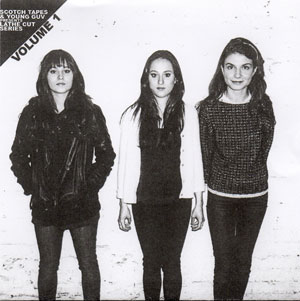 Huckleberry Friends
Testing
Toronto, ON
From the 6.5″ pink flexi of Aaron Levin:
The inaugural 6.5″ fluorescent flesh of Scotch Tapes and Young Guv's Lathe Cut Series is a gothic reconnaissance into the arcane marshes of numinous folk-garage. The first 90 seconds of Testing begin the mystic ceremonies of your private mind garden before launching into a fury of tribal magyks and recondite rhythms. It's a brilliant realignment of the English folk tradition into the disparate, atonal now; an arduous ceremony cut on a 6.5″ slab of pink plastic and limited to 50 copies. Highly recommended.
De l'adaptable 6.5'' rose d'Aaron Levin:
(Traduit par Odile Leclerc)
L'inaugurale 6.5'' de chair fluorescente de Lathe Cut Series de Scotch Tapes et Young Guv est une reconnaissance gothique dans les marais obscures des gens numineux de garage. Les premières 90 secondes de Testing commencent les cérémonies mystiques du jardin privé de votre esprit avant de se lancer dans une furie de magyk tribale et de rythmes abstrus. C'est un réalignement brillant de la tradition du peuple Anglais vers le présent disparate et atonal; une cérémonie difficile découpée sur une tranche de 6.5'' de plastique rose et limitée à 50 copies. Chaudement recommandée.
---