Tag: Wyrd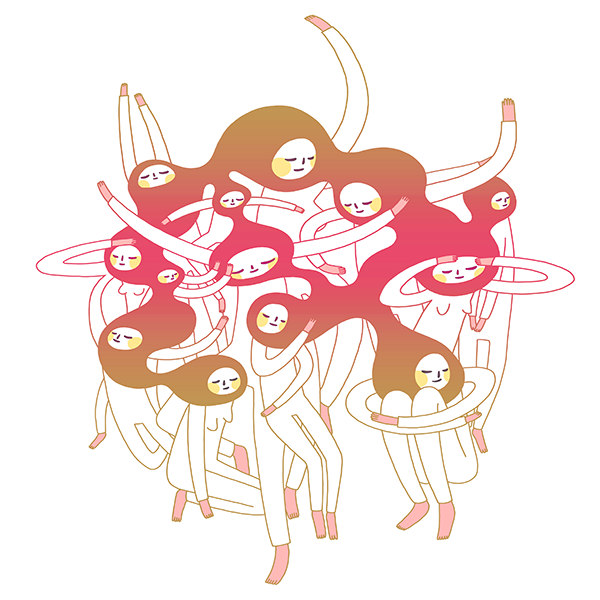 The Empathy Council
(Illustration by: Shane Song)
"Weird Canada strives to inform visitors and citizens of the myriad of experiences and perspectives of communities across Canada. Our country has been intertwined in systems of oppression since its founding; as a result, the art we make is a reflection of our shared violent history. The Empathy Council helps create a safe(r) space for the marginalized to engage one another with education and various perspectives. It is crucial for people like me (a racialized woman) to feel comfortable in our weird, wild and wonderful arts community." -M.R. (Wyrd Empathy Council)
In our mutterings and scribblings from the underground, we find ourselves wandering through labyrinthian webs of power and silent conflict. Though we have succeeded in creating something powerful – a nationwide community of people encouraging, documenting, and connecting through creative expression – we feel the growth of a slimy underbelly. It isn't intentional, and we don't feed it. But it feeds off us, and our silence allows it to actively grow.
Why is our community so blindingly white? Why are there so few women on the stage and in the mosh pit? Why do most of the people who make music come from upper or middle-class backgrounds? Why aren't we talking more about the accessibility of our venues, of our spaces?
I've written about this before.
We must actively work towards creating a space that challenges our assumptions, or we end up simply replicating the existing culture. The existing dominant culture is ugly, and we don't want to reproduce it.
These cultural issues are too large for a small arts community to overcome, but we also know that our silence and paralysis perpetuates the nefarious undergrowth.
Meet the empathy council:
The empathy council are a diverse group of people who advise us on specific issues, especially those related to the infliction or unnecessary exacerbation of pain, particularly in circumstances when there is a complicated history of oppression.
Here are a few examples of issues that our empathy council can help us to explore:
Someone submits an album to the site and we notice that one of the track names is a racial slur.
Someone wants us to sell their album through the distro, and their album is called "I hate women"
Someone asks why our show is in an inaccessable venue for someone using a wheelchair.
How the empathy council works:
Identify the Issue: In most cases, Weird Canada volunteers will notice issues and bring them to our attention. In some cases, a community member will bring them to our attention. In any case, we will strive to work as carefully as we can in our response and actions to be respectful, open, and compassionate.
Issue is clarified, researched and documented: Project lead/editor/key person researches and compiles a google document for the empathy council with all the relevant information.
Empathy council votes: Once an issue is clarified, we consult with the members of the empathy council who have expressed experience in the issue (e.g. race, gender, sexuality, mental health, class, agism).
Wyrd leadership decides: We make a decision (so far, always in alignment with the council, but ultimately it is our responsibility). We are not trying to outsource accountability.
Communication: The decision is communicated and closed. We will also provide resources when they are desired. The extent of this step is optional on our end, depending on our capacity and resources, and the perceived receptiveness of the parties involved.
Please note: we at Weird Canada are accountable for our decisions, and we will make mistakes. No one participating in the empathy council claims to have definitive knowledge about these issues.
We consider this a tiny first step, a community led test. If we decide to continue with the project, we will need funding: this kind of work should absolutely not be unpaid, even in an entirely volunteer run organization.
Final Thoughts:
Wyrd's mandate is to encourage, document, and connect creative expression across Canada, and sometimes that means making room for voices that have no space at the table. We believe that everyone can make whatever kind of art they want. But that doesn't mean that we (or anyone) is obligated to listen, or watch, or celebrate it. We have curatorial priorities in place, and they guide us in our decisions.
These kinds of issues are really difficult to talk about. There is no easy answer, no magic glasses that reveal the intersecting lines of power and pain, no guide to making the right decisions. Our culture encourages people to sit in silence, rather than taking steps to challenge these issues. And those who do step forward to name the problem are treated as if they created it.
We hope our community will be empathetic as we attempt one small step forward. Talking openly about these issues will make our mistakes very visible. Frustration is inevitable, and even welcomed: it is the first step toward change and understanding.
We can't externalize accountability, and we take responsibility for everything we do. But we can consult with people who know more than us. The empathy council will help to guide our steps through the underground. Who better to inform our actions than community members who have deep and personal relationships with these issues?
It is our hope that through a dialogue and conversation, sensitive issues can be addressed and spirited courses of action and response can be developed.
For too long our community has pretended that these issues are irrelevant, something that we are above, something that we are beyond. Bigotry thrives in our mouldy crevices, and it is time to dig it out.
Marie LeBlanc Flanagan
(Traduit par Maya Keshav)
« Weird Canada s'efforce d'informer les visiteurs et les citoyens de la myriade d'expériences et de perspectives des communautés à travers le Canada. Notre pays s'entremêle aux systèmes d'oppression depuis ses débuts, par conséquent, l'art que nous créons est le reflet de la violente histoire que nous avons en commun. Le conseil d'empathie aide à créer un espace sûr où les marginalisés peuvent engager un dialogue ensemble par le biais de l'éducation et de perspectives variées. Il est primordial que les gens comme moi (une femme opprimée) se sentent à l'aise dans notre communauté artistique bizarre, folle et merveilleuse. »

-M.R. (Conseil d'empathie de Wyrd)
« Il est difficile de parler de ces problèmes, de ces écarts dans la perception sociale qui m'oppriment, moi parmi tant d'autres, mais quand j'ignore tout cela, les écarts grandissent de plus belle. »

-Charlotte (Conseil d'empathie de Wyrd)
Le conseil d'empathie:
Le conseil d'empathie se compose de représentants s'identifiant comme membres des groupes marginalisés qui font partie de la communauté Wyrd. Le conseil d'empathie offre des commentaires sur des questions délicates concernant les relations culturelles et les activités de conservation entre Wyrd et la communauté.
Dans nos marmonnements et nos scribouillages souterrains, nous nous promenons dans les réseaux labyrinthiques de puissance et de conflits silencieux. Bien que nous ayons réussi à créer quelque chose de puissant (une communauté nationale de gens qui encouragent, documentent, et se relient à travers l'expression créative), nous ressentons la croissance d'une face cachée visqueuse. Ce n'est pas intentionnel et nous ne la nourrissons pas. Mais elle se nourrit de nous, et notre silence lui permet de grandir activement.
Pourquoi notre communauté est-elle majoritairement blanche? Pourquoi y a t'il si peu de femmes sur la scène et dans le mosh pit? Pourquoi la plupart de gens qui créent de la musique viennent-ils des milieux de la haute société ou de la classe moyenne? Pourquoi ne parlons-nous pas davantage de l'accessibilité de nos salles, de nos espaces?
J'ai déjà écrit à propos de ceci.
Nous devons travailler activement afin de créer un espace qui remet en question nos préjugés, ou nous ne finirons que par reproduire la culture actuelle. Cette culture dominante est laide, et nous ne voulons pas la reproduire.
Ces problèmes culturels sont trop grands à surmonter pour une petite communauté artistique, mais nous savons que notre silence et notre paralysie perpétuent la face cachée malfaisante.
Voici le conseil d'empathie :
Le conseil d'empathie est un groupe diversifié de gens qui donne des conseils sur des problèmes spécifiques, surtout ceux qui connaissent ces problèmes ou en souffrent inutilement, et dans des circonstances où il y a un passé complexe d'oppression.
Voici quelques exemples des problèmes que notre conseil d'empathie peut nous aider à explorer :
-Quelqu'un soumet un album au site web et nous remarquons que le titre d'un des morceaux est une injure raciale.
-Quelqu'un veut que nous vendions leur album dans le distro, et leur album s'appelle I hate women, (« Je déteste les femmes »).
-Quelqu'un demande la raison pour laquelle notre spectacle se déroule dans une salle inaccessible aux fauteuils roulants.
Comment fonctionne le conseil d'empathie :
Identifier la question : dans la plupart des cas, les bénévoles de Weird Canada remarquent les problèmes et nous le font savoir. Dans certains cas, un membre de la communauté nous le fera savoir. Dans tous les cas, nous nous efforçons de travailler aussi prudemment que possible pour que notre réponse et nos actions soient respectueuses, ouvertes et pleines de compassion.
La question est clarifiée, explorée et documentée : le chef de projet/l'éditeur/la personne principale fait des recherches et compile un document Google pour le conseil d'empathie avec toutes les informations nécessaires.
Le conseil d'empathie vote : une fois que la question est clarifiée, nous consultons les membres de la communauté qui ont déjà ce problème (par exemple, la race, le sexe, la sexualité, la santé mentale, la classe sociale, le vieillissement).
La direction de Wyrd trouve une solution : nous prenons une décision (jusqu'à maintenant, toujours alignée sur celle de conseil, mais au bout du compte c'est notre responsabilité). Nous essayons de ne pas traiter la question à l'externe.
La communication : la décision est communiquée et la discussion fermée. Nous fournissons les ressources lorsque demandées. L'étendue de cette étape est optionnelle selon notre capacité et nos ressources, ainsi que selon la réceptivité perçue de ceux qui sont impliqués.
Veuillez noter : à Weird Canada, nous sommes responsables de nos décisions, et nous allons faire des erreurs. Aucune personne qui s'implique dans le conseil d'empathie ne prétend qu'elle a la connaissance définitive à propos de ces questions.
Nous considérons ceci comme une toute petite première étape, un essai géré par la communauté. Si nous décidons de continuer le projet, nous aurons besoin de financement : il faut absolument que ce genre de travail soit rémunéré, même dans une organisation dirigée par des bénévoles.
Les réflexions finales :
Wyrd a pour but d'encourager, de documenter, et de relier l'expression créative à travers le Canada, et parfois il nous faut faire de la place pour les voix qui n'ont pas d'espace à la table. Nous croyons que tout le monde peut créer n'importe quel genre d'art qu'il veut. Mais cela ne veut pas dire que nous (ou n'importe qui) sommes obligés de l'écouter, de le regarder ou de le célébrer. Les priorités de conservation sont en place et guident nos décisions.
Il est difficile de discuter de ce genre de questions. Il n'y a ni une réponse facile, ni des lunettes magiques qui dévoilent les lignes croisées entre le pouvoir et la douleur, ni un manuel qui explique comment prendre les bonnes décisions. Notre culture encourage les gens à garder le silence, plutôt que prendre des mesures pour contester ces problèmes. Et ceux qui font le premier pas et dénoncent ces problèmes sont traités comme s'ils les avaient créés.
Nous espérons que notre communauté sera empathique pendant que nous essayons de faire ce premier petit pas. Discuter ouvertement de ces questions fera ressortir nos erreurs. La frustration est inévitable, et même la bienvenue : c'est le premier pas vers le changement et la compréhension.
Nous ne pouvons pas externaliser la responsabilité, et nous l'assumons dans tout ce que nous faisons. Mais nous pouvons consulter les gens qui en connaissent plus que nous. Le conseil d'empathie aidera à guider nos pas à travers le monde souterrain. Personne n'est mieux placé pour façonner nos actions que les membres des communautés qui ont des relations profondes et personnelles avec ces questions.
Nous espérons que grâce aux dialogues et aux conversations, nous pourrons nous occuper de questions délicates et développer des plans d'action sympathique et des réponses appropriées.
Il y a trop longtemps que notre communauté prétend que ces questions sont hors de propos, qui ne nous concernent pas, quelque chose qu'on a dépassé. L'intolérance prospère dans nos coins moisis, et il est temps de la déterrer.
Marie LeBlanc Flanagan