Tag: world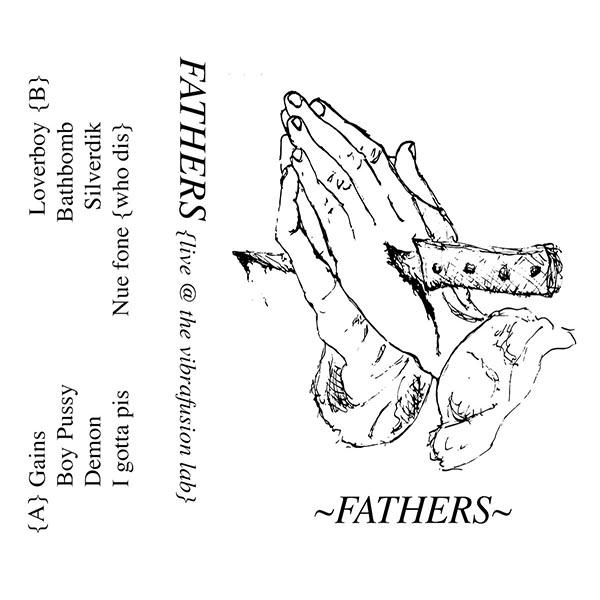 FATHERS
Live @ The Vibrafusion Lab
(Self-Released)
Toronto, ON
From the swollen finger muscles of Rachel Bellone:
Take your favorite dad jokes and turn them into dank memes. Then turn them back into dad jokes. In 30 years, dig them up out of a time capsule and write DIY punk riffs while eating a can of beans over the sink in your WW3 bunker. Even if you followed this recipe exactly, FATHERS could not be replicated. They were born from a web of underground Toronto punk bands and venues (RIP SHIBGB'S). FATHERS are both topical in content and timeless in style. I think it's safe to say we are all children of FATHERS.
Des muscles de doigts enflés de Rachel Bellone:
(Traduit par Julie Mayer)
Prends tes blagues poches préférées et transforme-les en mèmes d'enfer. Puis retransforme-les en blagues poches. Dans 30 ans, déterre-les d'une capsule temporelle et compose des riffs punk DIY tout en mangeant une boîte de haricots au-dessus de l'évier dans ton bunker de la Troisième Guerre mondiale. Même si tu as été fidèle à la recette, les FATHERS ne peuvent être reproduits. Le quatuor est issu d'une toile groupes et de salles appartenant au punk underground torontois (RIP SHIBGB'S). Les FATHERS ont à la fois du contenu actuel et un style intemporel. Je crois qu'on peut dire qu'on est tous les enfants des FATHERS.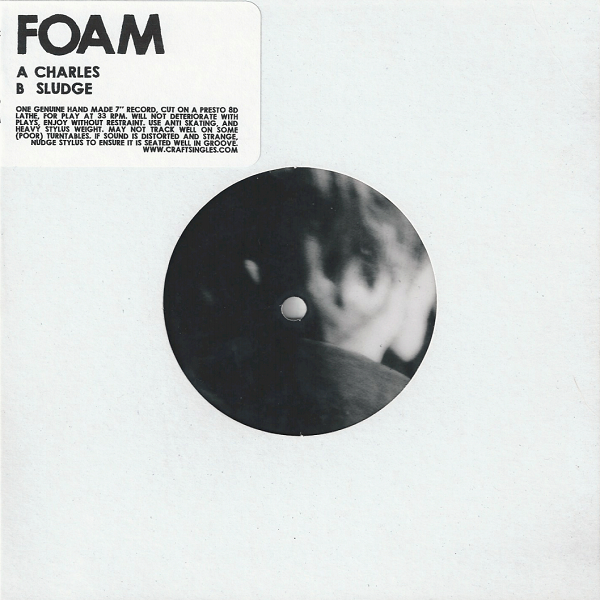 Foam
Charles (Craft Single)
London, ON
From the bloody gullet of Rachel Bellone:
Foam, a boisterous three piece that emerged from an angry gaggle of notable punk bands from London, Ontario. The Out of Sound-ers carry on a legacy of the DIY punk stomping grounds in the "city of opportunity". The opening track, "Charles" evokes a violent encounter between your big toe and an otherwise non confrontational coffee table. "Sludge" could be the soundtrack to a nosebleed you've woken up with after a fever dream. Though it's perfectly normal for similar acts to make you drool, inform your doctor if these tracks cause foaming of the mouth.
De l'œsophage sanguinolent de Rachel Bellone:
(Traduit par la brosse à cheveux édentée de Julie Mayer)
Foam est un trio chahuteur sorti d'un troupeau colérique d'éminents groupes punk originaires de London, en Ontario. Les Out of Sound-eurs perpétuent dans la city of opportunity l'héritage des milieux punk DIY. Le premier morceau, « Charles », évoque une violente confrontation entre votre gros orteil et une table basse qui autrement ne cherche pas la bagarre. « Sludge » pourrait être la trame sonore d'un saignement de nez avec lequel vous vous êtes réveillés à la suite d'un rêve fiévreux. Bien qu'il soit tout à fait normal que de telles situations vous fassent baver, si vous avez l'écume aux lèvres après avoir écouté ces pistes, parlez-en à votre docteur.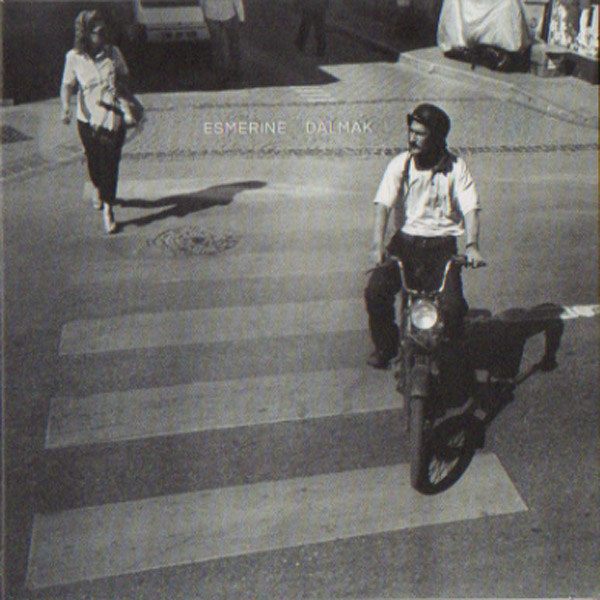 Esmerine
Dalmak
Montréal, QC
From the kapali carsi of Kevin Hainey:
You can count on Constellation Records to stick wholeheartedly to their thick roots in aching high-brow 90s post-rock, and the return of Esmerine — a staple of Montreal's post-rock splinter scene — marks prime real estate for expanding the fortress. Esmerine began over a decade ago as the duo of Godspeed You! Black Emperor percussionist Bruce Cawdron and Thee Silver Mt. Zion cellist Rebecca Foon, and has grown into a touring audio/visual quartet. For their latest effort, Dalmak, the band called in an extended host of guests from their home camp (such as Sarah Neufeld and Colin Stetson) and the Turkish grounds where they laid down their bed tracks for this recording. Expanding upon the haunting chamber quartet themes of past albums, Esmerine soak up the Turkish dervish folk flavours with their worldly post-rock epics, and explore further electronic outer realms with gentle, blinking alien ambience. A flowing combination of extended nuances and rollicking caravanserai ensemble pieces, Dalmak captures a group fluttering in refinement, with wings spread wide toward new lands.
Du Kapal? Çar?? de Kevin Hainey:
(Traduit par Catherine Gaucher)
Vous pouvez compter sur Constellation Records pour respecter corps et âme leurs robustes racines dans un post-rock intello-tourmenté des années 90, et le retour d'Esmerine, un incontournable d'une fraction de la scène post-rock de Montréal, est l'événement de choix pour élargir la forteresse. Esmerine existe depuis plus de dix ans, d'abord en tant que duo formé de Bruce Cawdron, percussionniste de Godspeed You! Black Emperor, et de Rebecca Foon, violoncelliste de Thee Silver Mt. Zion, puis en tant que quatuor audiovisuel en tournée. Pour leur dernier opus, Dalmak, le groupe a fait appel à un vaste étalage d'invités issus de leur camp de base (tels que Sarah Neufeld et Colin Stetson) et issus du sol turc où ils ont coulé les fondations des chansons de l'album. Explorant les thèmes envoûtants de quatuor de chambre de leurs derniers albums, Esmerine a imbibé ses épopées post-rock mondaines des saveurs folkloriques du derviche turc et a exploré plus en profondeur une dimension électronique dans une douce ambiance étrangère. Combinaison coulante de nuances déployées et de morceaux de joyeux ensembles de caravansérail, Dalmak saisit l'essence d'un groupe voltigeant dans le raffinement, les ailes déployées vers de nouveaux territoires.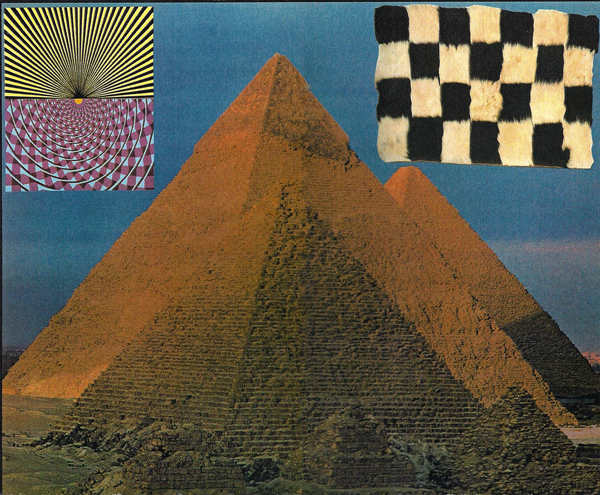 Not The Wind, Not The Flag
The Star Maker
(Inyrdisk)
Toronto, ON
From the pyramid scheme of Trevor Blumas:
Listening to NTW,NTF is a little like wandering through a post-everything landscape where destructive forces have reduced the entirety of man into a point of singularity. To accompany the listening experience of their latest album, I urge you to do the following: pour yourself a fine Chianti, draw up a hot bath, light some aromatherapy candles (perhaps the scent of Carrion Flower would do), squirt some Ivory Springs body scrub onto an iron-barbed loofah and apply. Finish with a chapter of Joseph Conrad's Heart Of Darkness. Like the book, this album conjures up and weighs out the opposing forces of the civilized and the savage, man and nature, the sacred and the profane. Upon the completion of your petty bourgeois bath, you will have a fresh perspective of the world and your entitled position within it. Now put on some clothes, you naked scoundrel, and make some changes! The Star Maker offers a reconsideration of the apocalyptic in an age after Quetzalcoatl that is equal parts wonderfully dreadful and hypnotically mobilizing.
De la quête astrale de Trevor Blumas:
(Profané par Vincent Rondeau)
Écouter NTW,NTF, c'est un peu comme se promener dans un tableau post-tout où les forces de la destruction auraient réduit toute l'humanité à un point de singularité. Pour accompagner l'expérience auditive de leur dernier album, je vous invite à suivre cette procédure : versez-vous un verre de Chianti, allumez des chandelles aromathérapiques (parfumées à la « fleur-charogne », peut-être?), mettez un peu de lotion Ivory Springs sur une éponge en fer barbelé et frottez. Pour terminer, lisez un chapitre d'Au coeur des ténèbres de Joseph Conrad : comme ce roman, l'album de NTW,NTF évoque et oppose le civilisé et le sauvage, l'humain et la nature, le sacré et le profane. Votre baignade petite-bourgeoise terminée, vous disposerez d'une nouvelle perspective sur le monde et sur votre position privilégiée au sein de celui-ci. Et maintenant, petit vaurien nu, rhabillez-vous et faites que ça change! The Star Maker nous offre une nouvelle vision de l'apocalypse après l'ère de Quetzalcoatl, vision aussi merveilleusement terrifiante qu'hypnotiquement rassembleuse.
Not The Wind, Not The Flag – Many Monsters Stand Between Us
Not The Wind, Not The Flag – Freedom Is Not Freedom From Something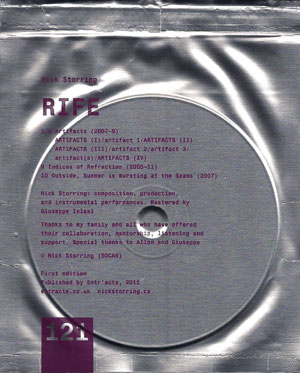 Nick Storring
Rife
Toronto, ON
From the ethnomellowology of Aaron Levin:
As a compilation of Storring's electroacoustic variété, Rife hints at the hidden majesty lurking within his many mental membranes. The searing vision lies between the strung wisdom of his violin and the electroacoustic prowess harnessed by modern digitalia; dense ethnographic footprints imprinted within our curious minds. The heavy THX moves coalesce within beds of a private world processed for our unguided meditation. A valiant expression of creative experimentalism worth all the honours stowed upon him. Freeze-dried for a gripper's safe keeping.
De l'ethnodétenduologie d'Aaron Levin: (Traduit par le monde gentil de Maya Keshav)
En tant que compilation de la variété électroacoustique de Storrings, Rife donne un indice à la majesté cachée qui rôde dans ses nombreuses membranes cérébrales. La vision torride reste entre la sagesse cordée de son violon et la prouesse électroacoustique exploitée par la technologie moderne; les empreintes ethnographiques intenses sont imprimées dans nos têtes curieuses. Les mouves lourdes THX se fondent dans les lits d'un monde privé fait pour notre méditation non guidée. Une expression vaillante d'experimentalisme créatif qui mérite toute la louange qu'il reçoit. Lyophilisé pour la bonne garde d'un acheteur.
---