Tag: wintage
Disguises
Live in Yonge-Dundas Square
[Director: Brian Seeger]
Toronto, ON

Well, this maybe made me cry because nothing has really seemed more significant recently: One of the greatest OUT Canadian bands of all time playing at the
sexiest intersection in the country
. Nobody showed up, except for the LEGEND Mark Maclean
(1)
and Brian Seeger
(2)
(documentarian). Whomever curated this stage was a GENIUS. Get Disguises to rip a set that sounds like someone shovelling glass trilliums overtop a TG rehearsal… at high-fucking-noon, at the epicentre of EVERYTHING. Before urban renewal, Yonge and Dundas was the only intersection in Canada that really felt like SOMEWHERE! That was before
Lastman
and his minions at city hall razed the pawnshops and porn-shops, the record stores and headshops, the dank jewellery markets, the diner joints and a whole slew of gorgeous heritage commercial architecture. I'm over it now and back to thinking it's the coolest intersection in Canada. And if you are old enough to remember Yonge and Dundas before the Great Flattening than you are old enough to remember
Disguises
with
Kevin Hainey
(3)
in the line-up on woowoowoowoooozy bass. Sometimes he would just stare at the bass and use his will to pitch its eternal wooing. Jon Shapiro
(4)
shreds bass here but he's best remembered kneeling on a table playing mixer feedback, tapes and a giant horn. Randy Gagne, who looks like a cross between Prince and the Coffee Time at the corner of Dundas and Pape, better known to YOU as
Man Made Hill
, is the shuffle in Disguises, the motion flow. And what of the roguish mug up front in the sick cyan plaid? That's Kevin Crumpp who runs
Wintage Tapes and Records
(5)
, crooning his little heart out, beating a rap, homeowner. The Disguises lp on Wintage (now OOP) is a chef d'oeuvre, recorded by Dale Morningstar at the legendary Gas Station Studio on Toronto Island
(6)
(which is historically significant
(7)
). People are so busy inquiring about the status of AIDS Wolf they forget to inquire about the status of Disguises, a more pressing question. And next year: Gastric Female Reflex featuring William Davidson at the Harborfront Center.
Addendum: If you're not jamming WITH the King, then you're jamming FOR the King, so might as well get with his majesty's Lute-through-too-much-Line-6-style and call it a deep, mind-melded, madrigal, there Troubadour!
(1) (Mark Maclean) Of the Sick Lipstick, Black Cat 13, Thrashed Genes and Induced Labour, but who recently chose Life and gave up on the permanent death-fetish that is rock n roll, ostie.
(2) (Brian Seeger) Of the Planet Smashers, Pon D'Replay, Wasted Nymph
(3) (Kevin Hainey) Who runs Inyrdisk, the label that released the killer Clinton Machine Lp and tons of Toronto Underground Sound Force related cds, former Exclaim contributor, author.
(4) (John Shapiro) Of Induced Labour, Conspiracy of Familiar Objects, 13 Moons, Almost Blue Sunshine, producer of the John Milner 7" on Pleasance… also runs LsdOTB records, one of the few labels to actually release an Afternoon Penis joint, remembers record shopping on Yonge St. in those Palaeolithic times, secret side doors to the Lion at College and Adelaide, long nights at the Bagel and the first great gig of 2005 as if it had been fried and served just now, Chuck Schuldiner briefly joined Slaughter for a few months and was seen straggling around York Mills for some reason, how the Jerks and Suicide played the Horseshoe, Major Street days, long-night living room gig scenes and onwards.
(5) Wintage, the non-internet-presence label, has released countless amazing underground titles. Recent zones have included releases by Thurston Moore, field recordings of a Japanese couple fucking, Knurl, Nihilist Spasm Band and Six Heads, the former three on wax! The former three are all stone-cold Canadian classics.
(6) (Gas Station Studio on Toronto Island) Of Diner is Ruined, possibly even the Rheostatics. Recorded plenty of records in his day, including sides by Gord Downie, Julie Doiron, the Woodchoppers Union and the second GYBE! record ect ect. The Diner is Ruined blew my adolescent mind bee tee double you, when they opened for Helium and Sonic Youth at the Warehouse circa 1995.
(7) Reminds me of my submitted piece on Black Sabbath's "Never Say Die" for Weird Canada's Departures Revisited, the draft of which came back to me defaced, in Levin's hand, by a giant MAPL system logo with only the "P" blackened.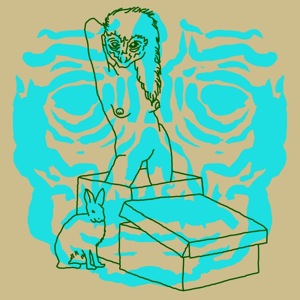 Six Heads
Cardboard Oracle
(Wintage Records & Tapes)
Toronto, ON
From the corrugated ESP of Jesse Locke:
With decade-spanning CVs instilling sonic seasickness, Toronto's smirking surrealists have become an underground institution of near NSB proportions. Carboard Oracle marks Six Heads' inaugural expedition on vinyl, and it's a seriously woozy cruise. Sipping from the same strange brew as Smegma, A-side "Smaller, Larger, Lighter (Incantation of the Naugahyde Witch)" finds Twin Peaks' little man from another place bubbling up the bong and raiding a kid's tickle trunk to find a kalimba. The flip slides even further sideways, as "Carnival Dust" spins on a not-so-merry-go-round of smeared signals, chimes and disconnected static from the depths of the Devil's Triangle. Not for the faint of stomach.
De la perception extrasensorielle de Jesse Locke: (Traduit par les six têtes de Maya Keshav)
Avec les CV qui passent les décennies en distillant le mal de mer sonique, les surréalistes souriants de Toronto sont devenus une institution avant-garde de dimensions presque égales à celles de NSB. Carboard Oracle est l'expédition inaugurale de Six Heads en vinyle, et c'est une croisière tellement enivrante. En sirotant de la même infusion bizarre que Smegma, la face A "Smaller, Larger, Lighter (Incantation of the Naugahyde Witch)" trouve le petit homme d'un autre endroit de Twin Peaks en train de faire bouillonner un bong et de dévaliser la planque de jouets d'un enfant pour trouver une sanza. L'autre face est même plus tordue, quand "Carnival Dust" tourbillonne sur un carrousel de signes tachées, de carillon et de larsen déconnecté du fond du triangle de l'enfer. C'est pas pour les estomacs faibles.
Six Heads – Smaller, Larger, Lighter (Incantation of the Naugahyde Witch) (excerpt)
---