Tag: winnipeg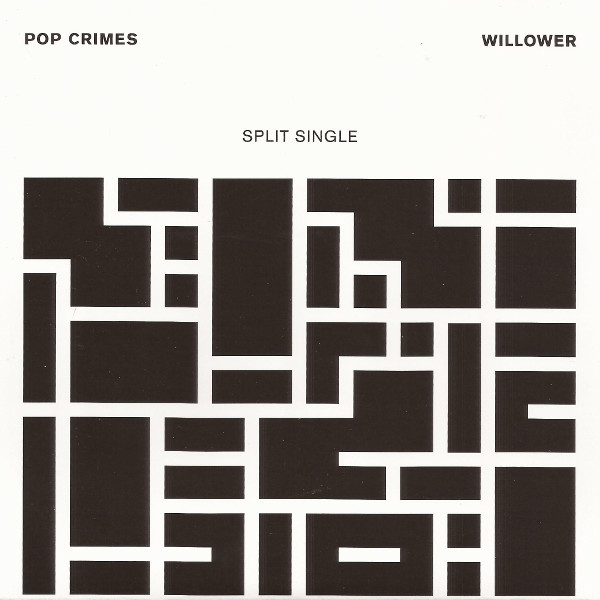 Pop Crimes // Willower
Split
Winnipeg, MB // Toronto, ON,
From the antennae occupation of Taylor Burgess:
This split is a slow, six-legged pull of your belly over the static and hum — before the RGB detonates and sends you into antennae-occupied space. Pop Crimes are brandishing buzzsaws while singer/guitarist Stefan Braun delivers a maniacal monologue of some sick Cronenberg persuasion; Long live the new flesh, and keep running around. Willower is on a modal meditation of what was once west, which winds can be commanded up, and whose waves will wind up on empty shores. The medieval script's source has yet to be unearthed, but Crosss' Andy March conjures the b-side all by his lonesome.
De l'occupation par les antennes de Taylor Burgess:
(Traduit par Jessica Grenier)
Ce split se fait sentir lentement, ses six pattes vous tirant par le ventre au-dessus des parasites vrombissants – juste avant que le RVB n'explose et vous envoie dans l'espace occupé par des d'antennes. Pop Crimes brandissent des scies mécaniques pendant que le chanteur-guitariste hystérique, Stefan Braun, se livre à un monologue tordu à la Cronenberg. Longue vie à la nouvelle chair, qu'elle poursuive son œuvre. Willower s'adonne à une méditation modale sur ce qu'était jadis l'Ouest, sur quels vents peuvent être commandés et sur quelles vagues viendront s'abattre sur le rivage désert. La source de l'écriture médiévale demeure enfouie, mais Andy March, de Crosss, sait évoquer la face B seul.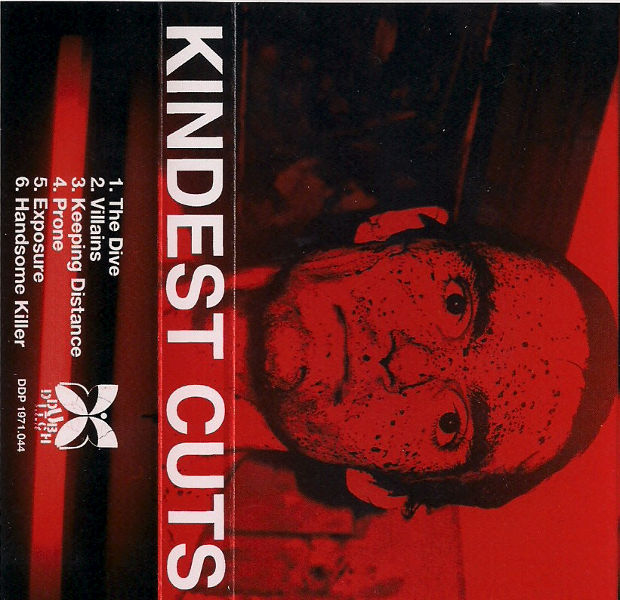 Kindest Cuts
Kindest Cuts
Winnipeg, MB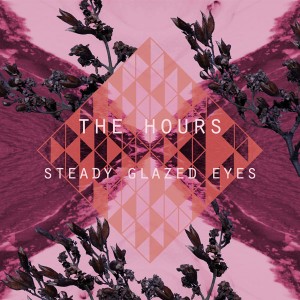 The Hours
Steady Glazed Eyes
(Self Released)
Winnipeg, MB
From the pedal dusted fingertips of Alanna Yaraskavitch:
Mom wants to know when you're coming home. The Hours, on the other hand, have a different plan in mind. Transformed from Velvet Underground cover band into four-piece heartbeat, Steady Glazed Eyes pulses in suspended dream time on the distant shores of a universe powered by organ fuel, pedal dust and romance. And look at that! They've already done you a solid and booked your one-way ticket to make-out city central (which, apparently, is now in Winnipeg). So light a candle, kid. Maybe three. You're going to be here for a while.
Des doigts poussiéreux d'Alanna Yaraskavitch:
(Traduit par les mouvements langoureux de Nicolas Coutlée)
Ta mère veut savoir à quelle heure tu vas rentrer. Mais The Hours a d'autres plans pour toi. Groupe hommage au Velvet Underground devenu quatuor du coeur, Steady Glazed Eyes bat le temps d'un rêve en suspens sur les côtes distantes d'un univers alimenté à l'essence d'orgue, à la poussière de pédale et à la tendresse. Et regarde-moi ça! Le groupe t'a déjà fait une faveur et pris un billet aller-simple pour la ville du baiser (maintenant Winnipeg, apparemment). Alors, allume une chandelle, petit. Peut-être même trois. Tu risques d'être ici un bon moment.

The Hours – Steady Glazed Eyes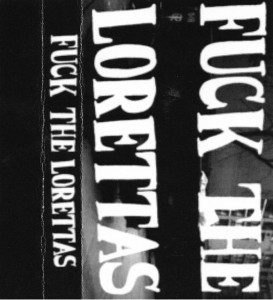 The Lorettas
Fuck The Lorettas
(Self Released)
Winnipeg, MB // Toronto, ON
From the clutch pencil of Josh Silver:
Grimy guitars drone to distorted drums while vocals squeal against overloaded mic circuits; this is unrestricted expression born in the bedroom studio of Erica Young. Her first release as the Lorettas embodies the DIY punk ethos of spontaneous creation, using only a four-track, her hands, feet, mouth and attitude. The product of this endeavour is a hard-hitting album that speaks for itself. Ready your ears, turn it up to 11, and smash the system.
Du pousse-mine de Josh Silver:
(Traduit par Jan Karza)
Des guitares sales planent au-dessus des batteries ronflées pendant que les voix crissent à travers des circuits de micros surchargés : ceci est une expression libre qui est née dans le studio d'Erica Young. Son premier disque en tant que The Lorettas évoque l'esprit DIY punk de la création spontanée, utilisant juste un enregistreur 4 pistes, ses mains, ses pieds, sa bouche et son attitude. Le produit de cet effort est un album percutant qui parle pour lui-même. Prépare tes oreilles, monte le son jusqu'à 11, et fracasse le système.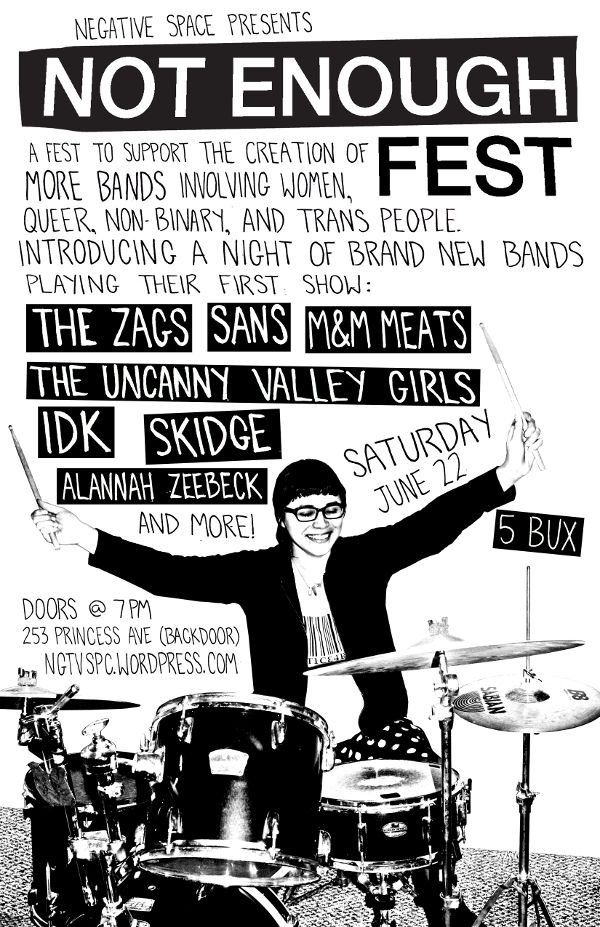 How To Host Your Own Not Enough Fest in Your City
Kara Passey
Winnipeg, MB
Photos: Warren Humeny
Piece Editor: Eileen Wennekers
From the barrier breakdown of Kara Passey:
"Hey, we should do this."
Maybe it was being ignored in music stores, or jamming with patronizing dudes, or even the ex-boyfriend who told me that girls' voices are just not fit for punk rock. Even with over a decade of music lessons under my belt, I spent a long time feeling too inadequate to play power chords. It wasn't until my early 20s that I finally met a group of people who respected this apprehension, and helped me break down some of the barriers I faced.
Recently, Winnipeg had its first Not Enough Fest (NEF). Over the last winter I had joined the Negative Space collective (a collectively run safe-space venue), and stumbled across www.notenoughpdx.com while lost in the endless scroll of tumblr. In Portland, NEF was a queer/LGBTQIXYZ art, music, and performance festival. The festival was an incentive to inspire experimentation, collaboration, and to create all brand new work for the final festival date. A group called No More Fiction, based in New Orleans, did their own version with more of an emphasis on music. I got inspired to plan one in Winnipeg, and I want to share how this happened to people who are interested in doing something similar.
Here are a few things to consider if you are hoping to plan your own Not Enough Fest.
1. Actually do it.
There are a million reasons to not do something and, I won't lie, there was stress that came with doing this project. But, if I hadn't brought the idea up with Negative Space then NEF would not have happened in Winnipeg. That first step where you say, "Hey, we should do this," is really important. Don't wait for someone else to come along; you'll end up disappointed.
2. Recruit people to help you.
That being said, don't do it alone! I lucked out and had a team ready to jump to it, but maybe you don't. Approach like-minded people, tell them what you're doing, host meetings with wine and snacks.
3. Assess your resources.
Our NEF meetings involved a lot of list making. Who can we contact for press? Who can host a workshop? Who can donate equipment? The more people working on your team, the more contacts you have.
4. Write a statement.
A well-articulated statement gives a project purpose. Sure, a festival of brand new DIY bands would still be a really awesome night, but the statement we wrote for our festival really helped push forward our end goal. Having a pre-planned statement made coordinating our tone on Facebook, posters, and even in radio interviews so much easier. Also, having a meeting with organizers and hashing out everyone's feelings on the project will help get everyone's needs met and will let you work as a stronger team.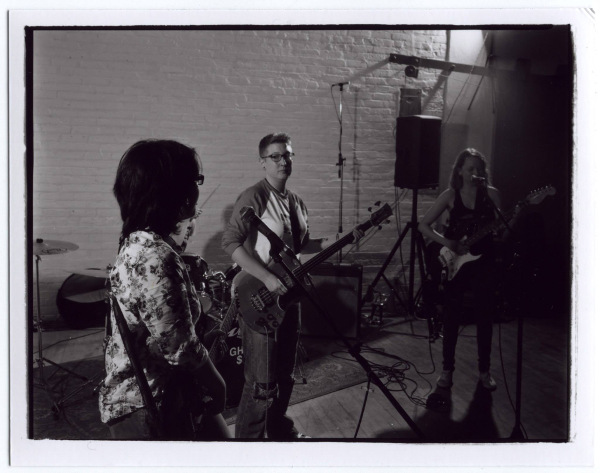 5. Be inclusive.
Negative Space had a policy that at each music show in our venue, there must be at least one female-identifying participant. But, we found that this policy only concentrated on women and decided to use NEF as a way to help break down barriers for queer, non-binary, and trans people as well. Putting the festival together helped Negative Space grow our organization's scope and potential.
Go to shows, see who is not be represented, and help create a community that they will feel welcome and safe in. This takes more than a statement and good intentions, this takes action.
6. Be supportive.
Not all participants will share the same experience. Some will need the safe space to have their first show in, some will need to be shown that they are capable, some will have never have touched a guitar before, some won't be able to afford one, some might not have a place to practice it in.
7. Provide assistance.
Host a panel discussion with local musicians to create a dialogue about the issues we face and how to break them down. Host workshops to teach newcomers their instruments. Gear share and provide jam space.
8. Be approachable.
Emphasize that it is okay to ask for help, and ask people if they need help before they ask you. Keep in touch with participants and encourage them. Don't neglect their attempts to contact you.
The NEF was appealing to me because it is a project that inspires action against the issue of sexism in music. Our end result included an awesome kick-off party, a panel discussion with local female musicians, gear share, online community, and a final festival show that involved nine whole new bands! Negative Space was able to adapt the festival to meet the needs of our community, and hopefully other cities will continue this trend.
Kara Passey is a community activist and front person for the Winnipeg-based pop-punk band Ghost Hole. They enjoy long walks, pizza, and the company of dogs.
Comment organiser ton propre Not Enough Fest
Des barrières éffondrées de Kara Passey:
(Traduit par Marcin Lasinski)
"Hé, on devrait le faire!"
C'est peut-être les fois où je me suis fait ignorer dans les magasins de musique, ou celles où j'ai joué de la musique avec des mecs condescendants, ou même quand mon ex me disait que les voix de filles n'étaient pas fait pour le punk. Peu importait que j'aie eu plus qu'une décennie de leçons de musique derrière moi, j'ai passé beaucoup de temps à me sentir trop inadéquat pour jouer des accords de puissance. Ce n'est que pendant ma jeune vingtaine que j'ai finalement rencontré un groupe qui respectait cette inquiètude: ils m'ont aidé à franchir certains obstacles auxquels j'avait dû faire face.
Winnipeg a récemment accueilli son premier Not Enough Fest. Au cours de l'hiver précédent j'ai rejoint le collectif Negative Space (une salle safe-space et accueillante qui est opéré collectivement), et je suis tombé sur www.notenoughpdx.com durant un autre déroulage interminable sur le site Tumblr. NEF était un festival queer/LGBTQIXYZ d'art, de musique et de performance. Le festival encourgeait l'inspiration à l'expérimentation, à la collaboration et à créer un travail tout nouveau pour le dernier jour du festival. Un groupe s'appelant No More Fiction, basé à la Nouvelle-Orléans, on fait leur propre version avec une emphase plus forte sur la musique. J'ai été inspiré d'en organiser un à Winnipeg, et je voulais partager mon expérience pour les gens qui serait intéréssé de réaliser quelque chose de similaire.
Voici quelques choses à considérer si tu veux organiser ton propre Not Enough Fest.
1. N'y réfléchis pas trop, fais-le!
Il y a un million de raisons pour ne pas faire quelque chose et, sans mentir, un certain stress est apparu en travaillant sur ce project. Mais, si je n'avais pas parlé de l'idée avec les gens de Negative Space, le NEF n'aurais pas eu lieu à Winnipeg. Ce premier pas, quand tu dis "Hé, nous devrions faire cela" est très important. N'attends pas jusqu'à quelqu'un d'autre t'accompagne; tu sera déçu.
2. Rallie des gens pour t'aider.
Ceci dit, ne le fait pas tout seul! J'avais la chance d'avoir une équipe toute prête à se montrer à la hauteur de l'occasion, mais peut-être tu n'as pas cette chance. Approche des personnes aux vues similaires, parle-leur de ce que tu fais, accueille les rendez-vous avec du vin et des snacks.
3. Déterminez vos resources.
Pendant nos rencontres, nous créeions souvent des listes. Qui pouvons-nous contacter pour la presse? Qui pourrait accueillir un atelier? Qui pourrait faire don d'équipement? Le plus de gens tu as dans ton équipe, le plus de contacts vous avez.
4. Écrivez un déclaration.
Une déclaration bien énoncée donne à un projet de la résolution. Bien sur, un festival ne comprenant que des groupes DIY flambant neuf serait comme même une soirée géniale, mais la déclaration que nous avons écrit pour notre festival a vraiment aidé à avancer plus vite sur notre but final. Avoir une déclaration préalable nous a aidé à coordonner notre ton sur Facebook, les affiches et même les interviews à la radio. De plus, avoir un rencontre avec les organisateurs et organisatrices pendant lequel tout le monde peut négocier leurs sentiments aide à s'assurer que les besoins de toutes et tous sont satisfaits et vous permet de travailler dans une équipe unie.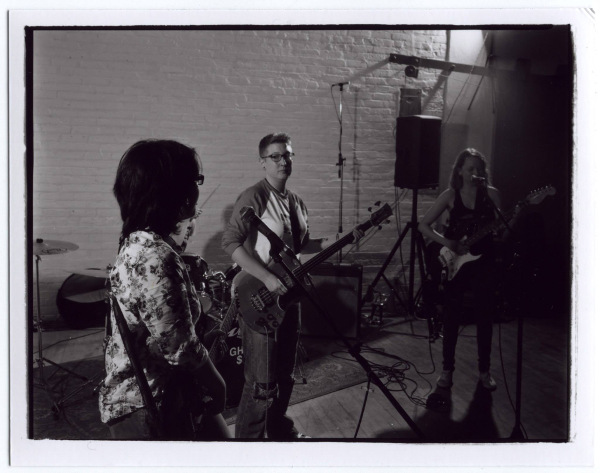 5. Soyez inclusif.
Negative Space avait un principe qu'à chaque concert, il devait y avoir au moins une participante qui s'identifie comme une femme. Cependant, nous avons trouvé que ce principe se concentrait seulement sur les femmes,et nous avons décidé d'utiliser le NEF comme une opportunité d'enfoncer les barrières pour les gens homosexuelles, non-binaire et transsexuelle aussi. Créer un festival a aidé Negative Space à déveloper le cadre et les possibilités de notre organisation.
Allez aux concerts, observez ceux et celles qui n'y sont pas representés, et aidez à créer une communauté dans laquelle ils et elles se sentiront les bienvenus. Il faut plus qu'une déclaration et de bonnes intention; il faut de l'action.
6. Apportez du soutien.
Tous les participants n'auront pas les mêmes experiences. Quelques-uns auront besoin du safe space pour pouvoir faire leur première spectacle; d'autres auront besoin de mots d'encouragement pour croire qu'ils en sont capables; d'autres n'auront jamais touché une guitare; certains n'auront pas les moyens d'en acheter une ; d'autres n'auront pas d'espace pour pratiquer.
7. Fournissez de l'aide.
Tenez une discussion avec les musicien(nes) locaux pour créer un dialogue sur les questions auxquelles on doit faire face, et comment s'y adresser. Accueillez des ateliers pour enseigner aux nouveaux arrivants comment jouer de leurs instruments. Partage l'équipement et fournit un espace de répétition.
8. Soyez approchable.
Soulignez que c'est normal de demander de l'aide et demande si les gens ont besoin d'aide avant qu'ils ne vous le demandent. Restez en contact avec les participants et encouragez-les. Ne negligez pas leurs tentatives pour vous contacter.
Le NEF m'attirait parce que c'est un projet qui inspire l'action contre le problème du sexisme dans la musique. Notre resultat final a compté un coup-d'envoi génial, une discussion avec des musiciennes locales, du partage d'équipement, une communauté en ligne, et un festival qui a inclu neuf nouveaux groupes! Negative Space a été capable d'adapter le festival pour satisfaire les besoins de notre communauté et il faut espérer que d'autres villes vont poursuivre cette tendance.
Kara Passey is a community activist and front person for the Winnipeg-based pop-punk band Ghost Hole. They enjoy long walks, pizza, and the company of dogs.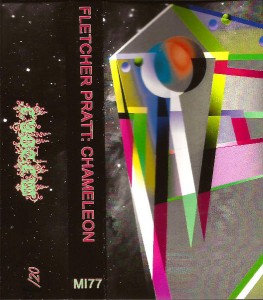 Fletcher Pratt
Chameleon
Winnipeg, MB
From the stereoscopic eyes of Taylor Benjamin Burgess:
Ever changing, Fletcher Pratt keeps swaying on, making his kaleidoscope way through the ever-spooling landscape. Departing from early tape collages, he drove rhythmic noise over the edge, steered into and out of squealing absurdity, and rolled the top down to show off his spacey reggae. Chameleon returns to the arrhythmic, sounding every bit as disorienting (yet charming) as stereoscopic eyes and chromatophores. It's like a sentient Nintendo cartridge finally took one too many blows, broke up and said, "Y'know what? Fuck it," and went far, far off the grid. Into the woods, to prance and creep around. For the glam chameleon
Des yeux stéréoscopiques de Taylor Benjamin Burgess:
(Traduit par le regard ondoyant de Joannie Pharand)
En perpétuelle évolution, Fletcher Pratt continue son déhanchement, traçant son passage de façon kaléidoscopique à travers la bobine éternelle du paysage. Commençant par des premiers collages audios, il a poussé le rhythmic noise par-dessus bord, conduit à l'intérieur et à l'extérieur d'une absurdité grinçante, pour enfin rouler les fenêtres baissées et faire rayonner son reggae planant. Le Caméléon retourne à l'arythmie, sonnant tout aussi désorienté (quoique charmant) que des yeux stéréoscopiques et des chromatophores. C'est comme une cassette de Nintendo douée de sens qui, après avoir reçu trop de coups, s'était brisée et s'exclamait finalement : « Tu sais quoi ? D'la marde, » et dégageait de la place, s'en allait bien loin. Dans les bois, pour se pavaner et rôder. Pour qu'il sonne de cette façon, ce caméléon glamour devra tout d'abord se transformer en soupe primaire.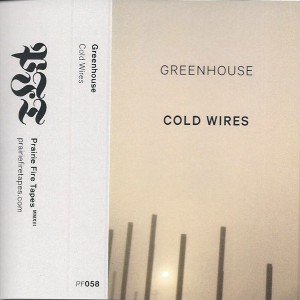 Greenhouse
Cold Wires
Winnipeg, MB
From the green apartment of Kevin Strang:
Winnipeg drone guitarist Curran Farris has become known for his signature tones and signals, elevating the listener in both live and recorded settings. Cold Wires continues his ethereal world of pedal worship, providing a musical base to a moment in which one can pause and be raised above the void of soundlessness in their mental make-up, looking down upon their thoughts as they are momentarily lifted into a lush musical landscape. Serving as the perfect follow up to his 2011 album Tired Forever, with Cold Wires Farris gives the listener another escape for 45 minutes and 14 seconds.
De l'appartement vert de Kevin Strang:
(Traduit par le cercle chromatique de Catherine Gaucher)
Curran Farris, guitariste drone originaire de Winnipeg connu pour le son distinctif de ses tonalités et signaux, est capable de soulever ses auditeurs autant en écoute live que sur enregistrement. Cold Wires est conséquent de son monde éthéré voué au culte des pédales et fournit une trame musicale propice à un moment où l'on peut faire une pause et, dans une constitution mentale, être élevé au-dessus du vide du silence, observant d'en haut les pensées pendant qu'elles s'élèvent momentanément dans un luxuriant paysage musical. Servant de parfaite suite à son album Tired Forever, paru en 2011, Farris, avec Cold Wires, offre à ses auditeurs une autre évasion de 45 minutes et 14 secondes.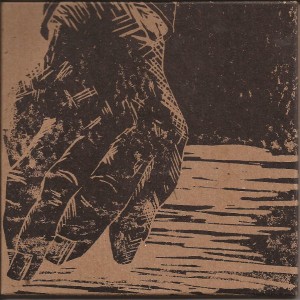 Animal Teeth
Me & You
(Self Released)
Winnipeg, MB
From the Faustian dreams of Matt Lazenby:
Winnipeg four-piece Animal Teeth pull no punches. Me & You is six songs of whirring chords, fuzzy tones, and delicate chimes. Each tune is awash with understated melodies simple enough to belie their own beauty. Never plodding or dull, Animal Teeth's sound is dynamic enough to segue from the ebb and flow of tender atmospherics to noise-strewn wails of guitar and howling screams, while managing to sound vital and steer clear of pretension.
Des rêves faustiens de Matt Lazenby:
(Traduit par l'alpha-moulin d'Aliké Harel)
Le quatuor de Winnipeg Animal Teeth n'y va pas de main morte. Me & You, c'est six chansons où les cordes frémissent, où les tonalités se brouillent et où les tintements se font délicats. Chaque piste est inondée de mélodies modestes, assez simples pour dissimuler leur propre beauté. Jamais stagnant ni terne, le son d'Animal Teeth est assez dynamique pour enchaîner des fluctuations d'ambiances douces, des plaintes dissonantes de guitare et des hurlements tout en réussissant à sembler essentiel et à balayer toute prétention.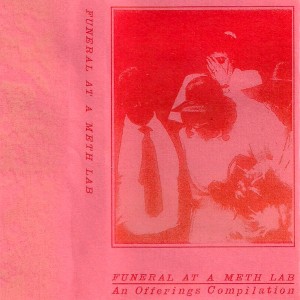 Various Artists
Funeral at a Meth Lab
asterisk, Canada
From the anomalous dreams of Javier Fuentes:
As someone who came up discovering Toronto's music scene from a distance, Offerings has been one of the most crucial publications I've encountered in recent years. This 18-song compilation is a glimpse into the amazing community that has been supported and celebrated in their hallowed pages. Coming off as a dream lineup for the next Wyrd Fest, this tape could also double as the Solaris Top 40. The comp sees some familiar faces rise out from the woodwork armed with potent new jams that fit in perfectly with the already golden hits that are on here. Mutant punk meets mutant concrète, while soul meditations groove alongside kosmische explorations. Rumour has it you can even hear a bonus cut from the Ford Noise Tape if you listen closely. Is this what they play after hours at the Eaton Centre?
Des rêves anormaux de Javier Fuentes:
(Traduit par l'impatience de Virginie Langlois)
J'ai découvert la scène musicale de Toronto à distance et je dois dire qu'Offerings a été l'une des publications les plus cruciales que j'ai découvertes ces dernières années. Cette compilation de 18 chansons donne un aperçu de la formidable communauté qui a été soutenue et célébrée dans les pages bénies de cette publication. Cela ressemble à une programmation de rêve pour la prochaine édition du Wyrd Fest, mais cela pourrait tout aussi bien servir de Solaris Top 40. On trouve sur cette compilation aussi bien des têtes connues qui surgissent d'un peu partout que des nouveaux venus très convaincants qui cadrent parfaitement avec les titres à succès présents ici. À la croisée du punk mutant et de Mutant Concrète, les méditations soul côtoient les explorations cosmiques. Il paraît qu'en tendant l'oreille on peut même entendre un extrait de la fameuse cassette de Ford. C'est ça qu'ils passent au Centre Eaton après la fermeture?
Tenderness – Orphans Howling in the Wild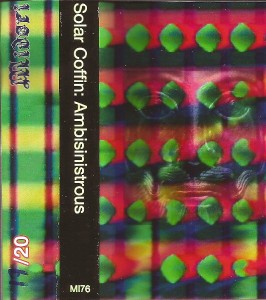 Solar Coffin
Ambisinistrous
Winnipeg, MB
From the time-lapse cocoon of Taylor Burgess:
Clicking in this cassette will be your final nail. It shall shunt you off into deep, lifeless space. No prospect of a return trip. And as you drift further, so does Ambisinistrous; it's a time-lapse cocoon, building the oscillating void around and within you. The duo makes use of all oscillations, creating rapt crowds in their great audiovisual din. It should be no surprise that Fletcher Pratt is half of the droning bliss behind this small-run cassette, with Erik Larsen taking the rest of the knob-twisting to the stars.
Du moment de cocon de Taylor Burgess:
(Traduit par Jacinthe Laplante)
Cliquer sur cette cassette sera votre coup de grâce. Elle vous mènera aux confins d'un espace sans vie. Sans possibilité de retour. Comme vous, Ambisinistrous dérive plus loin, un moment dans un cocon, créant un vide vibrant autour et à l'intérieur de vous. Ce duo utilise toutes les oscillations, captivant les foules avec leur grand boucan audiovisuel. Il n'est pas surprenant que Fletcher Pratt soit derrière le bonheur bourdonnant de cette courte cassette avec Erik Larsen qui nous porte jusqu'aux étoiles en jouant avec les boutons de réglage.
---