Tag: winnipeg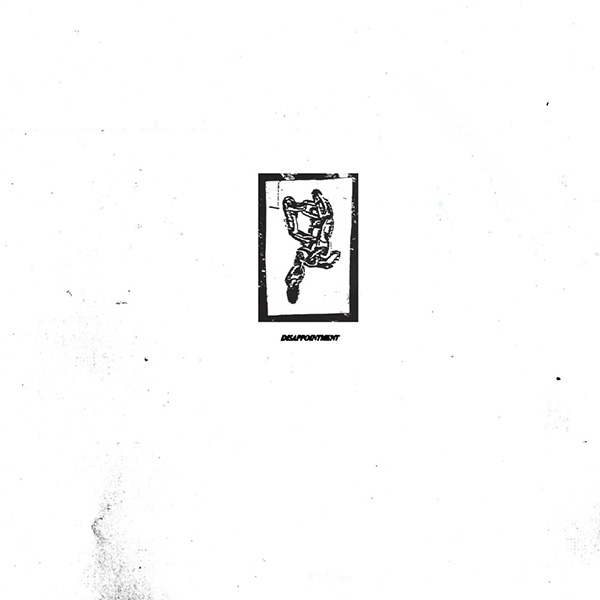 Tunic
Disappointment
Public Tone
Winnipeg, MB
From the constant disappointment of Josh Rohs:
Winnipeg's Tunic roll up their sleeves on their 7" debut, a tetra-pack of knuckle-dragging noise-punk as exothermic (and ephemeral) as an arc flash. These Manitoban noisemongers scrape and claw through tracks like adderall-fueled Liz-kids. Got an itch you can't scratch? Can't get no satisfaction? Here's a dose of *Disappointment*.
Du désappointement constant de Josh Rohs:
(Traduit par la chambre noire de Julie Mayer)
Le groupe Tunic de Winnipeg retrousse ses manches sur son tout premier super 45 tours, un Tetra Pak de punk noise primitif aussi exothermique (et éphémère) qu'un arc électrique. Ces sonoriers manitobains égratignent et griffent à travers les chansons comme de jeunes lézards roublards nourris à l'Adderall. Tu n'peux pas te *scratcher* pour soulager ta démangeaison? T'es pas satisfait? Voici une dose de *Disappointment*.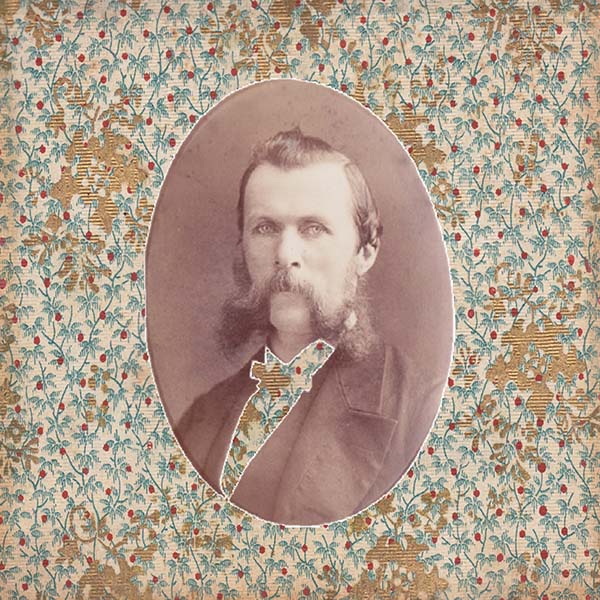 Joko Tea
Steamin' Hot Cuppa
(Self-Released)
Winnipeg, MB
From the mouth and brain of Jackson Reed:
Cuppa what? Fruit punch on a summer day, or a hot & boozy drink on a winter night. Either or works. Old and new vibes. Moustached gentlemen appear to come out of a 1892 yearbook, with serious floral touch. Upbeat, fast pace, imaginative. Timbre is everything. Soft jazzy, funk and pop sounds from a Fender Rhodes. Recommended if you like tropical pop.
De la bouche et du cerveau de Jackson Reed:
(Traduit par Emma N-K)
Des cocktails fruités en journées, ou des soirées hivernales bien arrosées. Une ambiance vive et ancienne tout à la fois. Des hommes moustachus de la Belle Époque y ressortent, comme d'un album de promotion 1892, avec une pointe lourdement fleurie. Optimiste, rapide et imaginatif. Le timbre avant tout. Des sons de jazz doux, funky, pop, sortants d'un Fender Rhodes. Recommandé si vous aimez la pop tropicale.
Joko Tea – Dance of the Reindeer
"It's something in between a fun thing to do with other artists and a throwing-up-of-hands in the face of the ridiculously precarious position that artist-run culture is in today." – Letch
Taking advantage of the potential in a living room of one's own, Also As Well Too is bridging the vast physical distance between Canadian artists. Brainchild of Letch Kinloch, the library/gallery is generously based in Kinloch's Winnipeg home, and there seems to be no more appropriate location. Bright windows illuminate bookshelves brimming with donated and loaned books, zines, cassettes, and records – an impressive response to a humble call for submissions. It comes as no surprise that the community response has been as supportive as it has been collaborative. Workshops and residencies began earlier this summer, and The Wandering Albatross tour, accompanied by Ray Fenwick's Le Moat Juice, paid a visit to artist-run centers such as TRUCK, SAAG, and Yellow Dog, with more manifestations coming soon. A library never looked so good or felt so fresh.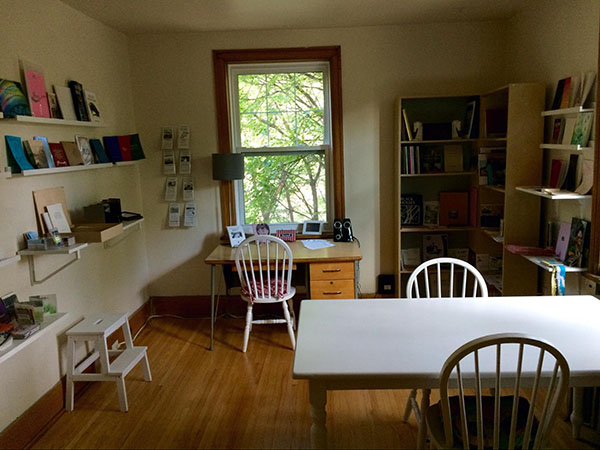 How did this project come into being?
I'd wanted to make an arts space for a long time – something that gave every artist the potential for equal billing and opened up options for responsive opportunities and collaboration. But every time I looked for spaces to rent or buy, the cost seemed totally impossible. One day it struck me – the Morbid Anatomy Museum in Brooklyn started in Joanna Ebenstein's living room. She housed it there for 10 years as it grew into an amazing community and eventually a museum in its own building. I was already using my living room as a studio, so I just cleared it out, put up some shelves, and started asking people about artist books. The response was fast and incredible.
Individuals who love and/or make books will find this totally exciting, but what would you tell someone who might not consider a library a relevant contemporary project?
I would say that, like so many other media, artist books are marginalized because people simply haven't recognized their importance yet. Bookworks still operate on the fringes and, maybe because of that, they are often used to explore ideas that are not accepted in the mainstream. As they have not yet been co-opted or canonized, the medium gives people a certain freedom from the historical oppressiveness of other media, in the same way that video did. It can be anything. So maybe their lack of recognition is a good thing.
But really, it doesn't matter. The great response I've had to the project – people sending in their books and the books of other artists they've collected, people showing up to read and explore the collection, the really amazing response to the workshops and events – there is already a large community that has been working with and thinking of artist books as relevant to contemporary art long before I ever showed up on the scene. I don't really care if anyone else thinks it's important.
There is totally something about the physical book that is inexplicably important – will Also As Well Too strive to be a physical-only library, or are you thinking of going digital?
It is both! There are some really neat artist books that exist in a digital format that mimics the classic page-turning of traditional books, and it is the perfect medium through which to create that bridge. But there are also digital works that really push the parameters of what a "book" can be. But I don't think this is totally new to the digital age. There are cassette tapes and records in the Library's collection that I see as precursors to the digital books.
Another digital aspect to the library is an upcoming project I'm working on, which will be launched with the Wandering Albatross Tour – a geographical database of the locations of artist books around the country (a lot of them are hiding out in regular libraries because people don't know how to categorize them). The idea is to get people to review the artist books that they find, which will help people be able to engage with them from afar, and maybe get some exciting conversations started. All of this will be hosted on the Also As Well Too website.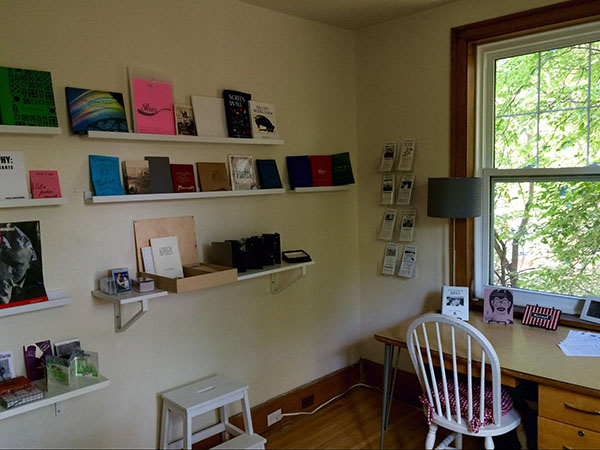 "Also As Well Too" strikes me as all the words we use as filler when we're really excited about something and can't stop talking – how did you source this title?
These were words my friends and I used to string together in high school, emphasizing and extending the awkwardness of communication, the arbitrariness of the beginning and end of thoughts, the questionableness of language choices. It became a joke, almost like a tic – something we eventually filled in for each other.
Anything you would like to take this opportunity to say to the world?
Send me your artist books!
If you're not in the neighbourhood or on the tour route, you can cruise the current catalogue, submit and get excited for the library's future endeavours. Also As Well Too is worth checking out (and renewing).
Par le garde-manger de produits secs de Sophie Wonfor:
(Par la lasagne en laine d'Émily Traichel)
C'est quelque chose qui se situe entre un truc amusant à faire avec d'autres artistes et simplement baisser les bras face à la position ridiculement précaire de la culture gérée par les artistes d'aujourd'hui. » [traduction] — Letch
Tirant avantage du grand potentiel d'un salon propre à soi, Also As Well Too vient combler la distance physique considérable entre les artistes canadiens. La bibliothèque/galerie est la progéniture intellectuelle de Letch Kinloch, et il a généreusement décidé de l'installer dans son domicile à Winnipeg — un emplacement on ne peut plus approprié. La lumière éclatante des fenêtres illumine les étagères qui débordent de livres, de zines, de cassettes et de vinyles donnés et prêtés : l'impressionnante réponse de la communauté à un humble appel aux soumissions. La réaction communautaire a été aussi encourageante que collaborative, et ce n'est pas surprenant. Des ateliers et des résidences ont débuté plus tôt cet été, et la tournée Wandering Albatross, accompagnée par Le Moat Juice de Ray Fenwick, a notamment rendu visite aux centres d'artistes tels que TRUCK, SAAG, et Yellow Dog, suit par d'autres manifestations bientôt. Jamais une bibliothèque n'a parût si belle et originale.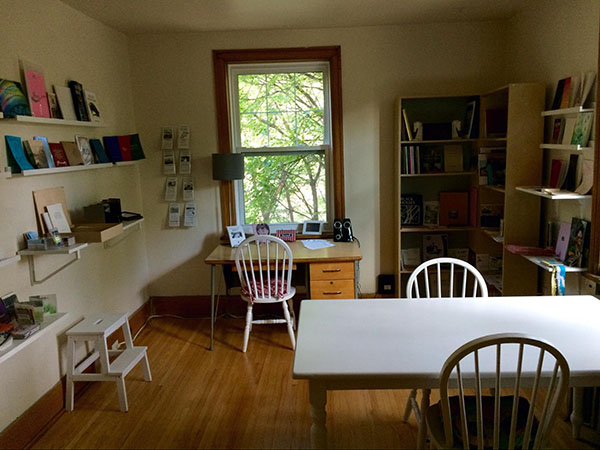 Comment ce projet est-il né?
Je voulais créer un espace artistique depuis longtemps, un endroit qui donnerait à chaque artiste la chance d'avoir une facturation égale et qui ouvrirait la porte aux possibilités et à la collaboration. Mais chaque fois que je trouvais des espaces à louer ou à vendre, le prix était complètement hallucinant. Puis un jour, ça m'a frappé — le Morbid Anatomy Museum à Brooklyn a commencé dans le salon de Joanna Ebenstein. Elle l'a accueilli pendant 10 ans, développant une communauté extraordinaire avant de devenir un véritable musée. Je me servais déjà de mon salon comme studio, alors je l'ai simplement vidé, puis j'ai installé des étagères et j'ai commencé à poser des questions au sujet de livres d'artistes dans mon entourage. La réaction a été rapide et incroyable.
Les gens qui adorent et/ou font des livres trouveront ça hyper passionnant, mais que diriez-vous à ceux qui ne considèrent pas une bibliothèque comme un projet contemporain pertinent?
Je dirais que, comme de nombreux autres médias, les livres d'artistes sont marginalisés parce que les gens n'ont simplement pas encore reconnu leur importance. Ces livres existent en marge de la société, et, peut-être grâce à cela, ils sont souvent utilisés pour explorer des idées qui ne sont pas acceptées par l'idéologie dominante. Comme ils n'ont pas encore été récupérés ni canonisés, le médium accorde encore aux gens une certaine liberté (contrairement au caractère oppressif d'autres médias), comme la vidéo l'avait fait. Ça peut être n'importe quoi. Alors peut-être que leur manque de reconnaissance est une bonne chose.
Mais ça n'a vraiment aucune importance. La quantité immense de réponses que j'ai eues pour le projet – les gens qui envoient leurs livres ou ceux qu'ils ont collectionnés faits par d'autres artistes, les gens qui se présentent pour lire et explorer la collection, leur présence aux ateliers et aux évènements – me montre qu'il y avait déjà une grande communauté qui travaillait sur les livres et qui les considérait comme étant pertinents dans le cadre de l'art contemporain longtemps avant que je n'arrive sur la scène. Ça m'est vraiment égal que les autres pensent que c'est important ou non.
Il y a quelque chose au sujet des livres matériels qui est inexplicablement important. Est-ce qu'Also As Well Too s'efforcera d'être une bibliothèque purement physique, ou est-ce que vous pensez vous convertir au format numérique?
Les deux! Il y a des livres d'artistes vraiment intéressants en format numérique qui imitent l'action de tourner les pages des livres traditionnels, et il s'agit du médium parfait pour créer un pont entre les deux. Il y a également des ouvrages numériques qui repoussent les paramètres de ce qui constitue un « livre ». Mais je ne crois pas que ce soit une nouveauté propre à l'ère numérique. Il y a des cassettes et des vinyles dans la collection de la bibliothèque que je vois comme des précurseurs. Un autre aspect numérique de la bibliothèque est un projet sur lequel je travaille actuellement, qui sera lancé avec la tournée Wandering Albatross Tour – une base de données géographiques situant les livres d'artistes à travers le pays (beaucoup se cachent dans les bibliothèques régulières car les gens ne savent pas comment les catégoriser). L'idée est d'inviter les gens à faire la critique des livres qu'ils trouvent, ce qui aidera le monde à s'engager avec eux à distance et permettra peut-être d'entamer des conversations excitantes. Le tout sera publié sur le site web d'Also As Well Too.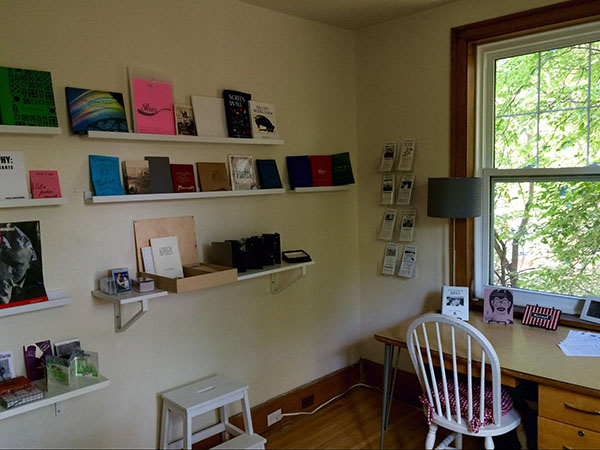 « Also As Well Too » me fait penser à tous les mots vides que l'on emploie lorsqu'on tripe sur quelque chose et qu'on ne peut pas arrêter d'en parler – comment avez-vous obtenu ce titre?
LK : Ce sont les mots que mes amis et moi avions l'habitude d'enchaîner au secondaire, en rallongeant sur le malaise de la communication et en mettant l'accent sur l'arbitraire du début et de la fin des pensées, sur le doute dans les choix langagiers. C'était devenu une blague, presque comme un tic – un vide que nous remplissions mutuellement.
Voulez-vous saisir cette occasion pour dire quelque chose au monde?
Envoyez-moi vos livres d'artistes!
Si vous n'êtes pas dans le quartier ou sur la route qui sera suivie en tournée, vous pouvez feuilleter le catalogue actuel, faire une soumission et vous réjouir des futures entreprises de la bibli. Also As Well Too vaut la peine d'être découverte (et alimentée).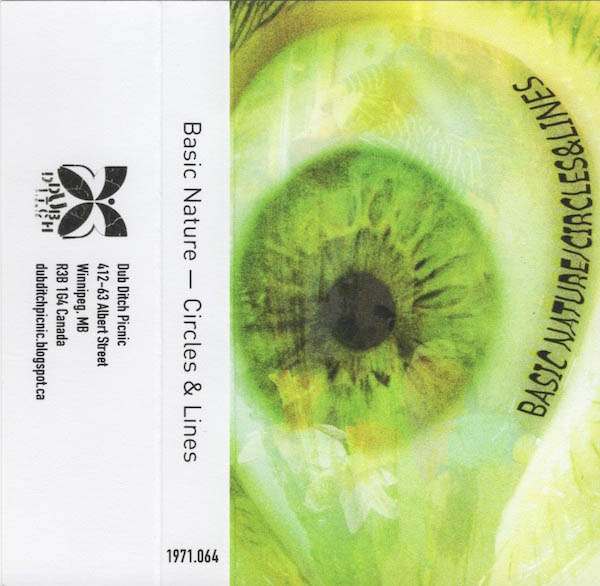 Basic Nature
Circles + Lines
Winnipeg, MB
From the infinity sunset of Claire Marie Guimond:
Sunset tonight just for me and you and all our friends equally. When it goes away were they all counting the fadeout? There are enough scenic views to go around. Everyone you know, summer love: in true love with all your friends and the scene and comfortable shoes. Everyone you know, they come to your show. & I say thank you for sharing this moment – your very own – your own tiny hearts with jigsaw edges that need the hand to guide into the big picture. Big landscape drawing of the moment forever, the little features, freeze! Let's not make any sudden movements.
Du coucher de soleil infini de Claire Marie Guimond:
(Traduit par Julie Mayer)
Ce soir, le coucher de soleil est juste pour moi et vous, de même que tous nos amis. Lorsqu'il s'en est allé, ont-ils compté le temps qu'a duré le fondu au noir? Il y a assez de vues scéniques pour ça. Tous les gens que vous connaissez se joignent dans un amour d'été : véritables amoureux de tous vos amis, de la scène et du shoegaze confortable. Tous les gens que vous connaissez, ils viennent à votre spectacle. Et je vous dis merci de partager ce moment de gloire (ce moment bien à vous) qui s'applique à vos propres petits cœurs aux bords en dents de scie, ces derniers nécessitant que la Main les guide vers la vue d'ensemble. Un grand panorama étire le moment pour toujours, les petits détails, plus un geste! Ne faisons aucun mouvement brusque.
Basic Nature – Circles and Lines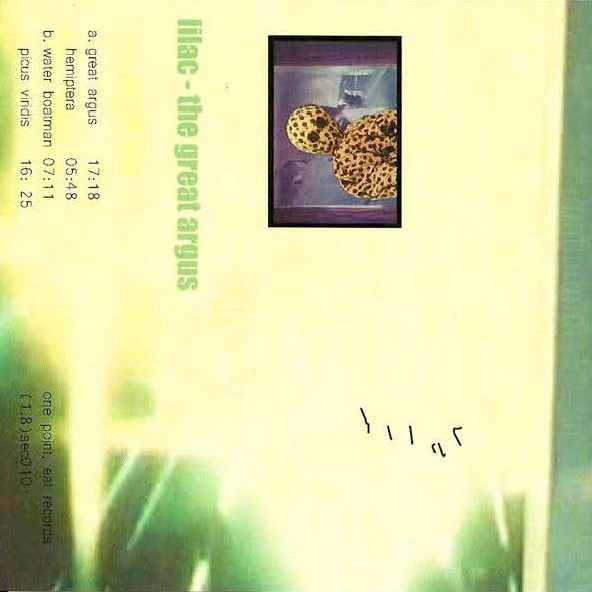 lilac
the great argus
Winnipeg, MB
From the shifted weight of Katie Jensen:
An unsettled chord heralds ominous visitors. Distant winds sweep the land into a wide circle, wrapping sinewy notes around everything they touch. An emergency siren blares with no further instructions. In the far distance marches an army, seen by the whites of their eyes.
Du fardeau soulagé de Katie Jensen:
(Traduit par les membres las de Nicolas Coutlée)
Un accord incertain annonce l'arrivée d'inquiétants visiteurs. Des vents distants soufflent en un large cercle sur la lande et enveloppent de notes puissantes tout sur leur passage. Une sirène stridente retentit de manière inexpliquée. Au loin avance une armée, les soldats visibles grâce aux blancs de leurs yeux.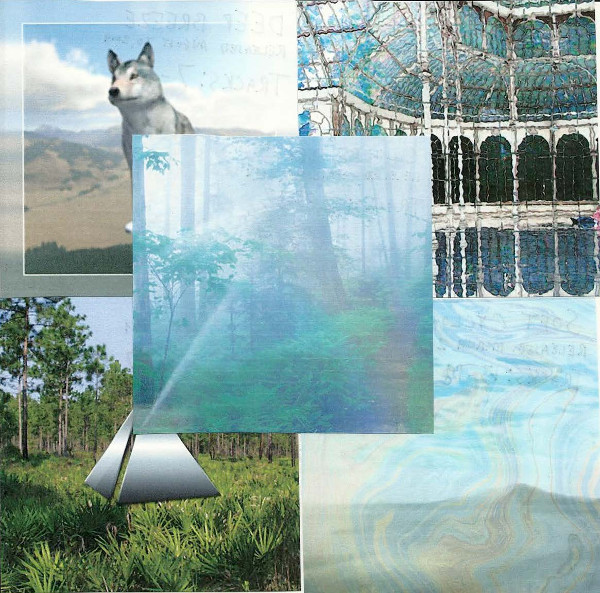 TELOZKOPE
Soft Cyclone
Winnipeg, MB
From the ghost level of Katie Jensen:
Supercharged rainbows push forward without knowing the outcome. A long, familiar road stretches into a glitching sunset, breaking apart with each shimmering, equal chord.
A tape rewinds to reveal the mundanity of your afternoon. Hesitantly at first, but then with more confidence, a zither takes up a slow dance with a harp, preoccupied with its own rhythms. The harp's lazy ramble finishes with a knowing wink, its smooth arm brushed by the side scrolling of toppling gold coins.
De l'étage fantôme de Katie Jensen:
(Traduit par les baies de genèvrier de Marie-Pier Chevrier)
Des arcs-en-ciel surchargés courent droit devant sans connaissance des conséquences. Une route longue et familière se perd dans un coucher de soleil clignotant, tombant en morceaux à chaque accord juste et chatoyant.
La cassette rembobine, révélant la banalité de votre après-midi. Hésitante d'abord, puis plus confiante, une cithare entame une danse lascive avec une harpe, suivant son propre rythme. Le discours divaguant et paresseux de la harpe se termine d'un clin d'oeil complice, son doux bras caressé par les pièces d'or y roulant.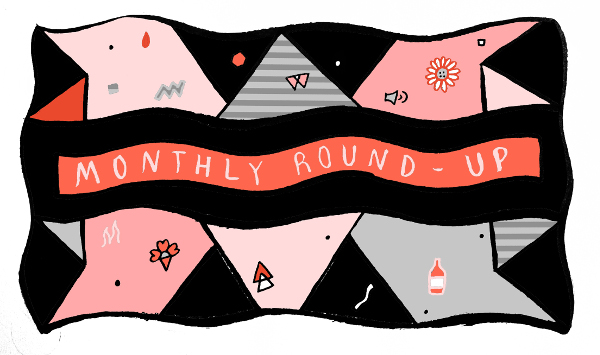 From the Lizard Cove :
In our ongoing pursuit to encourage, document, and connect creative expression across Canada, we cut through waves upon waves of ethereal sounds, wyld shreddery, and brooding drones. It is magnificent. Some of the best grips escape our grasping fists. We list them here:
Colin Fisher & Mike Gennaro – Sine Qua Non (Etobicoke, ON)
Forever Dazed – Midnight Moon Beams EP (Lakefield, ON)
Hybrid Frequency – Broken Circle (Toronto, ON)
Various / Mechanical Forest Sound – Selections, Vol. 1 (Toronto, ON)
Jamie Drake – Nigh (Toronto, ON)
Skull Bong – Burnt Endz (Toronto, ON)
FAVX – DESERT (Toronto, ON)
Mylar – Demos (Toronto, ON)
Lydia Ainsworth – Right From Real Pt. I (Toronto, ON)
Nite Comfort – Compilation Vol. 1: 2013-2014 (Toronto, ON)
Glass Random – In Some Night (Winnipeg, MB)
VIDEO: Bad River – Plasticine (Toronto, ON)
Christopher Bissonnette – Essays In Idleness (Windsor, ON)
Human Music – How's it Goin? (Winnipeg, MB)
The Party Dress – You're Dead 7″ (Winnipeg, MB)
telozkope – Frozen Prism (Winnipeg, MB)
Street Meat – Yellow Magic School Bus (Ottawa, ON)
New Wings – Ice Age, Golden Age (Kitchener, ON)
VIDEO: Beliefs – Tidal Wave (Toronto, ON)
Notre quête constante visant à encourager, à mettre en contact et à décrire les pratiques d'expression créatrice au Canada nous fait traverser vague après vague de sons éthérés, de shreds déchaînés et de sinistres bourdonnements; et c'est magnifique. De véritables joyaux échappent parfois à nos mains avides. Ils sont énumérés ici :
Colin Fisher & Mike Gennaro – Sine Qua Non (Etobicoke, ON)
Forever Dazed – Midnight Moon Beams EP (Lakefield, ON)
Hybrid Frequency – Broken Circle (Toronto, ON)
Various / Mechanical Forest Sound – Selections, Vol. 1 (Toronto, ON)
Jamie Drake – Nigh (Toronto, ON)
Skull Bong – Burnt Endz (Toronto, ON)
FAVX – DESERT (Toronto, ON)
Mylar – Demos (Toronto, ON)
Lydia Ainsworth – Right From Real Pt. I (Toronto, ON)
Nite Comfort – Compilation Vol. 1: 2013-2014 (Toronto, ON)
Glass Random – In Some Night (Winnipeg, MB)
VIDEO: Bad River – Plasticine (Toronto, ON)
Christopher Bissonnette – Essays In Idleness (Windsor, ON)
Human Music – How's it Goin? (Winnipeg, MB)
The Party Dress – You're Dead 7″ (Winnipeg, MB)
telozkope – Frozen Prism (Winnipeg, MB)
Street Meat – Yellow Magic School Bus (Ottawa, ON)
New Wings – Ice Age, Golden Age (Kitchener, ON)
VIDEO: Beliefs – Tidal Wave (Toronto, ON)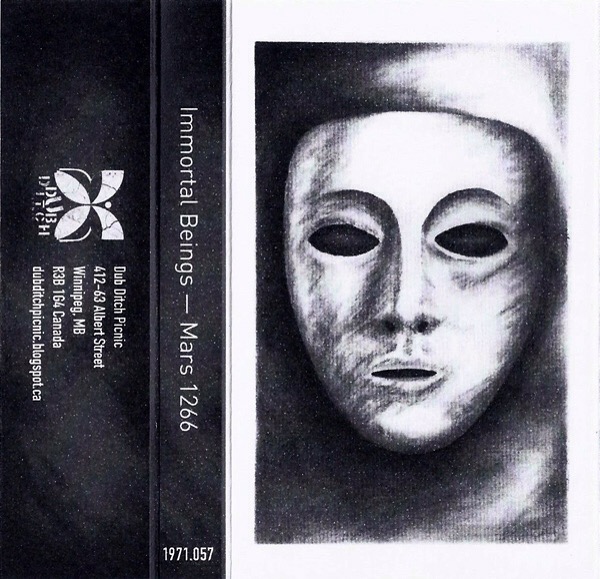 Immortal Beings
Mars 1266
Winnipeg, MB
From the accidental ejections of Doreen Girard:
Mars 1266, the 2 song limited edition cassette by Neil Burnby's Immortal Beings, presumably issued from inside an electron diffusion region somewhere above Winnipeg in an accidental ejection en route to new worlds. The songs fasten together early electronica-kosmische sensibility with overlying melodies, fluctuating tremolo and legato drones. This brace offers recall to an extract of mid-century earthly soundscape, which leaves you to suspect the traveler is here wandering not only through the vastitude of space.
Des éjections accidentelles de Doreen Girard:
(Traduit par les premiers cafés glacés de Marie-Pier Chevrier)
Mars 1266, la cassette de 2 pistes à tirage limité des Immortal Beings de Neil Burnby, nous arrive vraisemblabement d'une région de diffusion d'électrons quelque part au-dessus de Winnipeg, résultat d'une éjection accidentelle à mi-chemin vers de Nouveaux Mondes. Les chansons joignent à la sensibilité electronica-kosmische des mélodies flottantes, des trémolos fluides et des bourdonnements legato. Ce collage ravive un fragment des paysages sonores terrestres du milieu du siècle, laissant ainsi croire que le voyageur est ici même, errant dans plus que l'immensité de l'espace.
Immortal Beings – Side A (excerpt)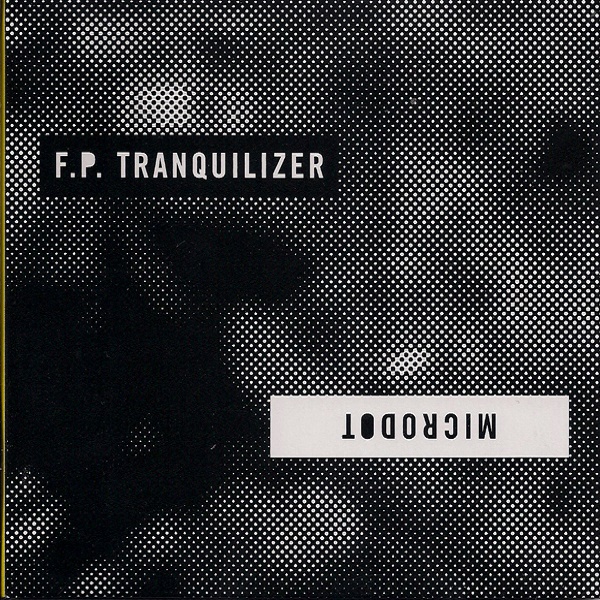 F.P. Tranquilizer // Microdot
Split
Winnipeg, MB
From the crispiness of Jesse Locke:
The flanged mind of Winnipeg's Bill Northcott gets its due with this discographical split from his electro-fried solo guise F.P. Tranquilizer and perpetually bummed pedal jammers Microdot. Life in the hairy prairies is immortalized in these anthems to payday, broken down cars, and fantasies of leaving the big city behind. Recommended if you dig Dino Jr at their slackest or the gentlemanly moves of Damon Edge.
De la croustillance de Jesse Locke:
(Traduit par le sourcil arqué de Jessica Grenier)
L'esprit flangé de Bill Northcott, de Winnipeg, reçoit précisément ce qu'il mérite avec ce split de son alter ego électro/électrifiant F.P. Tranquilizer et des musiciens constamment déprimés de Microdot. La vie dans les prairies pouilleuses est immortalisée par ces hymnes au jour de paye, aux pannes d'autos et aux rêves de quitter la grande ville un jour. À écouter, surtout si on aime la nonchalance de Dino Jr ou le côté gentleman de Damon Edge.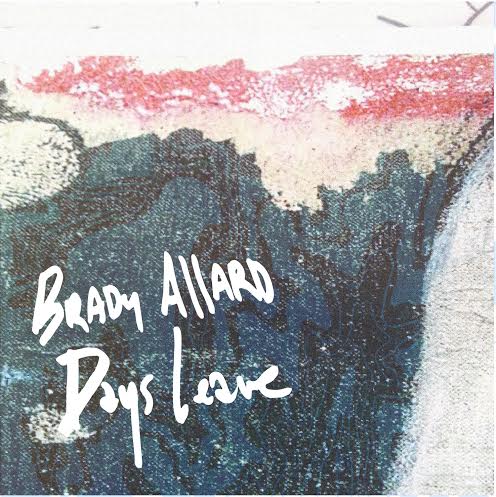 Brady Allard
Days Leave
(Self Released)
Winnipeg, MB
From the messy hairbrush of Katie Jensen:
The crowd is hushed. Wobbling guitars tilt and bend, plucking gilded strings with fingerfuls of dripping ambrosia. Wry, reverberating vocals fill the creases of every corner with winking warmth. Honeyed tones are anchored by dry, rattling snare hits and descending bass notes falling like footsteps on a staircase.
A conjurer enters the room. She is followed closely by a thousand men whose unhinged hopes rattle like the tin cans of freshly-bred honeymooners.
Her eyes soften into a false focus and melt in twin cerulean drips. She will not complete you. She will not fulfill her promises. She can only walk in a circle, clutching a broken flaxen strand, an ouroboros gnawing on its own smile.
De la brosse à cheveux embroussaillée de Katie Jensen:
(Traduit par Jessica Grenier)
La foule se tait. Des guitares vacillent en ondulant, leurs cordes dorées pincées par des doigts dégoulinant d'ambroisie. Une voix narquoise résonne sur tous les murs, remplissant leurs coins d'une chaleur intermittente. Les sons mielleux sont soutenus par les martèlements secs de la caisse claire et les notes de la basse, comme des pas pesants descendant un escalier.
Une illusionniste entre dans la pièce, suivie par un millier d'hommes dont les espoirs inarticulés crépitent comme les cannes de conserve de nouveaux mariés tout neufs.
Ses yeux s'adoucissent en fixant presque le vide, fondant en deux gouttes céruléennes. Elle ne sera pas ton autre moitié. Elle ne respectera pas ses promesses. Elle ne peut que marcher en rond, une mèche blonde à la main, un ouroboros mâchonnant son propre sourire.

Brady Allard – The Way You Move
---