Tag: windsor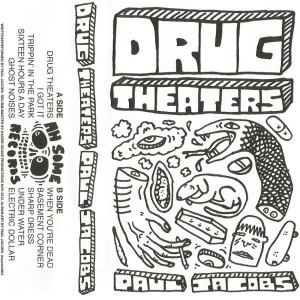 Paul Jacobs
Drug Theaters
Windsor, ON
From the ghostly noises of Kelly MacNeil:
Deep under the mountains of antiquity and reason, water drips from the ceilings in an infinite chorus of reverb. Stalagmites form from these drips, borrowing the reverb while mocking the mountains and their eternal rumbles. Young in contrast to the rocks from which they form, they are the mountain's essence of youth. Paul Jacobs is a stalagmite. He rises from deep undercurrents, and yells into the depths.
Des bruits fantômatiques de Kelly MacNeil:
(Traduit par la chute lente de Catherine Gaucher)
Dans un refrain infini de réverbération, l'eau s'écoule des voûtes profondément enfouies sous les montagnes de l'Antiquité et de la raison. De ces gouttes d'eau s'élèvent des stalagmites, puisant à même les réverbérations et imitant ces montagnes et leurs grondements éternels. D'existence récente en comparaison des roches depuis lesquelles ils se forment, ils sont l'essence de la jeunesse de la montagne. Paul Jacobs est tel un stalagmite. Il s'élève par-delà des lointains courants sous-marins et hurle dans les profondeurs.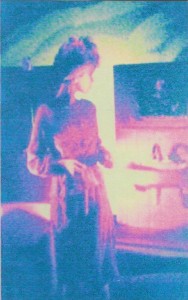 Cassida Pax
Sin by Proxy
Windsor, ON
From the Molly Ringwald heart of Catherine Debard:
(Translated by Catherine Debard)
Listening to Cassida Pax, I suddenly remember the art of pop: crafting a song by finding the true essence of a riff, the ultimate guitar line that will stick in your head. Cassida Pax appears unexpectedly with beats tainted by sweet '80s reverby heaven, like a forgotten four-track-hero, a young Ariel Pink before da fame, with a genuine skill for melodies and catchy lyrics. These solid songs will haunt you until the ribbon is as worn out as your personal best of 1995 mixtape featuring Mariah Carey and Edwyn Collins. Shout out to those teenage years when time stretches endlessly in front of you like a burned orange sunset horizon, when secretely exchanging folded papers with scribbled poetry in class fills you with intense feelings (the carelessness, oh!). If you dig it, you should spend some time in the sunshine world of Memory No. 36 Recordings, Cassida Pax's label. I know I did and almost forgot the snow falling on my fingers as cold as popsicles as I write these words.
Du coeur de Molly Ringwald de Catherine Debard:
En écoutant Cassida Pax, je me souviens soudainement de l'art de la pop. Confectionner soigneusement une chanson en trouvant l'essence même d'un riff, la ligne de guitare parfaite qui va rester dans la tête. Cassida Pax surgit à l'improviste avec ses beats sucrés 80's dans un rêve de reverb, comme un héros-du-quatre-pistes oublié, un jeune Ariel Pink d'avant la gloire, avec un véritable don pour la mélodie et pour les paroles accrocheuses. Quatre solides pièces qui vous hanteront jusqu'à ce que le ruban de la cassette soit usé comme votre mix-cassette personnel de 1995 avec Mariah Carey et Edwyn Collins. Mention d'honneur aux douces années d'adolescence quand le temps s'étire devant soi à l'infini comme un coucher de soleil orange-brûlé à l'horizon, quand échanger secrètement des papiers pliés gribouillés de poèmes nous remplit de sentiments intenses, la désinvolture (l'insouciance, oh!). Et si vous aimez, vous devriez passer faire un tour dans l'univers ensoleillé de Memory No. 36 Recordings, le label de Cassida Pax. En tout cas c'est ce que j'ai fait et j'en ai presque oublié la neige et mes doigts gelés comme des popsicles tandis que j'écris ce texte.
Cassida Pax – Clinging Moments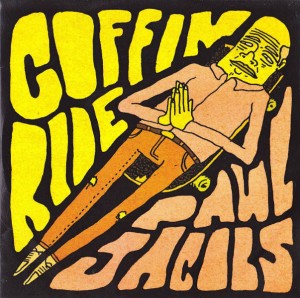 Paul Jacobs
Coffin Ride
(Self Released)
Windsor, ON
From the freight train of Penny Clark:
Paul Jacobs is a mad garage-rock scientist. Live, his one-man musical freight train includes a bass drum set-up rigged with three kick pedals, a crash cymbal, a snare, and a built-in box with vocal effects controls. He bounces a guitar in his lap like a porch-rocking nut ball and just top-of-his-lungs it. That unhinged energy is exactly what you get from this album, graced with the multi-talented Jacobs' own weirdo illustrations. The only reasonable explanation is that he somehow managed to swallow an entire punk band, which is now fighting its way out through his arms, legs and face.
Du train de marchandise de Penny Clark:
(Traduit par Jacinthe Laplante)
Paul Jacobs est un savant fou de rock garage. En spectacle, son train de marchandise musical solo inclut une grosse caisse configurée avec trois pédales déclencheur, une cymbale crash, une caisse claire et une boîte intégrée avec réglages d'effets vocaux. Comme un cinglé se berçant sur sa galerie, il fait rebondir une guitare sur ses genoux et chante à tue-tête. On retrouve exactement cette énergie déséquilibrée sur cet album orné des propres illustrations bizarroïdes d'un Jacobs aux multiples talents. Qu'il ait réussi à avaler tout un groupe punk qui tente maintenant de s'échapper par ses bras, ses jambes et son visage semble être la seule explication sensée.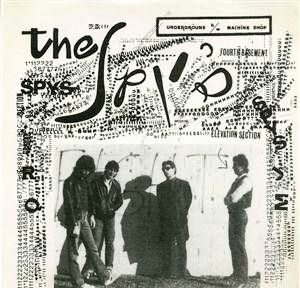 The Spys
Machine Shop b/w Underground
(Ugly Pop)
Windsor, ON
From the machine shop underground of Mark Teo:
Dredged up from the industrialist-scarred hippocampus of Windsor, ON, The Spys were Southwestern Ontario's finest ponx first-wavers. Here, the scintillatingly melodic proof that in 1979, as in 2012, Fords ruined cities: "Machine Shop" defies their hometown's futureless, blue-collar bleakness one minimalist solo — and jazzy intro — at a time. On the flip, "Underground" tucks itself into the imperial bedroom of American power pop, emerging with a remarkably futurist-feeling recessionista anthem. (As it turns out, slugging wine, underemployment and the existential void aren't particular to current eras.) Consider the Spys one of the deepest — and unforgettable — notches on Rose City's rust belt.
De l'atelier souterrain de Mark Teo: (Traduit par le passage de frontière de Maya Keshav)
Dragué de l'hippocampe gâché par l'industrialisme qui est Windsor, ON, The Spys étaient les meilleurs de la première vague de punk en Ontario du Sud. Ici, la preuve mélodique et scintillante qu'en 1979, comme en 2012, les Fords ruinaient les villes: "Machine Shop" brave la désolation col-bleu et sans avenir de leur ville natale pas à pas avec les solos minimalistes et l'introduction jazzy. À la face B, "Underground" puise dans la chambre impériale de la power pop américaine, en émergeant avec un hymne recessioniste qui a l'air remarquablement futuriste. (Il se trouve que la beuverie, le sous-emploi et le vide existentiel sont pas particuliers aux ères d'aujourd'hui.) Prends en considération que the Spys sont une des rainures les plus profondes— et inoubliables— sur le Rust Belt de la Rose City.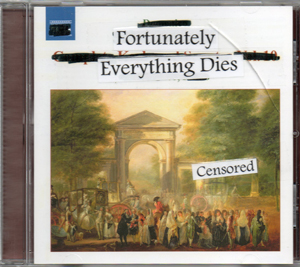 Fortunately, Everything Die
Censored
(Self Released)
Windsor, ON
We do this thing in campus/community radio where, as Music Directors, we gather the greatest artists in our respective communities and have them share the cost of mailing their music to other campus/community stations (you can fit four CDs in a standard mailer for the postage of one!) I received one of these packages from CJAM 91.5 (Windsor, Ontario) and the Fortunately, Everything Dies album immediately caught my eye. The press-release deepened the prevailing sense of mystery: the identity of Fortunately, Everything Dies is unknown and the CDs were dropped off in the middle of the night, each one being a hand-crafted modification of a classical album (a possible ode to Newfoundland's first punk-rock band Da Slyme?) The music wavers between ambient drones and glitchy experimental electronics, most of it being really good. I'm going to guess from the song-titles that the individual(s) behind Fortunatley, Everything Dies are fairly young, which excites me all the more. Hooray for mystery!
Fortunately, Everything Dies – Girls Heart Noisecore
Fortunately, Everything Dies – A Proud Client of Prestige Worldwide Since 2008
Nous faisons cette chose dans la radio du campus/communauté où, étant les directeurs de musique, nous amassons les plus grands artistes dans nos communautés respectives et nous les faisons partager le coût pour poster leur musique à d'autres stations de campus/communauté (vous pouvez entrer quatre CDs dans un expéditeur standard pour l'envoi d'un!) J'ai reçu un de ces paquets de CJAM 91.5 (Windsor, Ontario) et l'album des Fortunately, Everything Dies a immédiatement attiré mon œil. Le communiqué de presse a approfondi le sentiment de mystère existant; l'identité de Fortunately, Everything Dies est inconnue et les CDs ont débarqué dans le milieu de la nuit, chacun étant une modification à la main d'un album classique (Une ode possible au premier groupe de punk-rock Da Slyme de Terre-Neuve?) La musique vacille entre les drones ambiants et les problématiques électroniques expérimentales, la majorité de celle-ci étant vraiment bonne. Je vais deviner du titre des chansons que les individus derrière Fortunately, Everything Dies son assez jeunes, ce qui m'excite encore plus. Hourrah pour du mystère!
Fortunately, Everything Dies – Girls Heart Noisecore
Fortunately, Everything Dies – A Proud Client of Prestige Worldwide Since 2008
---