Tag: white poppy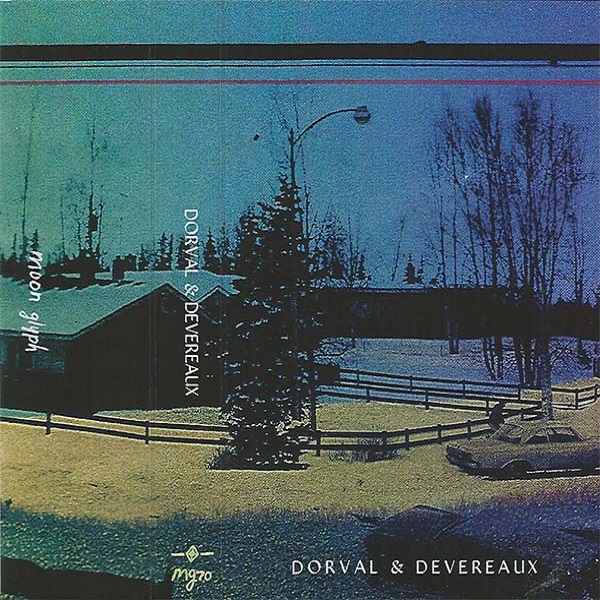 Dorval & Devereaux
Dorval & Devereaux
Vancouver, BC/Madison, WI
From the magic hour brainscape of Adam Bradley:
A tight, warm hug from an alien species comprised of light and tangible time. Tumbling electronic curvature interspersed with holy, healing veritas. Inerrant peace of mind, trundling across the tumultuous biomes of thy brainscape. Wings of bundled cotton and mist thrust from bony blades to assist in a guided glide to wakefulness. Balancing tip-toe on a mountain's highest heave, head cradled by an aureola of magic hour sun.
De l'heure magique du paysage cérébral d'Adam Bradley:
(Traduit par l'instant lunaire de Jessica Grenier)
C'est un gros câlin réconfortant fait par une espèce extraterrestre constituée de lumière et de temps matériel. Des courbes électroniques déferlantes entrecoupées de saintes veritas apportant la guérison. Une paix d'esprit infaillible parcourant le binôme tumultueux d'un paysage cérébral – le vôtre. Une descente vers l'éveil, guidée par des ailes de coton duveteux et leurs poussées vaporeuses sur deux plaques osseuses. Du bout des orteils, être en équilibre sur le sommet le plus élevé d'une montagne, la tête au creux de l'auréole solaire de l'heure magique.

Dorval & Devereaux – Heavy Hands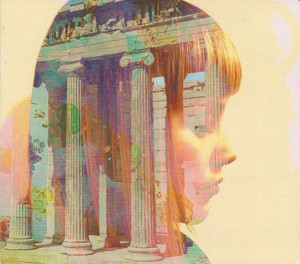 White Poppy
White Poppy
Vancouver, BC
From the post-existential reverie of Adam Bradley:
For White Poppy's eponymous Not Not Fun LP, Crystal Dorval transmutes the soft, grey clay of her shimmering ambience into sparkling, etch-textured gold. A splendorous idol aloft an ionic column, she looms down and imparts the power to dance upon its worshipers through the fog of a post-existential reverie. An impermanent rave in purgatory. The air becomes honey, sparks crackle from footfalls and the stirring clouds whorl with a pastel palette. Here, there is a distant joy and an eternal promise of beautiful things.
De la rêverie post-existentielle d' Adam Bradley:
(Traduit par l'instruction éphébique de Nicolas Coutlée)
Sur l'album homonyme de White Poppy paru chez Not Not Fun, Crystal Dorval transmue l'argile grise et friable de ses ambiances chatoyantes en lingots d'or ciselés et étincelants. Telle une idole sublime perchée sur une colonne ionique, elle pose son regard sur ses adorateurs et leur accorde le pouvoir de danser à travers le brouillard de cette rêverie post-existentielle. Un rave éphémère au purgatoire. L'air devient miel, des étincelles jaillissent de sous les pieds nus et des nuages s'élèvent en tourbillons pastels. Ici, le bonheur n'est jamais loin et promet à jamais la beauté infinie.
White Poppy – Darkness Turns To Light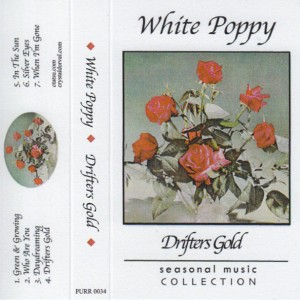 White Poppy
Drifter's Gold
Vancouver, BC
From the soothing meditation of Catherine Debard:
White Poppy has channelled summer sweetness, T'ai Chi slow motion peace and teenage wandering nostalgia into her new tape, Drifter's Gold, released on Constellation Tatsu. A soothing flowerhaze dream made of McGuire-esque delayed guitars, emotional spectral vocals floating in a cloud of reverb, and fragile melodies. "Green & Growing", the opening track, feels like the cottonhead drony folk of Juana Molina and creates photosynthesis for the mind, absorbing beauty. "Who Are You" has an abstract feel that makes you want to cry (both with a strange sadness and deep joy), a melody echoing the good old days of Kings of Convenience.
Blurry pop summerwave tones wrapped in an iridescent splash of reverb, Drifter's Gold feels like a mid summer chilling when the body is dozing and you have absolutely no responsibility at all except being alive, and alert to everything life has to offer. These songs, and the kaleidoscopic diamond eyes video for "Daydreaming", are a first vision of a LP to follow this August on Not Not Fun.
De la méditation apaisante de Catherine Debard:
White Poppy a canalisé la douceur éblouissante de l'été, la lenteur paisible du T'ai Chi et les errances nostalgiques de l'adolescence dans sa nouvelle cassette, Drifter's Gold, sortie sur Constellation Tatsu. Un doux rêve de fleurs brumeuses parsemé de guitares mcguiresques en délais miroitants, de voix spectrales évaporées dans une bruine de réverbération et de mélodies fragiles. La première pièce de l'album, "Green & Growing", fait penser au folk ronronnant (qui donne l'impression d'avoir la tête dans un nuage de coton ouateux) de Juana Molina, et produit une photosynthèse de l'esprit, absorbant la beauté. "Who are you" fait vibrer cette corde étrange, ce sentiment qui fait pleurer à la fois de tristesse et d'une profonde joie, la mélodie de guitare faisant écho à la belle époque de Kings of Convenience.
Pièces instrumentales brumeuses, tonalités summerwave pop baignant dans une vague fraîche de reverb iridescent, Drifter's Gold se ressent comme une journée en plein milieu de l'été, lorsque le corps somnole et qu'on a aucune responsabilité à part celle d'être en vie et alerte à ce que la vie a à nous offrir. Ces chansons, ainsi que le vidéo en yeux de diamants kaléidoscopiques pour la chanson Daydreaming forment une première vision d'un LP qui sortira en août sur l'étiquette Not Not Fun.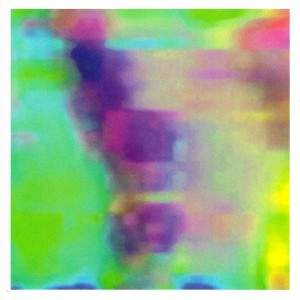 White Poppy
Mirage Man
Vancouver, BC
From the ignis fatuus of James Lindsay:
Daydream drone-pop as seen through a cotton snow squall of sleep as you lay in bed after first opening your eyes, trying to recall what just happened in your head. Don't get out of bed right away, snuggle up in this comfy quilt of sunshine fuzz and bass hooks that could be the heartbeat of the person sleeping next to you. But under all this is a note of something more sinister, something kept at bay by all this cheerfully blurry minimalism, like a pack of dogs, but darker.
De l'ignis fatuus de James Lindsay:
(Traduit en ronronnant par Catherine Debard)
Rêveries drone-pop, une vision à travers une bourrasque de sommeil ouateux comme de gros flocons confortables, le corps fondu sur un lit défait, les paupières, fissures entrouvertes pour la première fois en tentant de se souvenir de ce qui vient de se passer. Ne pas sortir du lit encore, s'emmitoufler dans cette courtepointe de fuzz solaire (qui éblouit) de lignes de basse qui pourraient être le battement de cœur de la personne allongée à côté. Mais, en dessous de tout ça, quelque chose de plus sinistre, quelque chose d'enfoui dans ce joyeux flou minimaliste, comme une meute de chiens, mais en plus sombre.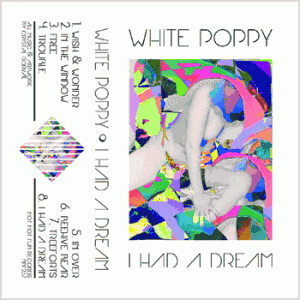 White Poppy
I Had A Dream
Vancouver, BC
From the beachside burnitude of Aaron Levin:
Billowing acid casualties litter the emergent form of our friend Wallis. I Had A Dream is a blown-out saturnalia of junglic trance wrapped with incandescent layers of popular catch. The anthemic wash of lysergic fuzz and drum machine clamour drives like veins bursting with empathy and bliss. The perfect triangulation of beachside burnitude, west coastral mellow, and magnetic jammery. Shred.
De la fainéantise de la plage d'Aaron Levin: (Traduit par Maya Keshav)
Les victimes gonflés de l'acide tachettent la forme émergeante de notre ami Wallis. I Had A Dream est une fête explosée de transe junglique emballée dans les couches incandescentes de popularité entraînante. Les ondes hymnales de flou lysergique et de chaut boîte à rythme balancent comme les veines qui débordent d'empathie et de joie. La triangulation parfaite de la fainéantise de la plage, la détente de la côte ouest, et les bœufs magnétiques. Achetez-le.
---