Tag: weird punk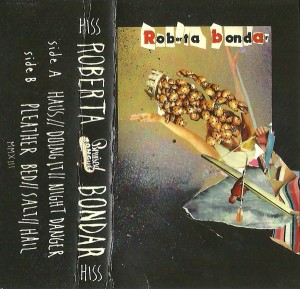 Roberta Bondar
Hiss EP
Ottawa, ON
From the eyedropper blues of Adam Bradley:
Straight-sampled Moondog opens the Hiss EP with a humble jangle of bells and found train-whistle sound before the calm is cracked sidelong by a sledge of garagey 'tude. An eyedropper's worth of blues is swallowed up in a vat of steaming punk-rock pitch. Denim-shredding tones, dented rhythms and proto-Karen O vocals slap you square in the gob. Roberta Bondar are yet another jewel in the crown of Ottawa's Bruised Tongue.
Du blues au compte-goutte d'Adam Bradley:
(Traduit par les mots cabossés d'Andréanne Dion)
Moondog ouvrent l'album Hiss avec un modeste tintement de clochettes et le sifflement d'un train, avant que le calme ne soit fendu sur tout son long par une masse d'attitude garage. Un compte-goutte de blues est englouti dans une cuve de sons punk-rock fumants. Des tonalités à déchirer vos jeans, des rythmes cabossés et des chants qui rappellent Karen O vous giflent directement au visage. Le groupe Roberta Bondar est un joyau de plus dans la couronne de Bruised Tongue.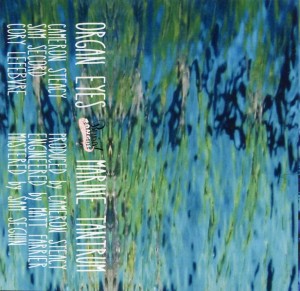 Organ Eyes
Marine Tantrum
Ottawa, ON
From the mashed bangers of V. Rachel Weldon:
This prolific Ottawa songwriting duo have put out three full-length releases this year alone, with no signs of slowing down. Marine Tantrum's title does well to reflect its fine balance of bangers and mash, but gets the chronology backwards. Out of the gate, "British Grafitti", "Teenage Kingdomdom" and "Jesus Fish" throw fits like angry mall punx, before mellowing out later tracks like "Needle Beach" and "Tumble Dry" with submerged distortion, wavy falsetto and effortless indifference. Closer "Zola Saw", which most closely resembles Multibody's teen-dreamy vibration, is spacious and drawn-out, playing with pseudo-naïveté. Knowing and not knowing, it negotiates between youth and maturity, light and heavy, resolving nothing.
Des saucisses en purée de V. Rachel Weldon:
(Traduit par les entre-deux d'Andréanne Dion)
Ce prolifique duo de compositeurs d'Ottawa a sorti trois albums complets rien que cette année, et il ne semble pas vouloir ralentir. Le titre, Marine Tantrum, reflète bien la fine balance entre saucisses et purée de pomme de terre, mais inverse la chronologie. Dès le départ, « British Grafitti », « Teenage Kingdomdom » et « Jesus Fish » piquent des crises comme des punks de banlieues enragés, avant de s'adoucir sur les morceaux « Needle Beach » et « Tumble Dry » avec une distorsion submergée, une voix de fausset ondulée et une indifférence facile. « Zola Saw », la dernière chanson, ressemble de plus près aux vibrations adolescentes rêveuses de Multibody : elle est étendue et interminable, jouée avec une fausse naïveté. À la fois expérimenté et ignorant, cet album négocie entre la jeunesse et la maturité, la légèreté et la lourdeur, mais ne résout rien.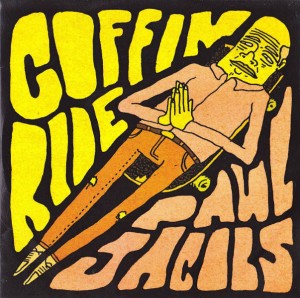 Paul Jacobs
Coffin Ride
(Self Released)
Windsor, ON
From the freight train of Penny Clark:
Paul Jacobs is a mad garage-rock scientist. Live, his one-man musical freight train includes a bass drum set-up rigged with three kick pedals, a crash cymbal, a snare, and a built-in box with vocal effects controls. He bounces a guitar in his lap like a porch-rocking nut ball and just top-of-his-lungs it. That unhinged energy is exactly what you get from this album, graced with the multi-talented Jacobs' own weirdo illustrations. The only reasonable explanation is that he somehow managed to swallow an entire punk band, which is now fighting its way out through his arms, legs and face.
Du train de marchandise de Penny Clark:
(Traduit par Jacinthe Laplante)
Paul Jacobs est un savant fou de rock garage. En spectacle, son train de marchandise musical solo inclut une grosse caisse configurée avec trois pédales déclencheur, une cymbale crash, une caisse claire et une boîte intégrée avec réglages d'effets vocaux. Comme un cinglé se berçant sur sa galerie, il fait rebondir une guitare sur ses genoux et chante à tue-tête. On retrouve exactement cette énergie déséquilibrée sur cet album orné des propres illustrations bizarroïdes d'un Jacobs aux multiples talents. Qu'il ait réussi à avaler tout un groupe punk qui tente maintenant de s'échapper par ses bras, ses jambes et son visage semble être la seule explication sensée.
Various Artists
Afterburners Vol. 3
Asterisk, Canada
From the cryogenic dream pod of Johnnie Regalado:
The latest offering from Ottawa super-label Bruised Tongue is a curatorial holy grail. Doubling down on their contributors to the first and second Afterburners compilations, Vol. 3 showcases 27 stellar jams from some key players and new heroes in weirdo rock. How are there this many shred-heavy bands in our country, let alone compacted onto a single comp? A feast of fuzz and freak-outs, Afterburners Vol. 3 could be the centerpiece of a twisted time capsule, blowing even more minds when it's cracked open after a few millennia underground.
Du cocon cryogénique de Johnnie Regalado:
(Traduit par les affolements bizarres d'Andréanne Dion)
La dernière parution de Bruised Tongue, le super-label d'Ottawa, est un saint graal de sélection minutieuse. Redoublant les contributions retrouvées sur les première et deuxième compilations Afterburners, le volume 3 présente 27 excellentes chansons de quelques-uns des principaux acteurs et nouveaux héros du rock bizarre. Comment peut-il y avoir autant de groupes portés sur le shred dans notre pays, sans compter sur une seule compilation? Un festin de bourdonnements et d'affolements, la compilation Afterburners Vol. 3 pourrait être la pièce maîtresse d'une capsule historique tordue, qui sera encore plus hallucinante lorsqu'elle sera ouverte après quelques millénaires sous terre.
Organ Eyes – Teenage Kingdomdom
Grime Kings – One Of Us Is Lonely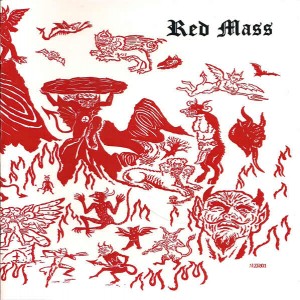 Red Mass // Cindy Lee
Candy b/w Holding The Devil's Hand
Montréal, QC // Vancouver, BC
From the hound's tooth of Jesse Locke:
The first vinyl release from Vancouver's Mongrel Zine is every bit as crucial as the mag. A-Side "Candy" is a star-studded affair with Red Mass main-man Choyce joined by Mark 'BBQ' Sultan on bongos and King Khan on theremin for a hippy-dippy, love bead smoke-out. Groovy times. Cindy Lee's tearjerker "Holding The Devil's Hand" has been a favourite at the HQ since the tape dropped a few months ago, so it's a real treat to have it pressed on 45. Word on the street is that Dirty Beaches has even been covering this number lately. Grip it here and find out why…
Du pied-de-poule de Jesse Locke:
(Traduit par Alex Gauthier en paisley, parce que le pied-de-poule me va pas tellement bien…)
Le premier lancement vinyle de Mongrel Zine est en tout point aussi important que le magazine vancouvérois lui-même. La face A, «Candy», en est truffée de célébrités, réunissant Choyce, le leader de Red Mass, Mark «BBQ» Sultan aux bongos, et King Khan au thérémine. Ça groove, avec un joint partagé entre des mains mi-hippies, mi-yuppies. Depuis l'arrivée de la cassette il y a quelques mois, «Holding the Devil's Hand» de Cindy Lee, qui tire les larmes des yeux, est l'élue des cœurs de nos quartiers généraux. C'est un bonheur de l'avoir maintenant en 45 tours. La rumeur selon laquelle Dirty Beaches en a même fait un cover court récemment. Découvrez pourquoi ici…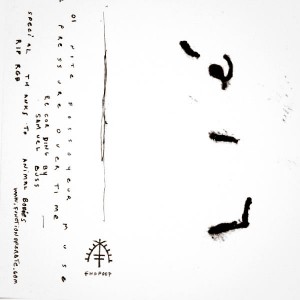 From the nic-fit of Bryce Warnes:
No lies: the first physical testament from all-female trio Lié is a slab of midwinter permafrost. The temperature in Vancouver rarely drops below freezing; Lié compensate with blackened punk aggression and icy gothic elegance. "Fossoyeur"'s bassline grabs your pelvic bones and shakes them to a rhythm banged out by shovels on casket lids. And if the Delphic Oracle broke curfew, started painting her nails black and formed a band, she would sing lead on "Muse." It all ends with the nicotine-jittery "Pressure" followed by "Overtime"'s feedback loop of paranoia. Word is that the Vancouver edition of this tape is sold out, so if you want a meatspace copy you'll have to order it from Lié's US label. But it's totally worth it for a trip into the heart of the darkness this trio conjures. Beware of black ice.
Du besoin de nicotine de Bryce Warnes:
(Traduit par le cerveau splitté de Justine Gabias)
Pas de mensonges : le premier testament musical tangible du trio féminin Lié est un bloc de permafrost en plein coeur de l'hiver. La température de Vancouver tombe rarement sous zéro, mais Lié compense avec une agression punk noircie et une élégance gothique verglacée. La basse sur « Fossoyeur » s'empare de ton pelvis et le secoue à un rythme qui frappe comme des coups de pelle sur des cercueils. Et si l'oracle de Delphes manquait le couvre-feu, peinturait ses ongles d'une couche de vernis noir et partait un band, elle serait assurément la chanteuse principale sur « Muse ». L'album se termine avec la tremblotte de nicotine de « Pressure » suivie par le feedback paranoïaque en boucle de « Overtime ». Le bruit court que toutes les copies de l'édition vancouvéroise seraient déjà toutes vendues, alors si tu veux une copie physique, tu devras la commander de l'étiquette américaine de Lié. Mais le voyage au coeur de la noirceur avec ce trio en vaut vachement la peine. Attention à la glace noire.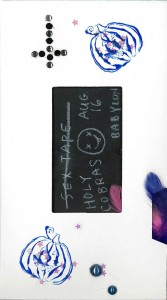 Holy Cobras
Sex Tape
(Directed by: Lesley Elora)
Ottawa, ON
From the cobra strike of Joni Sadler:
In the years they called Ottawa home, Holy Cobras became notorious for tearing up basements with their raw and hypnotic live performances. Their last gig as residents of the capital — captured on VHS by local filmmaker Lesley Elora — found them staying true to the psych-fueled antics that carved them a place in the city's punk heart. Now firmly established in Montreal with a new bassist in tow, they've wasted no time laying claim to their adoptive scene. But for those who witnessed the early Holy Cobras shows in the scrappy dive bars of Ottawa, this footage will serve as a reminder of the band's legacy in their hometown — and their ability to rage, regardless of the locale.
De l'attaque de cobra de Joni Sadler:
(Traduit par la brutale admiration de Catherine Debard)
À l'époque où les membres de Holy Cobras vivaient et traînaient à Ottawa, ils se sont bâtis une renommée mythique grâce à leurs brutales et hypnotiques prestations saccageuses de sous-sols. Pour leur dernier show en tant que résidents de la capitale — capté sur VHS par la cinéaste locale Lesley Elora — ils livrent une performance grotesque et démentielle, fidèle à la légende leur ayant permis de se tailler une place dans le cœur punk de la ville. Maintenant établis à Montréal avec un nouveau bassiste dans leurs rangs, ils n'ont pas perdu de temps pour prendre possession de leur scène adoptive. Mais pour ceux et celles qui ont été témoins des premiers shows de Holy Cobras dans les bars crades d'Ottawa, ce document d'archive servira à rappeler l'héritage qu'ils ont légué à leur ville natale, ainsi que leur habileté à foutre la zizanie, peu importe les circonstances.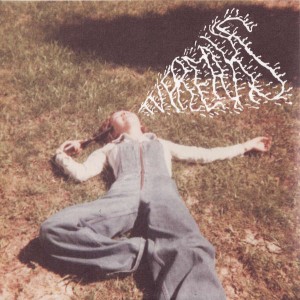 TV Freaks
EP
Hamilton, ON
From the truth-bombs of Mark Teo:
Like their hometown on Hamilton, TV Freaks possess an untameable — cough, ungentrifiable — streak. Their brand of punk is misanthropic, antisocial and, not surprisingly, devoid of art-school pretension. Beneath a Flipper-esque wall of distortion, though, lies a razor-sharp, tongue-in-cheek sense of humour. The speedy "Mall Punk," deadpans that "I wish I had convictions"; "Freelancer," atop a Male Bonding-esque lead, drops a truthbomb with the line that "I know a guy who does it cheaper"; "Identity Crisis," comes across as a brattier, crustier, Angry Samoans, and it might very well be the EP's finest offering. Call it ugly music for ugly people.
De la vérité explosive de Mark Teo:
(Traduit bras dessus bras dessous par Roxanne Navai et Nicolas Coutlée)
Comme Hamilton, leur ville d'origine, les TV Freaks ont un côté sauvage, pour ne pas dire impossible à embourgeoiser. Leur style de punk est misanthrope, antisocial et, sans surprise, exempt de la prétention caractéristique aux écoles d'art. Mais derrière le mur de distorsion Flipperesque se cache un humour ironique, tranchant comme un rasoir. Sur la frénétique « Mall Punk », le chanteur fredonne impassiblement qu'il aimerait avoir des convictions; sur l'air Male Bondingesque de « Freelancer », la vérité tombe comme une bombe : il connaît un gars qui peut le faire moins cher; sur « Identity Crisis », peut-être le meilleur morceau du EP, on croirait entendre les Angry Samoans, seulement plus aigres et effrontés. En gros, de la musique laide pour des gens laids.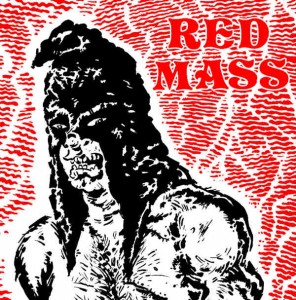 Red Mass
Television Personalities b/w Kill It From The Inside
Montreal, QC
From the shortwave vexation of David Ferris:
Red Mass's two-song single features formerly itinerant songs which have finally found a home on vinyl, thanks to the nurturing hands of Mammoth Cave. Unfortunately, even within his friendly new neighbourhood, Roy Choyce can't seem to turn over a leaf or curb his cur nature; he spends the duration of all seven inches scaring the neighbours and exploring the roles of bad cop integrator and fervent tormentor. You, dear reader, may think you're special, but make no mistake: you are all part of "the masses," and on "Television Personalities" our narrator's altered voice will crackle out of your speakers, enter your head and immediately begins to self-replicate, inducing lunatic bobbing and psychosis. B-side "Kill It From the Inside" reveals Choyce as harrier and hector, with sleazy and violent guitars wife-swapping channels while he announces his itinerary to the listener: killing, lies and lust. A must-get icy cold grip.
Du désarroi à ondes courtes de David Ferris:
Le simple de deux pièces de Red Mass regroupe des chansons orphelines qui ont finalement trouvé demeure sur vinyle grâce aux bons soins de Mammoth Cave. Malheureusement, même dans son nouveau quartier sympathique, Roy Choyce semble incapable de tourner la page ou de museler sa nature de chien enragé; il s'ingénie sur toute l'étendue de ces sept pouces à effrayer les voisins et à incarner les rôles de policier véreux et de fervent tourmenteur. Vous, chers lecteurs, peut-être vous croyez-vous spéciaux, mais n'allez pas vous tromper : vous faites tous partie « des masses », et, sur « Television Personalities », la voix altérée http://youtu.be/ypGxYM3MHqY du narrateur sortira grésillante de vos haut-parleurs, pénétrera votre tête et immédiatement commencera à se dédoubler, engendrant psychose et hochements de tête lunatiques. Sur la face B « Kill It From the Inside », Choyce se révèle tout aussi ravageur et tapageur, avec ses fréquences échangistes de guitares violentes et sordides, tandis qu'il annonce à l'auditeur son itinéraire : meurtre, mensonges et lubricité. À saisir absolument d'une poigne froide et glaciale.
Red Mass – Television Personalities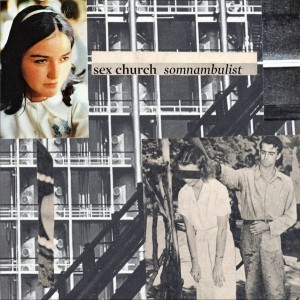 Sex Church
Somnambulist
Vancouver, BC
From the 9-5 grind of Jesse Locke:
The Somnambulist 12" is a straight-line descent into Sex Church psychosis. Churning and grinding like a bellyful of barbed wire, this ceaselessly bleak Vancouver crew pops their latest dose of downers on 45 rpm. "Hidden Hand" skulks off the needle drop with torture chamber vox and a spiked wall of sound, before "Slipped" rockets from the tomb on a pulse-quickening riff ripped from the pages of their beloved Cheater Slicks. Switch it to the "Wrong Side" and the tempo plunges down to Flipper territory via death-march guitars, thunderstruck drums and sinister sax. Props to St. Henri pirate Shaun Anderson for raising the flag on Instant Pleasure and the continued unfuckwithability of thee Psychic Handshake.
Du 9 à 5 de Jesse Locke:
Le 12″ « Somnambulist » est une descente vertigineuse dans la psychose de Sex Church. Les Vancouvérois résolument sombres nous offrent cette dernière dose déprimante en 45 tours de rythmes tordus et grinçants comme un bouquet garni de barbelés. Sur « Hidden Hand » une voix de torture se démène à travers un mur de son hérissé, tandis que « Slipped » surgit de la tombe avec un riff électrisant venu tout droit de chez Cheater Slicks. De l'autre côté (« Wrong Side ») le tempo s'alourdit et devient flipperesque avec des guitares de marche funèbre, une batterie retentissante et un saxophone sinistre. Remercions le pirate de Saint-Henri Shaun Anderson d'avoir hissé le drapeau d'Instant Pleasure avec la collaboration de l'irréductible Psychic Handshake.
---