Tag: weird punk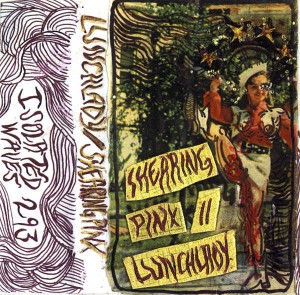 Lunch Lady // Shearing Pinx
Take That, The Devil!
Vancouver, BC
From the Denny's Restaurant of Don L'Orange:
One day, men will stop confidently singing alongside other men. They will stop strumming like it means something and move to Greece. They will argue it was forced displacement. Sue Greece, then. Anyway, back to real music: this split tape is New Anglia's "Old Time Religion". Lunch Lady churches that shit, while the North's most-hated preachers throw a cup of hot strap oil onto the baptismal candidate. The burning abates when we wrap them in a giant maple leaf. Maple-infused Polysporin! Cool that burn and tuck in to a buttermilk short stack!
Du restaurant Denny de Don L'Orange:
(Traduit en Grèce par Raphaël Foisy)
Un jour, les hommes arrêteront de chanter avec assurance côte à côte. Ils cesseront de gratter leur guitare comme si cela signifiait quoi que ce soit, puis ils déménageront en Grèce. Ils prétendront que c'était un déplacement forcé. Alors, poursuivez donc la Grèce. Bon, de retour à la vraie musique : cette cassette split est le « Old Time Religion » de la Nouvelle Anglia. Lunch Lady vénère cette chose, alors que les prédicateurs les plus détestés du Nord lancent une coupe d'huile bouillante sur le candidat au baptême. Le brûlement diminue lorsque nous les enroulons dans une feuille d'érable géante. Du polysporin infusé d'érable! Refroidissez cette brûlure, puis attaquez-vous à une pile de crêpes au babeurre!

Lunch Lady – Recipe for Congealed Ambrosia Salad

Shearing Pinx – Dose of Strap Oil / Alaska (Ext. Version) / Like a Bolt from the Blue / Crack the Balance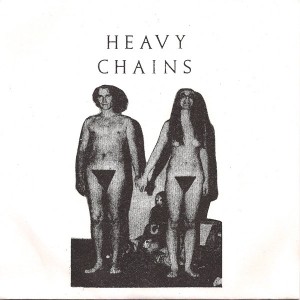 Heavy Chains
7"
Vancouver, BC
Crosss // Astral Gunk
Split 7″
Toronto, ON // Sackville, NB
From the prophetic dirge of Josh Boguski:
Darkness envelopes a barren landscape as cloaked figures surround their fallen chapter. Though trembling, we are euphoric as the beast they've summoned welcomes us into its arms. Crosss seamlessly combine doom and post-punk with the disorienting pop sensibilities that we've come to expect from Halifax. And they're destined to the throne. On the flipside, chain-gun percussion accompanies the proclamation that punk is not dead. In their own maniacal language, Sackville's Astral Gunk abandon convention and leave the capitol in search of unpredictable territory.
De l'hymne funèbre prophétique de Josh Boguski:
(Traduit par elfranc)
L'obscurité enveloppe un paysage aride alors que des personnages cagoulés entourent leur acolyte tombé. Malgré les tremblements, nous sommes euphoriques : la bête qui a été invoquée nous accueille dans ses bras. Crosss combinent sans couture le doom et le post-punk avec la sensibilité pop désorientante d'Halifax. Ils sont destinés au trône. De l'autre côté, des rythmes de mitraillette accompagnent la proclamation que le punk n'est pas mort. Dans leur propre langue maniaque, Astral Gunk, de Sackville, abandonnent les conventions et quittent le Capitole à la recherche de territoires imprévisibles.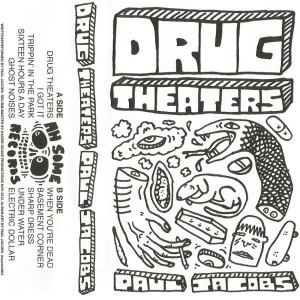 Paul Jacobs
Drug Theaters
Windsor, ON
From the ghostly noises of Kelly MacNeil:
Deep under the mountains of antiquity and reason, water drips from the ceilings in an infinite chorus of reverb. Stalagmites form from these drips, borrowing the reverb while mocking the mountains and their eternal rumbles. Young in contrast to the rocks from which they form, they are the mountain's essence of youth. Paul Jacobs is a stalagmite. He rises from deep undercurrents, and yells into the depths.
Des bruits fantômatiques de Kelly MacNeil:
(Traduit par la chute lente de Catherine Gaucher)
Dans un refrain infini de réverbération, l'eau s'écoule des voûtes profondément enfouies sous les montagnes de l'Antiquité et de la raison. De ces gouttes d'eau s'élèvent des stalagmites, puisant à même les réverbérations et imitant ces montagnes et leurs grondements éternels. D'existence récente en comparaison des roches depuis lesquelles ils se forment, ils sont l'essence de la jeunesse de la montagne. Paul Jacobs est tel un stalagmite. Il s'élève par-delà des lointains courants sous-marins et hurle dans les profondeurs.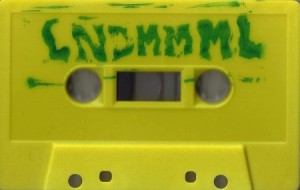 Land Mammal
Sinusoids
Waterloo, ON
From the total exhaustion of Javier Fuentes:
One of my favourite posts on Weird Canada is the video of Disguises playing at Yonge and Dundas. I bring it up because after listening to this album I'd like to see a similar video for Land Mammal. In fact I'd like them to set up their amplifiers in the parking lot of the shopping centre near my house, the one beside the landfill. Surrounded by this commercial absurdity I'd expect nothing else but a noise band to set up shop. Crashing cymbals would blend amongst the static of big screen TVs. Crawling guitars could scratch the itching tensions of nervous shoppers. Remnants of bass notes could lodge themselves in the building foundations while vocals mask as glitching PA systems. Android employees would continue their tired routine before reaching total exhaustion. This is how I imagine the utopian shopping experience. Keep your fingers crossed.
De l'épuisement total de Javier Fuentes:
(Traduit par le brouillard angoissé de Virginie Langlois)
L'un de mes articles préférés sur le site de Weird Canada est le vidéo de Disguises jouant au coin de Yonge et Dundas. Si je parle de ça, c'est parce qu'après avoir écouté cet album, j'aimerais voir ce type de vidéo pour Land Mammal. Ce que j'aimerais en fait, c'est que le groupe installe ses amplis dans le parc de stationnement du centre commercial qui se trouve près de chez moi, celui à côté de la décharge. Avec toute cette absurdité commerciale ambiante, rien de plus normal que de voir un groupe bruyant s'installer. Le fracas des cymbales se mêlerait aux parasites des écrans géants. Les supplications des guitares viendraient exacerber les tensions des consommateurs nerveux. Les vestiges des notes de basse viendraient se loger dans les fondations des bâtiments alors que les voix se substitueraient aux annonces agaçantes. Les employés androïdes poursuivraient leur routine lasse avant d'atteindre l'épuisement total. Dans un monde utopique, c'est comme ça que j'imagine l'expérience de magasinage. On croise les doigts.
Land Mammal – God's Parking Lot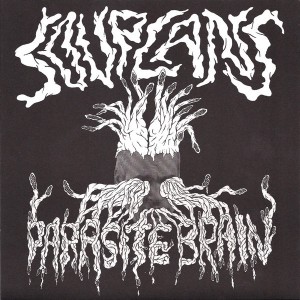 The Soupcans
Parasite Brain EP
Toronto, ON
From the substantia nigra of Brendan Lehman:
Enter the Soupcans. Enter the Soupcans into a world of dystopian chaos, one of grinding distortions and impenetrable walls of sound. Manic screams guide you through dim-lit alleyways vaguely remembered. Living here, it sometimes calms down into a groove, but more days than not it's the unceasing noise of your state oppressor, eating away at your once-sane consciousness. It's hard to tell if it's the cocktail your guy down the street cooked up for you or if that's just the way it has become. Thoughts are fleeting, and you begin to wonder if anyone could ever help. Until you re-emerge, standing in the crowd of your local punk bar, listening to the Soupcans blow your mind. Thankfully it's not the brain-oozing hell you thought it would be, just really good punk.
De la substantia nigra de Brendan Lehman:
(Traduit de la contre-utopie effrayante de Catherine Debard)
Entrez dans Soupcans. Entrez dans Soupcans, dans un monde dystopique, un cauchemar chaotique de distortion écrasante et de murs du son impénétrables. Des cris déments vous guident le long de sombres ruelles vaguement familières. Ici, parfois, ça se calme dans une sorte de groove, mais la majorité du temps, les journées sont imprégnées du bruit incessant de votre oppresseur, qui bouffe tranquillement votre conscience jadis intacte. C'est assez nébuleux, à savoir si c'est le cocktail que ce type en bas de la rue a cuisiné pour vous ou si c'est juste ce que les choses sont devenues maintenant. Les pensées s'enfuient et vous vous demandez si quelqu'un pourra un jour vous aider. Jusqu'à ce que vous émergiez debout dans une foule, dans votre bar punk local, en écoutant Soupcans et en hallucinant carrément. Heureusement, ce n'est pas l'enfer cérébral suintant que vous imaginiez, c'est juste du punk vraiment bon.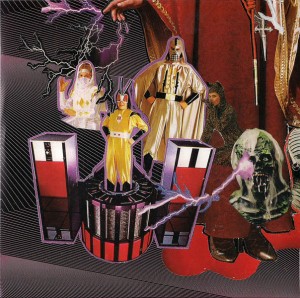 The Ketamines
So Hot!
Toronto, ON
From the spraying hose of Christopher Laramee:
They're dragging the bodies out of the basement again. The quadrilogy nearly complete, our buds in THE KETAMINES embrace the snot and blow it out strong on this HOSEHEAD seven incher. A-side "SO HOT!" pulls into the parking lot with some quality advice for the kidz: Get a job, ya lazy yobs. More Cosby than Cleaver, though. Wire plays blackjack with Count Five for luck, and comes up aces. Next blast "NEW SKULL TATTOO" deals drum machine tease and shit tattoo memories into something Ric Ocasek would be proud to mount above his fireplace. "SUMMER MOTHERS" ends the whole she-bang solid with a bittersweet backward glance on romance, twilight and heavy endings. Six minutes and change. Hits it out of the park like Ortiz. No offence, Jays fans. Next year…
Du pulvérisateur de Christopher Laramee:
(Traduit par Catherine Debard)
Ils traînent à nouveau des corps hors du sous-sol. La quadrilogie presque complétée, nos copains THE KETAMINES étreignent la morve, puis l'expulsent sur ce 7 pouces nommé HOSEHEAD. La face A, "SO HOT!", arrive dans le stationnement avec de bons conseils pour les gamins: Trouve-toi une job petit voyou fénéant. Plus Cosby que Cleaver, cependant. Wire joue au blackjack avec Count Five pour la chance, et nous sort des as. La détonation suivante, "NEW SKULL TATTOO" traite avec une boîte à rythmes racoleuse et des souvenirs de tattoos merdiques et en fait quelque chose que Ric Ocasek serait fier d'avoir au-dessus de sa cheminée. "SUMMER MOTHERS" conclut solidement avec un regard vers l'arrière doux-amer sur la romance, le crépuscule et les lourds dénouements. Six minutes et quelques pièces. Il cogne en dehors du terrain comme Ortiz. Sans vouloir vous offenser, fans des Jays. L'année prochaine…
The Ketamines – New Skull Tattoo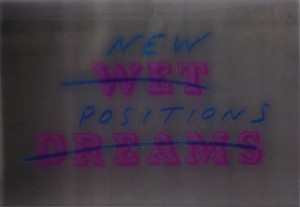 New Positions
New Positions
Toronto, ON
From the endless churn of Javier Fuentes:
Number one waste management crew Rankin and Jude lead a tour of the local sewer system. Once inside the tunnels the only way out is to follow the infinite drone. Open eyes deceive themselves, oblivious to the darkened sludge covering the walls. The body makes a slow surrender to the magnetic force field of subterranean vibrations. Each step into the thick drainage becomes a more laboured effort as the source of the noise draws closer. The half broken lights flicker in time to the conveyer belt percussion that churns endlessly into the night. Sax contortions reign supreme as the mind lets out the last of its inhibitions. No ears are safe to these city dwelling druids.
Du flux sans fin de Javier Fuentes:
(Traduit par la curiosité souterraine de Virginie Langlois)
L'équipe de choc pour le traitement des déchets, Rankin et Jude, organise une visite guidée des égouts du quartier. Une fois à l'intérieur des tunnels, la seule façon d'en sortir est de suivre le vrombissement infini. Nos yeux, pourtant bien ouverts, nous jouent des tours, inconscients de la boue noircie qui recouvre les parois. Le corps s'abandonne lentement au champ de force magnétique des vibrations souterraines. Chaque pas effectué dans ces denses entrailles devient un effort de plus en plus laborieux à mesure que se rapproche la source du bruit. La lumière des lampes à demi brisées vacille au rythme des percussions du tapis roulant qui tourne sans fin dans la nuit. Les contorsions du saxophone règnent en maître tandis que l'esprit libère ses dernières inhibitions. Nul ne verra ses oreilles épargnées par ces druides citadins.
The Pink Noise
Greedy Heart
(Skrot Up)
Montréal, QC
From the 10 cent masquerade of James Lindsay:
Mark Sauner's overdue return to vinyl, with full band in tow, finds him swaggering more towards the sexiness of Jim Morrison's rock 'n roll poet than Mark E. Smith's surreal, blue-collar acid-bark — of which many a comparison to his vocal styling has been made. There's still the synth-as-bass (care of Matt Samways from Electric Voice) that's helped define the Pink Noise over the years, but the scratchy, echo-punk guitar attack of Graeme Langdon (Psychic Handshake boss) and the mesmerizing, rolling drums of Tara Desmond redirect the sound to a more playful place. Greedy Heart is the place where the No Wave kids with the skinny lapels rub shoulders with quick-witted culture snobs, making mean little jabs so acute that you can't help but snicker.
De la masquarade à dix sous de James Lindsay:
(Traduit du party-de-maison-adolescent-quand-les-parents-sont-partis de Catherine Debard)
Le retour plus que dû de Mark Sauner au format vinyle, avec un groupe complet dans la remorque, le montre se dandinant davantage vers l'aura sexy d'un poète rock 'n' roll comme Jim Morrison que l'[acide aboiement de col bleu] surréaliste de Mark E. Smith — avec qui on l'a plus d'une fois comparé à cause de son style vocal. On retrouve encore le synthé-comme-guitare (gracieuseté de Matt Samways d'Electric Voice ) qui a aidé à définir le son de Pink Noise au fil des années, mais la guitare rêche écho-punk de Graeme Langdon (un des fondateurs de Psychic Handshake et le roulement hypnotisant de la batterie de Tara Desmond redirigent le son vers un lieu plus enjoué. Greedy Heart, c'est le lieu où les gamins No Wave aux revers de veste serrés se frottent aux snobs vifs d'esprit, se donnant de petits coups de poing vicieux tellement vifs qu'on ne peut que ricaner.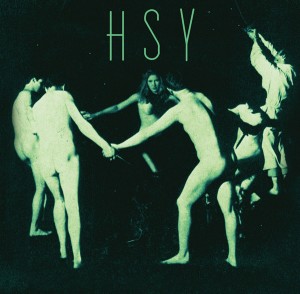 From the gravity chamber of Adam Bradley:
These grunge-sludge goliaths are tearing a wide swath of destruction through a midnight city. Pummelling drum snaps, mutated bass and savage vocals effectively eviscerate, matching pace with heavy Toronto mainstays like Metz and Odonis Odonis. Moshing in a strobe-lit gravity chamber, they switch from double to zero, wasted and unwashed. The violence unmitigated, fists are hurled, bones are shattered and the antipathy is tangible. HSY is a glorious abomination.
De la chambre de gravité d' Adam Bradley:
(Traduit par Jacinthe Laplante)
Ces goliaths du grunge-sludge procèdent à un saccage dévastateur dans une ville de minuit. Le bruit de la batterie rouée de coups, la basse mutante et les chants sauvages éviscèrent avec efficacité, égalant le rythme de grands piliers torontois tels que Metz et Odonis Odonis. Dansant un mosh dans une chambre de gravité éclairée par un stroboscope, ils passent du double au zéro, lessivés et souillés. Dans une violence pure, des poings sont brandis, des os sont fracassés et l'antipathie est palpable. HSY est une glorieuse abomination.
---