Tag: weird pop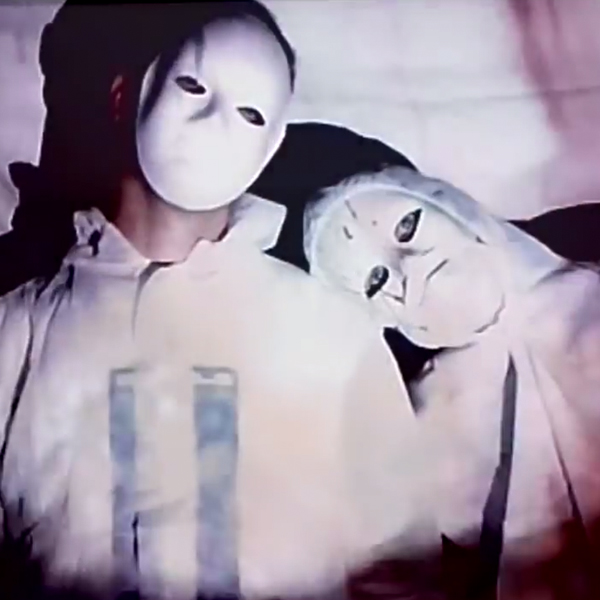 Moths & Locusts
"Slumper"
(Directed by Moths & Locusts and Kris Vieaux)
Nanaimo, BC
From the holding hand of Joshua Robinson:
Seen through eyes veiled in psyched out and superimposed transposition, this back-of-the-mind dreamgaze flickering of miasmal precociousness rises from the depths of diaphragmatic palpitation to render scenes of misfortune subtly juxtaposed against an aura of uncertain hope for deliverance from slipping divides and eternal sleep. Moths & Locusts, with the help of visual effects artist Kris Vieaux, capture the ephemerality of the frail body, ambiguous and unshapely, as form and function of the known and knowing cast shadows on scenes of live performance seamlessly and surgically sewn into the preponderance of an underlying affinity for the recognition of being and the corporeal giant. Gaze into the depths of the belly of us all, and reach for the hand that holds you.
De la main qui vous tient de Joshua Robinson:
(Traduit par la main de Louis-Félix Pellerin, qui s'accroche tant bien que mal à celle de M. Josh Robinson Louis-Félix Pellerin)
Ce regard profondément rêveur, d'une hâtivité miasmique, surgit des profondeurs de la palpitation diaphragmatique à travers des yeux voilés d'une superposition psychédélique pour interpréter des scènes de malheur subtilement juxtaposées à l'espoir incertain d'être un jour libérés des schismes glissants pour atteindre le sommeil éternel. Moths & Locusts, avec l'aide du spécialiste en effets spéciaux Kris Vieaux, capturent la fugacité du corps si fragile, ambigu et disproportionné, alors que la forme et le fonctionnement de ce qui est connu et de ce qui connaît jettent de l'ombre sur une performance en direct qui s'intègre parfaitement dans la prépondérance d'une affinité sous-jacente pour la reconnaissance de l'être et du géant corporel. Regardez au fin fond de notre estomac collectif, et cherchez la main qui vous tient.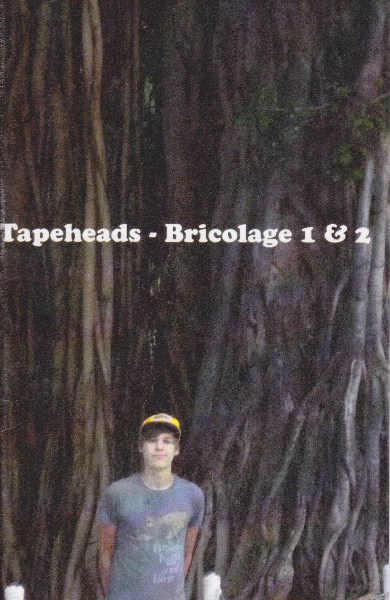 Tapeheads
Bricolage 1 & 2
Marieville, QC
From the rippled surface of Joshua Robinson:
Gone are the days of distinguishable form and figure, as tonal palettes become imbued with circumflexes of language too abstract to categorize as recognizably decipherable. These tonal tributaries branch and meander. They reach to a point that is unreachable, and then reach beyond, (de)constructing in their wake the avant-garde waterways that course through daydreamed reflections of the confluence sky, each ripple on its surface a space in the grand interstice between pointillistic familiarities.
De la surface ridée de Joshua Robinson:
(Traduit par la distortson gravitationnelle de David Kohler)
Les jours où l'on pouvait encore distinguer forme et figure sont bien loin, alors que les palettes tonales s'imprègnent d'accents circonflexes d'un langage trop abstrait pour être même catégorisé comme déchiffrable. Ces affluents tonaux se ramifient et serpentent. Ils atteignent un point inatteignable, puis vont encore plus loin, (dé)construisant dans leur sillage les voies navigables d'avant-garde qui traversent des réflections en rêveries à la confluence du ciel, chaque ride à leur surface étant un espace dans le grand interstice entre les familiarités pointillistiques.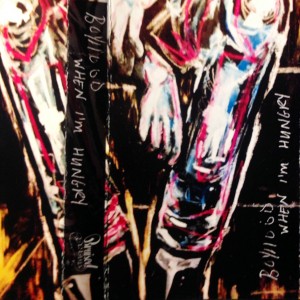 Boyhood
When I'm Hungry
Ottawa, ON
From the tardy basement incubator of Pavan Brar:
An all-encompassing and soothing coziness cloaks the 10-track span of Boyhood's When I'm Hungry. The album unconceals a familiar and intimate kind of bedroom-solipsism, carving out delta waves in static and crafting out lo-fi hummed lullabies. Let ocean-fuzz seep through the pores of your speakers, reverberating through the room in an embryonic warmth that's all too sedating to not become immersed in at once.
De l'incubateur au ralenti de Pavan Brar:
(Traduit par l'encéphale mou de Nicolas Coutlée)
Une douceur enveloppante et curatrice recouvre les dix pièces de Boyhood sur When I'm Hungry. Dévoilant une sorte de solipsisme de chambre à coucher intime et familier, l'album taille dans la statique des ondes delta au son des berceuses lo-fi fredonnées. Laissez le fuzz océanique infiltrer les pores de vos haut-parleurs et se réverbérer à travers la pièce telle une chaleur embryonnaire beaucoup trop anesthésiante pour ne pas vous y noyer aussitôt.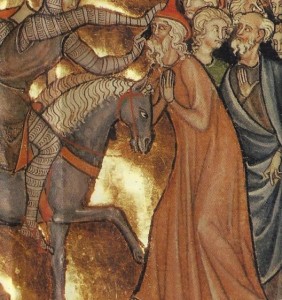 Faux Fur
Faux Fur
(Self Released)
Calgary, AB
From the not-so rough palms of Javier Fuentes:
Prairie turbines spin and sway to the odd patterns of an interstellar wind. Their movements are not uniform, each falling under the influence of a different timekeeper. The dissonant choreography confuses drivers passing through the area, with the FM radio perhaps serving as an antidote to the liberation that awaits outside. The day gets longer and inevitably forces a few travellers to stop and take a break. Looking out at the swinging blades, the rotations entrance and melt into a projection of the mind. A strong gust pushes the body off balance and it finds itself in the midst of a growing rhythm. Every change is felt now, the pace picking up in search of a new pattern for communicating with the cosmos. The sun falls below the horizon and the ensuing calm opens the eyes to a different vision. The scene here has no spinning blades in sight, just fingers running sprints across strings while a crowd sways to interlocking notes that talk in youthful excitement. Their conversation is a joy to behold.
Des palmes pas si rêches de Javier Fuentes:
(Traduit par les lames tournoyantes de Hugo Hyart)
Les éoliennes de la prairie tournent et se balancent au rythme d'un vent interstellaire étrange. Leurs mouvements ne sont pas uniformes, chacun d'entre eux étant influencé par un différent maître du temps. La chorégraphie dissonante jette la confusion sur les conducteurs traversant la zone, la radio FM servant peut-être d'antidote à la libération qui attend dehors. Le jour s'allonge et force inévitablement quelques voyageurs à s'arrêter pour souffler. Celui ou celle qui jette un oeil aux lames tournoyantes se voit plongé dans une transe où rotations se fondent en projection de l'esprit. Une puissante bourrasque fait perdre l'équilibre au corps et le voilà qui se retrouve au milieu d'un rythme en expansion. Chaque changement est ressenti maintenant, la cadence s'accélère à la recherche d'une nouvelle direction pour communiquer avec le cosmos. Le soleil se couche à l'horizon et le calme qui s'ensuit ouvre les yeux sur un paysage nouveau. Plus de lames en rotation en vue, seulement des doigts en plein sprint le long de cordes tendues tandis qu'une foule se balance au son de notes imbriquées qui parlent dans une excitation juvénile. Leur conversation est une joie à contempler.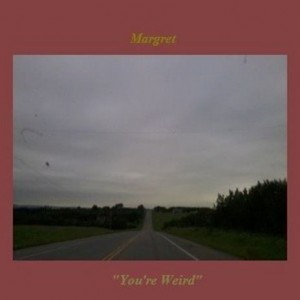 Margret
You're Weird
(Self Released)
Calgary, AB
From the Nowhere of Joseph Stephenson Taylor:
Perhaps it was you, the invisible finger hooked in our belt loop, suspending us for no more than a blink at our downswing on the swing set. Or were you the antique bellows working hard to knit together sparks that would yield for us, a fire to share? Could it be that you are the impossible plume of smoke that hangs in the cold night air as we toke under none light but the moon and stars? We could identify you as the leisured amble to Nowhere, while at the same time it is painfully clear that you are the Nowhere. You're odd; lost in the light. You're strange; unmissable in the foggy dark. You've made us comfortable with not knowing, but also set us at ease with our new favourite feeling: Anticipation. You used to be darker, then you got lighter, then you got dark again. You're weird, Margret, and we love you.
Du nulle part de Joseph Stephenson Taylor:
(Traduit par les doigts aimantés de Julie Forget)
C'était peut-être toi, le doigt invisible accroché à notre boucle de ceinture, nous suspendant le temps d'un clignement des yeux à notre descente sur la balançoire. Ou bien étais-tu le soufflet antique travaillant fort pour unir des étincelles qui cèderaient la place à un feu à partager ? Serais-tu la colonne de fumée impossible qui flotte dans l'air froid nocturne alors que nous prenons une bouffée à la seule lumière de la lune et des étoiles ? Nous pourrions t'identifier comme étant la promenade vers Nulle part, bien qu'il soit en même temps douloureusement clair que tu es ce Nulle part. Tu es bizarre; perdue dans la lumière. Tu es étrange; inratable dans la noirceur brumeuse. Tu nous as mis à l'aise avec le fait de ne pas savoir, mais tu nous as aussi mis à l'aise avec notre nouveau sentiment favori : l'Anticipation. Tu étais plus sombre, tu es devenue plus clair et tu es devenue sombre à nouveau. Tu es étrange Margret, et nous t'aimons.
Louise L'Amour
Cowgirl Slop Pop
Brantford, ON
From the sowing memories of Joshua Robinson:
Louise L'Amour beautifully navigates the space between the past and the present; the captain of the spectral dusk and the eager morning. Opener "Desert Bird" sets the stage for sowing memories, pockets filled with reckless abandon and the seeds of caution; where the summer days bleed into one another and on into the autumn. With this, Cowgirl Slop Pop is wise beyond its age. Like its bizarre-o world (almost) namesake, it is music that will linger in the fields, on the roads, and in the yards, where and when friends were friendly. There's a rustic call to small town alt-folk hanging in the air, sweetening the evening and mending broken heartstrings.
Des semences de souvenirs de Joshua Robinson:
(Traduit en vagabondant par Hugo Hyart-Dauvergne)
Louise L'Amour navigue gracieusement entre passé et présent, capitaine du crépuscule spectral et du matin langoureux. Les poches pleines d'abandon insouciant et de graines de prudence, « Desert Bird » en ouverture sème à la ronde les souvenirs là où les jours d'été saignent les uns dans les autres jusqu'à l'automne. La Cowgirl Slop Pop s'avère plus sage que son âge ne le laisserait présager. Comme son (presque) homonyme d'un monde ô combien bizarre, elle compose de la musique qui s'attarde dans les champs, sur les routes et dans les cours, à une époque où les amis l'étaient encore. Un air rustique d'alt-folk des bourgs flotte dans l'air, adoucit les soirées et raccommode les fils cassés du cœur.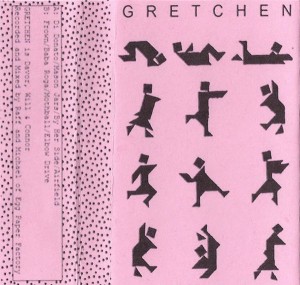 Gretchen
Gretchen
(Self Released)
Calgary, AB
From the final destination of Javier Fuentes:
Three Calgarians trapped in constant motion. Gathering steam as they head down dimly lit highways en route to a secret destination. Passing by airfields filled with the empty space cleared out by another case of fretboard chaos. Wheels turn in motorik patterns as images dissolve in the pavement under punishing heat waves. Bright and jangled lines guide the way forward. The final destination appears beyond the valley. ETA unknown.
De la destination finale de Javier Fuentes:
(Traduit par la lumière au bout du tunnel de Julie Forget)
Trois Calgariens pris au piège dans un mouvement constant. Accélérant, ils parcourent les autoroutes sombres vers une destination secrète et passent devant des terrains d'aviation, dont l'espace inoccupé a été vidé par un autre exemple de chaos de frette. Les roues tournent de façon motorik alors que les images disparaissent dans la chaussée sous des vagues de chaleur sévères. Des lignes lumineuses cliquetant indiquent la voie à suivre et leur destination finale apparaît derrière la vallée. Heure d'arrivée prévue : inconnue.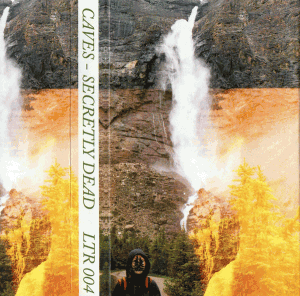 Caves
Secretly Dead
Saskatoon, SK
From the gas-soaked torch of Christopher Laramee:
Having evolved from the one-man band of Pete Grier into a four-piece, Caves gets pastoral quick on this full-length. Think Flying Saucer Attack's rural drip-gaze nuzzling up to Yo La Tengo's midnight skyline drone anthems. "Concrete Teeth" drowns in its own gooey dub treatments, indistinct vocal lines swirling into the keyboard and guitar loops whilst achieving full infinity with a shrug. The overall effect of this laid-back listen is a wonderful assimilation rather than a hobbled clobber over the skull. Pleasant, distant and kinda threatening like driving around the suburbs at dusk. Some fine bleed for the last drink before bed. Geez, now I'm thirsty!
Du flambeau trempé de gaz de Christopher Laramee: (Traduit par le dernier mot de Maya Keshav)
Ayant évolué de l'homme-orchestre de Pete Grier en quartette, Caves devient bucolique avec ce long-métrage. Imaginez le drip-gaze rural de Flying Saucer Attack qui fait un câlin aux hymnes horizon-minuit de drone de Yo La Tengo. "Concrete Teeth" se vautre dans ses propres traitements dub sirupeux, les mélodies floues du chant tourbillonnent dans le clavier et les boucles de guitare pendant qu'elles atteignent l'infini complet avec un haussement d'épaules. L'effet global de cette écoute détendue est une assimilation merveilleuse à la place d'un tabassage sur le crâne. C'est agréable, lointain, et un peu menaçant, comme conduire dans le banlieu au crépuscule. C'est une boisson parfaite pour la dernière gorgée avant qu'on se couche. Tabarnouette, maintenant j'ai soif!
---