Tag: vocal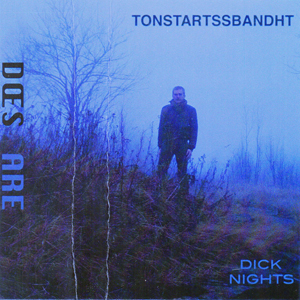 Tonstartssbandht
Dick Nights
(Dœs Are)
Montreal, QC
From the synthetic mellowings of Aaron Levin:
Weird Canada HQ is under the Tonstartssbandht spell, so instead of posting the Dick Nights review, I'll post a review of the fictional Dick Nights movie running through my mind. Dick Nights documents the mescaline-induced wanderings of a brotherly Barbershop duo lost in east L.A. They're trying to win earth and save their father who fell ill after drinking left-over TMNT™ ooze during his brief stint as an extra for the Turtles in Time remake. Only Christmas caroling in the world's most falsely represented neighborhood will raise the funds necessary for dad's ooze transplant (what?). And so Edwin and Edwin's-brother, armed with looping pedals and the most extravagant pop hollerings this side of any Disney™ soundtrack, are ready to expropriate your mind with their choralic minimalism. They've amassed a new world order with their throats; poor souls hypnotized under Tosntartssbandht's cosmic orations, every jangled follower a vocal-cog in their diabolic choir soon capable of singing to the world. Aim your voices high, my friends, because there's only one thing standing between Tonstartssbandht and the money needed for their dad's surgery… THIS SATURDAY… OPEN UP AND SING… DICK NIGHTSSSSSSSSSS.
Des moelleusements synthétiques d'Aaron Levin:
(Traduit par la boîte à rythmes de Odile Leclerc)
Le QG de Weird Canada est sous le charme de Tonstartssbandht, alors à la place d'afficher la révision de Dick Nights, je vais afficher une critique du film fictionnel de Dick Nights qui joue à travers mon esprit. Dick Nights documente les vagabondages induit de mescaline du duo fraternel Barbershop perdu dans L.A. Est. Ils essaient de gagner la terre ferme et sauver leur père qui est tombé malade après avoir bu des restants de boue de TMNT™ durant sont bref séjour comme un extra pour la reprise des Turtles in Time. Seulement aller faire des cantiques de Noël dans les quartiers les plus faussement représentés du monde va lever les fonds nécessaires pour la transplantation de vase de papa (quoi?). Et ainsi Edwin et le frère d'Edwin, armés de pédales en boucle et du pop le plus extravagant qui beugle ce côté de n'importe quelle chanson de Disney™, sont prêts à exproprier votre esprit avec leur minimalisme de choral. Ils ont amassé un nouvel ordre mondial avec leurs gorges; de pauvres âmes hypnotisées sous les oraisons cosmiques de Tosntartssbandht, chaque suivant sonné, un rouage vocal dans leur chœur diabolique bientôt capable de chanter au monde. Visez haut avec vos voix, mes amis, parce que c'est la seule chose se tenant entre Tonstartssbandht et l'argent nécessaire pour la chirurgie de père… CE SAMEDI… ÉPANOUISSEZ-VOUS ET CHANTEZ… DICK NIGHTSSSSSSSSS.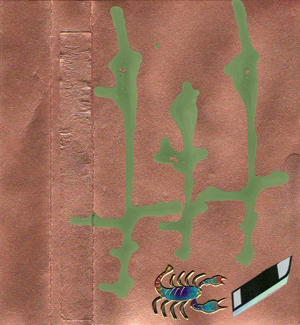 Seizure Salad / Indiensoci
The New The Good The Bad and The Ugly Sound Track
(Ice Cream Ala Mode Tape and Sound)
Calgary, AB / Montreal, QC
This cassette woke me up on the first day of my vacation. My buzzer rang at 8am this morning and I was pissed-off. I ripped open the parcel and the Seizure Salad / Indiensoci split-cassette fell out; I was excited and ashamed. Seizure Salad's side skidded into my mind with a lo-fi barrage of experimental psychedelia; a droning, rhythmic travelogue to the far-reaches of Disneyâ"¢-hell filled with distorted film illusions and guitar shreddery. It's a real narrative with emotionally percussive climaxes and mellow, ambient descents. On the flip-side, Indiensoci sends her parsed, ambient bellowing in an attempt to balance the intricate mind-barrage of Seizure Salad. Indiensoci is the not-so-secret side project from BRAIDS' singer and it all makes sense; mellifluous echoes of her voice traveling from every direction in cassette-quad beauty and sentient brilliance – it's all the things we love about BRAIDS in one stream of magnetic tape. Where Seizure Salad takes you on a Trip Thru Hell, Indiensoci brings you back to the world of the half-alive, allowing a return to your dreams, naps, narratives, and lives with the subtle feeling that everything is not-OK, but it's all lovely because her vocal wysps linger on in half-audible existence. An easy contender for best experimental cassette of 2009.
Seizure Salad – Sleeping Buddy
Seizure Salad – The Lion Thing
Indiensoci – Boys aRe Stupid 1 (the snowshoe)
Indiensoci – Boys aRe Stupid 2 (touched by a sentiment)
And for fun, here is two more Seizure Salad tracks…
Seizure Salad – Beauty Lewis & The News
Cette cassette m'a réveillé le premier jour de mes vacances. Mon réveil a sonné à 8am ce matin et j'étais énervé. J'ai brutalement ouvert la pièce et la cassette divisée en Seizure Salad/ Indiensoci en tomba; j'étais excité et honteux. Le côté de Seizure Salad dérapa dans mon esprit avec un barrage lo-fi de psychédélie expérimentale; un bourdonnement, un carnet de voyage rythmique aux confins de l'enfer de Disney rempli d'illusions d'un film tordu et le déchirement d'une guitare. C'est un vrai récit avec des sommets émotionnellement renversants et de douces descentes d'ambiances. En revanche, Indiensoci lui envoie des beuglements ambiants distingués dans un effort pour équilibrer les barrages complexes de l'esprit de Seizure Salad. Indiensoci est un projet secondaire pas-si-secret de la chanteuse de BRAID et tout ça fait du sens; les échos suaves de sa voix voyageant dans toutes les directions de la beauté de la quadruple cassette et de la sensible brillance –
C'est toutes les choses que nous aimons à propos de BRAIDS dans un flot de
bande magnétique. Où Seizure Salad vous apporte dans un Trip Thru Hell, Indiensoci vous ramène au monde des mi-vivants, permettant un retour à vos rêves, vos siestes, vos narrations et vos vies avec le subtil sentiment que tout n'est pas OK, mais c'est tout adorable parce que ses chants wysps* s'attardent sur un existence à moitié audible. Un candidat facile pour la cassette expérimentale de 2009.
Seizure Salad – Sleeping Buddy
Seizure Salad – The Lion Thing
Indiensoci – Boys aRe Stupid 1 (the snowshoe)
Indiensoci – Boys aRe Stupid 2 (touched by a sentiment)
Et si vous n'avez pas eu assez, voici deux autres chansons par Seizure Salad…
Seizure Salad – Beauty Lewis & The News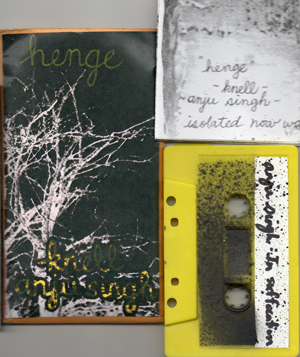 Anju Singh / Knell
Henge
Vancouver, BC
Take two talented women in the experimental foray. Give them a side of C30. If you're lucky you'll end up with something close to Henge; two sides of atypically-driven drone. Anju Singh (of AHNA) delivers a quarter-hour piece of violin static that patiently builds into multi-feedback noise-scapes; effectively rendering the previous 14 minutes of your existence into a zone of bewilderment. On the flip we have Knell, an interesting side project of Mint Records recording artist Kellarissa, venturing deep within the rarely charted territory of vocal looping. This is not classical choral material; her voice is quickly fractured into subliminal jet-streams of ambience whose minute being coalesces within various meditative drone-states. Both sides of Henge have the same weird attention-sucking immediacy despite being unassuming and "mellow." Another brilliant addition to the ever-growing Isolated Now Waves catalog.
Prenez deux femmes talentueuses dans le raid expérimental. Donnez-leur un morceau de C30. Si vous êtes chanceux, vous allez finir avec quelque chose près de Henge; deux côtés d'un drone atypiquement passioné*. Anju Singh (de AHNA) livre une pièce de violon statique d'un quart-d'heure qui se contruit patiemment en une hampe de bruit à plusieurs réactions*; rendant effectivement les précédentes 14 minutes de votre existence en une zone d'ahurissement. D'un autre côté, nous avons Knell, un intéressant projet en parallèle de Mint Records enregistrant l'artiste Kellarissa, s'aventurant profondément dans les territoires rarement explorés des boucles de chants. Ce n'est pas du matériel de chorale classique; sa voix est rapidement fracturée en jets subliminaux d'atmosphère duquel l'instant présent se fond parmi les états de drones méditatifs variés. Les deux côtés de Henge ont l'étrange urgence similaire qui attire l'attention malgré qu'ils soient modestes et ''mélodieux''. Une autre addition brillante pour le toujours grandissant catalogue Isolated Now Waves.
---