Tag: vocal-pop
Kira May
Health
(Self Released)
Toronto, ON
From the tonal shapes of Ajay Mehmi:
Kira May's sound is comprised of a seemingly colossal foundation, which allows for primitive utterances to surface above its texture and richness. She and instrumental collaborator Charles Tilden create earthy soundscapes that are driven by the beautifully manipulated notes responsible for breathing life and nuance into the core of the music. May's voice forms lush, tonal shapes ranging from ethereal hums to bold cries, effortlessly sliding from pitch to pitch. Each song on the Health EP unfolds to reveal a process guided by intuition, creating a natural and intimate vibe so the listener can follow every breath to the beating hearts at the centre of it all.
Des formes tonales d'Ajay Mehmi:
(Traduit par la litanie vibrante de David Kohler)
Le son de Kira May est composé d'une apparente et colossale fondation qui permet à des émissions sonores primitives de faire surface au-dessus de sa texture et de sa richesse. Elle et son collaborateur instrumentiste, Charles Tilden, créent des paysages sonores terreux dirigés par des notes magnifiquement manipulées, qui insufflent de la vie et de la nuance au coeur de la musique. La voix de May crée des formes tonales luxuriantes, qui vont du bourdonnement éthéré aux cris audacieux, glissant de ton à ton sans aucun effort. Chaque morceau du EP Health s'ouvre délicatement pour révéler un processus guidé par l'intuition, créant une ambiance naturelle et intime afin que la personne à l'écoute puisse suivre chaque souffle du coeur battant, au centre de toute chose.

Kira May – Cut Off Your Shadow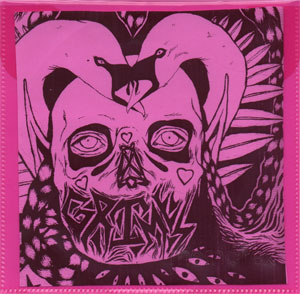 From the cosmic slop of Aaron Levin:
If Grimes' tour CDR (to be officially released via Arbutus on September 30th at Pop Montreal) is any indication, the cosmic-pop deity is transcending into a vocal-cruising eidolon of celestial proportions. Layers of wyspy vocals form the cooling galaxies of Halfaxa while her minimal drums synthesize Enja's lingering espers into a club anthem fit for the Restaurant at the End of the Universe. Or the Mos Eisley Cantina. Either way, Grimes' future-stream sinusoids are peeling wigs.
De la bouillie cosmique d'Aaron Levin: (Traduit par la perruque épluchée de Maya Keshav)
Si le CD-Rom de la tournée de Grimes (qui sera publié officiellement via Arbutus le 30 septembre à Pop Montréal) est la moindre indication, la déesse de cosmique-pop est en train de se transformer en eidolon chant-roulant des dimensions célestes. Les couches floues de chant forment les galaxies rafraîchissantes d'Halfaxa pendant que sa batterie minimale synthétise les vêpres persistantes d'Enja à un hymne de boîte qui est approprié pour Le Dernier Restaurant avant la fin du monde. Ou pour la Mos Eisley Cantina. Quoi qu'il en soit, les sinusoïdes futuristes de Grimes sont en train d'éplucher les perruques.
---