Tag: visage musique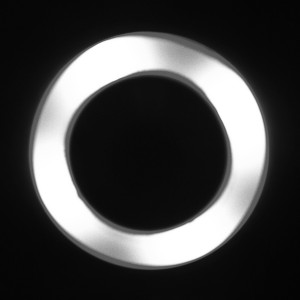 Gold Zebra
Gold Zebra
Montréal, QC
From the beatific visions of Nicolas Coutlée:
When Moses laid eyes on the golden calf, he cried out, "What's with the calf? I said a zebra, Goddamnit." Or, that's what he would have said if he'd heard of Gold Zebra — a revelation of Biblical proportions.
Crossing the desert in ten steps, this second maiden voyage hypnotizes with persistent beats and bewitching psalms to propel a pilgrimage. Praise the Lord — through synthetic sandstorms, fake bling and a blistering sun, the believer listens in a state of grace, carried up to the firmament astride this mystic beast. Gather round, poor heretics, and worship your new idol.
Des visions béatifiques de Nicolas Coutlée:
(Translated by Emily Estelle Belanger)
Quand Moïse aperçut le veau d'or, il s'écria : «De qu'est-cé un veau? J'avais dit un zèbre, calvâsse! » C'est ce qu'il aurait déclaré eut-il entendu Gold Zebra, véritable révélation biblique.
Traversée du désert en dix étapes, ce deuxième voyage initiatique tourne à l'hypnose tandis que le pèlerin chemine au gré des rythmes implacables et des psaumes ensorcelants. Dieu soit loué, au-delà des mirages de poussière synthétique, du bling-bling de pacotille et des rayons solaires annihilants, le fidèle à l'écoute, touché par la grâce, chevauchera jusqu'au firmament l'animal mystique. Inclinez-vous pauvres hérétiques, et vénérez votre nouvelle idole.

Gold Zebra – Love, French, Better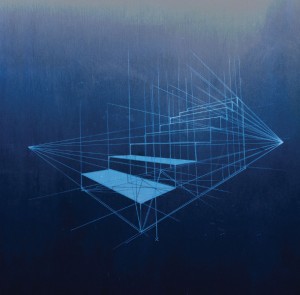 Violence
Erlebnis
Ottawa, ON
From the soiled smock of Nicolas Coutlée:
(Translated by Emily Estelle Belanger)
The needle goes in, the specimen falls still. The experiment can begin. Wielding their instruments of torture with medical precision, our two plastic surgeons of sound, Julie Morand-Ferron and Éric Trottier, patiently carve away the flabby body's flesh, revealing the angular skeleton underneath. The pulse beats on undisturbed, mechanical, amplified and filtered by the EKG. A dark and unsettling halo, the mute shadow of some German mad scientist, hangs over the operating table. While the chilling whine of an electric saw grates on in the rooms of the abandoned hospital, the patient is lost in soft, sedated visions, oblivious to the liberating violence inflicted upon him.
Du sarrau souillé de Nicolas Coutlée:
L'aiguille s'enfonce, le cobaye cesse de remuer. L'expérience peut débuter. Maniant leurs instruments de torture avec une précision chirurgicale, nos deux plasticiens du son, Julie Morand-Ferron et Éric Trottier, dépouillent la carcasse de sa chair flasque, en dévoilent patiemment l'ossature anguleuse. Le pouls demeure imperturbable, machinal, amplifié et filtré par l'électrocardiogramme. Halo sombre et inquiétant, l'ombre muette de quelque savant allemand fou plane sur la table d'opération. Et tandis que retentit le grincement glacial d'une scie électrique dans les salles sombres de l'hôpital abandonné, le patient, lui, se perd dans de douces visions anesthésiantes, inconscient de la violence libératrice qui s'abat sur lui au même instant.
Violence – The Curse of Dimensionality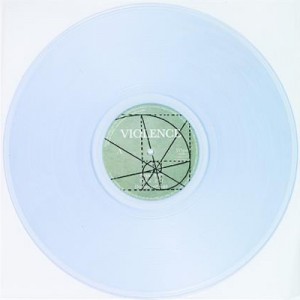 From the weird silence of Jesse Locke:
Montreal's Visage Musique has become a go-to source for sub-zero heaters. The label's latest stunner is this sublime synth-pop 12" from Ottawa duo Violence that could be equally mistaken for a lost cut from BIPPP, the soundtrack to a Molly Ringwald montage, or a regular Thursday at Sex Laser. These visitors of the night are welcome at any party.
Du silence occulte de Jesse Locke:
(Traduit par l'amour et la violence de Benoit Poirier)
Le label montréalais Visage Musique, devenu une référence de bouillonnement sous-zéro, propose ce sublime 12″ synth-pop du duo franco-ottavien Violence, qu'on pourrait réputer – à juste titre – être une session perdue de l'essentielle compilation française BIPPP, la trame sonore d'un montage de Molly Ringwald, ou juste un jeudi soir normal au Sex Laser. Ces visiteurs de la nuit sont les bienvenus à n'importe quel party.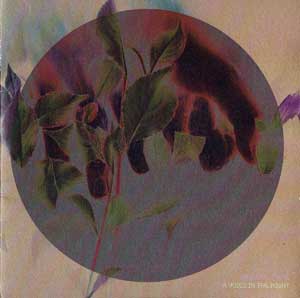 Brusque Twins
A Voice In The Night
Montréal, QC
From the boreal disco of Jesse Locke:
Undulating acid bass thaws the permafrost of Brusque Twins' latest EP. The icy hot duo last washed up on these shores with the standout banger of Visage Musique's Vol. 1 comp, cropping up again here with four new hyperborean ballads. The operatic vocals of Hollie Hensman are the tell-tale heartbeat of this closet goth club, thumping away to the rhythm of the night.
Du disco boréal de Jesse Locke: (Traduit par les ballades hyperboréennes de Maya Keshav)
La basse acide ondoyante fait fondre le permafrost du dernier EP de Brusque Twins. La dernière fois que ce duo glacial-chaud était rejeté sur ces rivages, c'était avec le succès remarquable Vol. 1 comp de Visage Musique; il apparaît ici encore avec quatre nouvelles ballades hyperboréennes. Le chant lyrique de Hollie Hensman est la pulsation témoine de cette boîte secrètement goth, qui balançe au rythme de la nuit.
Brusque Twins – Speaking In Colour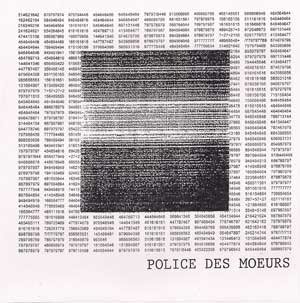 Police des Moeurs
Police des Moeurs EP
Montreal, QC
From the noble purity of Simon Frank:
Police Des Moeurs may be Alphaville's greatest export since Lemmy Caution and Anna Karina. The duo intuitively know when to let sequencers speak for themselves, when to chime in, and when to command their drum machines to play another remorseless fill. Best experienced while observing Brutalist architecture, a worn existential paperback in your pocket. [Note: Certain copies of the 7″ may come packaged with a page from George Orwell's 1984.]
De la limpidité noble de Simon Frank: (Traduit par les mœurs moins nobles de Maya Keshav)
Police Des Mœurs peut être la plus grande exportation d'Alphaville depuis Lemmy Caution et Anna Karina. Le duo connaît intuitivement quand il faut laisser parler librement les séquenceurs, quand il faut intervenir, et quand il faut commander leurs boîtes à rythmes de jouer un autre fill sans pitié. La meilleure façon de le ressentir, c'est pendant que tu observes l'architecture brutaliste, avec un livre de poche usé existentiel dans ta poche. [N.B.: Certaines copies du 7" sont accompagnés d'une feuille de 1984 d'Orwell.]
Police des Moeurs – Il vient d'un pays qui n'existe plus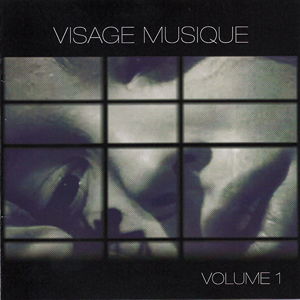 Various Artists
Visage Musique Vol. 1
Montreal, QC
From the stone cold of Jesse Locke:
Wipe that icy sweat off your brow and vogue like a vampire. Visage Musique's late 2011 salvo sends out a coldwave of shimmering shivers with minimal emotion and maximum satisfaction, spanning the label's extended family, WC fave Femminielli and a fresh cast of freaks. Black light aerobics and arena anthems pump it up like Pavel Bure while the witching hour survivors get their kicks. G to the RIP.
Du gelé dur de Jesse Locke: (Traduit par Odile Leclerc)
Essuyez la sueur glacée de votre front et voguez comme un vampire. La dernière slave de fin 2011 de Visage Musique envoie une vague froide de frissons chatoyants avec de l'émotion minimale et un maximum de satisfaction, étendant la famille élargie du label, le préféré de WC Femminielli et un casting frais de bizarroïdes. De l'aérobie de lumière noire et des hymnes d'aréna et le gonfle comme Pavel Bure pendant que les survivants de l'heure du crime obtiennent leur dynamisme. Le S de AISIR.
Police Des Moeurs – Monde fallacieux (Extended)
---