Tag: vinyl lp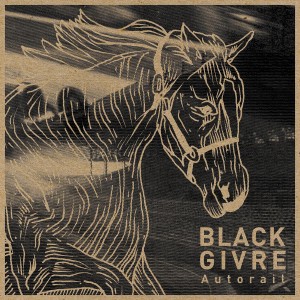 Black Givre
Autorail
Montréal, QC
From the turing completion of Aaron Levin:
Autorail explodes with revolutionary annihilation; wrenching, quantized assaults into drumadelic nihilism. Judgement Day 2033. Drum machines self-aware with percussive impunity. 909mm shell casings strangling the sanctity of rhythm. Endurance is not an option. Black Givre have won; the aural desolation of their pragma viral within humanity's neural gripwork.
De la Turing-complétude d' Aaron Levin:
(Traduit par les neurones artificiels de Hugo Hyart)
Annihilation révolutionnaire, Autorail explose, déchire en une série d'assauts quantifiés jusqu'au nihilisme rythmadélique le plus complet. 2033, le Jugement dernier. Des boîtes à rythmes intelligentes qui jouissent d'une impunité percussive. Des cartouches de 909mm qui étranglent la sainteté du rythme. Toute résistance est futile. Black Givre a gagné; la désolation auditive de son pragma contamine de l'intérieur le réseau neuromimétique de l'humanité-collectrice.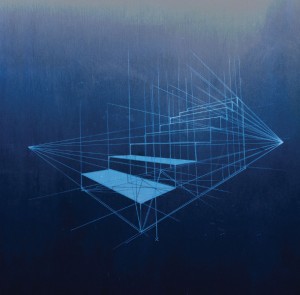 Violence
Erlebnis
Ottawa, ON
From the soiled smock of Nicolas Coutlée:
(Translated by Emily Estelle Belanger)
The needle goes in, the specimen falls still. The experiment can begin. Wielding their instruments of torture with medical precision, our two plastic surgeons of sound, Julie Morand-Ferron and Éric Trottier, patiently carve away the flabby body's flesh, revealing the angular skeleton underneath. The pulse beats on undisturbed, mechanical, amplified and filtered by the EKG. A dark and unsettling halo, the mute shadow of some German mad scientist, hangs over the operating table. While the chilling whine of an electric saw grates on in the rooms of the abandoned hospital, the patient is lost in soft, sedated visions, oblivious to the liberating violence inflicted upon him.
Du sarrau souillé de Nicolas Coutlée:
L'aiguille s'enfonce, le cobaye cesse de remuer. L'expérience peut débuter. Maniant leurs instruments de torture avec une précision chirurgicale, nos deux plasticiens du son, Julie Morand-Ferron et Éric Trottier, dépouillent la carcasse de sa chair flasque, en dévoilent patiemment l'ossature anguleuse. Le pouls demeure imperturbable, machinal, amplifié et filtré par l'électrocardiogramme. Halo sombre et inquiétant, l'ombre muette de quelque savant allemand fou plane sur la table d'opération. Et tandis que retentit le grincement glacial d'une scie électrique dans les salles sombres de l'hôpital abandonné, le patient, lui, se perd dans de douces visions anesthésiantes, inconscient de la violence libératrice qui s'abat sur lui au même instant.
Violence – The Curse of Dimensionality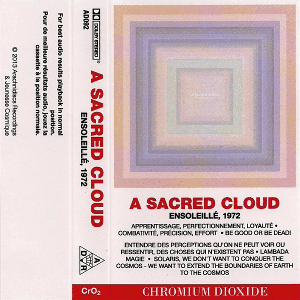 A Sacred Cloud
ENSOLEILLÉ, 1972
Montréal, QC
From the bewildering torrent of Joshua Robinson:
Montreal, that great and bewildering torrent of sprawl and assertion; of grand presence and might. Swallowing, its stomach that mighty crucible that, on occasion, explodes to rebirth what it has consumed in entirely new form: post-rock reborn as futurist ambient drone-rock. Artefacts of cultural and creative convergence at play, its mountains congregating at the point where the old begets the new, and the new adopts the old. Distinctions born of interaction and close-quarters, musical and otherwise.
Released on vinyl from Montreal's Jeunesse Cosmique and cassette from Etobicoke's Arachnidiscs, ENSOLEILLÉ, 1972 is subdued in its capacity to serve as cathartic overture, quick and quiet with its breaths, careful… intentional. A Sacred Cloud are the sounds of a community stirring, not to draw attention, but rather to remind itself that it is still there. That amidst the churning of urban sprawl, identities can indeed remain distinct, artistries uncompromised, and genres — those proverbial melting pots of self-expression — are able to adapt to changing climates; global, yet micro-level. Elegiacal and momentous. The tonalities of a place existing within a place. Sunny, 1972.
Du torrent ahuri de Joshua Robinson:
(Traduit du shaolin kung fu de Yoko Ono)
Montréal, ce grand torrent qui s'affale et s'affirme; de grande présence et volonté. Absorbant, son ventre est un puissant creuset qui, à l'occasion, explose afin de faire renaître tout ce qu'il a consommé dans une forme entièrement nouvelle : le post-rock se réincarne en drone-rock futuriste ambiant. Artéfacts de la convergence culturelle et créative en jeu, ses montagnes se rassemblent en un point où le vieux engendre le neuf, où le nouveau adopte le vieux. Les distinctions naissent de l'interaction et de la proximité, musicale et autre.
Prévu en sortie vinyle au mois de novembre sur l'étiquette montréalaise Jeunesse Cosmique ainsi qu'en cassette sur Arachnidiscs d'Etobicoke, ENSOLEILLÉ, 1972 est soumis à sa capacité à servir d'ouverture cathartique, rapide et douce, avec ses souffles, prudents… intentionnels. A Sacred Cloud est le son d'une communauté bouillonnante, non pas pour attirer l'attention mais plutôt pour se rappeller qu'elle est toujours là. Qu'au coeur de l'étalement urbain en série, les identités peuvent en effet rester distinctes, l'art sans compromis, et les genres — ce melting pot proverbial d'expression personnelle — sont capables de s'adapter aux climats changeants; globalement, mais aussi à un niveau micro. Élégiaque et important. Les tonalités d'un endroit existant à l'intérieur d'un endroit. Ensoleillé, 1972.
A Sacred Cloud – Be good or be dead!
A Sacred Cloud – Entendre des perceptions qu'on ne peut voir ou ressentir, des choses qui n'existent pas
The Highest Order
If It's Real
(Idée Fix)
Toronto, ON
From the bygone shores of Max Cotter:
While a lighthouse is barely discernible through low hanging rain clouds and a turbid cosmic fog, this sea-worn vessel drifts astern in a fit of slackadaisicalness. Not ready to face the certainty of land and the warmth of a real bed, the ship's world-weary crew sets course for a rocky sandbar of tumult and distortion, lost at sea between bygone and contemporary shores. The heartbreak still aches and the high E string remains broken and unstrung, but the weathered twangs of Gibsons and Jazzmasters remain a beacon of hope and navigational confidence in the night's open sea. The Highest Order's If It's Real is an asserted reminder of lost sounds and souls, a lamented memory of love songs and trap kits. Though their rural-psych haul bears formidable heft, its journey's end point of offloading remains the weightless mirage of a dreamt-up manipulation, luring all ears on deck with the its winsome siren song.
Des rivages révolus de Max Cotter:
(Traduit par le mal de mer d'Andréanne Dion)
Alors qu'un phare est à peine visible à travers les nuages de pluie bas et le brouillard cosmique trouble, ce navire dérive vers l'arrière dans un accès de nonchalance fainéante. N'étant pas préparé à affronter la certitude de la terre ferme et la chaleur d'un vrai lit, l'équipage désabusé du bateau fait cap sur un banc de sable rocailleux de tumulte et de distorsion, perdu en mer entre des rivages révolus et contemporains. La peine d'amour est encore douloureuse et la corde Mi aigu reste cassée et défilée, mais les vibrations érodées des Gibsons et des Jazzmasters restent un signal d'espoir et facilitent la navigation nocturne en pleine mer. If It's Real de The Highest Order revendique des sons et des âmes perdus, comme un souvenir regretté de chansons d'amour et de batteries. Bien que leur embarcation psych rural supporte un poids impressionnant, le déchargement qui marque la fin du voyage reste le mirage léger d'une manipulation imaginée, attirant toutes les oreilles à bord avec le séduisant chant des sirènes.
The Highest Order – Offer Still Stands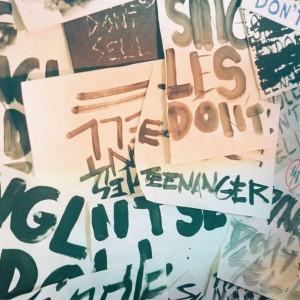 Teenanger
Singles Don't $ell
Toronto, ON
Du buzzsaw ouvrier de James Lindsay:
(Traduit par Jankarza)
La génération favorite de (Snott)Y punks de Toronto et piliers de l'importante maison de disques Telephone Explosion laissent le garage pour un new wave sale en continuant de hurler un rock buzzsaw de façon astucieuse, sexy et cynique. Ils sont devenus des adultes (dans un bon sens), mais pas nécessairement plus matures (aussi dans un bon sens), tout comme quelque riche garçon fou et désorienté que tu ne peux cesser de regarder.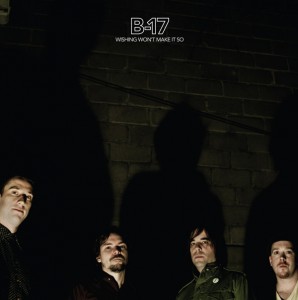 B-17
Wishing Won't Make It So
Toronto, ON
From the stardust-soul of James Lindsay:
For some time now, Optical Sounds has been the bastion for Toronto's psych-pop scene: a dedicated community of bands bridging The Seeds to The Smiths; '60s sunshine to '80s post-punk groove; Happy Mondays to The Brian Jonestown Massacre. For those unfamiliar with the label, B-17 is a great place to start as it's a supergroup of members from some of the most central acts (The Hoa Hoa's, The Disraelis, Action Makes, The Saffron Sect, Easy Targets) who've spent years honing their chops in front of projections at various love-ins around Kensington Market. That said, Wishing Won't Make it So finds them straying from familiar freak-jangle and hitting a harder, more Detroit driven sound, while still keeping in touch with the stardust-soul that sparkles over much of the OS catalogue. This platter secures their place as one of the city's most intriguing new bands breathing life back into the bloated corpse of Rock 'n' Roll.
De la soul étoilée de James Lindsay:
(Traduit par les babines aiguisées de Stéphanie Trottier)
Depuis quelques temps, Optical Sounds est le nouveau bastion de la scène psych-pop à Toronto : une communauté dédiée à lier The Seeds à The Smiths, la pop ensoleillée des années 60 au groove post-punk des années 80, Happy Mondays à The Brian Jonestown Massacre. Pour ceux qui ne connaissent pas l'étiquette, B-17 est un excellent premier pas puisqu'il s'avère être un supergroupe dont les membres font partie des groupes-phares (The Hoa Hoa's, The Disraelis, Action Makes, The Saffron Sect, Easy Targets) et qui ont passé des années à aiguiser leurs babines devant des projections à divers love-in autour du marché Kensington. Ceci dit, sur Wishing Won't Make it So, le son familier, brillant et exubérant, est plutôt transporté en direction de Detroit, tout en conservant le soupçon de soul étoilée qui illumine une grande partie du catalogue Optical Sounds. Cette galette leur garantit le titre d'un des jeunes groupes les plus intrigants de la ville, redonnant un souffle au cadavre gonflé du Rock 'n' Roll.
B-17 – Wishing Won't Make It So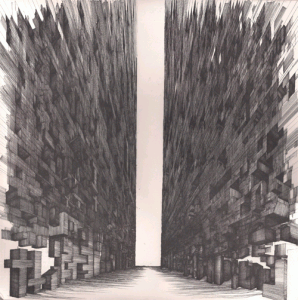 Black Walls
Acedia
Etobicoke, ON
From the crushing placidity of Mark Teo:
Acedia dives into the depths of Ken Reaume's psyche, and it's a sprawlingly gorgeous — if occasionally unsettling — place. Teenage skate-vid ephemera (see "Brian Lotti," narrated by the legend himself) intersects with finger-picked guitar cascades; sparse drum robotics, as on "Hiatus" or "Sun to Rise," underscore crushingly placid vocals, recalling Red House Painters after a three-day chemical bender; "Pines" is a blackened vocal choir for the Godless, before being washed away in whitecaps of white noise. Acedia's final chapter, "Mark's Song," is a full-blown Sunday morning existential crisis: It cracks the blinds to Reaume's sunny finger-picking, before the previous night's minor-key regrets slowly seep in. Beautiful, blackened psych-folk for the self-loathing.
De le flegme dévastateur de Mark Teo: (Traduit par la dévastation flegmatique de Maya Keshav)
Acedia saute dans les entrailles de l'âme de Ken Reaume, et c'est un endroit merveilleusement étendu— même si c'est occasionnellement perturbant. Les éphémères skate-vidéo d'ado (veuillez voir "Brian Lotti", raconté par la légende elle-même) se croisent avec les flots de guitare doigtée; la robotique rare de batterie, comme dans "Hiatus" ou "Sun to Rise", souligne le chant terriblement placide, en rappellant Red House Painters après une tornade chimique de trois jours; "Pines" est une choral noircie pour ceux qui sont sans dieu, avant qu'il soit enlevé par les crêtes de bruit blanc. Le dernier chapitre d'Acedia, "Mark's Song", est une crise existentielle véritable de dimanche matin: Il ouvert les stores aus grattements de doigt insouciants de Reaume, avant que les regrets en mode mineur de la nuit dernière gouttent lentement. Le beau psych-folk noirci pour tout le monde qui a haine de soi-même.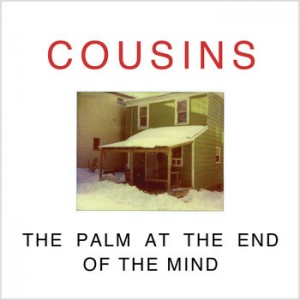 Cousins
The Palm At The End Of The Mind
Haifax, NS
From the Palm Sunday of Jesse Locke:
The long-awaited vinyl long-player from the Cuz is the culmination of cross-continent touring like a fox on the run. Rounding up live faves, quintessential 7" cuts, Khyber shout-outs and a few new piano-backed swooners, The Palm At The End Of The Mind plays like a victory lap at 33 1/3. The sweet pipes of the Mangler fill these songs with a heart big enough to put this whole nation under a groove.
Des Rameaux de Jesse Locke: (Traduit par Maya Keshav)
Le LP en vinyle longuement attendu du Cuz est l'aboutissement de faire des tournées transcontinentales comme un renard en fuite. En ramassant les préférés en live, les extraits essentiels de 7", les allusions à Khyber et quelques morceaux chantonnants accompagné par le piano, The Palm At The End Of The Mind ressemble à un tour d'honneur à 33 1/3. Les cuivres doux du Mangler remplissent ces chansons avec un cœur assez grand pour faire se balancer tout le pays.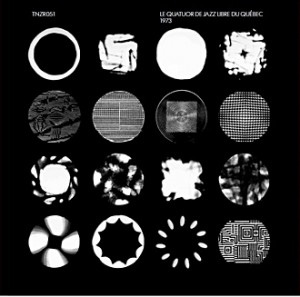 Le Quatuor De Jazz Libre Du Québec
1973
(Tenzier)
Montréal, Québec
From the teenage emergencies of Aaron Levin:
Deep within le Petit Québec libre, a group of stalwart jazz freaks began bridging the divide between improvised music and contemporary avant-garde. After releasing an LP on the infamous CBC Transcription service, Le Quatuor De Jazz Libre Du Quebéc began a welcomed transfiguration into a revolutionary ensemble championing the art of experimentation and revolt. This reissue, lovingly packaged by Quebec's finest avant imprint (Tenzier), captures an unreleased session at the zenith of their creative expression (1973). Droves of intense skronk and burning percussion lace the energetic action with unfettered fire. A paragon within Quebec's outstanding free scene. Must grip.
Des urgences d'adolescent d'Aaron Levin: (Traduit par Odile Leclerc)
Profondément dans le Petit Québec libre, un groupe de bizarroïdes de jazz robuste relayant la division entre la musique improvisée et l'avant-garde contemporaine. Après avoir mis en vente un LP sur le fameux service de CBC Transcription, Le Quator De Jazz Libre Du Québec commence une transfiguration bienvenue vers un ensemble révolutionnaire parrainant l'art de l'expérimentation et la révolte. Cet réédition, adorablement emballé par le plus fin pré-impression de Québec (Tenzier), capture un session qui n'est pas encore sortie au zénith de leur expression créative (1973). Des foules d'intense skronk et de brûlante percussion entrelace l'action énergique de feu sans restreins. Un parangon de l'exceptionnelle scène libre de Québec. Doit saisir.
Le Quatuor de Jazz Libre du Québec – Sans titre
---