Tag: vincent rondeau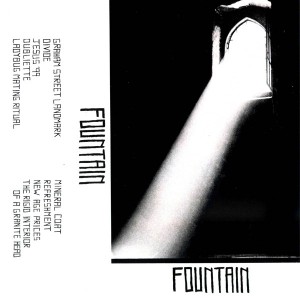 Fountain
Fountain
(Self Released)
Victoria, BC
From the long dormant landline of Johnnie Regalado:
There's no shortage of influences when you first crack open the music of Fountain. That isn't surprising given that half the band members were raised by the kind of dude that had the guts to recently open a record shop in Kelowna, BC. The spiking duo of guitar lines recall Calgary legends Women. The low-toned vocal wash was clearly picked up from a summer of deafening exposure to Copenhagen's finest noise-punks Iceage. But there's also an island-life-inspired lightness that separates this band's twisted tunes.
Assembled as Fountain, they've been tight and raucous since their amps first warmed up. This quartet who are usually all smiles and wylin' out have some loud and lengthy lineage in Victoria. Their debut release demonstrates how a perfectionist approach can really float the tone above its own noise. The dual guitars howl like wild hounds left out in the backyard. The vocals have that same dragging and raspy drawl as a rough morning's first dialogue. The bass and drum lines are the sleek sweeps that usher the frenetic thrash forward. This 20-minute collection of jams feels responsible for maintaining the momentum of the earth's constant rotation.
Du numéro de téléphone inactif de Johnnie Regalado:
(Traduit par le jappement à la lune de Vincent Rondeau)
Les influences de Fountain sont faciles à reconnaître dès la première écoute, ce qui n'est pas si surprenant quand on sait que la moitié du groupe a été élevée par le genre de gars qui a récemment eu le courage d'ouvrir une boutique de disques à Kelowna, BC. Les guitares angulaires en duo rappellent les légendaires Women de Calgary et les rafales de voix basse laissent supposer un été assourdissant passé à écouter les meilleurs noise-punks de Copenhague, Iceage. Les chansons tordues du groupe se démarquent cependant par une légèreté inspirée par la vie insulaire.
Fountain font du tapage avec précision depuis leur premier souffle, mais le quatuor, charmeur et souriant, est issu d'une lignée longue et bruyante. L'approche perfectionniste du groupe porte fruit sur cette première galette où les mélodies se distinguent sans effort du bruit qui les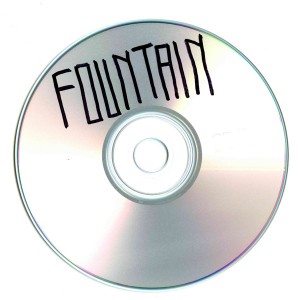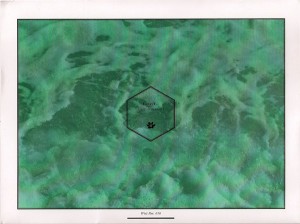 Loscil
City Hospital
Vancouver, BC
From the monads of Kyle Valade:
Scott Morgan a.k.a. Loscil originally created City Hospital as a soundtrack for Lunar Caustic, a novella published in 1963 by Malcolm Lowry. With the priming of the titles of the four parts that comprise this piece, it's easy to hear things that sound closer to the coast such as foghorns, waves and the monotonous pace of a coal barge. Kelly Wyse's piano is obscured by a sustained note that has been mostly broken down into static, a note presumably sampled by Morgan and altered. To my drummer's ear, it jumps by what sound like octaves, with bass-heavy thuds keeping pace underneath distant reverby pianos and more waves. Each scene is drawn out and collides with the next so that the minutiae of each composition only becomes perceptible after they recede and something new surges into place.
Des monades de Kyle Valade:
(Traduit par les petites perceptions de Vincent Rondeau)
Loscil, de son vrai nom Scott Morgan, a composé City Hospital comme trame sonore pour le mini-roman Lunar Caustic de Malcolm Lowry, publié en 1963. Les titres des quatre sections de cette pièce évoquant une atmosphère marine, on reconnaît à l'écoute les cors de brume, le son des vagues et le rythme monotone d'un chaland. Le piano de Kelly Wyse est voilé par une note insistante, échantillonnée par Morgan et désintégrée jusqu'au grésillement : on dirait (du moins à mon oreille de batteur) qu'elle sautille d'un octave à l'autre, tandis que des basses sourdes gardent la cadence sous le son des pianos réverbérés et des vagues. Chaque scène s'étire jusqu'à empiéter sur la prochaine, de manière à ce que les détails de chaque composition ne deviennent perceptibles qu'après coup.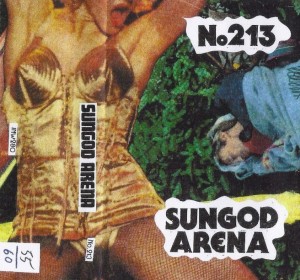 N.213
Sungod Arena
Vancouver, BC
From the string eruption of Eamon Quinn:
Vancouverite Nic Hughes (Shearing Pinx, Pompoir) has been hitting a peak-of-his-powers high for forever now (ca. 1996). Each release introduces devotees to another cast of terrified mutant denizens of the same cold, vicious subterranea that Chrome and Throbbing Gristle once inhabited. Sungod Arena is no exception. If anything, the claustrophobia occasioned by the violent meeting of no-technique basement drums, blown-out NZ-Underground string eruption, "parking lot sounds", and Hughes's pained, singular voice makes for an even more unsettling experience than the comparatively fun Shearing Pinx.
De l'éruption de cordes d' Eamon Quinn:
(Traduit dans les recoins souterrains de Vincent Rondeau)
Le Vancouvérois Nic Hughes (de Shearing Pinx et Pompoir) semble au sommet de ses capacités depuis toujours (ou environ 1996). À chaque offrande musicale, ses fidèles rencontrent une nouvelle gang de mutants terrifiés dans les mêmes recoins souterrains où rôdaient autrefois Chrome et Throbbing Gristle. Sungod Arena ne fait pas exception, au point où la rencontre violente de la batterie de sous-sol maladroite, des éruptions de cordes à la NZ Underground, des « sons de stationnement » et de la voix singulièrement affligée de Hughes crée une expérience particulièrement troublante qui ferait presque de Shearing Pinx une partie de plaisir.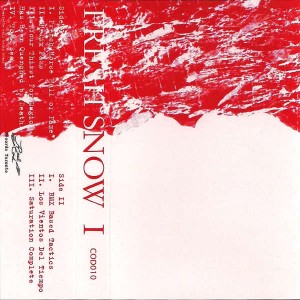 From the methadone serenity of Trevor Blumas:
I'm unsure whether the dudes in Fresh Snow conceived of an over-arching narrative for their debut album, but I certainly read it that way. Cassette-exclusive opener "French Horse Hall of Fame" lets you know immediately what kind of wild ride you'll be embarking on. Upon my first listen, I suddenly felt a sensation similar to that moment in the dentist chair, when the wonderfully numbing drugs begin to take over your body and the instruments of destruction start to mangle your teeth like a demolition site. The blissful screaming of the feedback symphony, which unrelentingly churns like an infinitely hollow stomach, only dissipated at moments to allow some genuinely groovy rhythms to carry me into a buzzsaw of enlightenment. I found myself in Nirvana, and it actually happened to look a lot like '70s era Berlin. Methadone serenity at times, stick-up at Checkpoint Charlie the rest.
De la sérénité de méthadone de Trevor Blumas:
(Traduit par les instruments de la destruction de Vincent Rondeau)
Je ne sais pas si les gars de Fresh Snow ont pensé à une histoire centrale pour leur premier album, mais c'est comme ça que je l'interprète. Le premier morceau (format cassette seulement) « French Horse Hall of Fame » donne immédiatement le ton de l'aventure effrénée qui suit. En l'écoutant pour la première fois, je me suis senti comme dans la chaise du dentiste, quand les analgésiques enveloppent peu à peu le corps tandis que les instruments de la destruction commencent à broyer les dents. Le cri bienheureux du feed-back symphonique bouillonnant comme un estomac infiniment creux se dissipe momentanément et des rythmes accrocheurs vous mènent vers le nirvâna des scies mécaniques. Oui, j'ai connu l'illumination, et ça ressemblait beaucoup à Berlin dans les années 70. Un peu de sérénité à la méthadone, beaucoup de hold-up à Checkpoint Charlie.
Fresh Snow – Your Thirst For Magic Has Been Quenched By Death!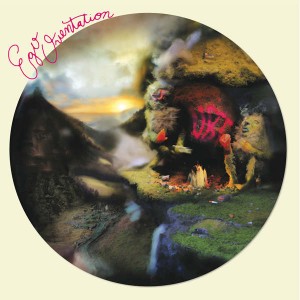 UBT
Ego Orientation
Montréal, QC
From the cool cave stomp of Jesse Locke:
Following his reign as riff-wielding high Priestess, Mikey Heppner has left the kingdom of metal for the paisley-punk patch. As UBT (née Uncle Bad Touch) the trio thumbs a ride to the intersection of Bolan, Lynott and McGuinn, but this is Psychedelic Psunday taken over by the brats. That damn flute is sure to steal the limelight, but credit is due to the cowbell, the handclaps and the effortless hooks. Two lighters up. Crucial grip. Psychic Handshake EFF TEE DOUBLE YEW.
Du tapage des cavernes de Jesse Locke:
(Traduit par les motifs cachemire de Vincent Rondeau)
Après avoir manié le sceptre du riff chez Priestess, Mikey Heppner a quitté le royaume du métal pour élire domicile dans les pâturages du punk aux motifs cachemire. Le trio UBT (anciennement Uncle Bad Touch) se dirige vers l'intersection de Bolan, Lynott et McGuinn sur le pouce, mais ici, c'est comme si les jeunes morveux avaient pris le contrôle de Psychedelic Psunday. La maudite flûte va probablement voler la vedette, mais il faut aussi souligner l'apport de la cloche à vache, des claps et des mélodies accrocheuses à souhait. Sortez vos lighters et de grâce, saisissez cette soucoupe. Psychic Handshake FTW.

UBT – The Boys Are Out For Blood
UBT – John The Painter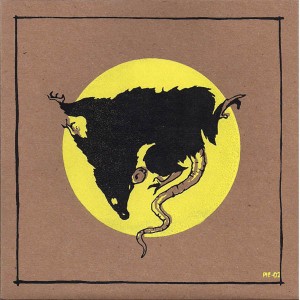 WTCHS // Wild Domestic // Bleet // I Smell Blood
Pie-002
Hamilton, ON // London, ON // Guelph, ON // London, ON
From the PCP of Millie Roy:
Like points of a compass, this Out of Sound four-way split 7" gives voice to a range of journeys across Canadian terrain. For steely edge, the arrow points east for "Feno Barbitol", a brutualist gem from Bleet. This song begins with a foundation of beats, layered brick by brick, until we're surrounded by a monolith of sound and rhythm. Head south for a messy PCP (pop-chips-party) in Wild Domestic's "Old Water Sports". Fierce drums unbutton shirts in your dad's old rec room as guitar riffs are flung across the ping-pong table. WTCHS spread their magic westward as a lighting bolt hits the ground, spreading noise across several minutes of pure bliss. Finally, I Smell Blood's "Nick Workman's 5 Best Features" is a stone-cold thrasher; a dark, heavy metal ghost who grabs you by the throat and throttles you until the room spins.
Du PCP de Millie Roy:
(Traduit par le fantôme heavy metal de Vincent Rondeau)
Ce split 7″ sur Out of Sound présente quatre groupes qui, comme les quatre points cardinaux, indiquent une multitude de parcours à travers les contrées canadiennes. À l'est, une flèche d'acier vif pointe vers « Feno Barbitol », un joyau brutaliste de Bleet qui construit une fondation rythmique, brique par brique, jusqu'à nous entourer d'un mur de son monolithique. Au sud, un gros PCP (party chips-pepsi) sale avec « Old Water Sports » de Wild Domestic, où la batterie sauvage déboutonne les chemises dans la vieille salle de loisirs de ton père et les riffs de guitare volent au-dessus de la table de ping-pong. WTCHS jettent leur sort à l'ouest et la foudre atteint le sol en propageant un bruit à fondre de bonheur pendant plusieurs minutes. Enfin, « Nick Workman's 5 Best Features » de I Smell Blood est d'une violence glaciale, comme un fantôme heavy metal qui te prend par la gorge et t'étrangle jusqu'au vertige.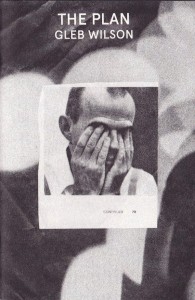 The Plan
Written by: Gleb Wilson
Montreal, QC
From the internal struggle of Alex Bourque:
Despondent Soviet soldiers. Directionless Hollywood hacks. Status-seeking high school burnouts. In The Plan, Gleb Wilson collects heart-wrenching stories of boys and men alike, trying and failing to fulfill goals shaped by their own skewed sense of self. Hopelessness. Decay. Dissatisfaction. The subtly humorous and melancholic dialogue between characters exposes their lack of empathy as they attempt to play their part. The inability to communicate and relate reveals a facade embedded in our understanding of happiness, success, and masculinity. Facades of life, social media superficiality personified, appearances on top of appearances on top of appearances, with personality, expression, and internality buried so deep, it's hardly there; and so their struggle continues.
Du combat interne d' Alex Bourque:
(Traduit par la déprime soviétique de Vincent Rondeau)
Des soldats soviétiques déprimés. Des écrivains médiocres de Hollywood sans direction. Des burnouts d'école secondaire en quête de statut social. Dans The Plan, Gleb Wilson recueille les histoires déchirantes de garçons et d'hommes qui tentent sans succès d'atteindre des objectifs dictés par une vision déformée d'eux-mêmes. Le désespoir, la décadence, le mécontentement. Le dialogue subtilement comique et mélancolique révèle le manque d'empathie des personnages qui tentent de jouer leur rôle. Cette incapacité à communiquer et à s'identifier aux autres trahit un blocage inhérent à notre compréhension du bonheur, du succès et de la masculinité : les apparences des apparences des apparences, la superficialité des médias sociaux, les façades de la vie, tandis que la personnalité, l'expression de soi, la subjectivité sont reléguées si profond qu'elles sont à peine présentes, et le combat continue.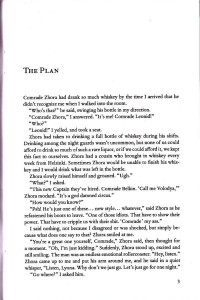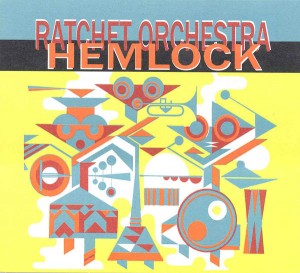 Ratchet Orchestra
Hemlock
Montreal, QC
From the heliocentric worlds of Joe Smiglicki:
31 musicians make up Montreal's Ratchet Orchestra, including ringleader Nicolas Caloia, who started the avant-jazz big band in the '90s. While a hoard of musicians might bring thoughts of power and force, Hemlock shows compassion, love, and elegance. Even on tunes like "Dusty" and "Hemlock – Part 2", with the band at its most intimidating and almost industrial, their power erodes into frailty. On repeat listens, more and more sounds saturate as you try to do the impossible: switching your mind off and falling into the deep waters.
Des mondes héliocentriques de Joe Smiglicki:
(Traduit par la conscience universelle de Vincent Rondeau)
Trente-et-un musiciens composent le Ratchet Orchestra de Montréal, dont le leader Nicolas Caloia frailty, qui a créé le big band de jazz avant-gardiste dans les années 90. Si l'idée d'un troupeau entier de musiciens peut suggérer la puissance et la force, Hemlock est au contraire rempli de compassion, d'amour et d'élégance. Même sur des morceaux comme « Dusty » et « Hemlock – Part 2 », où l'ensemble se montre particulièrement intimidant, voire industriel, leur puissance s'érode jusqu'à devenir fragilité. À force d'écoutes répétées, on tente l'impossible devant la saturation hyperbolique des sons : arrêter le cours de l'esprit et plonger dans les eaux profondes.
Ratchet Orchestra – Hemlock Part 2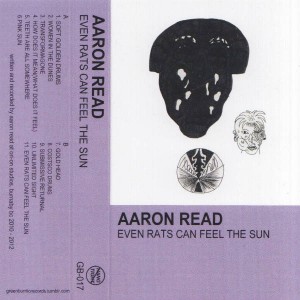 Aaron Read
Even Rats Can Feel The Sun
Vancouver, BC
From the disintegrating quilts of Will Anderson:
The first time I heard Aaron Read was on this website. The first thing I heard on this website was Aaron Read. I was living in New York City at the time and was fairly annoying to be around, I think. One of those songs made me less annoying to be around. If you can imagine someone bellyaching about living in Brooklyn and missing Vancouver, that's what I spent most of that year doing. Kinda funny. At the time I was barely aware of any music that was being designated as "lo-fi", and the experience of hearing those mp3s ran my tastes through a whammy bar — I would never be the same.
At last, it's good to finally hold a musical release that Aaron made. Thankfully, another one of those songs from 2008 is still kicking around on this tape. Purposeful guitar loops peak and dip, designed to envelop through large headphones in bedrooms, sitting on top of disintegrating quilts. When the damn songs finally do kick in, there's some overwhelming pleasure in his process and you hear it. Dude knows the rules, but usually just disregards them entirely. No matter what chord change you think is gonna happen, that's not the one he picked. He found a better one. No matter how many times you've listened to the pop march of "How Does It Mean (What Does It Feel)", you still can't predict the chorus. I bet you can't. That progression is mind-bending. Oh yeah, and the lyrics are satisfyingly obtuse. Some kind of anthropomorphized terror-tale, no doubt.
Des courtepointes en désintégration de Will Anderson:
(Traduit par la vieille couvarte de Vincent Rondeau)
J'ai entendu Aaron Read pour la première fois sur ce site web; en fait, la première musique que j'ai écoutée sur ce site web fut celle d'Aaron Read. J'habitais à New York et j'étais plutôt ennuyant (je crois). Une de ses chansons m'a rendu moins ennuyant. J'ai passé l'année à me plaindre que j'habitais à Brooklyn et que Vancouver me manquait, si vous pouvez me croire. C'est presque drôle. À l'époque, j'étais à peine conscient de toute la musique dite « lo-fi » mais l'écoute de ces mp3 a bouleversé tous mes goûts comme une barre de vibrato. J'en fus transformé à jamais.
Ça fait du bien d'obtenir enfin une copie physique du travail d'Aaron. Heureusement, une de ces chansons datant de 2008 survit sur cette cassette. Dans de grands écouteurs, sur une courtepointe en désintégration dans une chambre à coucher, les sons de guitare en boucles, déterminés et dynamiques, créent une atmosphère enveloppante. Quand on arrive finalement aux chansons, on croit entendre le plaisir immense du processus créatif d'Aaron : il connaît les règles, mais préfère généralement s'en débarrasser. Peu importe le changement d'accord auquel on s'attend, il en choisit un autre, c'est-à-dire qu'il en a trouvé un meilleur. Peu importe combien de fois vous avez écouté « How Does It Mean (What Does It Feel) », je suis prêt à gager que vous ne pourrez jamais prédire le refrain. La progression défie l'esprit. Ah oui, et les paroles sont obtuses à souhait : sans doute une sorte de conte d'horreur anthropomorphique.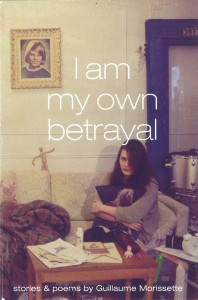 I Am My Own Betrayal
Written by: Guillaume Morissette
[102 pp., paperback, perfect bound]
Montreal, QC
From the resignation and resurrection of David Steinberg:
Sleepwalking through pop culture lugubriousnesses, avoidable faux-paux, and intentional bridge-burning, Guillaume Morissette's I Am My Own Betrayal rubs the dust from its eyes, confused, and with a bloody nose, but grinning upon the light of the new morning. Post-mortem, dream analysis, hung-over last-night-puzzle-piece configuring, the stories and poems within try to make sense of events, painful or pleasant, in the context of transitional analysis and Wrestlemania video games, though neither one more successful than the other. However, it would not be fair to paint too blue a picture of Morissette; you will find no self-pitying apathy here. There is pain and hope: "If life is a minefield, then happiness was probably running in it."
De la résignation et la résurrection de David Steinberg:
(Traduit par l'analyse des rêves de Vincent Rondeau)
Avançant à tâtons parmi la culture pop lugubre, les faux-pas faciles à éviter et les ponts brûlés, « I Am My Own Betrayal » de Guillaume Morrissette se frotte les yeux pour en ôter la poussière, confus et saignant du nez, mais souriant dans la lumière du matin. Post-mortem, à la manière de l'analyse des rêves ou d'un casse-tête intérieur de lendemain de brosse, les histoires et les poèmes de ce recueil tentent de donner un sens à des événements douloureux ou joyeux dans un contexte d'analyse transactionnelle et de jeux vidéo de Wrestlemania, même si ni l'un ni l'autre n'ont de succès. Mais il ne serait pas juste de montrer Morissette comme quelqu'un de trop las ou mélancolique : vous ne trouverez aucune apathie ni apitoiement ici. Il y a de la douleur comme de l'espoir : « si la vie est un champ de mines, le bonheur c'est de courir à travers ».
---