Tag: victoria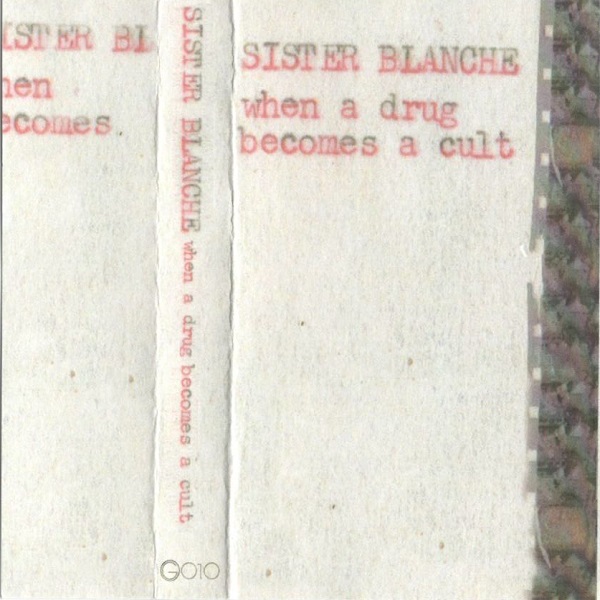 Sister Blanche
When a Drug Becomes a Cult
(Gary Cassettes)
Victoria/Vancouver, BC
From the gnawed appendages of Piper Curtis:
Wandering through a witchy haze, feet not quite touching the ground. Waves of discontent fill the air. Feeling intensely lovely, calm amongst unrest and agitation. There is a dissonance between us and this fuzzy dreamscape.
Static, moving all around. Witches watch through a shroud of fog. Dusk descended before we awoke here and remains, permeating.
Par les appendices rognés de Piper Curtis:
(Traduit par la scansion sabbatique de Benoit Arcand)
Errance dans une brume de sabbat, les pieds pas tout à fait au sol. Des ondes de discorde emplissent l'atmosphère. Le sentiment d'être ardemment aimable et posé dans ce tumulte, ce trouble. Il y a dissonance entre nous et ce paysage onirique flou.
La statique fluctuant tout autour. Des sorcières guettent à travers des linceuls de brouillard. Le crépuscule tombe avant que nous nous réveillions, et demeure, prégnant.
Sister Blanche – When A Drug Becomes A Cult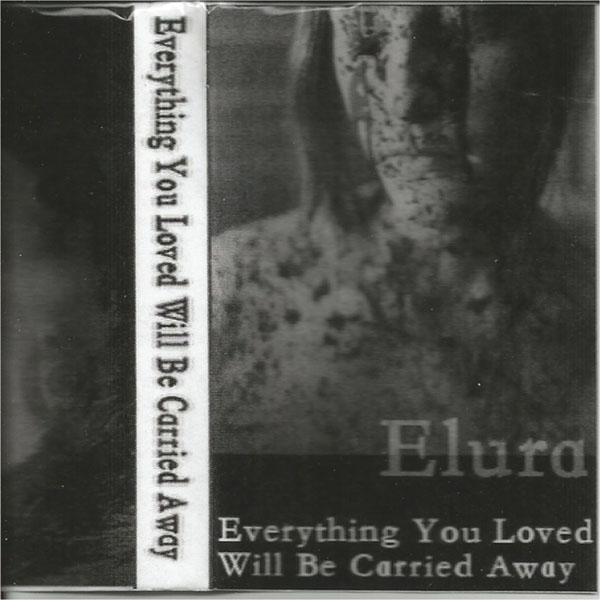 Elura
Everything You Loved Will Be Carried Away
(Midden Records)
Victoria, BC
From the icy inclinations of Mark Anthony Brennan:
The white blanket of the winter sky extends from high to low, blending into the snowy carpet. The mournful strings chill all colour of emotion out of the air, leaving just memory ghosts of things lost. The baritone voice brings the present into clear relief. Frozen in the moment. Beautiful. Untainted by any warmth that would melt the crystal clarity.
Des inclinations glacées de Mark Anthony Brennan:
(Traduit par les lettres ouvertes de Marie-Pier Chevrier)
Le manteau blanc du ciel d'hiver s'étend de haut en bas, se fondant dans le tapis de neige. Les cordes en deuil font résonner dans l'air des émotions de toutes les couleurs, ne laissant des choses perdues que des souvenirs fantômes. La voix baritone mène le présent vers un doux répit. Moment glacé. De toute beauté. Indifférent à toute chaleur capable de venir fondre cette clarté cristalline.
Elura – Statues/Alone In The Winter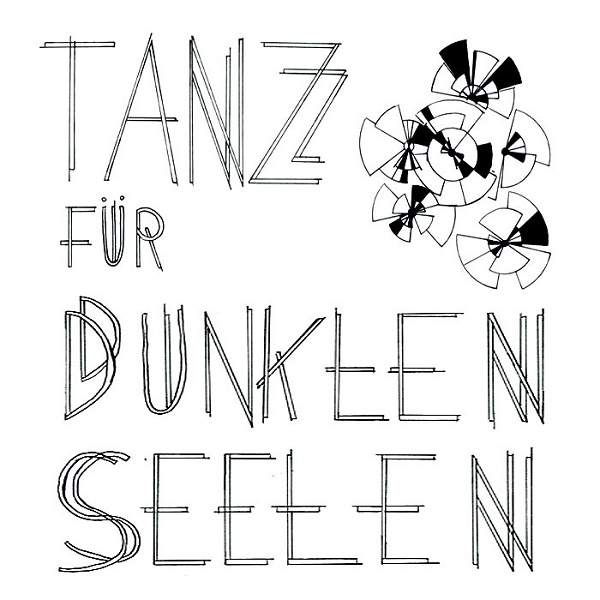 Psychic Pollution
Tanz Für Dunklen Seelen (Dance for Dark Souls)
(Eat Glass Records)
Victoria, BC
From the tonal recall of Johnnie Regalado:
Minimal homage. MIDI remembrance. Tonal recall. Behold, the next stage in the inevitable evolution of Psychic Pollution. An invitation to the cyberpunk after party of a cosmic century. Rub shoulders with the spectres of influence. William Gibson b2b Dieter Moebius. What they really need to know is: can you dance to this?
Du rappel tonal de Johnnie Regalado:
(Traduit par les mélodies programmées de Marie-Pier Chevrier)
Hommage minimal. Souvenirs MIDI. Rappel tonal. Voici la prochaine étape de l'évolution inévitable de Psychic Pollution. Une invitation à l'after party cyberpunk d'un siècle cosmique. Venez jouer du coude avec les spectres de l'influence. William Gibson et Dieter Moebius dos à dos. La question qui leur importe réellement: sauront-ils vous faire danser?
Psychic Pollution – Können Sie Dies Tanzen? (Can you Dance to this​?​)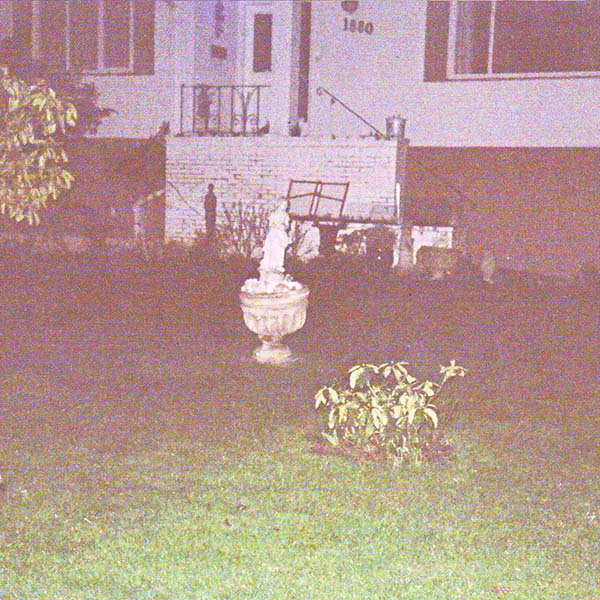 ACAB Rocky // Molly Drag
Split
Victoria, BC // London, ON
From the hoop and holler of Kyle Mytruk:
Sitting alone, staring out a window while it rained. Walking down a rain soaked street thinking of loves lost. Victoria's ACAB Rocky and London's Molly Drag pull out songs with a quality that's beyond beautiful. Echoing, atmospheric music that will envelope you. Listen over and over again.
Du Hoop and Holler de Kyle Mytruk:
(Traduit par Jessica Grenier)
Regarder la pluie qui tombe, solitaire. Marcher sur une route détrempée en pensant à nos amours perdus. ACAB Rocky de Victoria (C.-B.) et Molly Drag de London (Ont.) nous offrent des chansons surpassant toute beauté, l'écho enveloppant d'une musique atmosphérique. À écouter encore et encore.
Molly Drag – Devils Night 1998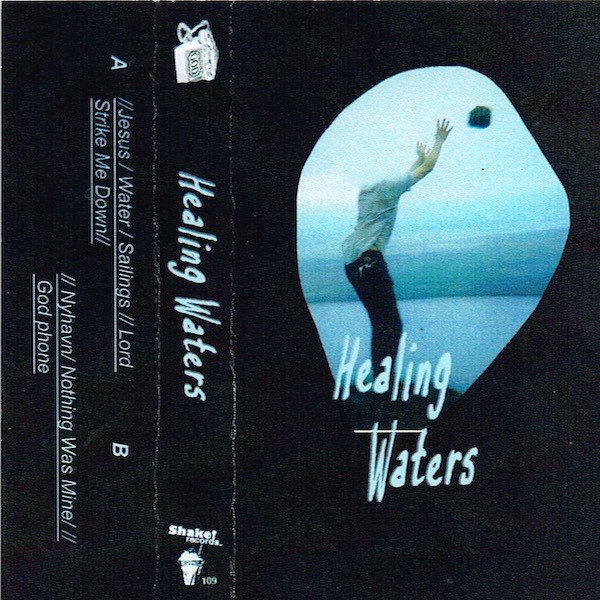 Healing Waters
Water
Victoria, BC
From the aquaphobic hallucinations of Sara Bortolon-Vettor:
Curves of black and blue fluid create a divine ripple effect. Sun sparkles. The water is warm. Our minds bloat and float away like abandoned canoes, left to drift. Passengers' punctured souls litter the water's floor. As the heaviness behind our eyes turns our gaze downward, staring into the water, we wonder whether our thoughts will drown. Be gone forever.
Des hallucinations aquaphobiques de Sara Bortolon-Vettor:
(Traduit par Diane Beaupré)
Des courbes de fluides noirs et bleus créent un effet d'ondulation divin. Le soleil brille. L'eau est chaude.. Nos esprits se gonflent et partent à la dérive comme des canots abandonnés à la merci du courant. Les âmes perforées des passagers jonchent le plancher des eaux. Alors que nos paupières lourdes nous font baisser les yeux et fixer les profondeurs de l'eau, nous nous demandons si nos pensées couleront. Disparaître à jamais.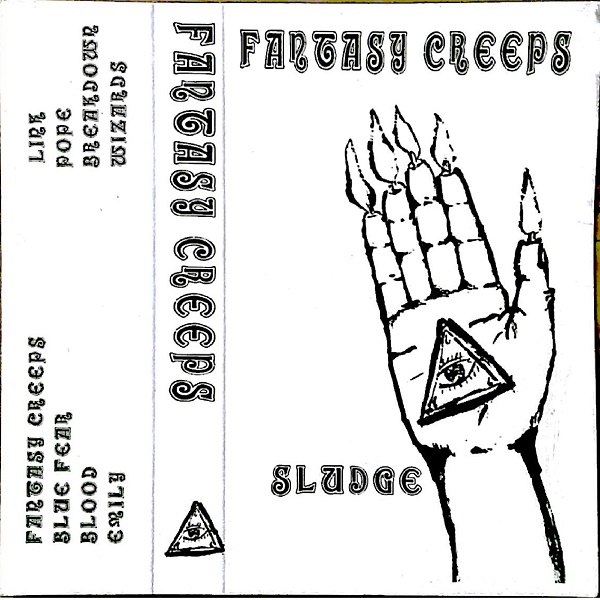 Fantasy Creeps
Sludge
(Self-Released)
Victoria, BC
From the Monster Manual of Bryce Warnes:
Fantasy Creeps check for weirdness and roll a natural 20. Complete with a front cover typographic tribute to Ozzy et al., "Sludge" is blacklit nostalgia for junior high basement sesh paranoia. Vocalists trade duties, creating a shoulder-angel, shoulder-devil dichotomy of faded angst-moan and classic rock wail. Keeping with this damaged aesthetic, the tape audio is janked, wavering in and out, constantly retreating and advancing. Which makes it hard to focus, sometimes, like reading the Monster Manual through thick clouds of nag champa. Ensorcelling nonetheless. "Sludge" is eight-track art brut for red-eyed dungeon crawlers.
Du Manuel des monstres de Bryce Warnes:
(Traduit par le sourire du dragon Julie Mayer)
Fantasy Creeps effectue un test de bizarrerie et obtient un 20 naturel au lancer de dés. Fourni avec une pochette rendant un hommage typographique à Ozzy et cie., Sludge est la nostalgie à lumière noire du temps où, ados, on devenait parano grâce aux séances de spliffs dans le sous-sol. Les chanteurs se relayent, créant une dichotomie ange-démon de gémissement d'angoisse estompé et de geignement rock classique. Suivant cette esthétique accidentée, la bande audio est en zigzag, ondule par intermittence, bat en retraite et attaque constamment. Ce qui rend des fois la concentration difficile, comme si on lisait le Manuel des monstres à travers d'épais nuages de nag champa. Ensorcelant néanmoins. « Sludge » est composé de huit morceaux d'art brut pour les explorateurs de donjon aux yeux rougis.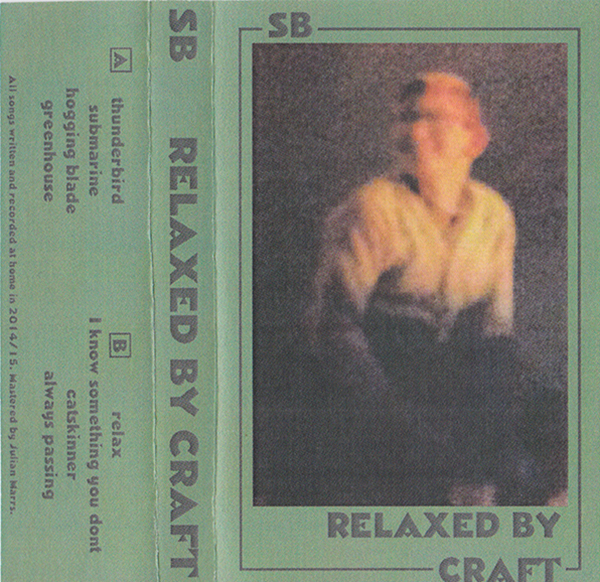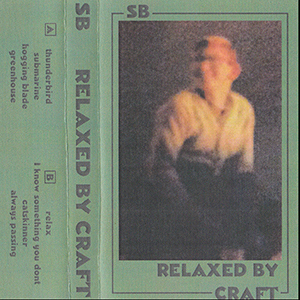 SB
Relaxed by Craft
(Self-Released)
Victoria, BC
From the shaking hands of Morgan Cook:
This smooth, hazy, sunshine-slacker is a moody heavy-lidded atmospheric romp in sun-dappled oblivion. Fully realized and materialized by Logan Holmes in the Greenhouse. At dusk shut your eyes to the sun, lizard-like, and let the last of its heat and light melt your neomammalian complex. Resolution. Beck.
Des mains tremblantes de Morgan Cook:
(Traduit par Julie Mayer)
Ce slacker ensoleillé, fluide et brumeux est une pièce maussade, hermétique et atmosphérique dans un oubli tacheté de soleil. Entièrement réalisé et produit par Logan Holmes aux studios Greenhouse. Au crépuscule, ferme les yeux sous le soleil, comme un lézard, et laisse les dernières parcelles de sa chaleur et de sa lumière fondre ton complexe néo-mammalien. Dénouement. Beck.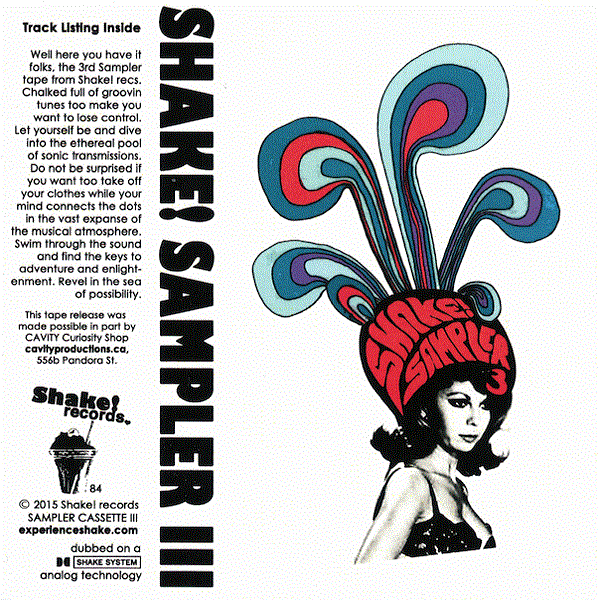 Various Artists
Shake! Sampler III
Victoria, BC
From the competing frequencies of Katie Jensen:
A junk store window gleaming with treasures. Dented jangle-pop cans burnished with gritty, syrup-stained rims. Sunbleached beach towels with familiar stains. A tambourine rattling coquettishly; the shopkeeper's purring pet. Tinted glasswear played like cowbells: hollow and true. A wooden bowl with a wide-mouthed brim, drooling with overflowing keys. Unopened letters. Leftovers from someone else's life.
A tiny handheld radio blares an anthem of discordant, slacker post punk. Twist the dial but stay between frequencies. Hover here. Hold your breath.
Des fréquences en compétition de Katie Jensen:
(Traduit par Julie Mayer)
La vitrine d'un bazar, étincelante de trésors. Des cannettes de jangle pop cabossées, polies, aux contours rugueux et maculés de sirop. Une serviette de plage blanchie par le soleil, couverte de taches familières. Un tambourin cliquète d'une manière aguicheuse; l'animal domestique ronronnant du commerçant. De la verrerie teintée jouée à la manière des cloches à vache : un son creux et vrai. Un bol en bois au large bord, dégoulinant de clés qui débordent. Des lettres non lues. Les restes appartenant à la vie de quelqu'un d'autre.
Une petite radio portative braille un hymne de slacker post punk discordant. Tourne la molette mais reste entre les fréquences. Fais du surplace ici. Retiens ton souffle.
Snooker Emporium – TökfQzelék
Novel
Discrete Noise
Victoria, BC
From the junk drawer of Katie Jensen:
A messy bedroom, a bitten nail gnawed down to the half moon. Fragments of receipts crushed into origami. Scattered crumbs forming pointillistic portraits in unflattering nudes and terracottas. Half-finished journals scrawled with cryptically chronicled entries, buried between mattresses; the memories poked into squishy folds of grey matter.
Discordant, angular guitars kick sheets off the bed, scattering beach sand. Crooning, pastiched vocals quaver into a warped mirror. It throws back a grinning doppleganger dancing within a flimsy cage of glass and plywood.
Saucy drums interrupt the poorly-attended pity party like a mother knocking on the door. They won't go away until they've made their point.
Du tiroir fourre-tout de Katie Jensen:
(Traduit par le brioché au caramel de Julie Mayer)
Une chambre en désordre, un ongle rongé jusqu'à la lunule. Des bouts de reçus réduits en origami. Des miettes éparses formant des portraits pointillistes dans des tons chair et terracotta peu flatteurs. Des journaux à moitié finis barbouillés d'entrées chroniquées de façon mystérieuse, enfouis entre les matelas; des souvenirs rentrés avec les doigts dans les replis spongieux de matière grise.
Les guitares discordantes et angulaires arrachent les draps du lit, répandant du sable de plage. Les voix pastichées chantonnantes tremblotent dans un miroir déformant. Ce dernier renvoie un sosie souriant qui danse dans une frêle cage faite de verre et de contreplaqué.
Des tambours inopportuns interrompent la séance d'apitoiement peu courue telle une mère frappant à la porte. Ils ne partiront pas avant d'avoir fait passer leur message.
Almonds, Cohen
Ceiling Once Ltd.
(Self Released)
Toronto, ON
From the rat shack of Johnnie Regalado:
Sounds of a picnic in the seabreeze. Friends from years back, and across the country, come together to help pin down the fluttering corners of the beach blanket. The taut fabric reverberates a moment from a resonating relationship. Days might go by, but you can still remember our Old Life.
De la cabane à rats de Johnnie Regalado:
(Traduit par Aliké Harel)
La mélodie d'un pique-nique, l'air du large. Des amis d'autrefois et de partout au pays se rassemblent et donnent un coup de main pour ancrer les coins virevoltants d'une couverture de plage. Le tissage de la toile renvoie l'écho d'un moment dans une relation vibrante. Les jours passent, mais le souvenir des jours passés reste.
Almonds, Cohen – Quantum Summer
---