Tag: victoria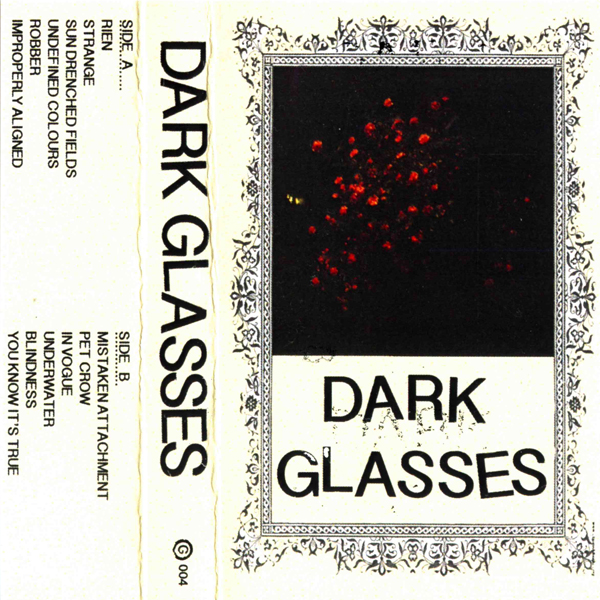 Dark Glasses
Dark Glasses
(Gary Cassettes)
Victoria, BC
From the tinted glass of Johnnie Regalado:
Slow things down and take a look at the world through a slightly darker hue. Fountain bassist, Declan Hughes, steps out from the shadows and into the shade with his debut release as Dark Glasses. A gathering of Victoria's post-punk usual suspects, this finely crafted tape is full of tunes that mutate from brooding, moody melodies into a perpetual downtempo dance party.
Des verres teintés de Johnnie Regalado:
(Traduit avec la tonalité légèrement plus sombre de Virginie Langlois)
Ralentissez la cadence et observez le monde habillé d'une tonalité légèrement plus sombre. Declan Hughes, bassiste de Fountain, sort de l'ombre sans s'exposer au soleil pour autant avec ce premier album du groupe Dark Glasses. Rassemblement des habituels suspects de la scène post-punk de Victoria, cette cassette finement ciselée regorge de chansons alternant entre mélodies sombres et maussades et musiques dansantes au downtempo perpétuel.
Dark Glasses – Mistaken Attachment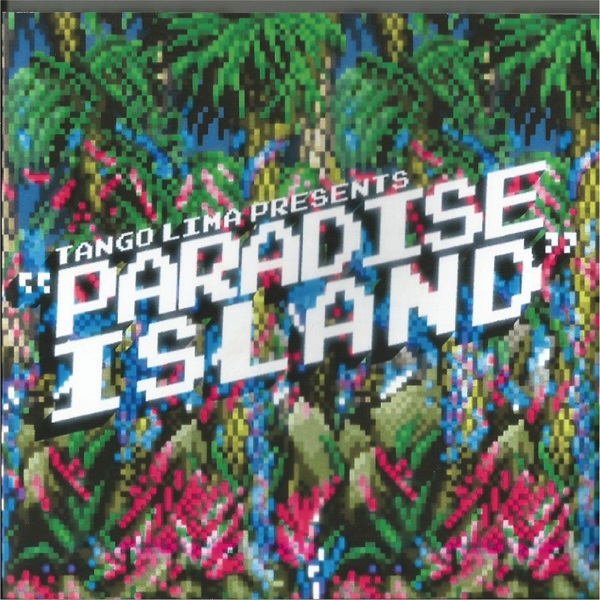 Tango Lima
Paradise Island
(Self-Released)
Victoria, British Columbia
From the mariokart musings of Mark Anthony Brennan:
8-bit palm trees sway and chiming waves crash. It's a two dimensional wonderland of pixelated dreams. Caribbean beats and complex rhythms extract a deeper emotional response than one would expect at the arcade. In a Tron-like move you are no longer watching the game, you are in it. Whales speak. Lightning bugs glow. Your experience is sublimated to the stars. A gameboy gateway to the cosmos.
Des rêveries mariokartiennes de Mark Anthony Brennan:
(Traduit par les fleurs de feu de Julie Mayer)
Des palmiers en 8 bits se balancent et des vagues carillonnantes s'écrasent. C'est un pays des merveilles bidimensionnel constitué de rêves pixellisés. Des rythmes caribéens et complexes extraient une réaction émotionnelle plus profonde que celle à laquelle on s'attendrait à l'arcade. Lors d'un tour Tron-esque, tu n'es plus le spectateur du jeu, tu es dedans. Les baleines parlent. Les lucioles scintillent. Ton expérience est sublimée jusqu'aux étoiles. Un portail via gameboy vers le cosmos.
Tango Lima – Arrival (The Docks! The Town! The Beauty!)
Tango Lima – (IV) The Realization, Or, The Exact Moment You Fell In Love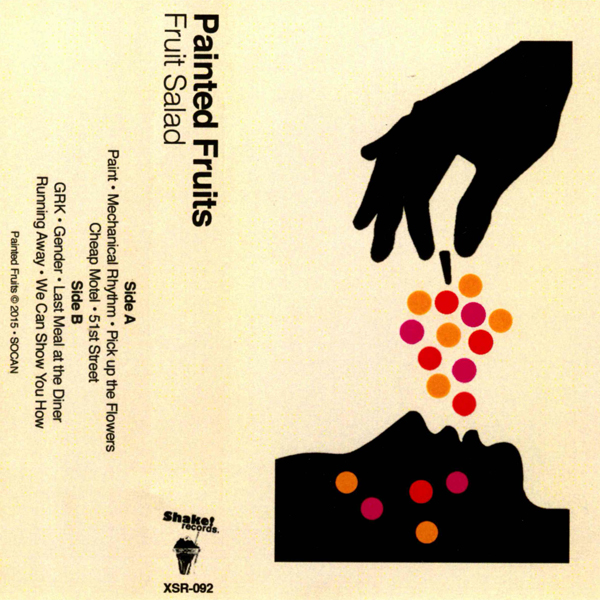 Painted Fruits
Fruit Salad
Victoria, BC
From the fruit medley of Johnnie Regalado:
The Painted Fruits are back with a fresh coat of jangle-pop, layered on thick and dripping vibrant vibes. Their distinct medley of glam and garage is a refreshing and delicious serving of tone. This latest slab of tape is kicked up in the eye of a perfect storm; a harmonic home job recording that balances making noise without being a noisy neighbour. The PF flyers pluck their rhythms along the fine line between a grin and a glare.
Du *medley* de fruits de Johnnie Regalado:
(Traduit par la pêche juteuse à point de Julie Mayer)
Les Painted Fruits sont de retour avec une couche fraîche de cliquetis pop étalée sur d'épaisses coulées d'ambiances vives. Leur medley distinct de glam et garage est une portion de sonorité délicieuse et rafraîchissante. Cette toute dernière cassette a été produite dans l'œil d'une tempête parfaite; un enregistrement harmonique fait maison qui manie l'art de faire du bruit sans être un voisin bruyant. Les baskets volantes de PF cueillent leurs rythmes le long de la mince ligne qui sépare un sourire d'un regard noir.
Painted Fruits – Mechanical Rhythm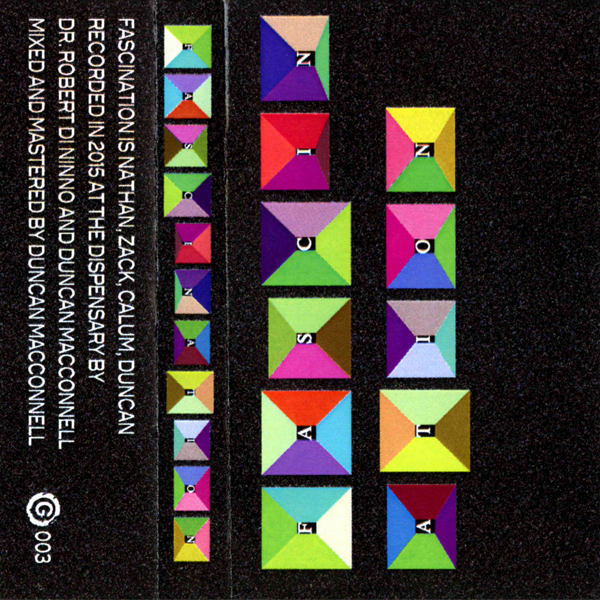 Fascination
Fascination
(Gary Cassettes)
Victoria, BC
From the slurred lurch of Johnnie Regalado:
An oft-times Slam Dunk-er has gathered his slithering pals and groovy brother (as opposed to the blues-y brother) for a quick hit tape full of hooks that dig in deep. These riffs bubble up with the surprising pressure of a not-so-dormant volcano. Piece by piece, the organ-punk vibes evolve until they're oozing over you with catchiness and you're suddenly living life along a brand new beat; slurred lurching, a blissed out stagger that gives you time to realize everything is so damn fascinating.
De la démarche traînante de Johnnie Regalado:
(Par le volcan tranquille d' Aliké Harel)
Un habitué Slam Dunk-eur a rassemblé ses copains à la langue fourchue et son frère au penchant groovy (par opposition à l'autre frère au penchant blues) pour un enregistrement éclair accrocheur riche en texture. Les riffs bouillonnent telle la lave étonnamment ardente au creux d'un volcan pas si dormant finalement. Pièce après pièce, les ondes sonores d'orgues-punk évoluent jusqu'à ce qu'elles exhalent une mélodie enivrante et, tout à coup, vous vivez à un rythme tout nouveau; oscillant, grisé, ce titubement de bonheur vous donne le temps de remarquer que tout est vachement fascinant.
Fascination – Wolf King and the One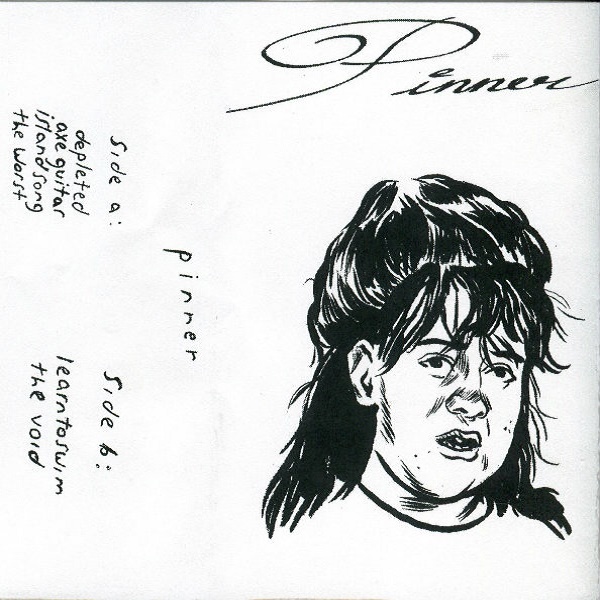 Pinner
#2 Demo
(Self-Released)
Victoria, BC
From the hundred watts of Bryce Warnes:
They may tag themselves "slacker" on Bandcamp and share their name with a lunch-break-sized marijuana cigarette, but Pinner work their asses off. Playing countless local shows has honed the four-piece into something acerbic, heartfelt and completely their own. See: "Island Song," where a lover is discarded for their detrimental effects on mellow. See: "Learn to Swim," a disaster fantasy set on the Queen of Victoria's smoke deck. Three vocalists, each coly their own beast, deliver indefatigable hooks. Pinner is making music that almost forces a reviewer to use the adjective "timeless."
Des cent watts de Bryce Warnes:
(Traduit par les pieds de vent de Marie-Pier Chevrier)
Ils ont beau se définir comme paresseux sur Bandcamp et avoir adopté le nom d'un petit joint de marijuana, les membres du groupe Pinner travaillent d'arrache-pied. Offrir d'innombrables performances locales a affûté le groupe de quatre membres, pour en faire quelque chose d'acerbe, de senti et qui lui est entièrement propre. Voir Island Song, où un amant est rejeté à cause de ses effets néfastes sur l'humeur. Voir Learn to Swim, un désastre imaginaire se déroulant sur le pont des fumeurs du Queen of Victoria. Trois chanteurs, trois bêtes en soi, qui jouent des vers d'oreille infatigables. Pinner crée de la musique qui oblige presque les critiques à la décrire comme «intemporelle».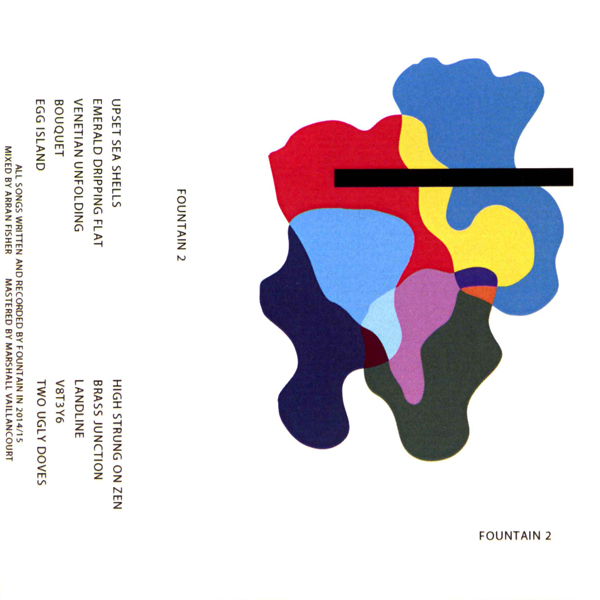 Fountain
Fountain II
(Self-Released)
Victoria, BC
From the Lucid Dreams of Laura Donohue:
More light is reflected off the water as the sun descends. Faces unmasked, Fountain's chains are wrapped around a looming glass edifice; their reflections clearer than before. The chain, made of rope, bungee, copper and twine, meets in the lengthening shadow of the tower, fastened around waists and coiled around forearms. A playful tug soon becomes frantic, leading to cataclysmic results. Dust from the implosion fills the air as debris piles on the ground, leaving bound friends to trudge home through new sand, smiling in the knowledge that tomorrow will be without shade.
Des rêves lucides de Laura Donohue:
(Traduit par le remaniement de bureau majeur de Julie Mayer)
L'eau réfléchit plus de lumière au fur et à mesure que le soleil se couche. À visages découverts, les chaînes de Fountain s'enroulent autour d'un édifice de verre menaçant; leurs reflets plus nets qu'avant. La chaîne faite de corde, de câble élastique, de cuivre et de ficelle se rejoint dans l'ombre grandissante de la tour, attachée à la taille et enroulée autour des avant-bras. Une secousse enjouée qui a tôt fait d'être frénétique mène à des résultats cataclysmiques. Alors que les débris s'amoncellent sur le sol, la poussière issue de l'implosion envahit l'air, réduisant des amis intimes à cheminer à travers du sable neuf pour rentrer chez eux; le sourire aux lèvres en sachant que le lendemain sera sans nuance.
Fountain – Emerald Dripping Flat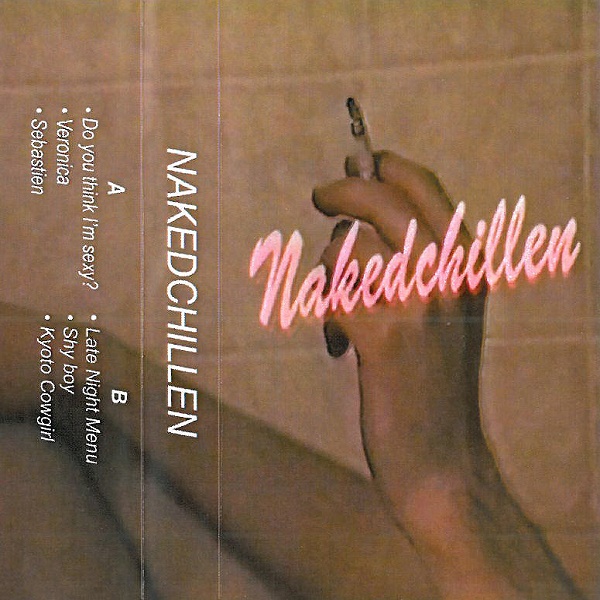 Naked Chillen
Man Dog Love
(Self-Released)
Victoria, BC
From the gilded horse's ass of Sam Joseph:
Another welcome addition to the Victoria DIY bedroom-jazz movement (See: Jons), the musings of Naked Chillen are an ode to fuzzy, booze-soaked memories forged in the sodium vapour-fueled delirium of the concrete jungle after sundown. Man Dog Love is an after-dark hop-skip-jump-and-stumble into a booth at your favourite greasy spoon after one too many libations. What item will you have off of the late-night menu?
Du cul de cheval en or de Sam Joseph:
(Traduit depuis la tête-de-cheval de Nicolas Coutlée)
Autre heureuse addition à la scène « jazz de chambre à coucher » de Victoria (voir Jons), les rêveries de Naked Chillen rendent hommage aux souvenirs flous, imbibés d'alcool, forgés à même les vapeurs de sodium illuminant la jungle de béton nocturne. Man Dog Love est un saut de nuit rapide à votre casse-croûte favori après de trop nombreuses libations. Qu'est-ce que vous prendrez sur le menu de fin de soirée?
Naked Chillen – Do You Think I'm Sexy?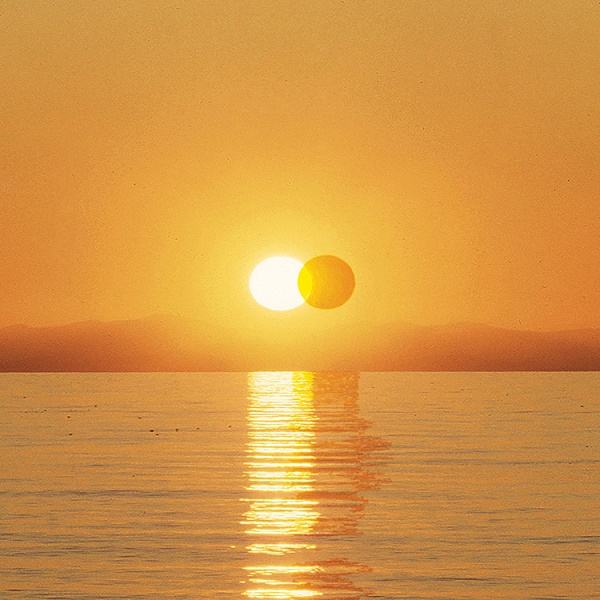 The Backhomes
Tidalwave
(Self-Released)
Victoria , BC
From the receding shoreline of Johnnie Regalado:
Before a tidal wave can come crashing down, the water must retreat from the shore. There is just enough time for the dual guitars of Aimée van Drimmelen and Kees Dekker to hit the sand and strum some beach fire anthems. The crackle of a drum machine embers extra warmth. These songs are an incantation calling the tide back home, bringing with it a chill wave of electrically serene ambience.
De la rive dégarnie de Johnnie Regalado:
(Traduit par l'intempérie décoiffante de Louis-Félix Pellerin)
Avant qu'un raz-de-marée puisse se fracasser contre la rive, le niveau d'eau doit d'abord baisser. Ça laisse juste assez de temps aux guitaristes Aimée van Drimmelen et Kees Dekker pour descendre à la plage et nous jouer des hymnes autour du feu. Le crépitement d'une boîte à rythmes vous tient bien au chaud. Ces morceaux sont une incantation qui rappelle la marée au bercail avec une vague d'ambiance relaxante et électriquement sereine.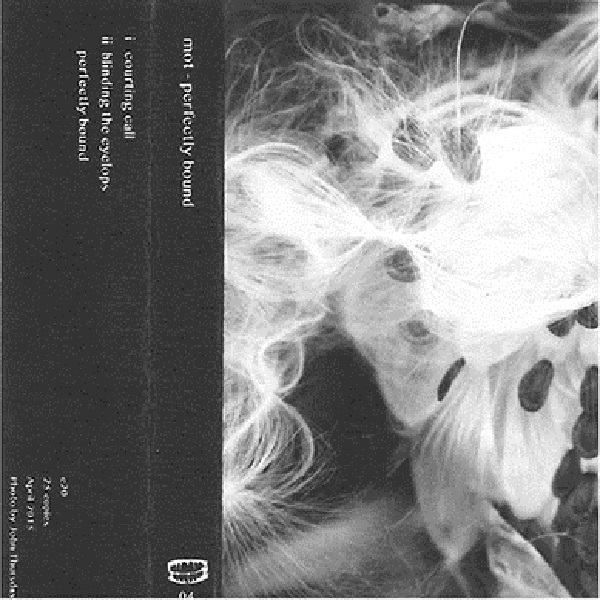 MOT
Perfectly Bound
(Ludamae)
Victoria, BC
From the perfect binding of Bryce Warnes:
Listen to MOT's previous two tapes. In "sands…," released via his Ludamae clearing-house, drones dissolve like dune-tips in the wind. His self-titled recording on Isolated Now Waves is comparatively wetter – throbbing, organic, run through with interstellar communiques, snatches of almost-song. On his latest tape, he flirts with atavistic crunch worship. With admirable self-control, "Courting Call" transitions via air loom transmissions from two-stroke brutalism to an impassable noise wall. Side two moves from an Aghartan festival to a catastrophic tunnel collapse. "Perfectly Bound" is a short ride, but worth the price of admission.
De la reliure parfaite de Bryce Warnes:
(Traduit par le bouchon de cérumen de Julie Mayer)
Écoutez les deux dernières cassettes de MOT. Dans « sands… », lancé par l'entremise de son bureau central dénommé Ludamae, les drones se dissolvent comme la crête des dunes sous le vent. Son enregistrement éponyme produit sous Isolated Now Waves est, en comparaison, plus humide : palpitant et organique, transpercé de communiqués interstellaires et de bribes de quasi-morceau. Sur sa cassette la plus récente, MOT flirte avec un culte du crépitement atavique . Doté d'une maîtrise de soi admirable et transmis au moyen d'une machine à tisser les flux aériens, « Courting Call » passe d'un brutalisme à deux temps à un mur du son infranchissable. La face B passe d'un festival aghartien à un effondrement de tunnel catastrophique. « Perfectly Bound » est une promenade de courte durée, mais qui vaut le prix d'entrée.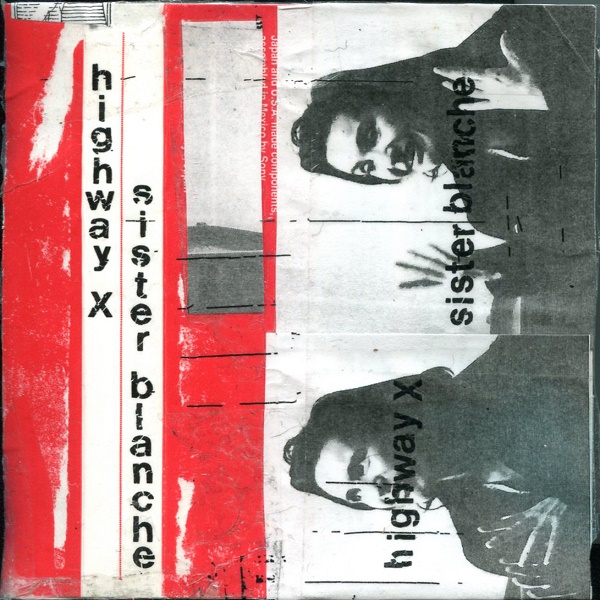 Highway X // Sister Blanche
Split
(Gary Cassettes)
Montreal, QC // Victoria, BC
From the patient suffering of Jesse Locke:
Highway X (Andy Vanier of Babysitter) and Sister Blanche (Morgan Cook of Yung Mums, Cindy Lee, and Androgynous Mind) make an apt pairing. Her mumblecore lullabies, incantations and Swope-style FX are buried under a thick fog of tape hiss like a (more) sinister Tickley Feather. Meanwhile, his guitar/sax jags, sandblasted dub, and lurching loops of mutant concrète add a melodic quality to previous offerings, yet still sound dug up from the sub-underground.
De la douleur patiente de Jesse Locke:
(Traduit par Jessica Grenier)
Highway X (Andy Vanier de Babysitter) et Sister Blanche (Morgan Cook des groupes Yung Mums, Cindy Lee et Androgynous Mind) vont bien ensemble. De son côté à elle, berceuses, incantations et effets à la Swope sont murmurés derrière un épais brouillard de sifflement, comme une Tickley Feather (en plus) sinistre. De son côté à lui, dub décapé, sax/guitare en dent de scie et boucles vacillantes de mutant concrète donnent une qualité mélodique à un ensemble clairement tiré des bas-fonds de l'underground.
---