Tag: victoria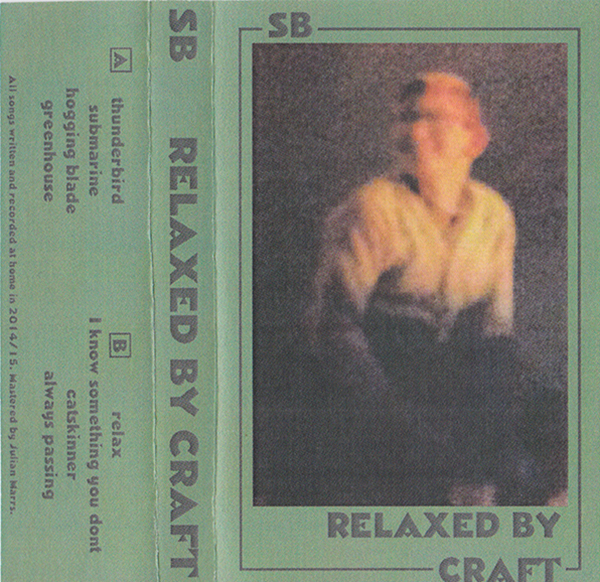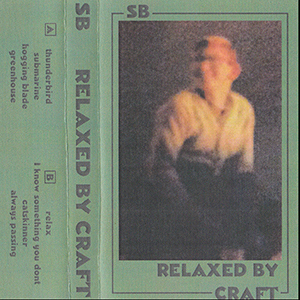 SB
Relaxed by Craft
(Self-Released)
Victoria, BC
From the shaking hands of Morgan Cook:
This smooth, hazy, sunshine-slacker is a moody heavy-lidded atmospheric romp in sun-dappled oblivion. Fully realized and materialized by Logan Holmes in the Greenhouse. At dusk shut your eyes to the sun, lizard-like, and let the last of its heat and light melt your neomammalian complex. Resolution. Beck.
Des mains tremblantes de Morgan Cook:
(Traduit par Julie Mayer)
Ce slacker ensoleillé, fluide et brumeux est une pièce maussade, hermétique et atmosphérique dans un oubli tacheté de soleil. Entièrement réalisé et produit par Logan Holmes aux studios Greenhouse. Au crépuscule, ferme les yeux sous le soleil, comme un lézard, et laisse les dernières parcelles de sa chaleur et de sa lumière fondre ton complexe néo-mammalien. Dénouement. Beck.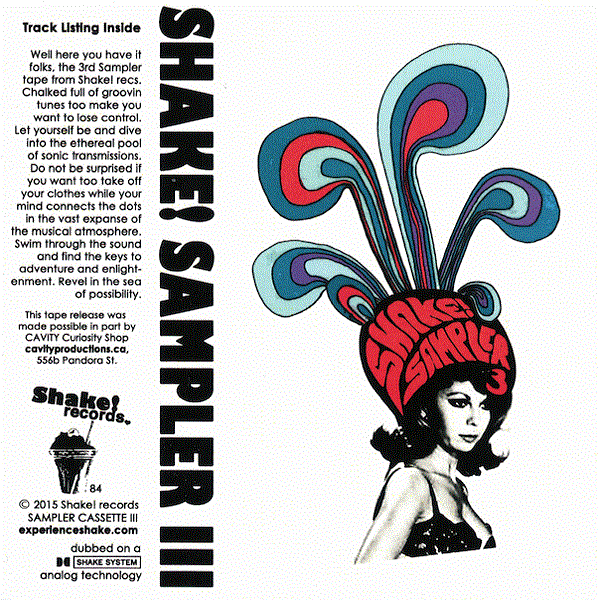 Various Artists
Shake! Sampler III
Victoria, BC
From the competing frequencies of Katie Jensen:
A junk store window gleaming with treasures. Dented jangle-pop cans burnished with gritty, syrup-stained rims. Sunbleached beach towels with familiar stains. A tambourine rattling coquettishly; the shopkeeper's purring pet. Tinted glasswear played like cowbells: hollow and true. A wooden bowl with a wide-mouthed brim, drooling with overflowing keys. Unopened letters. Leftovers from someone else's life.
A tiny handheld radio blares an anthem of discordant, slacker post punk. Twist the dial but stay between frequencies. Hover here. Hold your breath.
Des fréquences en compétition de Katie Jensen:
(Traduit par Julie Mayer)
La vitrine d'un bazar, étincelante de trésors. Des cannettes de jangle pop cabossées, polies, aux contours rugueux et maculés de sirop. Une serviette de plage blanchie par le soleil, couverte de taches familières. Un tambourin cliquète d'une manière aguicheuse; l'animal domestique ronronnant du commerçant. De la verrerie teintée jouée à la manière des cloches à vache : un son creux et vrai. Un bol en bois au large bord, dégoulinant de clés qui débordent. Des lettres non lues. Les restes appartenant à la vie de quelqu'un d'autre.
Une petite radio portative braille un hymne de slacker post punk discordant. Tourne la molette mais reste entre les fréquences. Fais du surplace ici. Retiens ton souffle.
Snooker Emporium – TökfQzelék
Novel
Discrete Noise
Victoria, BC
From the junk drawer of Katie Jensen:
A messy bedroom, a bitten nail gnawed down to the half moon. Fragments of receipts crushed into origami. Scattered crumbs forming pointillistic portraits in unflattering nudes and terracottas. Half-finished journals scrawled with cryptically chronicled entries, buried between mattresses; the memories poked into squishy folds of grey matter.
Discordant, angular guitars kick sheets off the bed, scattering beach sand. Crooning, pastiched vocals quaver into a warped mirror. It throws back a grinning doppleganger dancing within a flimsy cage of glass and plywood.
Saucy drums interrupt the poorly-attended pity party like a mother knocking on the door. They won't go away until they've made their point.
Du tiroir fourre-tout de Katie Jensen:
(Traduit par le brioché au caramel de Julie Mayer)
Une chambre en désordre, un ongle rongé jusqu'à la lunule. Des bouts de reçus réduits en origami. Des miettes éparses formant des portraits pointillistes dans des tons chair et terracotta peu flatteurs. Des journaux à moitié finis barbouillés d'entrées chroniquées de façon mystérieuse, enfouis entre les matelas; des souvenirs rentrés avec les doigts dans les replis spongieux de matière grise.
Les guitares discordantes et angulaires arrachent les draps du lit, répandant du sable de plage. Les voix pastichées chantonnantes tremblotent dans un miroir déformant. Ce dernier renvoie un sosie souriant qui danse dans une frêle cage faite de verre et de contreplaqué.
Des tambours inopportuns interrompent la séance d'apitoiement peu courue telle une mère frappant à la porte. Ils ne partiront pas avant d'avoir fait passer leur message.
Almonds, Cohen
Ceiling Once Ltd.
(Self Released)
Toronto, ON
From the rat shack of Johnnie Regalado:
Sounds of a picnic in the seabreeze. Friends from years back, and across the country, come together to help pin down the fluttering corners of the beach blanket. The taut fabric reverberates a moment from a resonating relationship. Days might go by, but you can still remember our Old Life.
De la cabane à rats de Johnnie Regalado:
(Traduit par Aliké Harel)
La mélodie d'un pique-nique, l'air du large. Des amis d'autrefois et de partout au pays se rassemblent et donnent un coup de main pour ancrer les coins virevoltants d'une couverture de plage. Le tissage de la toile renvoie l'écho d'un moment dans une relation vibrante. Les jours passent, mais le souvenir des jours passés reste.
Almonds, Cohen – Quantum Summer
Doomking
A Mark of Something No Longer in Existence
(Self Released)
Victoria, BC
From the reductionistic recollections of Mark Anthony Brennan:
Haziness. Clouds drifting around the mind. A dream. A taste, sweet but soured, wells up in the back of the throat and tickles the underside of the brain. A memory. A time when beauty expressed itself so much sharper. The memory of a dream. Floating in a gauzy swirl of happiness. Of undiluted love. Of confident hope. The dream of a memory.
Des souvenirs réducteurs de Mark Anthony Brennan:
(Traduit par Aliké Harel)
Nébuleux. Les nuages roulent autour de la tête. Un rêve. Une saveur, douce mais aigrie, refoule dans la gorge et titille l'arrière-cerveau. Un souvenir. Une époque où la beauté s'exprimait au grand jour. Le souvenir d'un rêve. Flotte dans un tourbillon vaporeux de bonheur. D'amour non dilué. D'espoir certain. Le rêve d'un souvenir.
Hush Pup //
Waterwings
Toronto, ON // Victoria, BC
From the suspended animation of Katie Jensen:
Fingers glide over turquoise synths, drifting across keys like a swimmer floating; movement and paths directed by currents unseen. Anxiety unwraps its tentacles, imparting shallow indents cleansed by healing waters. Synth droplets find their home in a crystalline puddle. The kick drum releases a shimmering splash of chiptunes.
Ethereal vocal tones reverberate eagerly, bouncing off hallowed walls with warmth and character.
Light reflections triangulate like shifting wrinkles, seeking negative space.
A bass beckons beneath the surface with a crooked finger. It plucks golden notes and drops them; they swirl and undulate, hitting the floor. No wishes will be granted today.
De l'animation suspendue de Katie Jensen:
(Traduit par Aliké Harel)
Les doigts voguent sur les synthés turquoise et naviguent les touches comme un nageur à la dérive; dont les mouvements et le chemin sont tracés par un courant invisible. L'anxiété tentaculaire se dévrille et créent des remous purifiés par l'eau de guérison. Les gouttelettes synthétisées retournent au bercail au creux d'une flaque d'eau cristalline. La caisse propulse une gerbe de chiptunes scintillantes.
Fébriles, les voix éthérées retentissent et ricochent sur les murs vénérables, empreintes de chaleur et pleines de verve.
Les réflexions lumineuses se triangulent comme des sillons mouvants en quête d'espace négatif.
D'un doigt crochu, une contrebasse vous invite sous la surface. Elle pince les notes et les laisse tomber, celles-ci virevoltent et percutent le sol. Aucun souhait ne sera exaucé aujourd'hui.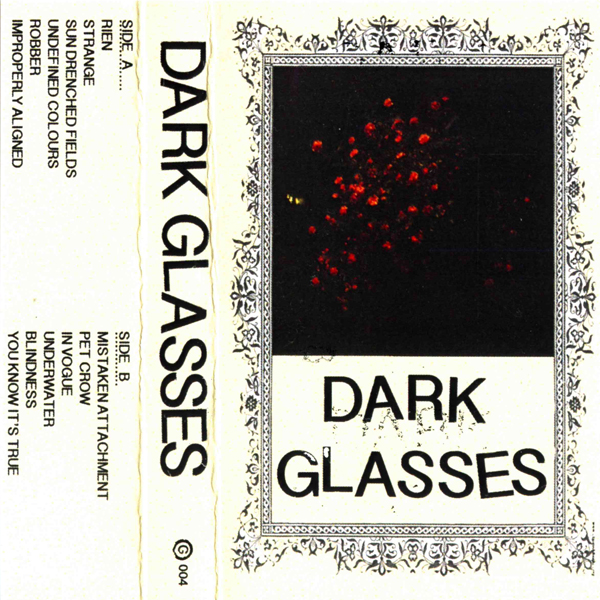 Dark Glasses
Dark Glasses
(Gary Cassettes)
Victoria, BC
From the tinted glass of Johnnie Regalado:
Slow things down and take a look at the world through a slightly darker hue. Fountain bassist, Declan Hughes, steps out from the shadows and into the shade with his debut release as Dark Glasses. A gathering of Victoria's post-punk usual suspects, this finely crafted tape is full of tunes that mutate from brooding, moody melodies into a perpetual downtempo dance party.
Des verres teintés de Johnnie Regalado:
(Traduit avec la tonalité légèrement plus sombre de Virginie Langlois)
Ralentissez la cadence et observez le monde habillé d'une tonalité légèrement plus sombre. Declan Hughes, bassiste de Fountain, sort de l'ombre sans s'exposer au soleil pour autant avec ce premier album du groupe Dark Glasses. Rassemblement des habituels suspects de la scène post-punk de Victoria, cette cassette finement ciselée regorge de chansons alternant entre mélodies sombres et maussades et musiques dansantes au downtempo perpétuel.
Dark Glasses – Mistaken Attachment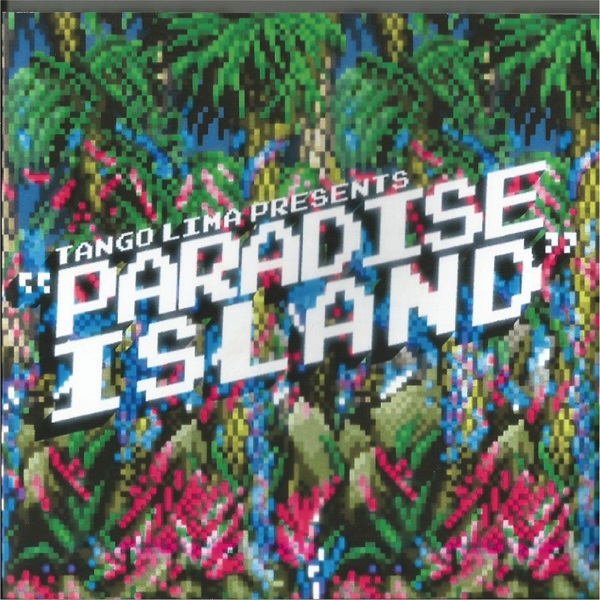 Tango Lima
Paradise Island
(Self-Released)
Victoria, British Columbia
From the mariokart musings of Mark Anthony Brennan:
8-bit palm trees sway and chiming waves crash. It's a two dimensional wonderland of pixelated dreams. Caribbean beats and complex rhythms extract a deeper emotional response than one would expect at the arcade. In a Tron-like move you are no longer watching the game, you are in it. Whales speak. Lightning bugs glow. Your experience is sublimated to the stars. A gameboy gateway to the cosmos.
Des rêveries mariokartiennes de Mark Anthony Brennan:
(Traduit par les fleurs de feu de Julie Mayer)
Des palmiers en 8 bits se balancent et des vagues carillonnantes s'écrasent. C'est un pays des merveilles bidimensionnel constitué de rêves pixellisés. Des rythmes caribéens et complexes extraient une réaction émotionnelle plus profonde que celle à laquelle on s'attendrait à l'arcade. Lors d'un tour Tron-esque, tu n'es plus le spectateur du jeu, tu es dedans. Les baleines parlent. Les lucioles scintillent. Ton expérience est sublimée jusqu'aux étoiles. Un portail via gameboy vers le cosmos.
Tango Lima – Arrival (The Docks! The Town! The Beauty!)
Tango Lima – (IV) The Realization, Or, The Exact Moment You Fell In Love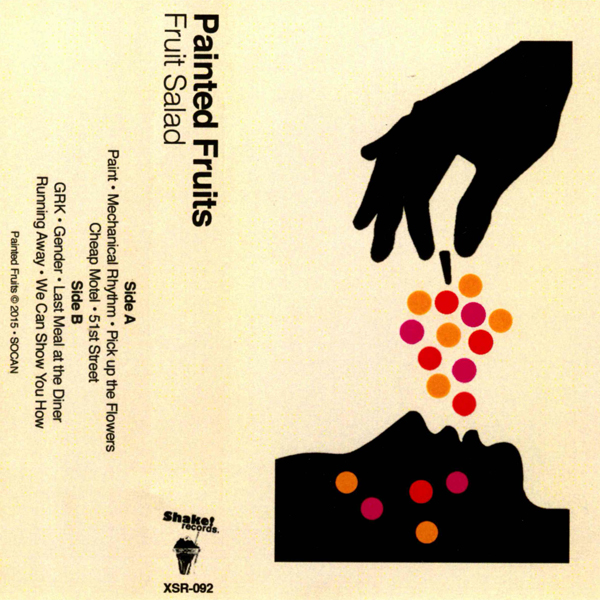 Painted Fruits
Fruit Salad
Victoria, BC
From the fruit medley of Johnnie Regalado:
The Painted Fruits are back with a fresh coat of jangle-pop, layered on thick and dripping vibrant vibes. Their distinct medley of glam and garage is a refreshing and delicious serving of tone. This latest slab of tape is kicked up in the eye of a perfect storm; a harmonic home job recording that balances making noise without being a noisy neighbour. The PF flyers pluck their rhythms along the fine line between a grin and a glare.
Du *medley* de fruits de Johnnie Regalado:
(Traduit par la pêche juteuse à point de Julie Mayer)
Les Painted Fruits sont de retour avec une couche fraîche de cliquetis pop étalée sur d'épaisses coulées d'ambiances vives. Leur medley distinct de glam et garage est une portion de sonorité délicieuse et rafraîchissante. Cette toute dernière cassette a été produite dans l'œil d'une tempête parfaite; un enregistrement harmonique fait maison qui manie l'art de faire du bruit sans être un voisin bruyant. Les baskets volantes de PF cueillent leurs rythmes le long de la mince ligne qui sépare un sourire d'un regard noir.
Painted Fruits – Mechanical Rhythm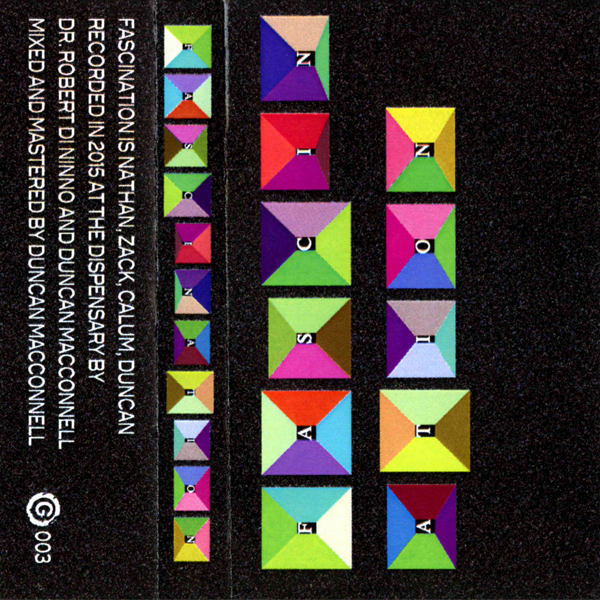 Fascination
Fascination
(Gary Cassettes)
Victoria, BC
From the slurred lurch of Johnnie Regalado:
An oft-times Slam Dunk-er has gathered his slithering pals and groovy brother (as opposed to the blues-y brother) for a quick hit tape full of hooks that dig in deep. These riffs bubble up with the surprising pressure of a not-so-dormant volcano. Piece by piece, the organ-punk vibes evolve until they're oozing over you with catchiness and you're suddenly living life along a brand new beat; slurred lurching, a blissed out stagger that gives you time to realize everything is so damn fascinating.
De la démarche traînante de Johnnie Regalado:
(Par le volcan tranquille d' Aliké Harel)
Un habitué Slam Dunk-eur a rassemblé ses copains à la langue fourchue et son frère au penchant groovy (par opposition à l'autre frère au penchant blues) pour un enregistrement éclair accrocheur riche en texture. Les riffs bouillonnent telle la lave étonnamment ardente au creux d'un volcan pas si dormant finalement. Pièce après pièce, les ondes sonores d'orgues-punk évoluent jusqu'à ce qu'elles exhalent une mélodie enivrante et, tout à coup, vous vivez à un rythme tout nouveau; oscillant, grisé, ce titubement de bonheur vous donne le temps de remarquer que tout est vachement fascinant.
Fascination – Wolf King and the One
---