Tag: vhs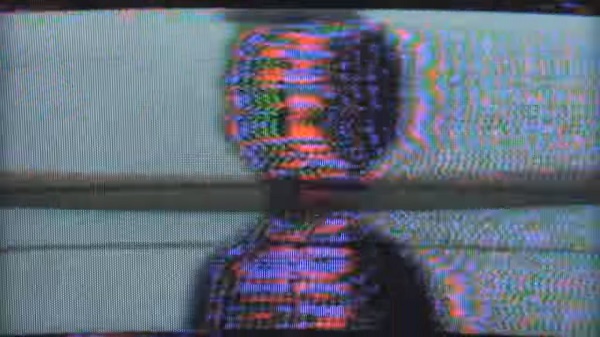 Eccinaccea & Hutchi
La Mode Des Pêches
Hamilton, ON
From the loquacious lexicon of Brian Cleveland:
Created by Liam Carlisle Eccinaccea from Montreal and Aaron Hutchinson HUTCHI from Hamilton, "La Mode Des Pêches" is a split-tape creation inspired by Depeche Mode tracks. The samples go beyond the namesake to include contributions from T-Pain, MF Doom, Lil Wayne, and Claude Debussy. Andrew O'Connor has put the cassette debate to rest by improvising with every piece of new and old technology imaginable: VHS tapes, video synthesizers, video effects, a cellphone, and mixers bred of multiple generations. Improvising the material, O'Connor performs a mashed collage as manic and temptingly indecipherable as its source material.
Du lexique éloquent de Brian Cleveland:
(De l'anti-byline de Mylène Quevillon)
Créé par Liam Carlisle Eccinaccea de Montréal et Aaron Hutchinson HUTCHI de Hamilton, "La Mode Des Pêches" est la création d'un split inspiré par différents morceaux de Dépêche Mode. Ces extraits musicaux vont au-delà de l'homonyme en y incluant des contributions de T-Pain, MF Doom, Lil Wayne, et Claude Debussy. Andrew O'Connor a clos le débat concernant la cassette en improvisant avec tous les dispositifs techniques imaginables, anciens et nouveaux, qu'il a pu trouver : cassettes VHS, synthétiseurs, effets vidéo, téléphone cellulaire et plusieurs générations de consoles de mixage. En improvisant avec ces matériaux, O'Connor réalise un collage éclaté aussi maniaque et indéchiffrable que sa matière première.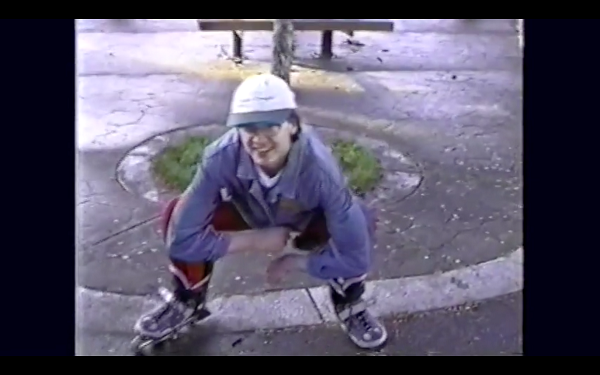 />
Girlfrend
Caroline
(Directed by: Jakob Nielsen)
Victoria, BC
From the worn-out knee pads of Sacha KW:
Finally, a tribute to both rollerblading and VHS camcorders, two elements of the 1980s aesthetic which could have aged with grace. We should give credit where it's due, and celebrate those who can write a great pop song as well as play guitar while skating. Girlfrend's video for "Caroline" is an endearingly trippy snapshot of grown men in pursuit of daytime adventure. With the assistance of a few chorus-laden licks and a public park, anything is possible. This is the soundtrack for getting moving, breathing outdoor air, and ordering candy off the Internet.
Des genouillères maganées de Sacha KW:
(Traduit par la pochette de vidéocasette décolorée de Mackenzie Smedmor)
Enfin, un double hommage aux patins à roues alignées et aux caméscopes VHS, deux éléments de l'esthétique des années 80 qui auraient pu vieillir avec grâce. Nous devons reconnaître le talent de ceux qui en ont et célébrer ceux qui peuvent composer une super chanson pop et jouer de la guitare en patinant. La vidéo « Caroline » de Girlfrend est un instantané affectueusement délirant d'hommes adultes à la recherche d'aventure en pleine journée. À l'aide de quelques riffs chargés de refrains et un parc public, tout est possible. C'est la bande sonore pour bouger, prendre l'air et commander des bonbons par internet.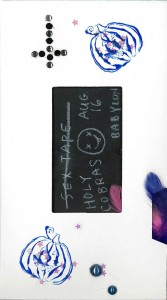 Holy Cobras
Sex Tape
(Directed by: Lesley Elora)
Ottawa, ON
From the cobra strike of Joni Sadler:
In the years they called Ottawa home, Holy Cobras became notorious for tearing up basements with their raw and hypnotic live performances. Their last gig as residents of the capital — captured on VHS by local filmmaker Lesley Elora — found them staying true to the psych-fueled antics that carved them a place in the city's punk heart. Now firmly established in Montreal with a new bassist in tow, they've wasted no time laying claim to their adoptive scene. But for those who witnessed the early Holy Cobras shows in the scrappy dive bars of Ottawa, this footage will serve as a reminder of the band's legacy in their hometown — and their ability to rage, regardless of the locale.
De l'attaque de cobra de Joni Sadler:
(Traduit par la brutale admiration de Catherine Debard)
À l'époque où les membres de Holy Cobras vivaient et traînaient à Ottawa, ils se sont bâtis une renommée mythique grâce à leurs brutales et hypnotiques prestations saccageuses de sous-sols. Pour leur dernier show en tant que résidents de la capitale — capté sur VHS par la cinéaste locale Lesley Elora — ils livrent une performance grotesque et démentielle, fidèle à la légende leur ayant permis de se tailler une place dans le cœur punk de la ville. Maintenant établis à Montréal avec un nouveau bassiste dans leurs rangs, ils n'ont pas perdu de temps pour prendre possession de leur scène adoptive. Mais pour ceux et celles qui ont été témoins des premiers shows de Holy Cobras dans les bars crades d'Ottawa, ce document d'archive servira à rappeler l'héritage qu'ils ont légué à leur ville natale, ainsi que leur habileté à foutre la zizanie, peu importe les circonstances.
---