Tag: vaporwave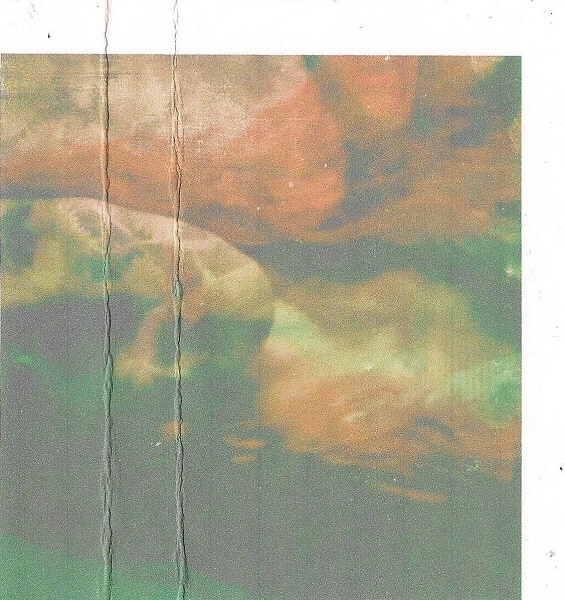 YlangYlang
Mutualism
Montreal, QC
From the gnawed appendages of Piper Curtis:
Don't be afraid. We are embarking on a celestial sojourn. Feel the waves of the cosmic sea washing gently over you. It is calm here. Floating naturally, we need no vessel in the astral plane. A glimpse into the future, or the past. Time here is an uneven flow, drifting in and out of sync with itself. Listen to the hum of the universe. Follow my voice.
All is ethereal. Beautiful. You are safe here.
Par les membres rongés de Piper Curtis:
(Traduction puisée du présent-passé d'Émily Traichel)
N'ayez pas peur. Nous embarquons pour un séjour céleste. Sentez les vagues de la mer cosmique qui vous saucent tout doucement. C'est calme, ici. Flottant naturellement, nous n'avons besoin d'aucun navire sur le plan astral. Un coup d'œil dans le futur, ou bien dans le passé. Le temps ici est un flux irrégulier, dérivant régulièrement de son auto-synchronisation. Écoutez le bourdonnement de l'univers. Suivez ma voix.
Tout est éthéré. Magnifique. Vous êtes en sécurité ici.
YlangYlang – Descent In A Feminine Breakdown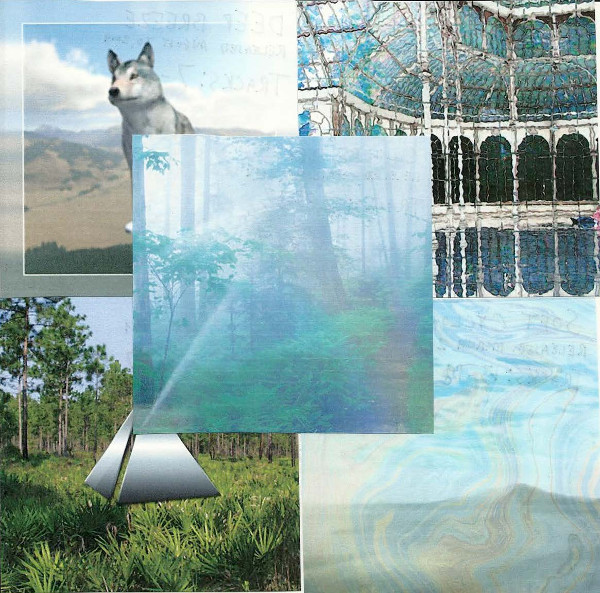 TELOZKOPE
Soft Cyclone
Winnipeg, MB
From the ghost level of Katie Jensen:
Supercharged rainbows push forward without knowing the outcome. A long, familiar road stretches into a glitching sunset, breaking apart with each shimmering, equal chord.
A tape rewinds to reveal the mundanity of your afternoon. Hesitantly at first, but then with more confidence, a zither takes up a slow dance with a harp, preoccupied with its own rhythms. The harp's lazy ramble finishes with a knowing wink, its smooth arm brushed by the side scrolling of toppling gold coins.
De l'étage fantôme de Katie Jensen:
(Traduit par les baies de genèvrier de Marie-Pier Chevrier)
Des arcs-en-ciel surchargés courent droit devant sans connaissance des conséquences. Une route longue et familière se perd dans un coucher de soleil clignotant, tombant en morceaux à chaque accord juste et chatoyant.
La cassette rembobine, révélant la banalité de votre après-midi. Hésitante d'abord, puis plus confiante, une cithare entame une danse lascive avec une harpe, suivant son propre rythme. Le discours divaguant et paresseux de la harpe se termine d'un clin d'oeil complice, son doux bras caressé par les pièces d'or y roulant.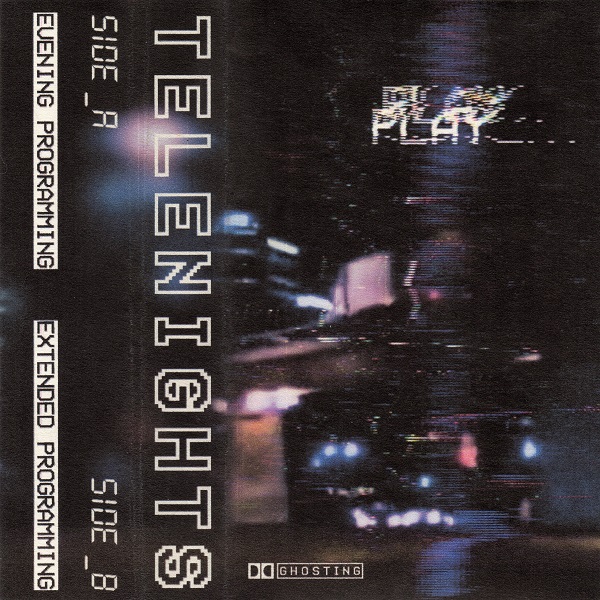 g h o s t i n g
Telenights
Vancouver, BC
From the cheap sales pitch of Mark Gillis:
Memories of late night static transmissions from the television invade your conscious. Your eyes begin to feel heavy, the invasive mantras of cheap salespeople meld with your somnolent brain as reality is engulfed by reverie. A sliver of sunlight cascades over the dim glow of warped reality as the incommodious voices and plastic melodies pry at your consciousness, digging their way to the deepest levels possible. Eventually you rouse from this hypnotic state, the voices stop, there is no static, all of your memories fade into black.
Du baratin publicitaire de Mark Gillis:
(Traduit par l'encyclopédie en 52 tomes de Jessica Grenier)
Un souvenir nocturne de statique provenant de la télévision envahie ton esprit. Tu sens tes paupières s'alourdir, les mantras invasifs de vendeurs à rabais façonnent ton cerveau somnolent alors que la rêverie engloutit la réalité. Un mince rayon de soleil se répand sur la lueur de la réalité tordue à mesure que les voix incommodantes et les mélodies artificielles s'immiscent dans ta conscience, creusant jusqu'à atteindre les niveaux les plus profonds. À un moment tu sors de cet état hypnotique : les voix cessent, il n'y plus de statique, tous tes souvenirs s'évanouissent.
g h o s t i n g – Brought To You By
---