Tag: vague sound
Arbutus
Bedroom Safari
Vancouver, BC
From the swirling tongue of Katie Jensen:
Palm trees tickle the beach with long, feathery fronds. The golden sun drips slowly, like an egg slipping off the counter. A youthful relic floats; trapped in sea foam, bobbing like a toy. If you could ( rewind your life, where would you press pause? Would you pull out the magnetic ribbons by the handful, watch the plastic spools whir and try to smudge out the mistakes? No sung hymn is holy enough to purify your heart.
De la langue tourbillonnante de Katie Jensen:
(Traduit par Jason Rule)
Des palmiers chatouillent la plage avec leur long feuillage plumeux. Le soleil d'or s'égoutte lentement, comme un oeuf glissant d'un comptoir. Une empreinte de jeunesse flotte, piégée dans l'écume de la mer, dansant comme un jouet . Si vous pouviez revenir en arrière, où voudriez-vous appuyer sur pause? Est-ce que vous feriez sortir les rubans magnétiques par poignées, en regardant le bourdonnement des bobines de plastiques et en essayant de maculer les erreurs? Aucun hymne chanté n'est assez sacré pour purifier votre coeur.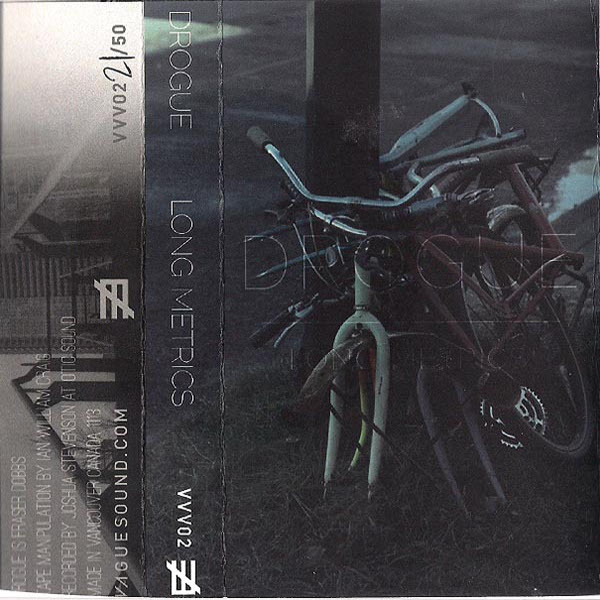 Drogue
Long Metrics
Vancouver, BC
From the tick-ticking of Bryce Warnes:
Crystalline drone poems set to the metronomic tick-ticking of our universe's inevitable heat death. Dance music for heliotrope pirouettes or the blowfly boogie-woogie. It's hard not to evoke these big-beautiful/small-gross parts of non-human Creation: Drogue's Long Metrics approaches the Kantian sublime, draws piss shivers from the immortal soul. Today is a beautiful day for a long walk.
Du tic-tac tictaquant de Bryce Warnes:
(Traduit par les grains de sable de Jessica Grenier)
Des drone-poèmes cristallins suivant le tic-tac métronomique de l'inévitable mort thermique de notre univers. De la musique dance pour des pirouettes héliotropiques ou le boogie-woogie des asticots. C'est difficile de ne pas évoquer ces parties non humaines, belles et grosses/petites et laides, de la Création : Long Metrics de Drogue s'approche du sublime kantien, arrache à l'âme immortelle des frissons intimes. Aujourd'hui, c'est une journée parfaite pour une longue promenade.

Drogue – Iona Aline (Versions II)
---