Tag: unfamiliar records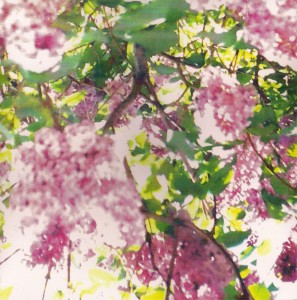 Actual Water
The Paisley Orchard
Toronto, ON
From the paisley skin-tone of Aaron Levin:
Actual Water have emerged a pop monstrosity from the mirth of fidelic ruin; their debut LP exists within an echo-chamber of guitar-laced jangle and humoured rhythm, making each stab more destructively addicting. With bludgeoned flare, The Paisley Orchard's euphoric clamour induces a slurred frenzy of popular distaste. The entire package is some top of the line wine for the ruinous at heart. Top 10 of the year for sure. YEEEEEEEAAAAAAAAHHHHHHHHHHHHHHHHHHHHHHHHH.
De la carnation motif cachemire d'Aaron Levin: (Traduit par le youpi optimiste de Maya Keshav)
Actual Water a apparu en tant que monstruosité de pop des rires de ruine fidelique; leur premier LP existe dans une chambre de réverbération de cliquetis trempé de guitare et de rythme satisfait, qui fait chaque coup de couteau même plus accro de façon destructrice. Avec l'élégance matraquée, le chahut euphorique de The Paisley Orchard provoque une folie inarticulée de dégoût populaire. Le paquet total est du vin de choix pour ceux qui sont désastreux au fond. Dans les meilleurs dix de l'année pour sûr. OUUUUUUUUAAAAAAAAAAAAAAAAAAAAAAAAAAAAAAIIIIIIIIIIIIIIIIIIS.
Actual Water – Summer In The End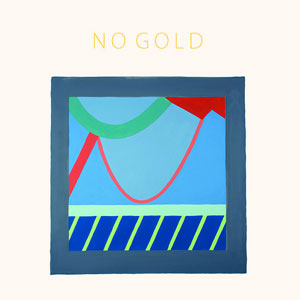 No Gold
No Gold
Vancouver, BC
From the stoner logic of Jessica Faulds:
The debut LP from Unfamiliar Records' No Gold starts with a blissed-out wormhole of kaleidoscoping liquid noise punctuated by percussive rattles and Phil Collins-esque tom-tom punches. Opener "Rainforce" gives a full-body dirty massage before dropping you in a humid garden of psychedelic fronds sprouting equatorial fruits, ripe and ready to spray tropical colours all over your palate. No Gold have come out from recording hibernation with a serious penchant for deep grooves, spinning themselves outward with mesmeric effects. Set to ensconce your lobes in a magic mushroom cloud, the Vancouver group nevertheless adhere to their own brand of stoner logic, exhibiting sharp moments of hooked-out melody and self-aware lyrics like "All that I can smell is weed and Nag Champa." So it isn't just me, then.
De la logique camée de Jessica Faulds: (Traduit par Maya Keshav)
Le premier LP de No Gold d'Unfamiliar Records commence avec un trou de ver bienheureux du bruit liquide et kaléidoscopique tacheté par les râles de percussion et les coups de tam-tam façon Phil Collins. La première partie "Rainforce" donne un massage sale intégral avant de vous laisser tomber dans un jardin humide des frondes psychédéliques qui germent les fruits équatoriales, mûrs et prêts à vaporiser les couleurs tropicales sur tout ton palais. No Gold ont quitté l'hibernation d'enregistrement ayant trouvé un gros penchant pour se balancer, en tournant vers l'extérieur produisant les effets hypnotiques. Prêt à emballer tes lobes dans un nuage des champignons hallucinogènes, le groupe Vancouverois adhèrent néanmoins à leur propre type de logique camée, en montrant des moments nets de mélodie entraînante et de paroles attentives comme "All that I can smell is weed and Nag Champa" [tout ce que je peux sentir est l'herbe et le Nag champa." Alors c'est pas juste moi, hein.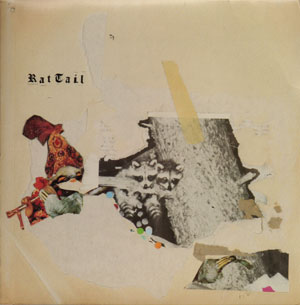 Rat Tail
George Mounsey EP
Toronto, ON
From the ratty poncho of Aaron Levin:
RatTail have transplanted the wild jangles of DIY Britain to a pre-hippie dystopia (read: Toronto). Their debut EP is a roaring mellow of sub-tuned guitar clangor, burrowing drums, and singer Jasmyn's signature baritone; all of it copulating in a fantastic bedlam of pop debauchery. Limited to 300 clear 7″s courtesy of Unfamiliar Records. Gripgrip!
Du poncho miteux d'Aaron Levin:
(Traduit par Odile Leclerc)
RatTail ont transplanté les furieux cliquetis de la Bretagne DIY à une pré-hippie dystopie (lisez : Toronto) Leur EP de début est une douceur rugissante de fracas de guitare sous-écoute, empruntant des batteries et le baryton signature du chanteur Jasmyn; le tout copulant dans une fantastique pagaille de débaucherie pop. Limité à 300 claires 7''s, courtoisie de Unfamiliar Records. Saisissez, Saisissez!

RatTail – George Mounsey

RatTail – Poncho
---