Tag: Un Blonde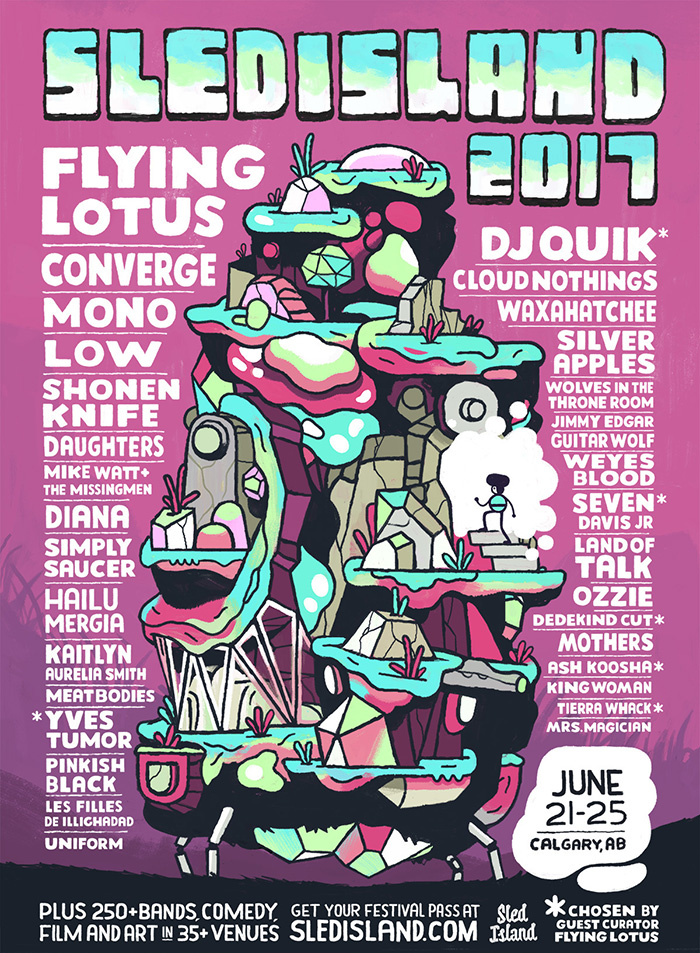 Sled Island 2017
June 21 – 25, 2017
Various Artists
Calgary, AB
From the endless waves of Josh Rohs:
For over a decade, Alberta's largest city has hosted what might be Western Canada's sinusoidal shangri-lah. Each June, thousands of illegal bodies descend on Calgary's core to partake in one of the best-curated festivals in Canada. Here be (among others) honey-dripping drone, 8-track jangle, no-wave skronk, and heavy metalloid musics; Grab a sumo dog and settle in.
Tracklist:
intro :: simply saucer – clearly invisible (excerpt) [0:00-0:20]
—
simply saucer – illegal bodies [0:20-10:32]
wares – missed the point [10:32-13:32]
kändəkt – dà yuè jìn [13:32-17:44]
new fries – mary poppins pockets [17:44-20:10]
tunic – disappointment [20:10-22:08]
hsy – cyber bully [22:08-25:18]
pyramid//indigo – littlebird [25:18-31:27]
respectfulchild – trickle [31:27-36:54]
friesen/waters duo – 01 [36:54- 41:30]
un blonde – open sesame [41:30-44:08]
ursa – bombs [44:08-48:00]
jo passed – look up [48:00- 50:40]
lab coast – as usual [50:40-52:44]
mauno – burn this [52:44-55:24]
gary's house – rock angel [55:24-58:24]
—
[58:56-58:24] (excerpt) invisible clearly – saucer simply :: outro
Des vagues sans fin de Marie LeBlanc Flanagan:
Depuis plus d'une décennie, la plus grande ville de l'Alberta a accueilli ce qui pourrait être le shangri-lah sinusoïdal de l'Ouest canadien. Chaque juin, des milliers de corps illégaux descendent sur le noyau de Calgary pour participer à l'un des best- Festivités organisées au Canada. Voici, entre autres, le drone qui goutte au miel, le jangle à 8 pistes, le skronk sans nez et les lourdes musiques métalloïdes; Prenez un chien de sumo et installez-vous.
Tracklist:
intro :: simply saucer – clearly invisible (excerpt) [0:00-0:20]
—
simply saucer – illegal bodies [0:20-10:32]
wares – missed the point [10:32-13:32]
kändəkt – dà yuè jìn [13:32-17:44]
new fries – mary poppins pockets [17:44-20:10]
tunic – disappointment [20:10-22:08]
hsy – cyber bully [22:08-25:18]
pyramid//indigo – littlebird [25:18-31:27]
respectfulchild – trickle [31:27-36:54]
friesen/waters duo – 01 [36:54- 41:30]
un blonde – open sesame [41:30-44:08]
ursa – bombs [44:08-48:00]
jo passed – look up [48:00- 50:40]
lab coast – as usual [50:40-52:44]
mauno – burn this [52:44-55:24]
gary's house – rock angel [55:24-58:24]
—
[58:56-58:24] (excerpt) invisible clearly – saucer simply :: outro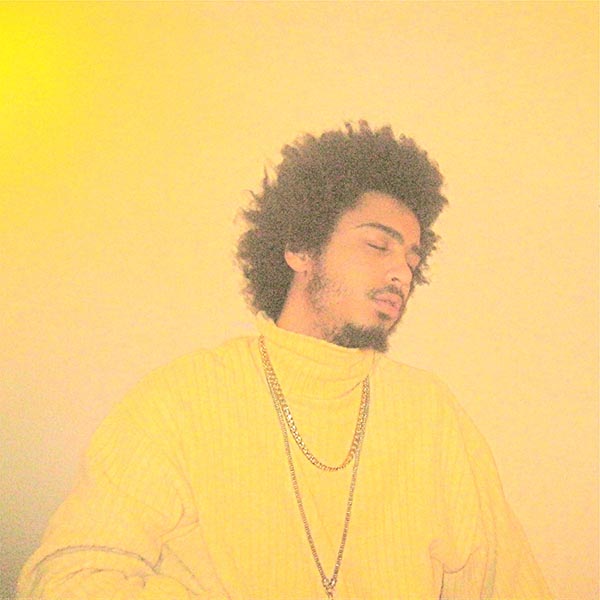 Un Blonde
Good Will Come To You
Montréal, QC
From the rusty sextant of Rolf Carlos:
Mythologies aren't reserved for dusty volumes, or shallowing scriptures on windswept sandstone; new legends are being furtively created by your next door neighbour, in their noisey downtown apartments, long after you've gone to bed. Good Will Come To You, the second in a trilogy of exploratory folk-gospel by Montréal's elusive Jean-Sébastien Audet offers just that. Laying naked at the crossroads of Art&B, spirituals, and Jobim, Un Blonde is reaching into the deep pockets of tradition, but pulling up his own currency. A cow-licked Phil Elverum, heartbroken, layering endless guitars as he builds The Glow Pt. 2; D'Angelo, possessed, determined to break the backbone of harmonic possibility as he croons 16-tracks deep on Voodoo; David Longstreth, strangling impossible chords from his Stratocaster with his middle finger aimed at Yale. This isn't comparison, so much as orientation. Triangulate your compass, and let it lead you to a new mythology; just trust your judgement.
Du sextant rouillé de Rolf Carlos:
(Traduit par le voisin élusif de Maya Keshav)
Les mythologies ne sont réservées ni pour les tomes poussiéreux, ni pour les textes sacrés qui déteignent sur le grès battu par le vent; les nouvelles légendes sont en train d'être créées en catimini par votre voisin d'à côté, dans son appartement bruyant du centre-ville, bien après que vous vous serez couché. Good Will Come To You, le deuxième dans une trilogie de folk-gospel exploratoire de l'élusif Jean-Sébasiten Audet de Montréal vous offre justement cela. Allongé nu au carrefour de l'Air&B, du spirituel et de Jobim, Un Blonde met les mains dans les poches profondes de la tradition, mais il en tire sa propre monnaie. Un Phil Elverum avec une rosette et un coeur brisé, qui étale des guitares interminables pendant qu'il construit The Glow Pt. 2; D'Angelo, possédé, résolu à casser l'épine dorsale de la possibilité harmonique quand il chante 16 morceaux de Voodoo profond; David Longstreth, qui étrangle les accords impossibles avec son Stratocaster en faisant un doigt d'honneur à Yale. Ceci n'est pas une comparaison, c'est plutôt une orientation. Triangulez votre boussole, et laissez-la vous mener à une nouvelle mythologie; faites-vous confiance.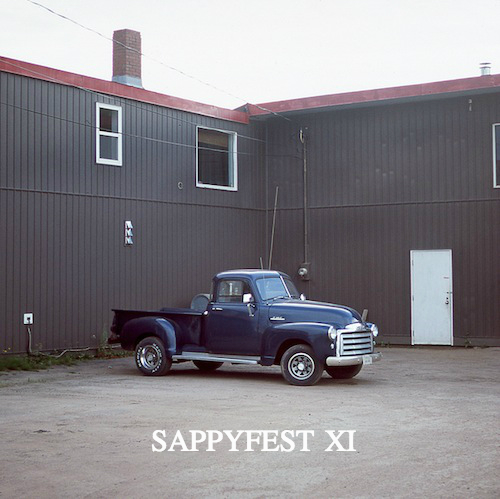 Photo by: Corey J. Isenor
Sappyfest XI

July 29th – 31st, 2016

Various Artists
Sackville NB
Des vagabondages nébuleux de Teddie Brock:
(Traduit par le désastre au chocolat de Maya Keshav)
Tu passes un autre été léthargique mis de côté dans les Maritimes? Secoue cette stupeur confortable en se promenant au cœur sentimental de Sackville au N.-B. cette fin de semaine, et savoure la lueur fluorescente d'un food truck fish-and-chips. Après, suscite ta propre recette du désastre avec Cupcake Ductape, Chocolat, Nancy Pants, et encore plus de petits plaisir saigres-doux faits-maison. Il n'y a nulle part ailleurs que nulle part.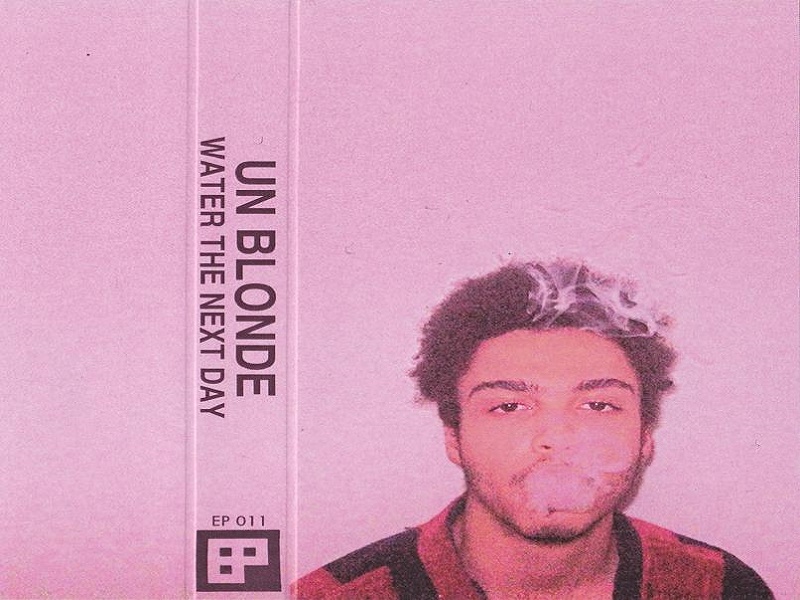 Un Blonde
Water the Next Day
Montreal, QC
From the Purple Rain of Trevor Angst:
Water the Next Day adopts the sounds of RnB-funk, neo-soul, jazz and psychedelic music to exhibit extremely encapsulating eclectic pop music. If Jean-Sebastien Audet and his work is a luscious new discovery to you, retracing the back catalog of Un Blonde might have you bewildered by the innovation. Water the Next Day sounds like Un Blonde picked up where Audet's latest Zouk Fuck left off. Where the shorter and punchy tracks entrance your evoked fields and the multitracked vocals are executed beautifully and soul-bearing. The guitar takes a back seat to make welcome to jazzy electric piano and shifting keys.
De la pluie pourpre de Trevor Angst:
(Du cumulonimbus rose de Julie Mayer)
Water the Next Day adopte les sonorités du RnB-funk, du neo-soul, du jazz et de la musique psychédélique pour exhiber une musique pop éclectique et encapsulante à l'extrême. Si Jean-Sébastien Audet et son œuvre sont pour vous une découverte inédite et attrayante, il se peut qu'en retraçant le fond de catalogue de Un Blonde, vous ayez été dérouté par son caractère innovant. Apparemment Water the Next Day de Un Blonde a repris là où le tout dernier Zouk Fuck en était resté. Les morceaux les plus courts et mordants ravissent vos potentiels évoqués et les chants enregistrés en multipiste sont joliment exécutés et transportent l'âme. La guitare s'efface pour laisser place au piano électrique jazzé et aux touches changeantes.
Un Blonde
Part of Us Both
Montréal, QC
From the mutant mind of Matthew Swann:
If you were to throw Jean Sebastien Audet's collected works into the underwater volcano that feeds off of experimental, DIY song niblets, there'd be enough fuel to boil all nine oceans. Fortunately that volcano only exists in this paragraph, so relax. Un Blonde trades in the post-Women angular guitar pop he frequents for four-track recorded, drone-R&B à la Teenage Mutant FKA Twigs. This outing melds enough whacked out four on the floor with motorik to incite a spastic Parc-ex shuffle.
De l'esprit en mutation de Matthew Swann:
(Traduit par le retour du gazon sous les pieds de Marie-Pier Chevrier)
Si vous pouviez lancer l'oeuvre complète de Jean-Sebastien Audet au coeur d'un volcan sous-marin se nourrissant d'expérimental, de DIY et de bouts de chansons, le carburant ne manquerait pas pour amener les neuf océans à ébullition. Heureusement, un tel volcan n'existe qu'à l'intérieur de ce paragraphe, alors pas de panique. Un Blonde trafique dans la pop des guitares angulaires post-Women qu'il fréquente, où s'enregistre en quatre pistes un R&B bourdonnant à la Teenage Mutant FKA Twigs. Cette excursion auditive fusionne suffisamment de défonce à s'en jeter par terre et de motorik pour déclencher un jeu de pied spastique digne de Parc-ex.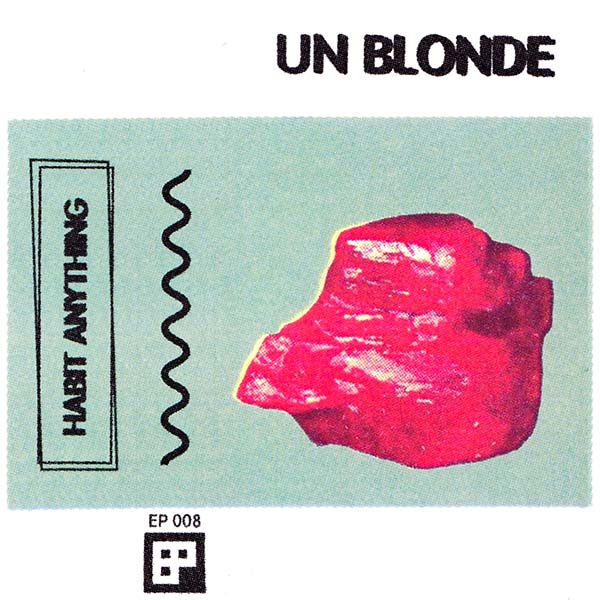 Un Blonde
Habit Anything
Montréal, QC
From the paisley brain of Hailey Celesse McCarthy:
Un Blonde has a way of posturing himself: sounds with elongated shapes and poses that contort themselves when becoming emotive. His first release with Egg Paper Factory, the undulous Habit Anything, is an exercise in bearing a body of work as a series of tableaus; some mangled and depraved, while others are backlit and casting shadows on the floor. Un Blonde manipulates form like he's taken lightning to a composition of parts, a prometheus pieced together on a slab by deft, scientific/witchcraft hands.
Du cerveau de cachemire d'Hailey Celesse McCarthy:
(Traduit par Jessica Grenier)
Un Blonde a une façon propre de se positionner par des sons aux silhouettes allongées et des pauses se contorsionnant sous l'émotion. L'ondoyant Habit Anything, son premier album avec Egg Paper Factory, fait l'exercice de présenter un ensemble d'œuvres comportant une série de tableaux. Certains sont pervers et mutilés, d'autres sont à contre-jour et projettent leurs ombres sur le sol. Un Blonde arrange les formes comme s'il avait été foudroyé par les parties d'une composition, un Prométhée assemblé sur une dalle avec habileté par les mains d'un scientifique/sorcier.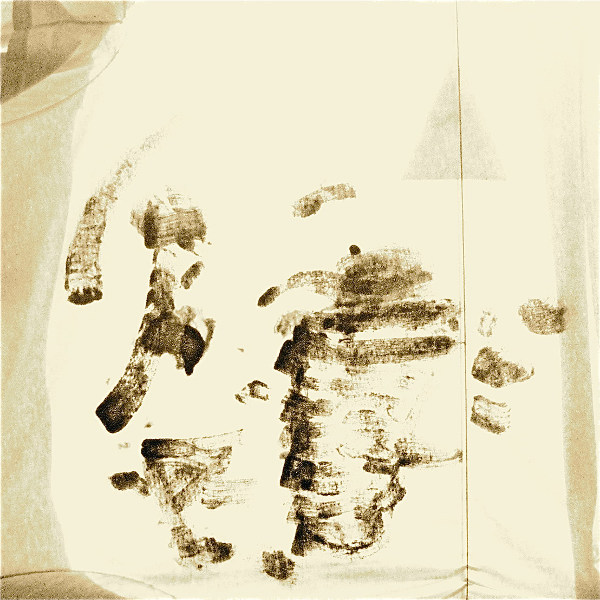 Un Blonde
Tenet
(Self Released)
Calgary, AB
From the uninterrupted view of Josh Silver:
The incantatory riffs and prayer-like vocals of Calgarian protégé Jean-Sebastien Audet are the trance-inducing culmination of his latest project, Un Blonde. Measured and raw instrumentation draws listeners into a space of the uncanny; out of the comfort zone and settled into a hypnotic groove. Capturing the ritualistic and communal qualities of live improvisation, this album is an exploration of a mysterious, undocumented space.
De la vue ininterrompue de Josh Silver:
(Traduit à un rythme hypnotique par Hugo Hyart-Dauvergne)
Les riffs incantatoires et les chants comme des prières du protégé calgarien Jean-Sebastien Audet sont les points culminants de son dernier projet inducteur de transe, Un Blonde. Une instrumentation mesurée et crue entraîne les auditeurs dans un espace étrange; hors de la zone de confort et posée dans un rythme hypnotique. Capturant les qualités ritualistes et de communion de l'improvisation en concert, cet album est une exploration d'un espace mystérieux, non documenté.

Un Blonde – Life Standing Before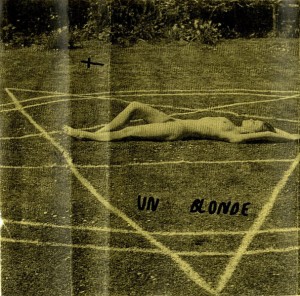 Un Blonde
Un Blonde
(Yew Nork)
Calgary, AB
From the imaginary landscape of Cassilou Landra:
Un Blonde is rock and roll for a new generation of spiritual cyber-punks: kids brought up on Ariel Pink, Tumblr gore blogs, and Gregorian chant. Bridging a gap between post-punk and pop balladry that I didn't know existed, the metallic swordplay of sounds intermingle with summer sing-a-longs and youthful longing to create a dense imaginary landscape of kaleidoscopic dissonance. "Spine" takes off with a rallying march that suggests a cavalcade coming through the city while closer "Spit" tells no lies about who it's been hanging out with down by the train lot. Un Blonde is dirty but warm; something worn but familiar; a time machine buried beneath an assembly line.
Des paysages imaginaires de Cassilou Landra:
(Traduit par Alike Harel)
Un Blonde, c'est du rock and roll pour une nouvelle génération de cyberpunks spirituels, de jeunes nourris au Ariel Pink, aux blogues Tumblr d'horreur sanglants et aux chants grégoriens. Le style du groupe fait le pont entre le postpunk et la ballade pop, dont j'ignorais l'existence. À l'escarmouche de sonorités métalliques s'ajoutent la comptine joyeuse et l'anticipation candide de la création finale : un paysage imaginaire dense, un kaléidoscope de dissonance. « Spine » commence sur un air de ralliement qui suggère la traversée d'une cavalcade dans la ville, alors que le dernier morceau, « Spit », ne cache rien au sujet de ceux qui ont traîné près du convoi de trains. Un Blonde est crasseux, mais chaleureux; un morceau usé, mais auquel on est accoutumé; une machine à voyager dans le temps enfouie sous une chaîne de montage.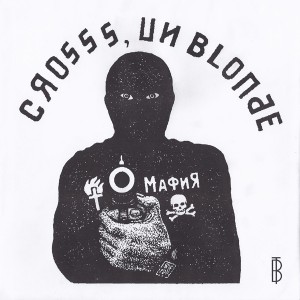 Un Blonde // Crosss
Split
Calgary, AB // Hamilton, ON
From the obsidian blues of Javier Fuentes:
Night-time rituals conducted inside obsidian caverns. Crosss play on with trembling rhythms and buzzing guitars that challenge and guide the uninitiated to the psychedelic unknown. The haunted six string melodies of a prolific Calgarian echo deep into the walls. Un Blonde's ceremonial chants delivered like a prairie druid leading us into rock and roll revival. This is transformation through reverberation.
Du cafard d'obsidiennes de Javier Fuentes :
(Traduit par les chants religieux de Julie Forget)
Des rituels nocturnes sont menés à l'intérieur de cavernes d'obsidiennes. Crosss continue à jouer avec des rythmes tremblants et des guitares bourdonnantes qui défient et guident les non-initiés vers l'inconnu psychédélique. Les mélodies hantées à six cordes d'un Calgarien prolifique résonnent dans la profondeur des murs. Les chants cérémoniels d'Un Blonde sont émis comme un druide des Prairies qui nous mène vers un renouveau rock and roll. Voici une transformation par la réverbération.
---