Tag: trevor blumas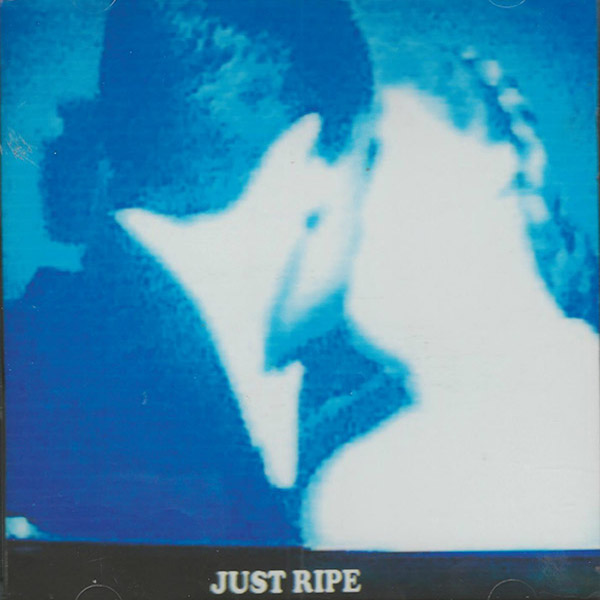 The Bats Pajamas
Just Ripe EP
(Self Released)
Toronto, ON
From the Bataillean nightmares of Trevor Blumas:
This album plays out like a Charles Burns illustration of the putrid beast of idyllic suburbia. Like a carnivorous, all consuming demon, hungry with the potent fires of post-modernity, the Bats Pajamas devour the spirit of classic rock and defecate it like something from a Bataillean nightmare. All the Hiroshima shadows of the bop generation are summoned up for a grand hurrah. Skuzzy, dissonant guitar chords rattle up the bones of dead rock stars inviting them all to a haunted BBQ just off Route 66.
Des cauchemars à la George Bataille de Trevor Blumas:
(Traduit par la puissante ardeur de Joannie Pharand)
Cet album se joue comme une [illustration de Charles Burns (http://lounge.obviousmag.org/sem_receita/2012/08/19/tumblr_m30qooC90O1r7xatro1_1280.jpg) de la bête pourrissante d'une banlieue parfaite. Tel un démon carnivore omniprésent, affamé par la puissante ardeur de la postmodernité, le groupe Bats Pajamas engloutit l'essence du rock classique, et le défèque comme quelque chose sortant tout droit d'un cauchemar à la George Bataille. Toutes les ombres d'Hiroshima de la génération bop sont convoquées pour un Hourra grandiose. Les cordes de la guitare, à la fois dissonantes et crasseuses secouent les vedettes de rock mortes jusqu'à l'os, les invitant toutes à un barbecue hanté sur le bord de la Route 66.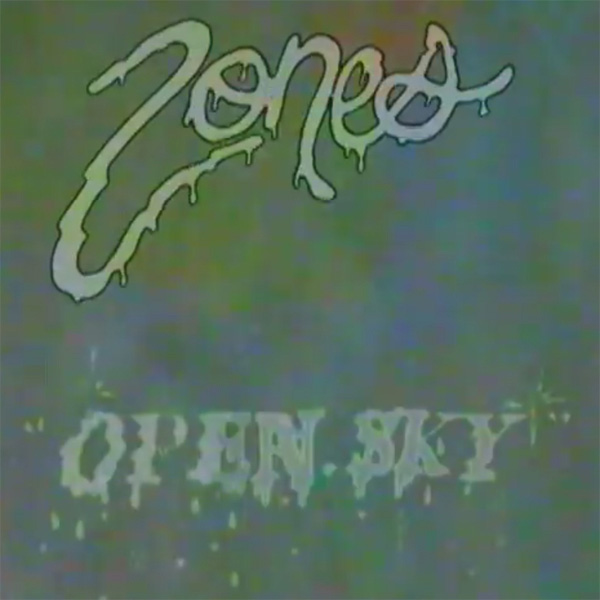 ZONES
OPENSKY
(Director: Derek McKeon)
Toronto, ON
From the spectral haze of Trevor Blumas:
Neon splinters of light expand and pulse outwards like cosmic rays entering the event horizon of your eyes; just as faint images emerge like apparitions from behind the spectral haze revealing the presence of a God-form: the creator; the wizard behind the curtain with his instrument of pure tonal bliss!
De la brume spectrale de Trevor Blumas:
(Traduit par Jessica Grenier)
Des éclats néons de lumière s'étirent en pulsant comme des rayons cosmiques qui entrent dans l'horizon des événements de vos yeux au moment précis où une pâle image émerge telle une apparition depuis la brume spectrale, révélant la présence d'une forme divine : le créateur; le sorcier derrière le rideau, avec son instrument de pure béatitude tonale!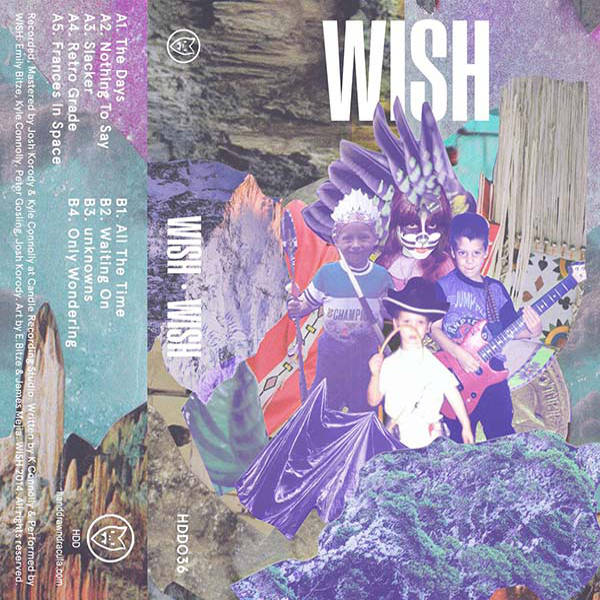 From the faded pink noodle of Trevor Blumas:
Comprising members of Beliefs, Milk Lines, and Decades, WISH shreds your youth through a cheese grater and melts it onto a scratched up CD. They cut, copy and time-stretch your first high and place it into your permanent present. Memories of those post-raided-liquor-cabinet-head-spins are turned into a ride at Disneyland. Cool off from those pre-responsibility slacker summers by skinny-dipping in WISH's noise pool. Their soft bedroom vocals, apple-bong ejaculate guitars, and joy-riding rhythms create the perfect temperature to float in with a faded pink noodle and a cherry cola laudanum cocktail.
De la nouille rose décolorée de Trevor Blumas:
(Traduit par la piscine gonflable de Jessica Grenier)
Composés de membres de Beliefs, de Milk Lines, et de Decades, WISH frottent ta jeunesse sur une râpe à fromage et la fondent en un CD grafigné. Ils copient/collent ton premier high et l'étirent jusqu'à ce qu'il devienne un présent perpétuel. Les souvenirs de vertiges « post-abus de fort » sont changés en manège de Disneyland. Repose-toi de ces préresponsabilités estivales de paresseux en sautant tout nu dans la piscine de bruit de WISH. Ces douces voix de chambre à coucher, ces éjaculats de guitares en pomme-pipe et ces rythmes de balade en voiture créent le climat parfait pour se laisser flotter sur une nouille rose décolorée avec un cocktail laudanum-coke aux cerises.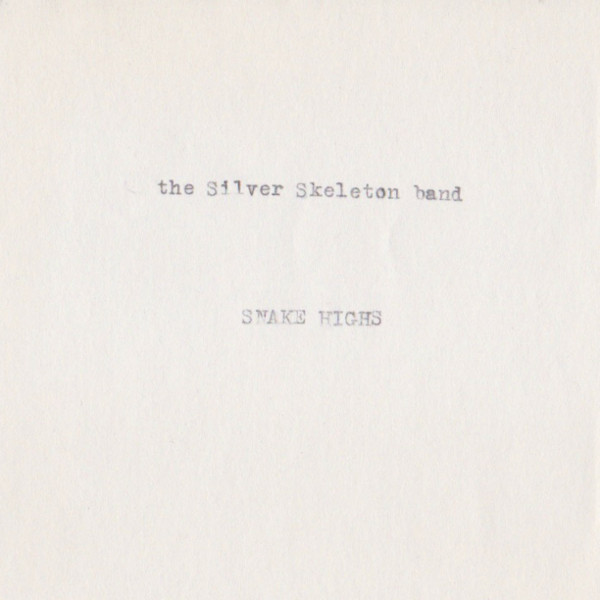 Nick Dirksen and the gang have returned with another collection of ghoulish shanties that cast spells on your corporeal functions and drive you to dance. Next thing you know, you're throwing back strange brews with Dante at his Inferno beach party to welcome the recently deceased. These dudes surely surf the same lysergic waves as Dennis Wilson and the dark side of the Beach Boys, as their cult of nostalgia worships and apotheosizes the shadowy transgressions of the venerated past.
The Silver Skeleton Band
Snake Highs
(Self Released)
Vancouver, BC
From the ghoulish shanties of Trevor Blumas:
Nick Dirksen and the gang have returned with another collection of ghoulish shanties that cast spells on your corporeal functions and drive you to dance. Next thing you know, you're throwing back strange brews with Dante at his Inferno beach party to welcome the recently deceased. These dudes surely surf the same lysergic waves as Dennis Wilson and the dark side of the Beach Boys, as their cult of nostalgia worships and apotheosizes the shadowy transgressions of the venerated past.
Des chansons de marin macabres de Trevor Blumas:
(Traduit par Andréanne Dion)
Nick Dirksen et sa bande sont de retour avec une nouvelle collection de chansons de marin macabres qui jettent un sort sur vos fonctions corporelles et qui vous poussent à danser. Tout à coup, vous êtes sur la plage en train de boire des boissons étranges avec Dante, à un party de bienvenue pour les récemment défunts. Ces gars surfent sans doute sur les mêmes vagues lysergiques que Dennis Wilson et le côté sombre des Beach Boys, alors que leur culte nostalgique adore et glorifie les transgressions obscures d'un passé vénérable.
The Silver Skeleton Band – Isolation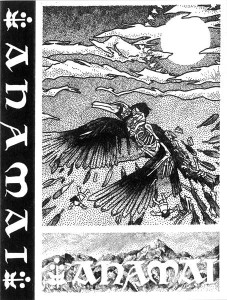 Anamai
Anamai EP
Toronto, ON
From the helpless gospel of Trevor Blumas:
Anamai is the solo side project of Anna Mayberry, guitarist/vocalist for Toronto's industrial sludge warlocks HSY. This effort sees Mayberry continuing to roam the same haunted gothic corridors as her noisier counterpart, but this time armed with a candelabra and a crucifix rather than a torch and a chainsaw. As such, she emits a type of disillusioned nun-folk that whispers out a helpless gospel for the no age. The minimal, moody intimacy of the album seems to re-invigorate certain chamber music conventions, which in a way lends even more credit to the small rooms that helped birth out the scene this project finds itself within. Paradoxically, however, the vast expansiveness of the reverb-drenched instrumentation and ghostly cooing of the vocals manage to harness the same natural sorcery of the aurora borealis. The presence of a higher power here is both iconoclastically diminished and powerfully embraced.
De l'évangile impuissant de Trevor Blumas:
(Traduit du rayonnement électromagnétique de Catherine Gaucher)
Anamai est le projet solo d'Anna Mayberry, guitariste/chanteuse de HSY, sorciers torontois du garage punk industriel. Bien que Mayberry poursuive son errance dans les mêmes couloirs gothiques et hantés que son plus bruyant homologue, elle s'arme cette fois d'un candélabre et d'un crucifix plutôt que d'une torche et d'une tronçonneuse. De ce fait, elle produit un genre de nun-folk désabusé murmurant un impuissant évangile pour le no-age. L'intimité minimale et maussade de cet album semble donner un nouveau souffle à certaines conventions de la musique de chambre, ce qui donne encore plus de crédit aux petites salles qui ont donné naissance à la scène même au sein duquel ce projet se retrouve. Paradoxalement, la vaste expansivité de l'instrumentation baignant dans des réverbérations et les chants éthérés parviennent à recréer la sorcellerie naturelle d'une aurore boréale. Ici, en un même temps, la présence d'une force supérieure est à la fois symboliquement diminuée et puissamment assumée.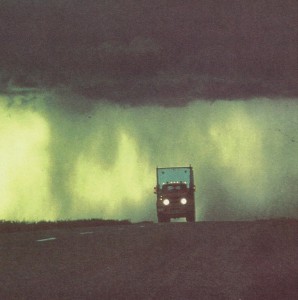 Shooting Guns
Brotherhood of the Ram
Saskatoon, SK
From the Kansas tornado of Trevor Blumas:
The land of open skies plays a leading role in a lot of Shooting Guns' music, but here, it seems to take the center stage. Brotherhood of the Ram's behemoth sound creates an immediate inclination to draw comparisons between what seems to be happening in Saskatchewan right now and the Palm Desert scene of the '90s. The poet mind might conjure up an image of the cosmic heavens blanketing over rolling fields of Ergot-infected Rye, and swallowing up the earth with an infinite blackness. Shooting Guns manage to pull a sweet nostalgic toke from this particular brand of bong rock, and they pull it hard, deep, and blow it out like a Kansas tornado with all of hell's fury. Wyatt and Billy would be proud.
De la tornade infernale de Trevor Blumas:
(Traduit depuis la cité d'Émeraude par Andréanne Dion)
Les Prairies jouent généralement un rôle important dans la musique de Shooting Guns, mais sur cet album, elles semblent être au premier plan. Le son immense de Brotherhood of the Ram crée dès le départ une tendance à établir des comparaisons entre ce qui semble se passer en Sasktachewan en ce moment et la scène musicale de Palm Desert dans les années 90. Un esprit poétique pourrait faire apparaître une image des cieux cosmiques recouvrant les champs de seigles vallonnés et contaminés par l'ergot, engouffrant la terre dans une noirceur sans fin. Shooting Guns arrivent à aspirer une douce bouffée nostalgique de ce genre particulier de rock planant, et ils l'aspirent profondément avant de la recracher avec toute la fureur infernale d'une tornade au Kansas. Wyatt et Billy en seraient fiers.
Shooting Guns – Brotherhood of the Ram
The Analog Teeth Stew
The Analog Teeth Stew
Hull, QC
From the turbulent currents of Trevor Blumas:
There must be something in the water in Hull these days. The Analog Teeth Stew is yet another project spewing forth from the turbulent currents of the Ottawa river, bringing with them a certain sci-fi bleakness: a Tarkovsky-esque take on the genre, if Tarkovsky was rendered incapacitated and instead forced to direct from inside the chamber of an iron lung. Recorded using mostly analog instruments, the result is something like an android with a human heart trying to envision Bel Geddes' Futurama with an apocalyptic, algorithmic mind incapable of imagining a tomorrow. As such, the future seems to end here: in a entangled orgy of circuitry and electromagnetic drone. Think Sunn O))) meets these guys, if their programmer were to mysteriously die and leave them to their own devices.
Des courants tumultueux de Trevor Blumas Trevor Blumas:
(Traduit par le court-circuit d'Andréanne Dion)
Il doit y avoir quelque chose dans l'eau à Hull ces temps-ci. The Analog Teeth Stew est le plus récent projet à émerger des courants tumultueux de la Rivière des Outaouais, amenant avec eux une désolation propre à la science-fiction : une approche du genre digne de Tarkovsky , si Tarkovsky devenait invalide et était forcé de travailler depuis l'intérieur d'un poumon d'acier. Enregistré en utilisant principalement des instruments analogiques, l'album qui résulte est un peu comme un androïde doté d'un cœur humain, qui tente d'imaginer l'exposition Futurama de Bel Gedde avec un esprit apocalyptique et algorithmique incapable de concevoir un futur. En soi, le futur semble s'arrêter ici, dans une orgie entremêlée de circuits et de bourdonnements électromagnétiques. Pensez à un mélange entre Sunn O))) et ce groupe, si leur programmeur mourrait dans des circonstances mystérieuses et qu'ils devaient se débrouiller seuls.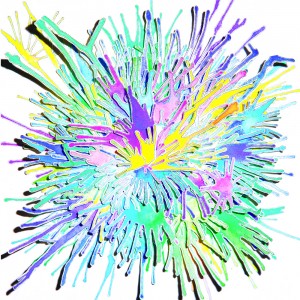 Gay
Dance Mix '95
Toronto, ON
From the aural archaeloogy of Trevor Blumas:
I suggest entering into this album like one does a Dan Brown novel: with a keen eye (or ear) for uncovering hidden secrets. Dance Mix '95 seems to function like a sort of quasi-mystical aural archaeology that unearths a treasure chest of obscure historical and pop-cultural references buried deep below the surface of common knowledge. You will literally transform into a more intelligent being after listening to it!
I now find it extremely difficult not to imagine Gay as anything but a rare and elusive species of chameleon Hardy Boy crooners. They draw their songs from an eerie post-pop mythology, and remain impossible to catch as they continuously morph into different things. But it's always fun to try…
De l'archéologie sonore de Trevor Blumas:
(Traduit par le Indiana Jones intérieur de Nicolas Coutlée)
Il convient d'aborder cet album comme un roman de Dan Brown : l'œil (ou l'oreille) à l'affût de tout secret caché. Dance Mix '95 constitue une sorte de terrain de fouilles archéologiques sonores quasi mystiques où git un coffre aux trésors rempli d'obscurs artefacts de culture populaire enfouis profondément sous la surface des connaissances générales. Vous deviendrez littéralement plus intelligent après une écoute.
Il m'apparaît extrêmement difficile à présent d'imaginer Gay comme autre chose qu'une espèce rare et insaisissable de crooners caméléons émules des frères Hardy. Puisant leurs chansons à même une inquiétante mythologie post-pop, ils restent impossibles à saisir au rythme où ils se métamorphosent en diverses créatures. Malgré tout, il peut toujours être amusant d'essayer…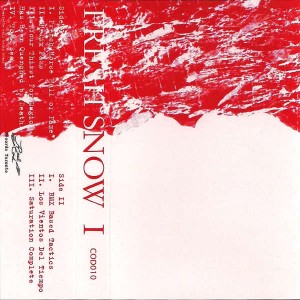 From the methadone serenity of Trevor Blumas:
I'm unsure whether the dudes in Fresh Snow conceived of an over-arching narrative for their debut album, but I certainly read it that way. Cassette-exclusive opener "French Horse Hall of Fame" lets you know immediately what kind of wild ride you'll be embarking on. Upon my first listen, I suddenly felt a sensation similar to that moment in the dentist chair, when the wonderfully numbing drugs begin to take over your body and the instruments of destruction start to mangle your teeth like a demolition site. The blissful screaming of the feedback symphony, which unrelentingly churns like an infinitely hollow stomach, only dissipated at moments to allow some genuinely groovy rhythms to carry me into a buzzsaw of enlightenment. I found myself in Nirvana, and it actually happened to look a lot like '70s era Berlin. Methadone serenity at times, stick-up at Checkpoint Charlie the rest.
De la sérénité de méthadone de Trevor Blumas:
(Traduit par les instruments de la destruction de Vincent Rondeau)
Je ne sais pas si les gars de Fresh Snow ont pensé à une histoire centrale pour leur premier album, mais c'est comme ça que je l'interprète. Le premier morceau (format cassette seulement) « French Horse Hall of Fame » donne immédiatement le ton de l'aventure effrénée qui suit. En l'écoutant pour la première fois, je me suis senti comme dans la chaise du dentiste, quand les analgésiques enveloppent peu à peu le corps tandis que les instruments de la destruction commencent à broyer les dents. Le cri bienheureux du feed-back symphonique bouillonnant comme un estomac infiniment creux se dissipe momentanément et des rythmes accrocheurs vous mènent vers le nirvâna des scies mécaniques. Oui, j'ai connu l'illumination, et ça ressemblait beaucoup à Berlin dans les années 70. Un peu de sérénité à la méthadone, beaucoup de hold-up à Checkpoint Charlie.
Fresh Snow – Your Thirst For Magic Has Been Quenched By Death!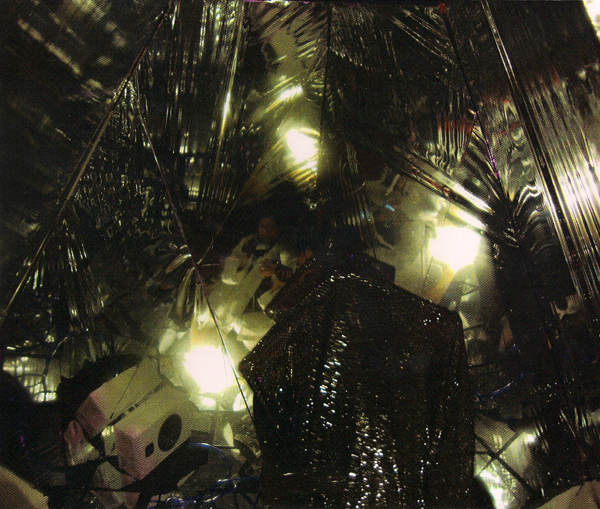 Drainolith
Adam's Sculpture
(Inyrdisk)
Montréal, QC
From the spiraling chaos of Trevor Blumas:
At just under nine minutes, this isn't so much an album as a carefully orchestrated arrangement of lo-fi analogue synth noise divided into five movements. The work was originally conceived to accompany an interactive installation piece called Infinite Space Kaleidoscope by Montreal artist Adam Brown. Adam's Sculpture is the skeletal remains of an entropic technocracy, and Alexander Moskos performs the autopsy, exposing the arrhythmic conditions of society's mechanical heart. A great fascination and respect seems to be put into the autonomy of manufactured sounds, chronicling the voyage of waveforms through the labyrinthine structures of a space-age metropolis. The modular and the minimal are the dominant strategies applied here, but Moskos tosses in enough spiraling chaos and icy jabs, reminiscent of the cold spinal drips of an acid trip gone wrong, to keep things unexpected and suspenseful
Des spirales chaotiques de Trevor Blumas:
(Traduit par Catherine Vien-Labeaume)
Frôlant la barre des neuf minutes, Adam's Sculpture n'est pas tant un album en bonne et due forme, mais plutôt un arrangement minutieux de synthé analogue noise lo-fi. Décliné en cinq parties, il fut initialement créé pour accompagner une installation interactive baptisée Infinite Space Kaleidoscope par l'artiste montréalais Adam Brown. Carcasse squelettique d'une technocratie anthropique, la sculpture de Brown subit une autopsie aux mains d'Alexander Moskos, exposant au grand jour l'arythmie cardiaque dont est atteint le cœur mécanique de la société. Ce qui en résulte témoigne d'un respect et d'une fascination pour l'autonomie des sons manufacturés, relatant le voyage de formes d'ondes à travers les structures labyrinthiques d'une métropole de l'ère spatiale. Le modulaire et le minimal sont au premier plan, ce qui n'empêche pas Moskos de ponctuer le tout de touches chaotiques et de jabs bien placés, telles des gouttes de sueur dégoulinantes, conséquence d'un trip d'acide qui finit mal, question de garder ça excitant
---