Tag: travis boisvenue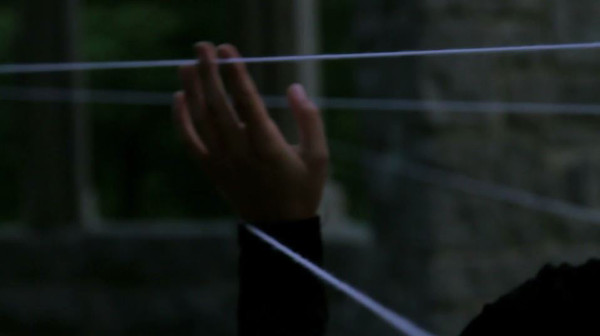 From the long quiet walk of Matthew Blenkarn:
Slow, long shots of a protagonist marching, waiting, and grasping are interrupted by rapid, stuttery cuts to primal images. Fire, spiders, smoke and more highlight the dynamic and energetic music behind them. A forest can be a quiet contemplative space, but in this video that's not so.
De la longue marche tranquille de Matthew Blenkarn:
(Traduit par le poisson babel de Joel Mak)
Des plans longs et lents d'un protagoniste qui marche, qui attend et qui saisit sont interrompus par des coupures stroboscopiques et rapides pour aller à des images primordiales. Du feu, des araignées, de la fumée et autres choses, mettent l'accent sur la musique dynamique et énergique qui joue en fond. Une forêt peut être un moine calme, mais dans ce clip, ce n'est pas le cas.
From the wire dreams of Jesse Locke:
As a hands-on conduit for sonic exploration, the modular synth reigns supreme. Ontario's Hugh Le Caine is an unheralded pioneer in this universe, with early voltage-controlled instruments such as the Sackbut — ramshackle as they may seem today — paving the way for Moog, Buchla and their ilk. In this short documentary, modern-day modular heads Edmund Eagan, Arturo "Hard Science" Brisindi and Mike "Muffwiggler" McGrath offer a tour through Le Caine's historic prototypes, now in the possession of the National Museum of Science and Technology. Director Travis Boisvenue and producer Ryan Gibson offer an engrossing introduction to the eccentric innovator, every bit as playful as his dripsody in blue.
Des rêves de fil de Jesse Locke:
(Traduit par Catherine Debard)
À titre de canal d'exploration sonique tangible, le synthétiseur modulaire règne en maître. L'Ontarien Hugh Le Caine est un pionnier méconnu de cet univers : ses premiers prototypes commandés par tension, tel que le Sackbut, ont pavé la voie pour Moog, Buchla et leurs semblables, aussi déglingués peuvent-ils être aujourd'hui. Dans ce court-métrage, les têtes modulaires d'aujourd'hui, Edmund Eagan, Arturo « Hard Science » Brisindi et Mike « Muffwiggler » McGrath, nous font une visite guidée historique des machines de Le Caine, propriétés maintenant du Musée des sciences et de la technologie du Canada. Le réalisateur Travis Boisvenue et le producteur Ryan Gibson nous offrent une introduction passionnante au monde de cet inventeur excentrique, tout aussi ludique que sa Dripsody in blue.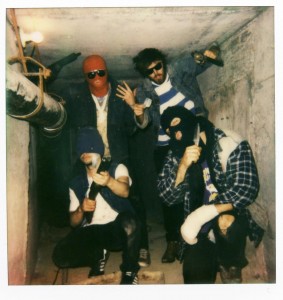 New Swears
Paradise
[Director: Nigel Somerville]
Ottawa, ON
From the punktopia of Travis Boisvenue and Emmanuel Sayer:
New Swears are a bunch of wild kids that live in a place called the Fun Boy Club House. It's been host to a lot of great shows, a lot of demented videos, and a lot of blood.
The first time I saw these guys they were called The Girlfriends. When they actually got around to playing music, they played perfect punk songs: snotty, careless, and full of heart. But they spent most of their set getting naked, flipping on their heads, and wearing monster masks. It one was one of the best things I'd ever seen.
Nowadays they're calling themselves New Swears and are playing music more than they're wearing monster masks. "Paradise" is one of my favourite music videos, and sums up pretty accurately what these guys are all about: partying like lunatics and playing great rock 'n roll.
How can they be so bonkers and still get their act together to crank out such good tunes? It boggles my mind. In any case, Emmanuel and I have put together an unsolicited commentary track for a video we both love, and that we had absolutely nothing to do with. Enjoy!
Travis Boisvenue and Emmanuel Sayer are the hosts of City Slang, a weekly rock 'n roll radio show airing Mondays at 9 pm on 89.1 FM in Ottawa (or online for the rest of us). Follow them @cityslangradio.
De la punktopie de Travis Boisvenue and Emmanuel Sayer:
(Traduit par Vincent Rondeau)
New Swears est un groupe de jeunes sauvages qui ont baptisé leur domicile « Fun Boy Club House ». On y a joué plusieurs excellents concerts, tourné beaucoup de vidéos déments, et fait couler pas mal de sang.
La première fois que je les ai vus, ils s'appelaient The Girlfriends et ils jouaient des chansons punk parfaitement construites : morveuses, désordonnées, du fond du coeur. Mais surtout, ils ont passé la plus grande partie de leur show à se déshabiller, à faire le poirier et à porter des masques de monstres. C'était un des grands moments de ma vie.
De nos jours, ils s'appellent New Swears et ils jouent plus de musique qu'autre chose. « Paradise » compte parmi mes clips préférés et donne une bonne idée de l'essence du groupe : faire le party comme des fous et jouer du rock 'n' roll de qualité.
Comment peuvent-ils être aussi malades et pourtant s'arranger pour produire d'aussi bonnes tounes? C'est un casse-tête. En tout cas, Emmanuel et moi avons assemblé spontanément un commentaire audio (ntr : en anglais seulement) pour un vidéo que nous adorons et avec lequel nous n'avons strictement rien eu à voir. Bonne écoute!
Travis Boisvenue et Emmanuel Sayer animent l'émission hebdomadaire de rock 'n' roll City Slang les lundis à 21h00 sur les ondes du 89.1 FM dans la région d'Ottawa (ou en ligne n'importe où). Suivez-les au @cityslangradio.
---