Tag: town ship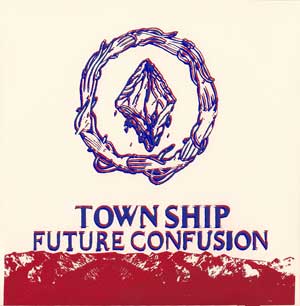 Town Ship
Future Confusion
Toronto, ON
From the imaginary numerics of Aaron Levin:
A strange creature has emerged from the western camp of Kevin Stebner's Revolution Winter. Town Ship's wikked dabbling in the occulant waves of 80s post-punk pommel their cyclic guitar wrenching into awesomely unfamiliar landscapes. The resulting collateral damage is more Pinx than Jehu and the surrounding void is proof of your transfiguration. Beautiful silk-screen sleeves ripe for the gripping.
De la numérique imaginaire d'Aaron Levin: (Traduit par Maya Keshav)
Une créature bizarre est sortie de la partie de l'ouest de Revolution Winter de Kevin Stebner. Le tâtement méchant de Town Ship dans les ondes occultes de post-punk des années 80 tabasse leur arrachement cyclique de guitare en les paysages merveilleusement hors de l'ordinaire. Les dommages collatéraux qui résultent est plus Pinx que Jehu, et le vide qui l'entoure est la preuve de ta transfiguration. Les belles couvertures serigraphiées sont prêtes pour sautez dessus.
---