Tag: totally disconnected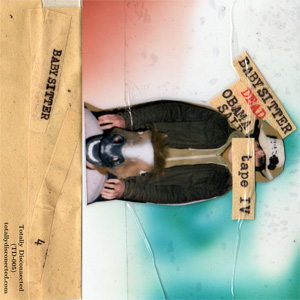 Babysitter
Tape IV
Victoria, B.C.
From the witch's finger of Jesse Locke:
The latest chapter in the Babysitter's club saga finds Victoria's finest sticking to the plot with a few fresh twists. Tape IV's revolution rock riff-o-rama is as gloriously busted as ever, teeming with teenage lobotomy jangle and howled manifestos to tear down the walls. Yet this time around, the band also dims the lights for a jellybean slow dance with your junior high squeeze, then smokes out the gym for the eight-minute blazer jam "Marijuana Overdrive." Lock up your daughters and look for these hooligans crossing Canada in the fall.
Du doigt de sorcière de Jesse Locke:
(Traduit par Odile Leclerc)
Le dernier chapitre dans la saga des Babysitters trouve les plus raffinés de Victoria suivant l'intrigue avec quelques tournures fraîches. Le riff-o-rama de rock révolution de Tape IV est aussi glorieusement éclaté que jamais, grouillant de cliquetis de lobotomie d'adolescence et a hurlé manifeste pour mettre les murs à terre. Mais encore cette fois, le groupe tamise aussi les lumières pour un danse slow de jellybean avec votre pincement de junior secondaire, puis enfume le gymnase pour le jam blazer de huit minutes ''Marijuana Overdrive.'' Enfermez vos filles et faites attention à ces voyous traversant le Canada durant l'automne.
[audio:http://weirdcanada.com/wp-content/uploads/2011/07/Weird_Canada-Babysitter-01_born_superior.mp3|titles=Babysitter – Born Superior] Babysitter – Born Superior
[audio:http://weirdcanada.com/binary/Weird_Canada-Babysitter-10_1000_girls.mp3|titles=Babysitter – 1000 Girls] Babysitter – 1000 Girls
[audio:http://weirdcanada.com/wp-content/uploads/2011/07/Weird_Canada-Babysitter-04_Waste.mp3|titles=Babysitter – Waste] Babysitter – Waste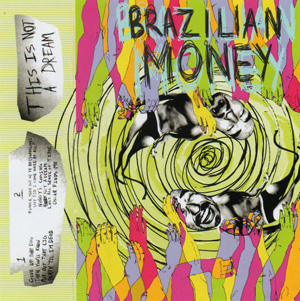 Brazilian Money
This Is Not A Dream
Edmonton, AB
From the sweaty palms of Jesse Locke:
The boys from Brazil (ian Money) throw it all at the wall on their latest c32 dispatch, and — surprise, surprise — everything sticks. Like an overheated Pizza Pop™, This Is Not A Dream bursts at the seams with genre-blurring gunk rockers, bellyachin' bummer folk and falsetto piss 'n' vinegar. Guitars warble and strum with hand-bleeding repetition, horns squeal like a second line and frontman Garrett Johnson hog hollers in a variety of voices. Wake up and grip with the sweaty-palmed quickness.
Des paumes moites de Jesse Locke: (Traduit par le pizza pop surchauffé qui est Maya Keshav)
Les gars du Brésil (ian Money) lancent tout contre le mur avec leur dernière dépêche de c32 et — quelle surprise— ça marche complètement. Comme un pizza pop surchauffé, This Is Not A Dream est plein à craquer des chansons balançantes, crasseuses, et genre-croisantes; de bummer folk chialant; et de falsetto pisse-et-vinaigre. Les guitares gazouillent et se grattent avec la répétition qui font saigner les mains, les cuivres crient comme une deuxième ligne, et le chanteur Garrett Johnson gueule dans une gamme de voix. Réveillez-vous et achetez avec la vitesse d'une paume moite.
Brazilian Money – Party Til I'm Dead
Brazilian Money – Then You'll Know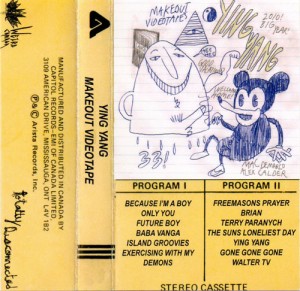 Makeout Videotape
Ying Yang
Vancouver, BC
From the cough cloud of Jesse Locke:
Draped in the gauze of reverb reverie and soft-focus mid-fi production, Makeout Videotape bring an ace combination of songwriting and sonics on their debut cassette from Totally Disconnected. Between easy-bouncing groovers, tie-loosening crooners and the dreamy drone of "Brian" (drifting through a cough cloud from the Black Sabbath bong stem), these strapping young lads prove themselves capable of mastering whatever style they see fit. Take a spin on Ying Yang and pretend the snow has already thawed.
De la nuage des toux de Jesse Locke: (Traduit par personne d'autre que Maya Keshav)
Enveloppés dans la gaze de rêverie réverbérante et de production mid-fi flou artistique, Makeout Videotape amènent une excellente combinaison de l'écriture et de l'acoustique avec leur première cassette de Totally Disconnected. Entre les chansons balançantes et entraînantes, les chantonnements émouvants, et le drone onirique de "Brian" (qui vole à travers une nuage des toux du bong Black Sabbath), ces jeunes gars bien charpentés s'avèrent capables de maîtriser n'importe quel genre dont ils ont envie. Fais un tour avec Ying Yang et imagine que la neige ait déjà fondu.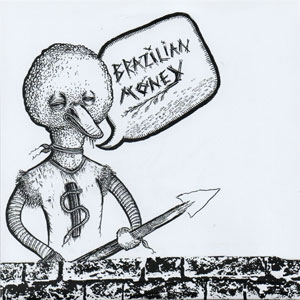 Brazilian Money
Doing What I Want EP
Calgary, AB
From the macaroni make-out party of Jesse Locke:
For their inaugural platter, Edmonton's newest 7" slingers dish up this piping hot four song EP from the boys in Brazilian Money. Former Mitts/Wicked Awesomes! bassist Garrett Johnson is the focal point of these friendly neighbours' seam-splitting double-drumming skronk squall, driven by hooky holler-along choruses, sassy cackling multi-tracked vocals and even a chug-a-lug acoustic shanty in closer "Bones." 300 copies, and worth its weight in reais.
De la fête de macaronis qui s'embrassent de Jesse Locke :
(Traduit par Odile Leclerc)
De leur plateau inaugural, les nouveaux lanceurs de 7'' d'Edmonton servent ces quatre supers chansons EP venant des garçons dans Brazilian Money. L'Ancien bassiste des Mitts/Wicked Awesomes!, Garret Johnson, est le point focal de ces rafales grinçantes à double battement et fendeuse de joints des voisins amicaux, conduit par d'addictant chœurs à brailler avec, d'impertinents chants glousseurs à multiple pistes et même un acoustique de calage qui s'encabane plus près de ''Bones''. 300 copies et qui valent leur poids en réais.
Brazillian Money – Doing What I Want
---