Tag: toronto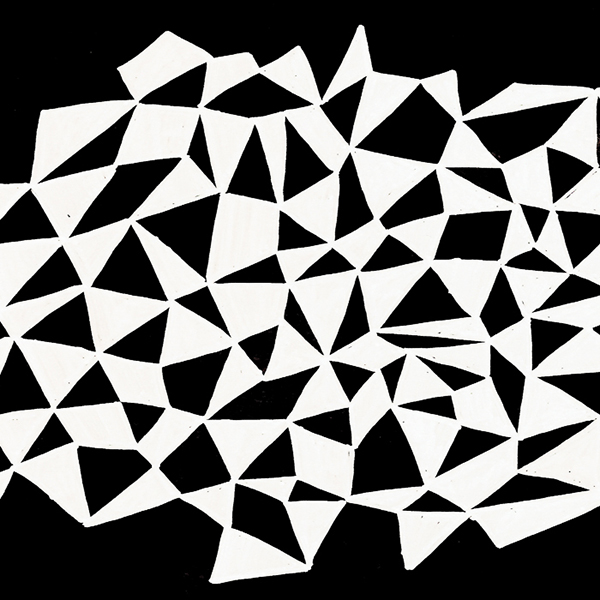 Eyeballs
Bad Art
(Self-Released)
Toronto, ON
From the feckless newsflash of Simon Petley:
The year: 2052. The headlines relay rumours. Trust is in precarious short supply. One thing is for sure: the primordial stannic sludge has finally begun its ascent from within the planet's molten core. It has equipped itself with arpeggiators, drum machines, tape loops and shows no signs of holding off until the entire population is shaking their hips in rhythm. It seems almost human in its undulations, more CH3 than C++, certainly. Soon you find the sludge echoing your desires. Anger, passion, and fear plait with gesticulation and form a cord strong enough to drag you across town in a fit of compassion.
De la nouvelle inefficace de Simon Petley:
(Traduit par la boîte à rythmes de Odile Leclerc)
L'année : 2052. Les grands titres rapportent des rumeurs. La réserve de confiance est moindre et précaire. Une chose est sûre : la boue stannique a finalement commencé son ascension depuis le centre en fusion de la planète. Elle est équipée d'arpégiateurs, de boîtes à rythmes, de cassettes et ne montre aucun signe d'attendre que la population entière secoue leurs hanches au même rythme. Elle semble presque humaine dans les ondulations, plus de CH3 que de C++, certainement. Bientôt, vous trouvez la boue faisant écho à vos désirs. Colère, passion et peur s'entremêlent avec gesticulation et forment une corde assez forte pour vous attirer à travers la ville dans un élan de compassion.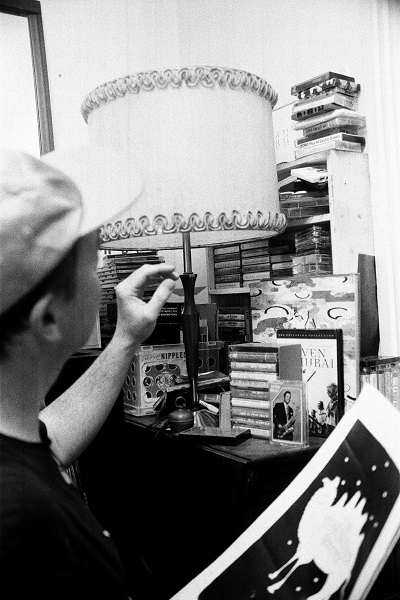 Ephemera of Brodie West
Existing during the recording of Fascination In Sound
(Photos: Josh Silver)
Toronto, ON
From the banjolele idylls of Joe Strutt:
Back a few seasons ago, while he was preparing to decamp to Hamilton, we ducked into the Kensington Market apartment of Brodie West, leader of the avant-calypso all-star band Eucalyptus. Brodie keeps busy as a father, saxophone soloist and sideman with many units, including Drumheller, The Ryan Driver Sextet, and the Lina Allemano 4 locally (and with legends like The Ex, Han Bennink and Getatchew Mekuria internationally). We spoke about banjo-ukuleles, grandmothers, cassettes (spooled and unspooled), and the nuances of heating foil as Brodie showed us the objects that inspire and move his art.
Album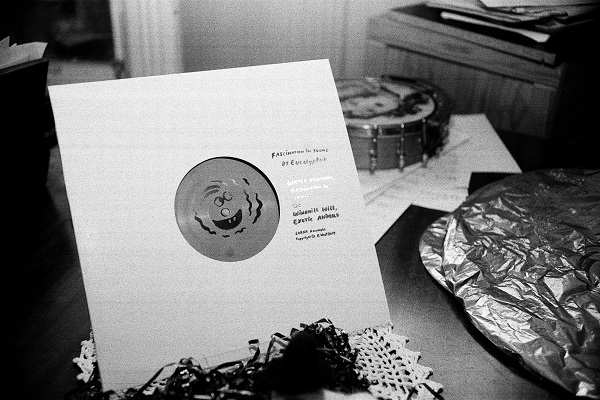 This the second 10″ Eucalyptus has done. The art's a collaboration again with Sandy Plotnikoff and Seth, just like the first one. They're all handmade, and each has slight variations with the design.
Stamp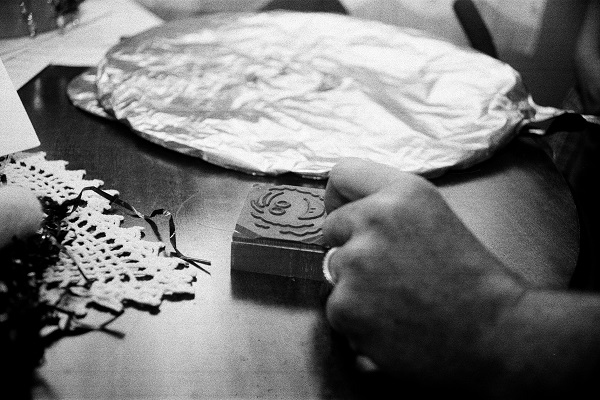 This is the stamp used for the face on the record. It was really fun to make all the little decisions about which foil, what colour to use… we tried so many things, I still have a bag of leftover foil bits. Just getting the right temperature was also tricky… we had to find out as we went along what was going to work and what didn't, cause Sandy has a lot of foil options, but not all of them were sticking. And the other thing was dealing with the heat, how much it heats the record up. People have asked if that's meant as a picture of my son Willie, but it kind of just came together that way. Seth brought a few options for different directions to go and we just made a quick decision. This one seemed really fun and playful… Sandy and I actually made a video of the record spinning, 'cause it actually pulsates, it shimmers in a really cool way as it's spinning around and catches the light.
Fuzzy + Tape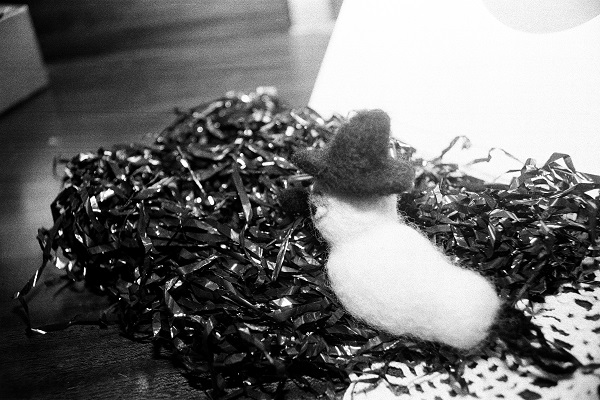 We had this as part of our series of release gigs at Hirut. One of the nights was my son's first birthday, so this is something that Meagan LaCroix made to give to him. This is a character of Seth's, from the movie Asphalt Watches. Megan liked the film and made a reproduction of this guy. The tape it's resting on was something Sandy gave me for my birthday eight or so years ago. It's a tape of the band Blurt.
Charts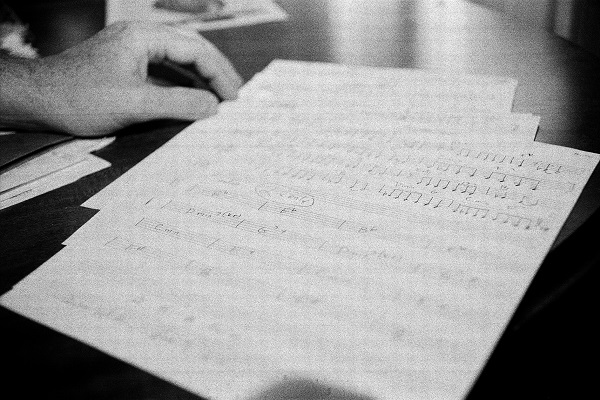 These are the charts for some of the songs. There aren't arrangements for every member of the band. I mostly say, "here's the tune", and then we rehearse and talk about the arrangements. I wish I could say everything everyone needed to know right from the beginning. That's the ultimate aim, but I'm learning as I do it. Ryan Driver's really good at seeing what little thing I missed, what little details aren't there, because he really reads. He's a good person to test your accuracy with.
Sax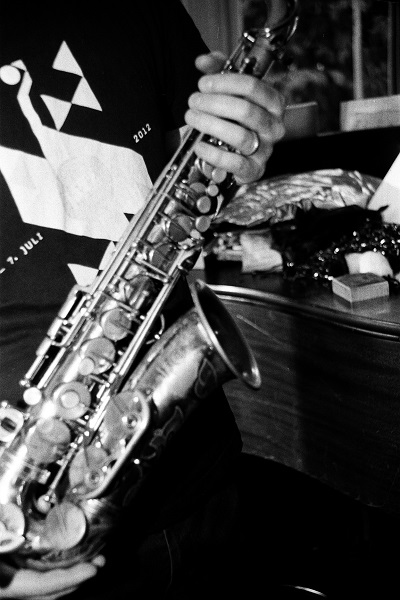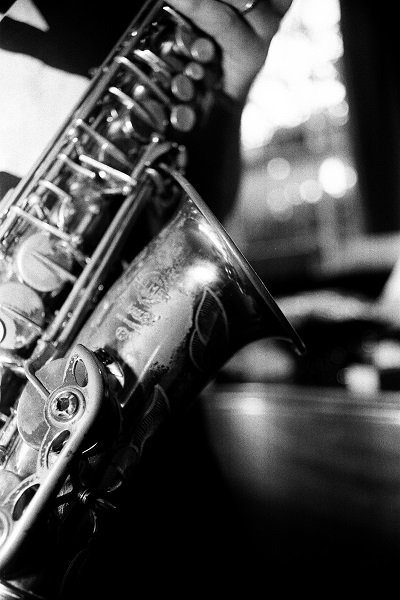 My mom bought this for me when I was in high school. She was a high school teacher and she knew a student who was selling his horn. I was fourteen or fifteen when I got it and I was lucky to get a really nice one straight from the beginning. It's been amazing to have one horn all that time. It's certainly a precious thing, and it has a lot of nice details on it in the engraving.
Cassettes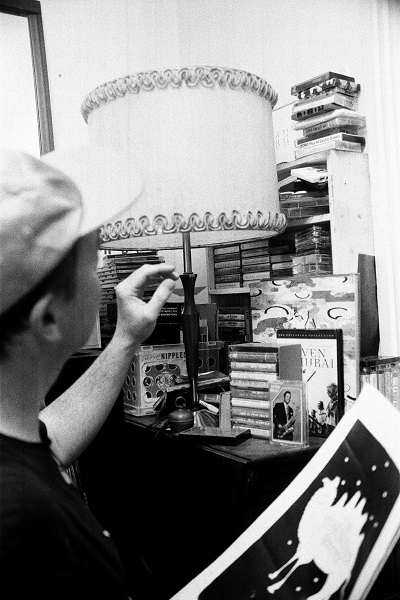 I like cassettes a lot. To have stuff like CCMC, a lot of Healing Power, and things that I found in Ethiopia. I've been there three times. The first time we didn't have any gigs, but the second time we played in big theatres and everything. I've been playing with Getatchew Mekuria and The Ex for almost ten years now. The first album with Getachew, there was a cassette edition for Ethiopia, made for sale in Addis. I think they made 3000, because that was the smallest amount the label would do!
Mighty Blue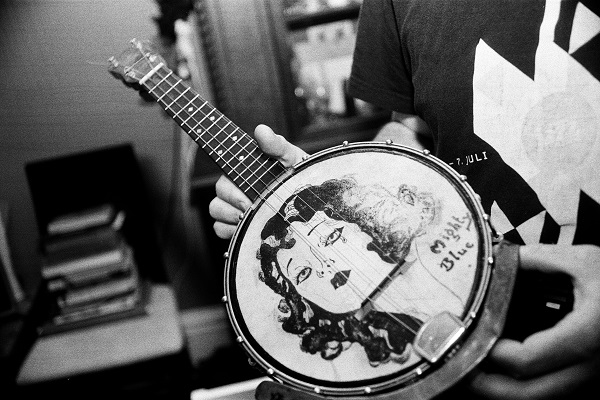 My grandmother taught me how to play ukulele. She gave me a George Formby book, she was really into him. He played banjolele, which is what this is. This was something she left to me in her will… she must have found it at a garage sale. I don't play it any more, not much. I did play it with Zebradonk. My grandmother's name was Lorna, so that's why my label's name is Lorna Records. She had a lot of musical instruments and she loved music. She took me under her wing as soon as I started showing any interest in music. She was the first to teach me jazz songs, 30's-style tunes. She subscribed to sheet-music magazines and she always had music in her house, a piano in the living room so the whole family with six kids would sing together. A really cool grandma, and really outgoing. She was a big influence on me.
Du bajo-ukulélé sous l'arbre à palabres de Joe Strutt:
(Traduit par Alike Harel)
Il y a de cela quelques saisons, lorsqu'il se préparait à décamper pour Hamilton, nous avons fait une escapade à l'appartement de Brodie West, leader du groupe étoile avant-calypso Eucalyptus, dans Kensington Market. Brodie est un homme occupé par la vie de père, de saxophoniste soliste et de collaborateur à plusieurs ensembles, dont Drumheller, The Ryan Driver Sextet, et Lina Allemano 4 sur la scène locale (et avec des légendes comme The Ex, Han Bennink et Getatchew Mekuria sur la scène internationale). Nous avons jasé de banjo-ukulélé, de grand-mères, de cassettes (bobinées et débobinées), et des nuances sur une pellicule sous l'effet de la chaleur pendant que Brodie nous présentait les objets qui inspirent et donnent forme à son art.
L'album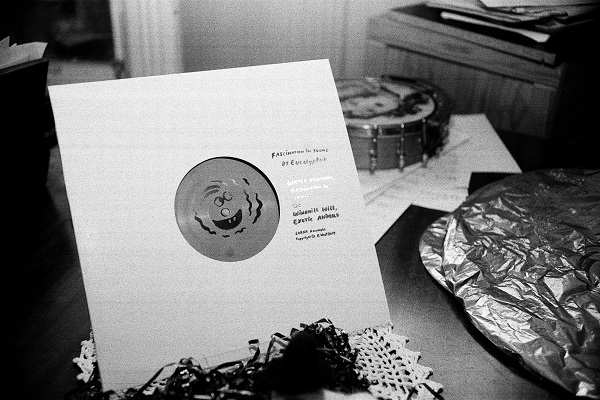 C'est le deuxième vinyle de 10 po qu'Eucalyptus a fait. L'illustration est encore une fois une collaboration avec Sandy Plotnikoff et Seth, tout comme pour le premier. Ils sont tous faits main et le design de chacun varie un peu.
L'étampe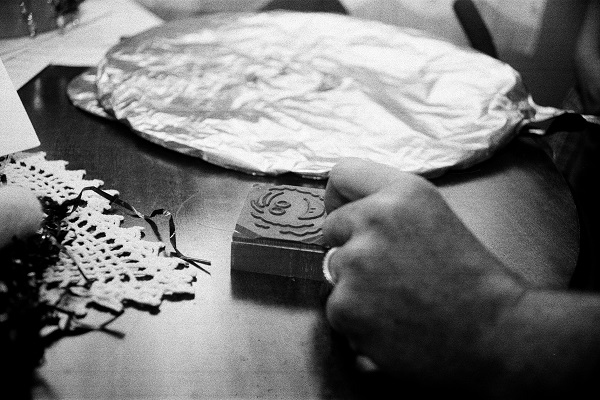 Cette étampe est utilisée sur le dessus de l'album. C'était vraiment génial de prendre toutes les décisions sur la sorte de pellicule, le choix de couleur… On a essayé tellement de choses, j'ai encore un sac de retailles de pellicules. Obtenir la bonne température était laborieux… on devait apprendre au fur et à mesure ce qui fonctionnait ou pas parce que Sandy offre beaucoup d'options de pellicule. L'autre aspect était de manipuler la chaleur et de savoir quelle quantité de chaleur l'album pouvait tolérer. Les gens m'ont demandé s'il s'agissait d'une représentation de mon fils Willie, mais je crois que c'est juste sorti comme ça. Seth a proposé différentes avenues et nous avons pris la décision rapidement. L'idée semblait amusante et joviale… Sandy et moi avons même filmé l'album pendant qu'il tourne puisqu'il fait des pulsations. Il scintille d'une façon vraiment cool et, en tournant, reflète la lumière.
Toutou + Cassette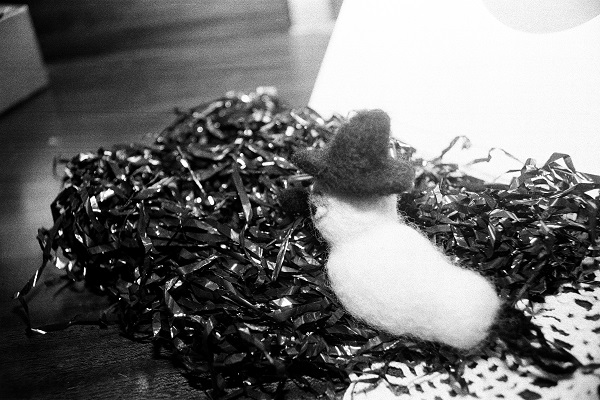 Nous avions ceci pendant notre série de représentations de lancement au Hirut. L'anniversaire de mon fils a eu lieu un de ces soirs, Meagan LaCroix l'a fabriqué pour lui en faire cadeau. C'est un personnage de Seth's, du film Asphalt Watches. Megan a aimé le film et a fait une version en peluche de ce personnage. La cassette sur lequel il repose est un truc que Sandy m'a donné pour mon anniversaire il y a environ huit ans. C'est une cassette du groupe Blurt.
Feuilles de musique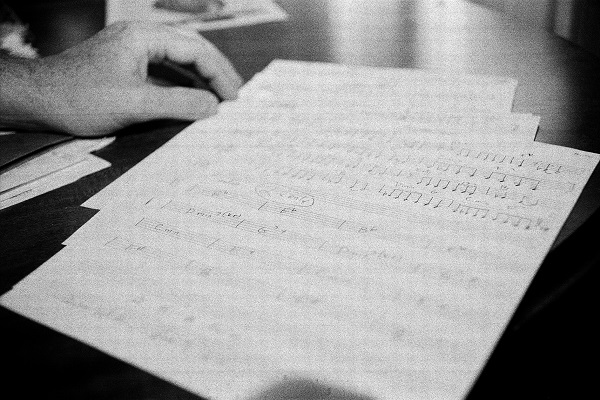 Ce sont les feuilles de musique de certaines chansons. Je n'ai pas d'arrangement pour chaque membre du groupe. En somme, je dis « voici l'air », puis on pratique et on discute des arrangements. J'aimerais pouvoir expliquer à tout le monde ce qu'ils ont besoin de savoir dès le départ. C'est le but ultime, mais j'apprends au fur et à mesure. Ryan Driver a vraiment l'œil pour voir les petits détails que j'oublie, étant donné qu'il lit vraiment. Il est la personne idéale pour vérifier sa justesse.
Sax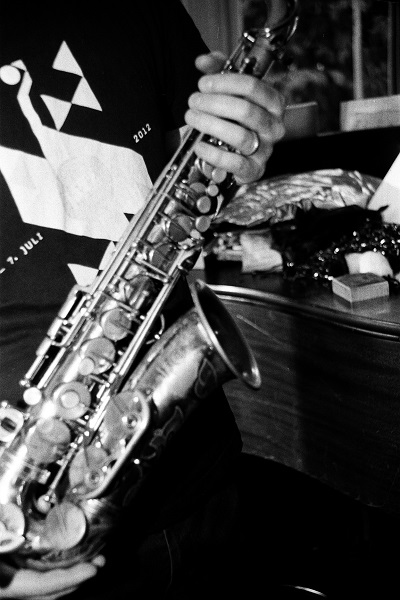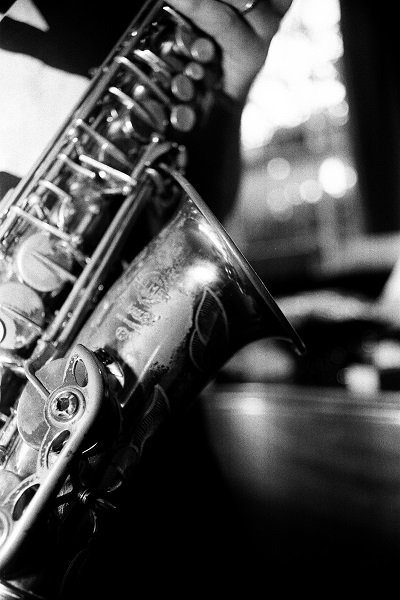 Ma mère me l'a acheté quand j'étais au secondaire. Elle était une enseignante au secondaire et elle connaissait un élève qui voulait vendre son instrument. J'avais quatorze ou quinze ans et j'ai eu la chance d'en avoir un bon dès le départ. Ce fut génial d'avoir un sax tout le temps. C'est vraiment un objet précieux, et il a beaucoup de gravures détaillées.
Cassettes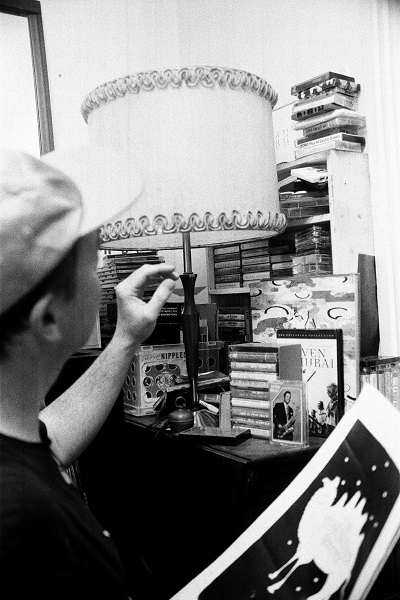 J'aime beaucoup les cassettes. Avoir des trucs comme CCMC, beaucoup de Healing Power, et d'autres choses que j'ai trouvées en Éthiopie. J'y suis allé trois fois. La première fois je n'avais pas de concert, mais la deuxième fois, on a joué dans de grandes salles et tout. Je joue avec Getatchew Mekuria et The Ex depuis presque dix années. Au premier album avec Getachew, on a fait une édition sur cassette pour l'Éthiopie pour la vente à Addis. Je crois qu'ils en ont enregistré 3000 parce que c'était le nombre minimal que la maison pouvait faire!
Mighty Blue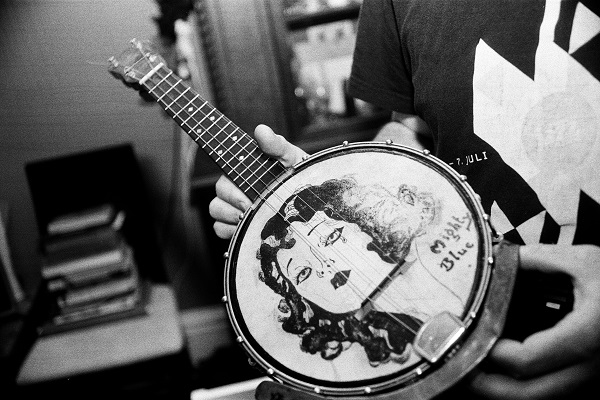 Ma grand-mère m'a appris à jouer le ukulélé. Elle m'a donné un livre de George Formby,elle l'aimait vraiment. Il jouait du banjo-ukulélé, et c'en est un. Elle me l'a donné en héritage… elle l'a probablement trouvé dans une vente-débarras. Je n'en joue plus vraiment, mais j'en ai joué avec Zebradonk. Ma grand-mère s'appelait Lorna, c'est pourquoi le nom de la maison de disques est Lorna Records. Elle avait beaucoup d'instruments et adorait la musique. Elle m'a prise sous son aile dès que j'ai commencé à montrer de l'intérêt pour la musique. Elle a été la première à m'apprendre du jazz, des airs des années 30. Elle s'est abonnée à des revues avec des feuilles de musique et il y avait toujours de la musique dans la maison, un piano au salon pour que toute la famille puisse chanter ensemble. Une grand-mère vraiment cool et dégourdie. Elle a eu une grande influence sur moi.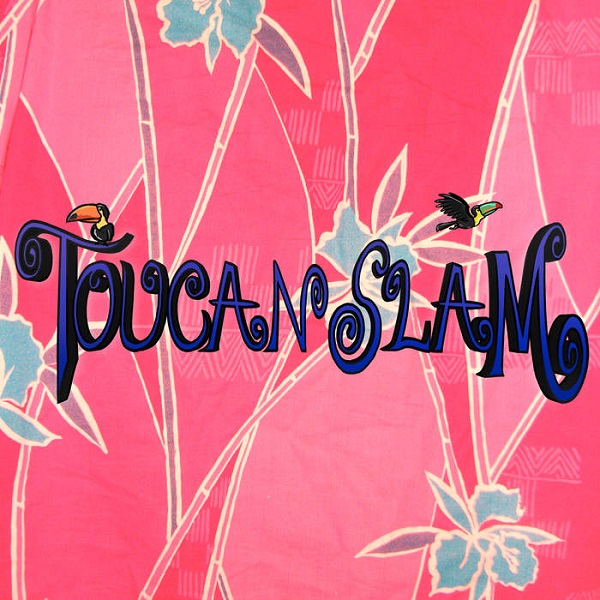 Toucan Slam
Toucan Slam
Toronto, ON
From the turbulent mind of Rachel Bellone:
If someone were to write an EP in a crashing airplane trying to capture the panic in their surroundings as a sort of homage to the turbulent moment before the grand slam the plane levels at the last minute, they might sound a bit like Toucan Slam. The vocals have the effect of a pilot speaking over an intercom, except instead of soothing pleasantries about landing safely, they're spouting experimental poetry . A joyful and punchy two piece,Toucan Slam fills your cereal bowl and then sloshes it around. This bassist and drummer dynamic duo are a sonic match made in heaven, or maybe just the sky they're plummeting from.
De l'esprit turbulent de Rachel Bellone:
(Traduit par l'accalmie mentale de Louis-Félix de Chevigny)
Toucan Slam sonne un peu comme si quelqu'un décidait d'écrire un 45 tours à bord d'un avion en plein écrasement pour sonoriser la panique autour de lui afin de faire hommage au moment de turbulence avant que l'avion ne s'écrase se stabilise à la dernière minute. Les paroles font penser à un pilote parlant à travers l'interphone, sauf qu'au lieu de faire des plaisanteries rassurantes sur la sécurité lors de l'atterrissage, il débite de la poésie expérimentale . Une paire enjouée et dynamique, Toucan Slam remplit votre bol de céréales avant d'en faire remuer le contenu. Ce duo de choc composé d'un bassiste et d'un batteur) sont issus de la même constellation, ou peut-être tombent-ils juste des mêmes cieux.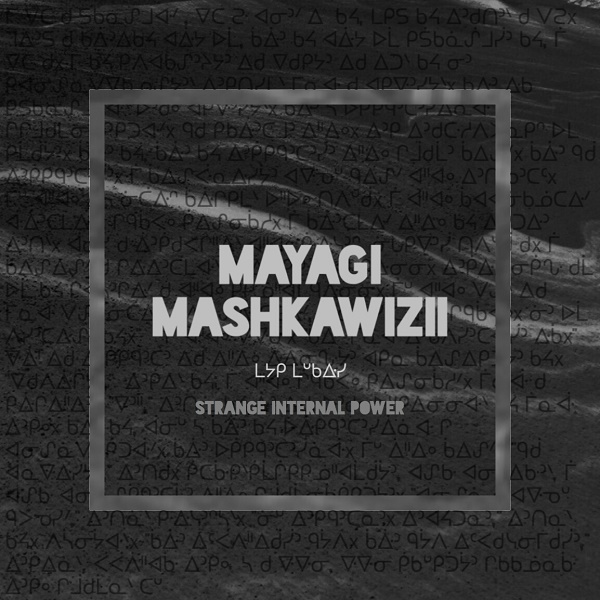 Ziibiwan
Mayagi Mashkawizii
(Self-Released)
Toronto, ON
From the unmuted spirit of Christina Bell:
Motion maker Ziibiwan crafts a private nostalgia that is deeply independent of genre, unmarried to any single narrative. Mayagi Mashkawizii walks you to the edge, where you can decide whether to clear your mind or consider the sum of everything you've ever done. Soothing melodies collaborate with glitchy beats in an elongated praise of momentum. Motion. Mayagi Mashkawizii is an audible testimony to the theory that humankind's prime mover must have had a sound.
Par l'esprit non-assourdi de Christina Bell:
(Traduit par les grandes questions d' Émily Traichel)
Créateur de mouvement, Ziibiwan élabore une nostalgie privée qui est profondément indépendante de genre, non mariée à aucune unique structure narrative. Mayagi Mashkawizii nous mène jusqu'au bord, où l'on peut choisir de se dégager l'esprit ou de considérer la somme de tout ce que nous avions vécu jusqu'ici. Des mélodies apaisantes collaborent avec des rythmes distorsionnés en une louange prolongée de momentum. Mouvement. Mayagi Mashkawizii est un témoignage audible à la théorie qui constate que le principal moteur de l'humanité doit avoir eût un son.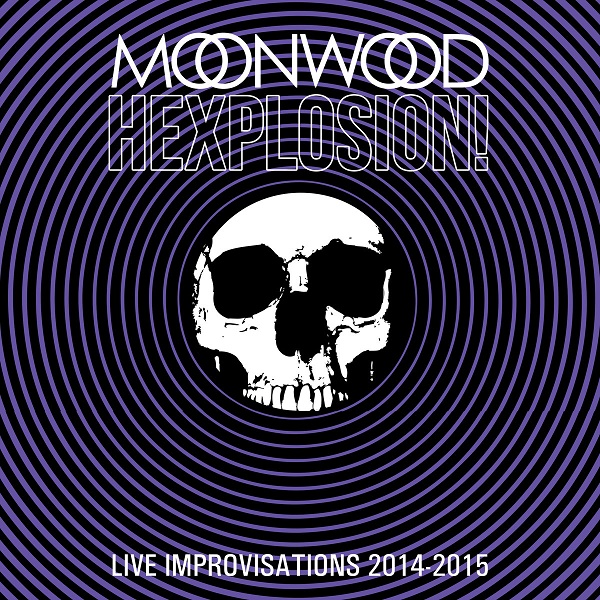 Moonwood
Hexplosion
Toronto, ON
From the impro-drone of Gabe Girard:
The world of improvised drone tends to employ the services of laptops, prerecorded samples and electronics in favour of live instrumentation. The world of impro-drone in the West is, for the most part, a digitized wonderland of electronics, synths and CPUS. Moonwood certainly use their share of binary vibrations, but to come across a live instrumental band that achieves that level of heart BPM reducing, out-of-body experience inducing, whimsically meandering drone that we all know and love is a rare thing indeed.
Par le drone-impro de Gabe Girard:
(Traduit par le méandrement fantasque d' Émily Traichel)
Le monde du drone improvisé a tendance à utiliser les services des ordinateurs portables, des échantillons pré-enregistrés et de l'électronique au profit de l'instrumentation en direct. Le monde du drone-impro dans l'ouest est, pour la plupart, un pays des merveilles de l'électronique, des synthés et des UCs. Moonwood se servent certainement de leur part de vibrations binaires, mais le fait de croiser un groupe live qui atteint un tel niveau de drone réducteur-de-BPM-du-coeur, inducteur-d'expérience-extra-corporelle et fantasquement méandre, que nous connaissons et aimons tous, est effectivement une chose rare.
Moonwood – Cosmic Ratio (2015.5.29)
Moonwood – Set the Overdrive For The Dark Side of the Nile (2015.01.09)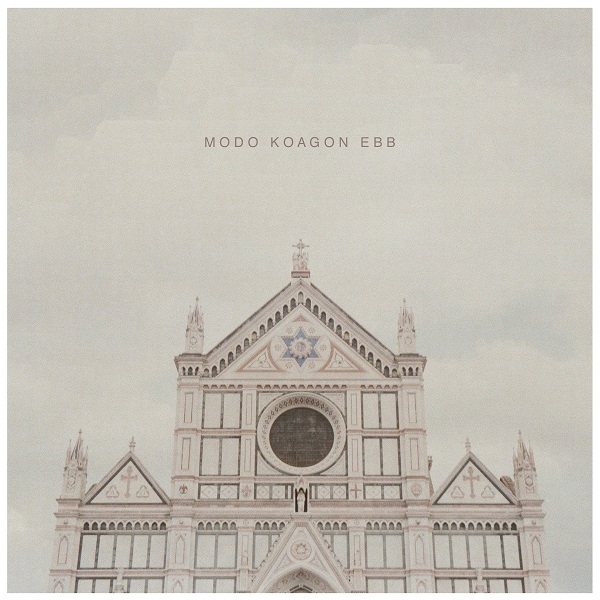 Modo Koagon
Ebb
(Self-Released)
Guelph, ON
From the last breath of Heather Lune:
The field recordist curls up after a long life and goes to sleep. The moment – the fall – the rise – the bridge – the break – eternally suspended in the midst of infinite sound.
A toy xylophone, screaming shoreline wind, liquid sliding on skin, dead radio whirling the drain, while stirring the spoon chinks the glass, razors buzz, the jazz cd skips, the car and the sound the land makes as you pass through it, insects in trees, blades on ice, the gutters melting, tapping typewriter, the beep of the life support machine, the clock on the wall.
You discover the moment of death – that split second before the jump, forever.
Du dernier souffle de Heather Lune:
(Traduit par le gargarisme salé de Julie Mayer)
Le preneur de son se pelotonne après une longue vie et s'endort. L'instant – la chute – l'ascension – la transition – la rupture – l'homme est éternellement suspendu au milieu d'un son infini.
Un xylophone jouet, le hurlement du vent en provenance du rivage, le glissement d'un liquide sur la peau, une radio à plat s'écoule en tourbillons par la bonde, la cuillère fait tinter le verre lorsqu'on la remue, des rasoirs qui bourdonnent, le CD de jazz saute, l'auto et le son que la terre produit alors que vous passez dessus, les insectes dans les arbres, des lames de patin sur la glace, des gouttières fondent, les bruits de frappe d'une machine à écrire, les bips de l'appareil veillant au maintien des fonctions vitales, l'horloge accrochée au mur.
Vous découvrez l'instant de la mort – cette fraction de seconde avant le grand saut, à jamais.
Modo Koagon – Ebb (For Wilhelm and Ellen)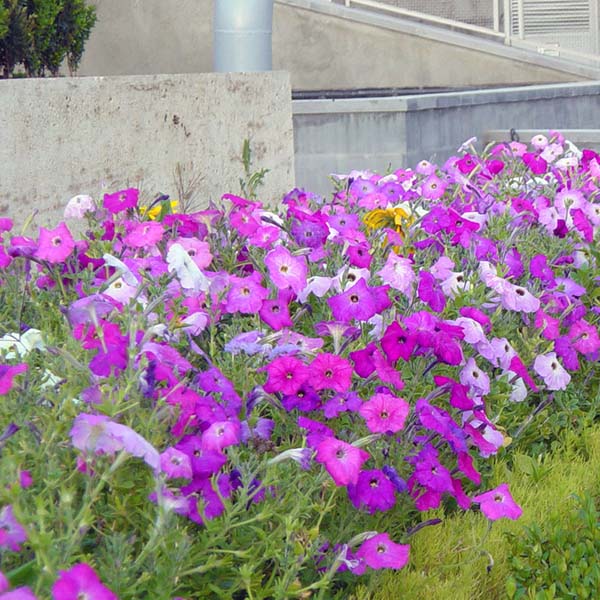 Tax Haven
H&M Interior
(Self Released)
Toronto, ON
From the disparate constraints of Josh Silver:
Frenetic movement breaks through melody, forming a pathway of rhythmic content. For net *cum* vim, one too breaks the rig; home led you from a no-go path away. Free improv ends ever-around repos of light and any a polyrhythm in order. **W**here **h**ectic** i**nfiltration **p**ierces a **k**it **i**n **s**umptuous **s**ets of **e**rratic **r**est, one may **f**ind **a** **t**otal **h**ospice **e**ver **r**ustic, **s**urging.
Note: This text utilizes textual constraint and wordplay as a means of extending the text into the music's pattern; interwoven rhythms and melodies become reorganized constrained text.
Des contraintes disparates de Josh Silver:
(Traduit par l'art de lire entre les lettres de Julie Mayer)
Un mouvement frénétique démolit la mélodie pour former une voie de contenu rythmique. Pour le net-entrain, on brise également le matos; la maison t'a mené d'une voie interdite au loin. L'impro libre met fin à un réceptacle de lumière omniprésent et toute polyrythmie ordonnée. **W**ow, l'**h**ectique **i**nfiltration **p**erce un **k**it pour **i**soler de **s**omptueux **s**ets d'**e**rratique **r**epos, on peut **f**aire la découverte d'un **a**gréable et **t**otal **h**ospice **e**n constante **r**usticité **s**'abattre.
Note : Ce texte utilise des contraintes textuelles et des jeux de mots afin de prolonger le texte dans la disposition de la musique ; les rythmes et les mélodies entrelacés sont réorganisés en texte contraint.
Tax Haven – Go Athletic Stay Fashion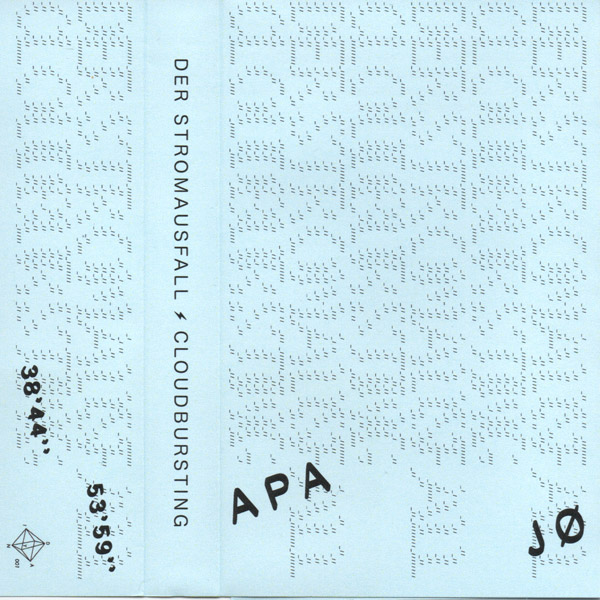 APA & JØ
Der Stromausfall // Cloudbursting
(Da-Yin)
Toronto, ON
From the illusory continuity of James Beardmore:
A power failure somehow triggers a freak storm. It affects an extremely localized area of Dundas West, Toronto. The storm engulfs everything in its path. Bicycles, microphones, plastic bags, saxophones, toys, sprinkler systems. You have just become a part of it.
When time first stopped it was confusing, but lately you have decided to embrace it. The best part about dislocation from time is that sounds seem to have a new quality. They are more breakable somehow. A second can be burst and the pieces repositioned. Each piece sounds different yet contains all the information of the whole thing.
De la continuité illusoire de James Beardmore:
(Traduit par Aliké Harel)
Une panne de courant provoque une tempête monstre. Le désastre est strictement confiné aux alentours de Dundas West à Toronto. La tempête engouffre tout sur son passage. Vélos, microphones, sacs de plastique, saxophones, jouets, gicleurs. Vous venez tout juste d'embarquer dedans aussi.
Lorsque le temps s'est arrêté pour la première fois, c'était la confusion, mais dernièrement vous avez décidé d'y consentir. L'avantage de la dislocation temporelle est que le son semble gagner en qualité. Il se décortique mieux. Une seconde peut éclater et les éclats peuvent se repositionner. Chaque fragment a une sonorité unique, mais renferme toute l'information de l'ensemble.
APA & JØ – Der Stromausfall (Excerpt)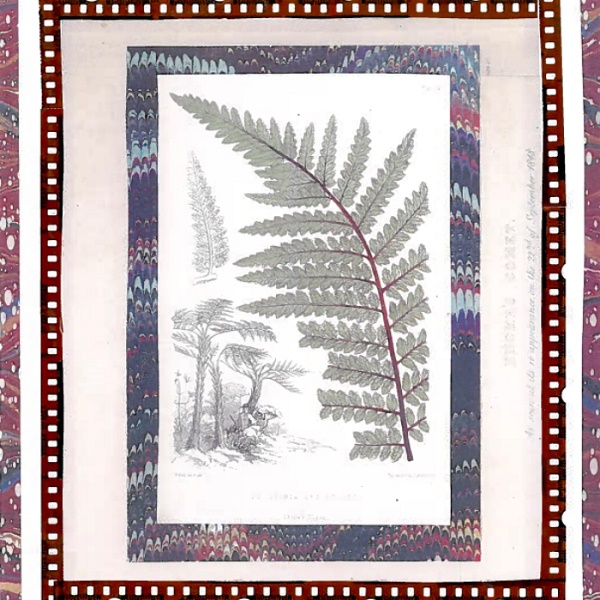 Nutrients
Drag On
(Self-Released)
Toronto, ON
From the cyborg midwife of Sam Joseph:
You have slayed the dragon! The pound of flesh is yours; this moment was a long time coming. And at this moment of sonic incandescence, goldenrod memories of a million little victories seep into your slackened psyche like an incoming torrent of liquid sunshine – warmer than the Danforth on a July evening. This is a sundown for the ages; put on your shades, open your ears, and, yes, drink in that pop. Make it last. What comes next?
De la sage-femme cyborg de Sam Joseph:
(Traduit par Jessica Grenier)
Tu as tué le dragon! Réclame ton dû : tu as attendu si longtemps pour ce moment. Cet instant de sonorité incandescente, les souvenirs d'un million de petites victoires s'infiltrant dans ton esprit détendu comme un torrent diluvien de soleil liquide – plus chaud encore que le Danforth par un soir de juillet. C'est un crépuscule millénaire : tends l'oreille, mets tes lunettes de soleil, bois un peu de boisson gazeuse… et étire le plaisir. Que faire maintenant?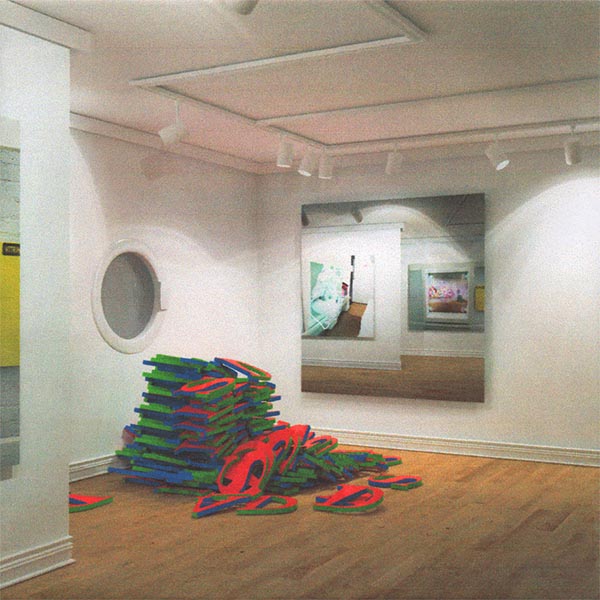 Fulldeck Subhuman
Distraction Motif
(Self Released)
Toronto, ON
From the eternal buffering of James Beardmore:
A fragment of sound has been looping in your head for days, you can't remember where from. It has mutated into an unsettling mantra.
Someone has extracted this sound from your skull and transcribed it into midi notation. The result combines with a scratched CDR of music for corporate motivational powerpoint presentations. It plays in an abandoned building and is currently livestreaming on the deep web.
Slices of glass with high-resolution artefacts hurtle towards an accelerando event horizon before succumbing to entropy. Chaos overlaps until it becomes meditative. Your senses adjust. Calm.
De l'éternelle mise en mémoire tampon de James Beardmore:
(Traduit par Julie Mayer)
Un morceau de son joue en boucle dans ta tête depuis plusieurs jours, tu ne peux pas te rappeler d'où ça vient. Ça s'est transformé en mantra perturbant.
Quelqu'un a extrait ce son de ton crâne et l'a transcrit en notation midi. Le résultat se combine à un CD-R de musique égratigné pour faire des présentations Powerpoint corporatives centrées sur la motivation de soi. Il joue dans un bâtiment abandonné et est actuellement retransmis en direct sur le web caché.
Des tranches de verre accompagnées d'artéfacts en haute résolution foncent à toute allure vers un gouffre en accéléré avant de succomber à l'entropie. Le chaos se chevauche jusqu'à en devenir méditatif. Tes sens s'ajustent. Calme.
---