Tag: toronto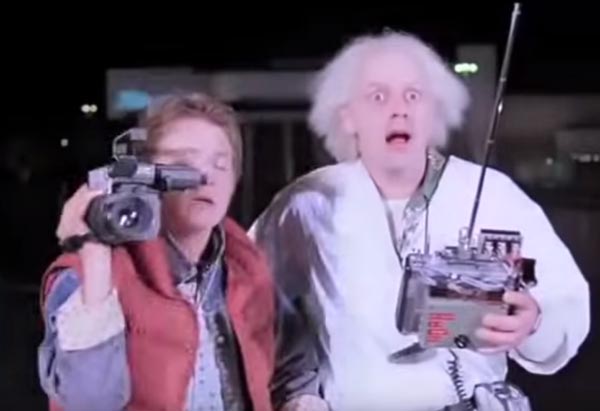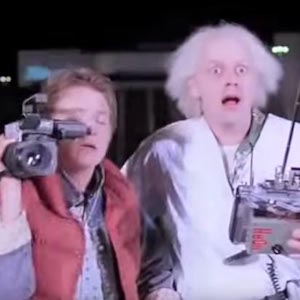 POST3RBOY
TIME2DIE
Director: POST3RBOY
Toronto, ON
From the bottomless microphone of Gabe Girard:
Industrial gears grind themselves into oblivion. Tortured vocals scream into bottomless microphones. The hum of an accelerating futuristic car saturates unsuspecting speakers. The man at the wheel – Marty Mcfly – flees the chaos behind him. Back to the Future finally gets the soundtrack it's been begging for all these long years.
Du micro sans fond de Gabe Girard:
(De l'hémisphère gauche de Diane Beaupré)
Des engrenages industriels se broient eux-mêmes dans l'oubli. Des voix torturées crient dans des micros sans fond. Le vrombissement d'une auto futuriste qui accélère sature les haut-parleurs naïfs. L'homme derrière le volant, Marty Mcfly, fuit le chaos derrière lui. Retour vers le futur a finalement la trame sonore attendue depuis de si longues années.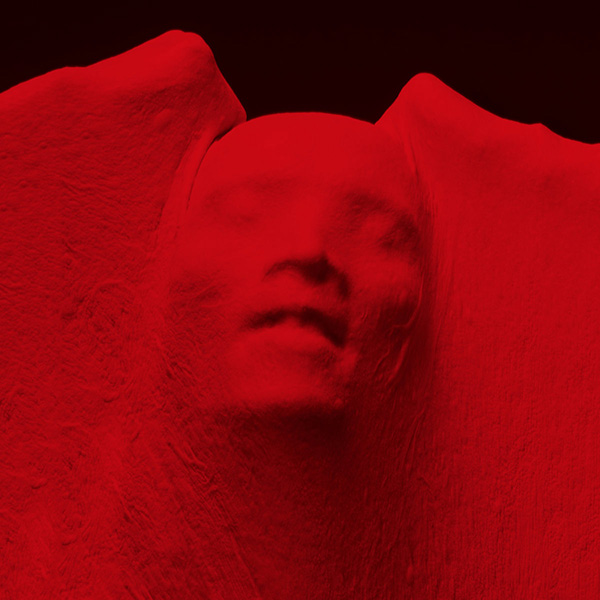 Scott Hardware
Mutate Repeat Infinity
Toronto, ON
From the wired senses of Hailey Celesse McCarthy:
Scott Hardware is an accurate eponym, considering the skillful blend of old skool house, electro and pop Scott Hardwood (also Ken Park) has consolidated on this release. Mutate Repeat Infinity, which came out on Banko Gotiti this past June, is a tricky pop record placing complex lyrical content over energetic, offbeat patterned, beats. It's an album that lets you figure a greater plot and carries you along in it. You are the new protagonist.
Des sens filaires de Hailey Celesse McCarthy:
(Traduit par les circuits disjonctés de Julie Mayer)
Scott Hardware est un éponyme qui vise juste, compte tenu du talentueux mélange de house, d'électro et de pop façon vieille école qu'a consolidé Scott Hardwood (alias Ken Park) sur cette cassette. Mutate Repeat Infinity, dont la sortie a eu lieu en juin dernier chez Banko Gotiti, pose du contenu lyrique complexe sur des rythmes décalés et énergiques. Il s'agit d'un album pop délicat qui te laisse deviner une intrigue plus grande avant de t'y emmener. Le nouveau protagoniste, c'est toi.
Scott Hardware – He Began Again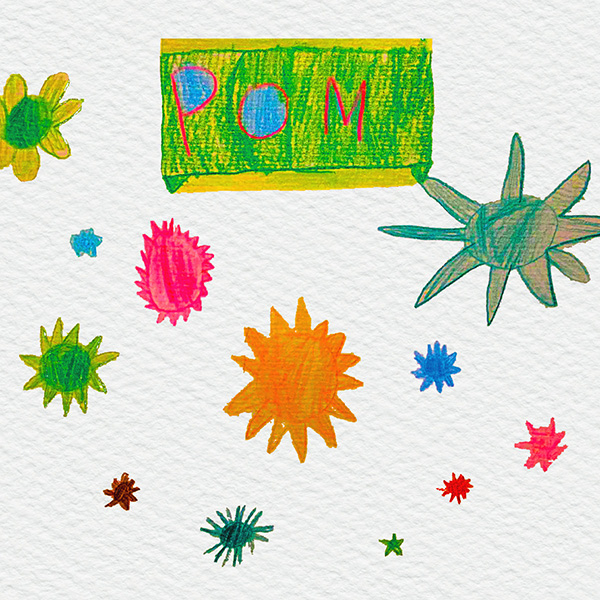 POM
POM EP
Self-released
Toronto, ON
From the archives of Mike Roi's Äppärät:
The Internet. Digital echoes become reflections of ourselves from the ideals (and flaws) of our bodies in the form of endless retweets, reactions and likes. This is nothing new, but POM find the beauty and horror lying in this relationship rallying to infinity. The syncopated rhythms of POM's instrumentals feel coolly calculated, but underscored by it all is the incongruent marriage of the real and the programmed. Its incompatibility knows no limits, but there is a thrill in the known and unknown beauty created by the shifting powers of control. "Take time to look inside – you're mine".
Archivée dans l'äppärät de Mike Roi:
(Traduit par l'encrier kaléidoscopique de Julie Mayer)
L'Internet. Les échos numériques deviennent les reflets de nous-mêmes, les idéaux (et les travers) de nos corps sous forme de gazouillis partagés, de réactions et de « J'aime » sans fin. Ça n'a rien de nouveau; POM a découvert la beauté et l'horreur se cachant derrière cette relation d'échanges à l'infini. Le duo semble avoir calculé de sang-froid sa musique instrumentale aux rythmes syncopés. Cependant, le tout met en évidence le mariage incongru du réel et du virtuel, de l'improvisation et de la programmation. Cette incompatibilité ne connaît aucune limite, mais un délicieux frisson réside dans la beauté connue et inconnue créées par le pouvoir changeant de l'emprise. « Prends le temps de regarder à l'intérieur; tu es à moi »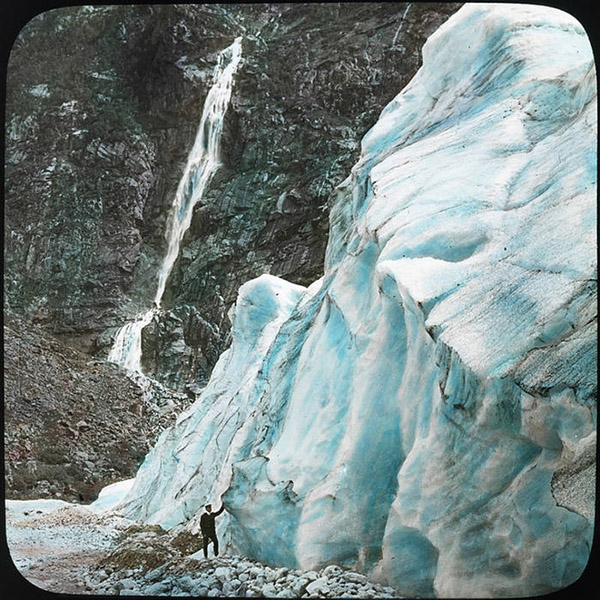 Man Meets Bear
I Want to Be a Gallant Rider Like My Father Was Before Me
Toronto, ON
From the S.A.D. mind of Laura Stanley:
Winter is steadily encroaching; I can see it on the lake. Its once affable body has grown cold and still. Man meets Bear speaks of this change. The swirling reluctance of autumn to end ("Elm"), the ice glistening on the lake's exterior ("Garrison Creek"), how an icy arm will plunge deep below the surface ("The Humber"). Despite the melancholy caught in their talk, Man meets Bear also presents small comforts for those who dread the dark days ahead. They remind us of the warmth of the holidays ("Xmas at Palais Royale"), how Spring always surfaces ("Fortunately, We Survived") and the world blooms anew once again ("Sun's Back").
De l'esprit triste de Laura Stanley:
(Traduit avec de la reconnaissance par Traducteur Interne)
L'hiver s'en vient. C'est constant. La surface du lac en témoigne. Une masse affable devint froide. Man meets bear parle de ce changement. De la réticence tourbillonnante d'automne qui s'éteint : (« Elm »). La glace étincelante du lac : (« Garrison Creek »). Comment un bras refroidi plongera profondément en dessous de la surface (« The Humber »). Malgré l'évidence de la mélancolie, Man meets Bear présent aussi des petits réconforts pour ceux et celle qui redoutent les journées sombres qui s'en viennent. Ils nous rappellent la chaleur des Fêtes: ('Xmas at Palais Royale »), que le printemps refleurit toujours (« Fortunately, We Survived ») et du fait que le monde s'épanouit de nouveau (Sun's Back »).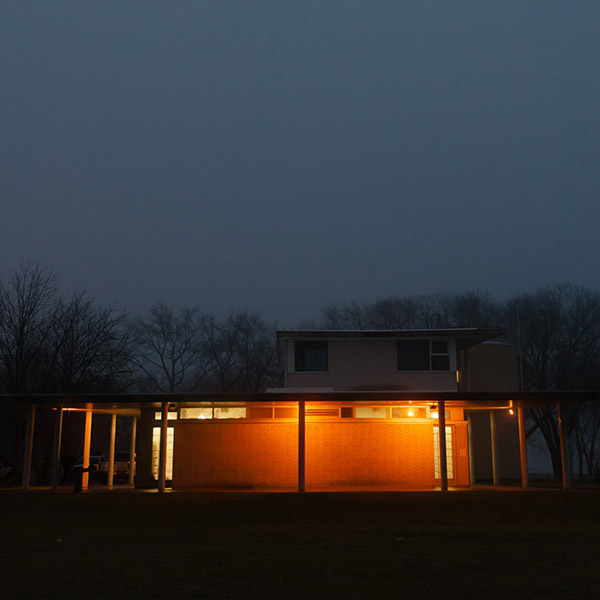 Anthéne
Permanence
Toronto, ON
From the unstable life of Laura Stanley:
Nothing is permanent. There are, though, natural phenomena that make us believe in stability: the dance between the sun and the moon, the ocean's breaths, the watchful eye of the goshawk. We often fall into steady routines, the fixedness of which quell our anxious hearts. The rolling darkness of anthéne's permanence is a reminder that the world, and everything held in its hands, is in flux. The denseness of the synths mimic the nebulosity of the future, pressing us to savour the present before it transfigures once again.
De la vie instable de Laura Stanley:
(De Moi Quevillon)
Rien n'est éternel. Par contre, il existe des phénomènes naturels qui nous font croire à une certaine stabilité : la danse entre le soleil et la lune, le ressac de l'océan, le regard attentif de l'autour des palombes.
Nous succombons facilement à ces routines sécurisantes qui offrent une constance apaisante à nos cœurs inquiets. L'obscur roulement de l'album Permanence d'Anthéne, nous rappelle que le monde dans son entièreté est un flux. La densité des synthés imite la nébulosité du futur, nous incitant impérieusement à savourer pleinement le présent avant qu'il ne se renouvèle encore une fois.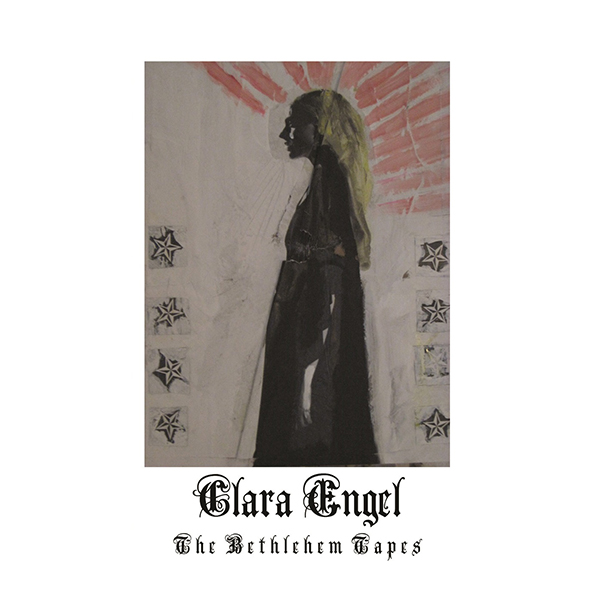 Clara Engel
The Bethlehem Tapes
Toronto, ON
From the folk noir of Joshua Robinson:
Dark lulls of quiet repose drift like so many memories in the night. Cathedrals echo with the pitter patter of a soft voice as it speaks of the space that exists between the spaces that take up the shape and form of the sounds we see behind closed eyes. The revenants that lilt from such great heights are far too misremembered to dare touch down once more. Rather, they stay in the rafters as their whispers and musky laughter fall onto the heads below, present again in the moment as they once were.
Du folk glauque de Joshua Robinson:
(Traduit par les sommets gargouillants de Marie-Pier Chevrier)
De sombres accalmies de repos tranquille dérivent comme autant de souvenirs dans la nuit. Les cathédrales résonnent du tapotement de la douce voix qui raconte l'espace existant entre les espaces ayant la taille et la forme des sons que l'on voit les yeux fermés. Les revenants qui se dandinent de ces hauteurs vertigineuses ont bien trop sombré dans l'oubli pour oser redescendre une fois de plus. Ils restent plutôt dans les poutres d'où leurs murmures et leurs rires musqués tombent sur les têtes plus bas, présents encore pour un moment tels qu'ils l'ont déjà été.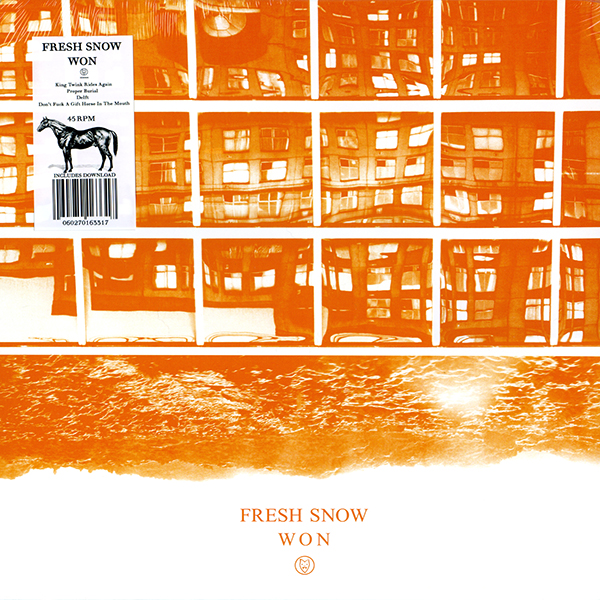 Fresh Snow
WON
Toronto, ON
From the frozen technology of Brendan Lehman:
City streets, forest paths; in and out, up and down. Running from one dirty thrill to the next euphoric hell. Fresh Snow is the score to your chase, sprinting with you as the graceful noise tears down walls and trees alike. Yet still, the sun will rise tomorrow.
De la technologie gelée de Brendan Lehman:
(Traduit par le soleil pensif de Maya Keshav)
Les rues de la ville, les chemins forestiers; ici et là, en haut et en bas. En courant d'un frisson louche vers le prochain enfer euphorique. Fresh-Snow est la bande sonore de ta chasse, qui court à toute vitesse avec toi pendant que les bruits gracieux démolissent les murs et les arbres. Mais tout de même, le soleil se lèvera demain.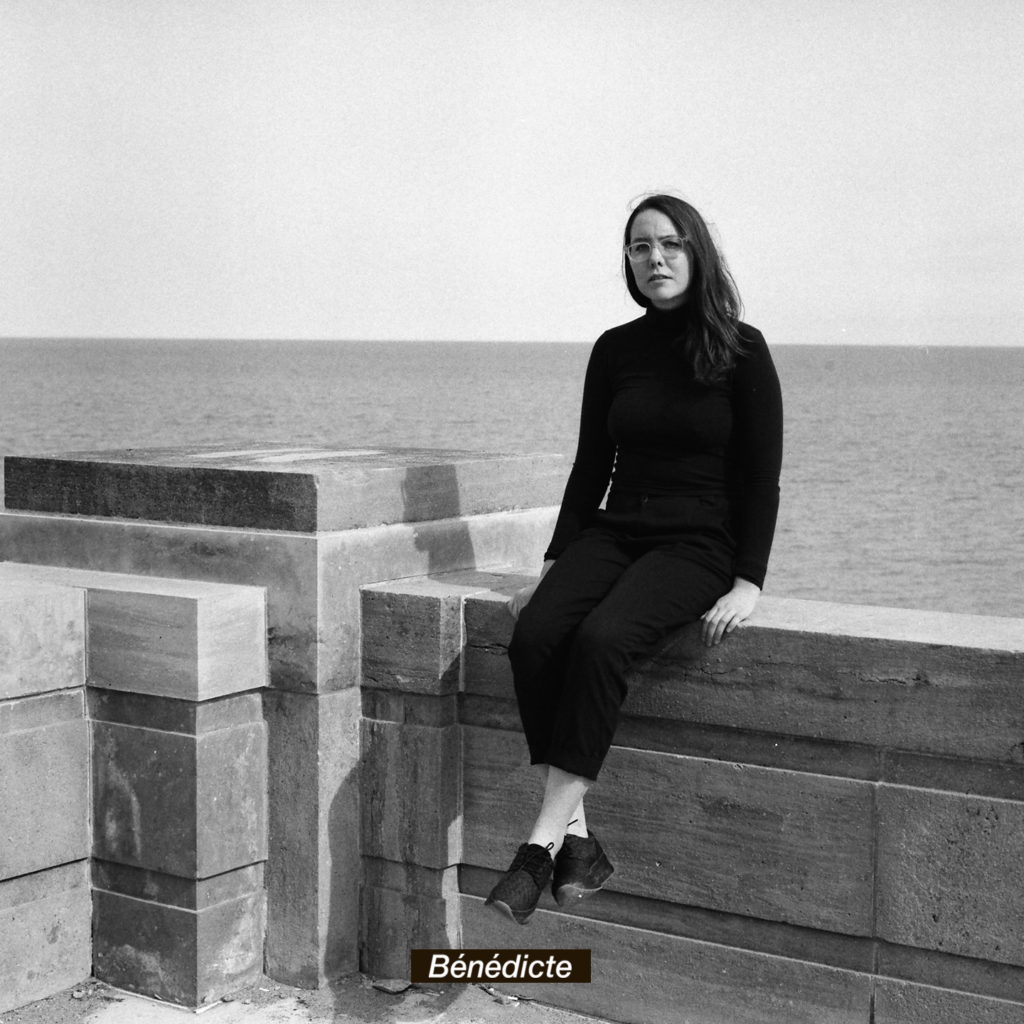 Bénédicte
Bénédicte
(Self-Released)
Toronto, ON
From the Famicon of Aaron Levin:
It's 1993 and your parents just got divorced. You don't really understand why because your entire life is Nintendo and there's no such thing as "divorce lawyers" in Bubble Bobble. But you persevere. Alone. Drifting. The universe is so big you just swim from planet to planet. You jam with some aliens on Mars before napping in the tidal overtures of Jupiter's gravity waves. It's 10,000 years before you realize you're being watched. Every move, thought, and frequency is permeated by The Watcher. The eyes. The gaze. The warrant-less destruction of private sanctity. It's arresting. It's jarring. You hate it. You want out. But how? You are the universe. Your death is the death of everything, all things, even the watcher itself. ¿ƃuᴉɥʇʎuɐ uǝʌǝ sᴉ ʇɐɥʍ ¿puǝ sƃuos ʇǝᴉnb ǝɥʇ op ǝɹǝɥʍ
Bénédicte's new EP, produced/performed entirely by Maxime Gordon, will be released on the 8th of September, grip it at their SoundCloud here.
Du Famicon d'Aaron Levin:
(Traduit par le Bubble Bobble d'Odile Leclerc)
C'est 1993 et tes parents viennent juste de divorcés. Tu ne comprends pas vraiment pourquoi parce que ta vie entière est le Nintendo et qu'il n'y a pas de chose comme des « avocats de divorce » dans Bubble Bobble. Mais tu persévères. Seul. Dérivant. L'univers est tellement grand que tu nages simplement de planète en planète. Tu jam avec des extraterrestres sur Mars avant de faire une sieste dans le raz-de-marée des ouvertures de la gravité de Jupiter. Ça prend 10 000 ans avant que tu réalises que tu es surveillé. Chaque mouvement, pensée et fréquence est filtré par les Observateurs. Les yeux. Le regard. La destruction sans garantie de la sainteté privée. C'est frappant. C'est choquant. Tu détestes ça. Tu veux t'en aller, mais comment? Tu es l'univers. Ta mort est la mort de tout, de toutes les choses, même des l'observateur lui-même. ¿ɐç ʇnoʇ uoçɐɟ ǝʇnoʇ ǝp ʇsǝ'ɔ ǝnb ǝɔ-ʇsǝ'no ¿sǝllǝ-ʇuǝssᴉuᴉɟ sǝsnǝᴉɔuǝlᴉs suosuɐɥɔ sǝl ùo
Le nouvel EP de Bénédicte, produit/réalisé entièrement par Maxime Gordon, sera publié le 8 Septembre, la saisir à leur SoundCloud ici.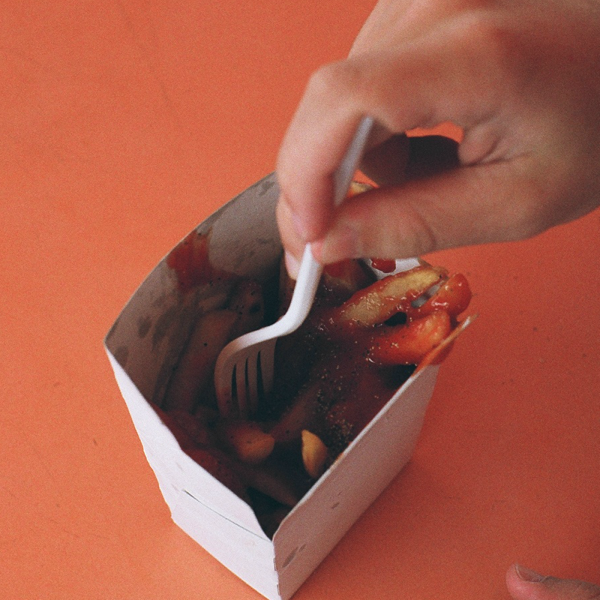 LA ROSE
lean period
(Self-Released)
Toronto, ON
From the scraped knees of Joshua Robinson:
Bedroom sophistry unfurls late-night curlicues, its lo-fi heartache screaming synthesized apologies that bounce off walls to rest, at long last, in the deepening emptiness of the space between weary ears. A catalogue of downtrodden pop-plunderphonics that bleed soft-spoken requiem; these entries are retreating voices and cigarette smoke, turning bright and polished daydreamed lovery into pale, ghostly, mournful parables. Intoned sepia dreams; clouded glasses and knees scraped against sharp pavement. The answer to the echoes that dance upon an upside down stage eyes hooked to the shadows that move across quiet ceilings.
Des genoux râpés de Joshua Robinson:
(Traduit par les roucoulades douces de Maya Keshav)
Le sophisme d'alcôve déroule des enjolivures nocturnes, pendant que son chagrin lo-fi hurle des excuses synthétisées qui rebondissent sur les murs jusqu'à ce qu'elles se reposent, enfin, dans le vide de plus en plus grand entre des oreilles fatiguées. Un catalogue des pop-plunderphonics opprimés qui dispersent le requiem doux; ces entrées sont des voix en retraite et de la fumée de cigarette qui transforment les roucoulades rêvées brillantes et bien polies en paraboles pâles, spectrales, et funèbres. Les rêves sépia entonnés; la buée sur les lunettes et les genoux égratinés par la chaussée rugueuse. La réponse aux échos qui dansent sur une scène à l'envers, les yeux rivés aux ombres qui se déplacent sur les plafonds silencieux.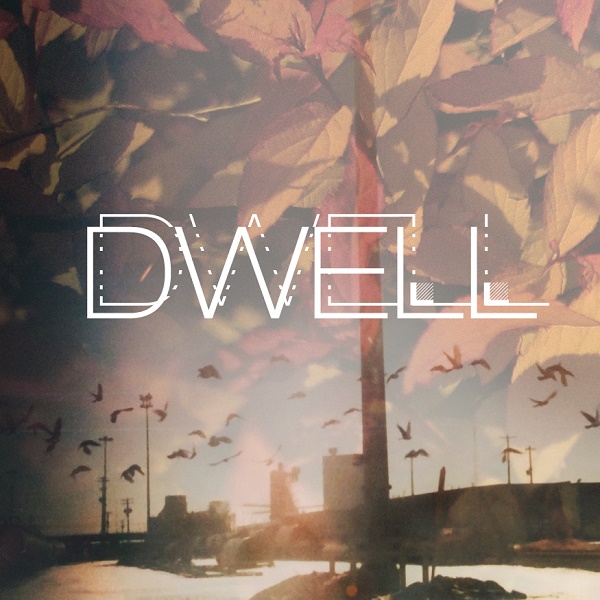 Dwell
Dwell
(Self-Released)
Toronto, ON
From the sultry snazz of Charlotte White:
Dwell is the brainchild of Andrew Noakes, captured by Felicity Williams' vocals and enveloped in the thick molten honey of his accompaning musicians. Each note quivers and ebbs, begging for release on every crescendo. Will you surrender to the apex? Will you revel in the acme?
Du snazz sensuel de Charlotte White:
(Traduit par Odile Leclerc)
Dwell est l'invention originale d'Andrew Noakes, capturé par la voix de Felicity Williams et enveloppé dans le miel chaud et épais de ses musiciens accompagnateurs. Chaque note tremble et décline, demandant jouissance sur chaque crescendo. Allez-vous abandonner au sommet? Allez-vous vous délectez dans l'acmé?
---