Tag: tops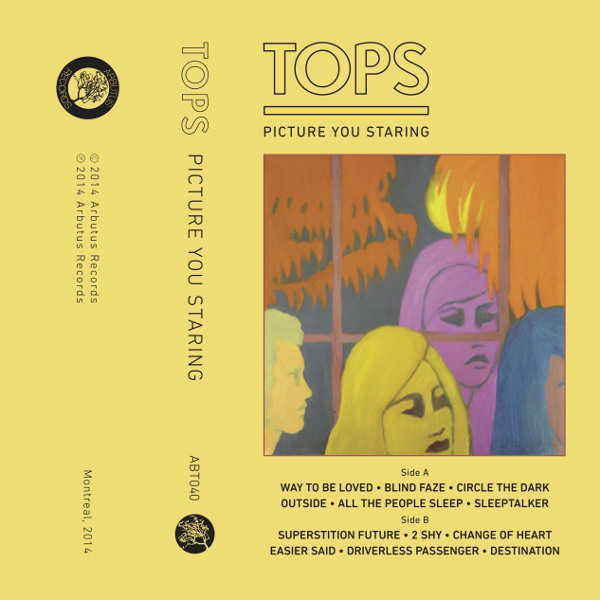 TOPS
Picture You Staring
Montréal, QC
From the streetlight shadow of Stefana Fratila:
Circling the dark, the velvet that is TOPS presses lightly against us, asking "were you gonna let me know? Were you even gonna try?" Reading from the Book of Love, these moments are coated in plush synth sounds and Jane Penny's lustruous vocals, floating around the ways of being seen, of watching, and the in-between. Interlocking with David Carriere's guitar, a whispered scream breaks open within a singing wound: "Am I longing for something to remain when it's time to move on?" Moon-talkers on the way back in from outside, TOPS bring us the daylight, "you're the reason why."
De l'ombre du réverbère de Stefana Fratila:
(Traduit par le velours dévoré d'Elina Korchagina)
Encerclant la noirceur, le velours de TOPS nous pousse légèrement, demandant : « Allais-tu me le faire savoir? Allais-tu même essayer? » Rappelant « Book of Love », ces moments sont recouverts de sons somptueux de synthé et du chant brillant de Jane Penny, s'éparpillant entre les façons d'être vu, de regarder, et de tout ce qui se trouve entre les deux. S'entremêlant avec la guitare de David Carriere, un cri chuchoté se fait entendre en une blessure chantée : « Suis-je en attente de quelque chose qui restera quand il faudra passer à autre chose? » Parlant à la lune sur le chemin du retour, TOPS nous apporte la lumière du jour, « Tu en es la raison. »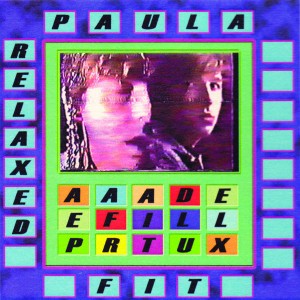 Paula
Relaxed Fit
Montréal, QC
From the blue sunrise of Simon Frank:
More than a year after it was released online, Paula's Relaxed Fit hits the vinyl big time. In the meantime, Tops guitarist David V. Carriere's alter ego has helped me soundtrack 12-hour bus rides, poured out of roommates' speakers during exam season, and made it to the playlist at a party or two. Relaxed Fit is a high-quality collection of semi-electronic, hyper-positive pop miniatures. Punchy drum machines, synth hooks, and cut-up processed guitars set up meaningless/meaningful, melancholic/euphoric lyrics. Even Cadence Weapon stops by for a guest verse, and on "Totally Nice" (one of two previously unreleased tracks) most of the chorus is just "ecstasy!" shouted out. So only one question remains: when we will get the Prime Cuts 12"?
American dreamers: David Carriere from Paula is currently on tour with his other band TOPS. They're playing shows with Sean Nicholas Savage and King Krule. See the Arbutus Records page for more info!
Du lever de soleil bleu de Simon Frank:
(Traduit de l'aube azur de Catherine Gaucher)
Plus d'un an après sa sortie en ligne, Relaxed Fit de Paula nous frappe de plein fouet en vinyle. Entre-temps, l'alter ego de David V. Carriere, guitariste de Tops, m'a déjà fourni la bande sonore pour mes interminables périples d'autobus, a joué dans les haut-parleurs de mes colocs durant les fins de session et s'est immiscé dans une fête ou deux. Semi-électronique et ultra-positif, Relaxed Fit est une brillante collection de miniatures pop. De percutantes boîtes à rythmes, des synthés entraînants et des collages de guitares modulées mettent la table pour des paroles insignifiantes/signifiantes, mélancoliques/euphoriques. Même Cadence Weapon s'invite le temps d'un couplet, tandis que le refrain de «Totally Nice!» (l'un des deux titres précédemment inédits) est un pur cri d'« extase! ». Une seule question demeure : quand aurons-nous droit au 12 pouces de Prime Cuts?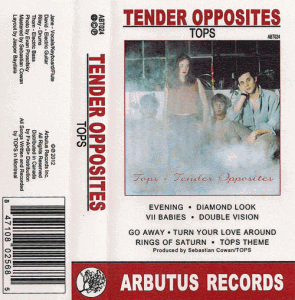 TOPS
Tender Opposites
Montreal, QC
From the jazzy moxy of James Lindsay:
In a way, TOPS embodies the Arbutus aesthetic. A world where it's always mid-summer, where the spirit of AM radio whimsically floats on warm air, and, because this is Montreal, we can drink in the park and not worry much about rent (I write this from Toronto where we worry about rent often and our musical equivalent might be the soon to be disbanded Foxfire). In TOPS, one can hear the jazzy moxy of Sean Nicholas Savage and Grimes' fey vocals, touches of Tonstartssbandht's echo pop and even hints of Doldrums' psych-synths. If Arbutus was a novel, the TOPS chapter might be subtitled "Simpler Times, Happier Times." And in a better world, this is what Stephin Merritt's good moods would sound like.
Des tripes jazzy de James Lindsay: (Traduit par Maya Keshav)
Dans un sens, TOPS incarne l'esthétique d'Arbutus. Un monde où on est toujours au milieu d'été, où l'esprit de la radio AM vole originalement dans l'air et, parce que c'est ici Montréal, on peut boire dans le parc et on n'a pas besoin de s'inquiéter trop pour le loyer (J'écris de Toronto où on s'inquiéte souvent pour le loyer et notre équivalent musical peut être le bientôt défunt Foxfire). Dans TOPS, on peut entendre les tripes jazzy de Sean Nicholas Savage et le chant féerique de Grimes, les touches de l'écho-pop de Tonstartssbandht et il y a même les soupçons des psych-synthés de Doldrums. Si Arbutus était un roman, le chapitre de TOPS pourrait avoir comme sous-titre "Les temps plus simple, les temps plus heureux." Et dans un meilleur monde, c'est cette musique à laquelle les bonnes humeurs de Stephin Merritt ressembleraient.
---