Tag: tobias rochman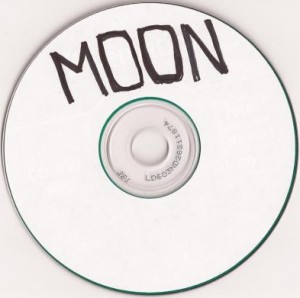 Moon
Moon
(Self Released)
Halifax, NS
From the moulting expectations of Tobias Rochman:
Halifax group Moon's name is either paying tribute to Divorce Records owner Darcy Spidle's daughter, the directorial debut of David Bowie's son, a bare ass, a cult or all of the above.
The blank, bold, minimalist gesture that is this self-released CDR's packaging is a clever comment on cyber-capitalism, the diminishing role of the craftsperson in the digital age, disposable blog music as a tribal signifier used in sexual courting, and the modern record label as a middleman mournfully splitting the crumbs of a pie no one ordered.
This is an impressive debut. It is a snake in dog's clothing, moulting expectations, shedding careless first impressions and slithering towards the heat lamp of your heart. Moon's reflective pop music offers itself as a companion, setting the world to a kraut-beat like a ticking clock, a soundtrack for all that happens until that unseen final moment when — your foot already in the stirrup — death's famous black horse arrives.
For those of us not anticipating the expansion of government controlled drone-killings on home or foreign soil, tangerine coloured "reality augmentation" glasses pumping ads straight to our retinas, or the slapdash reality TV contest that will decide the next leader of the Catholic church, at least we'll have more from this promising group to look forward to.
Des lunettes lunatiques de Tobias Rochman:
(Traduit par Laurence Ouellette et Nicolas Coutlée)
À quoi le nom du groupe Moon fait-il référence? Est-ce un hommage à la fille du fondateur de Divorce Records, Darcy Spidle? Aux débuts cinématographiques du fils de David Bowie? À un cul à l'air? À une secte? À chacune de ces réponses?
Le format ultra-minimal, presque audacieux, de ce CD-Rom auto-produit suggère que le groupe d'Halifax sait très bien qu'il s'insère dans un monde où règne un cyber-capital qui propulse une musique jetable et immatérielle en abondance, ou encore que les labels, affairés à répartir des miettes de pain, sont en obsolescence avancée.
En tout cas, Moon ne laisse pas indifférent. Tel un serpent dissimulé sous une fourrure de chien, il hurle à la lune et glisse, avec une nonchalance reptilienne, tout droit vers la lueur infra-rouge de votre coeur. Moon vient se lover en vous sans hésitation, et vous enveloppe de sa pop opale sur un beat krautrock. Une trame sonore sublime pour n'importe quel moment; même le dernier.
Pour ceux d'entre vous qui n'attendent pas avec impatience de voir les avions drones se multiplier, de faire l'acquisition de lunettes de « réalité augmentée » orange bombardant votre rétine de publicités plus qu'elle ne l'est déjà ou de vous taper la prochaine télé-réalité pour l'élection du prochain leader du Vatican, consolez-vous; il y a toujours Moon, qui promet de nous en donner encore.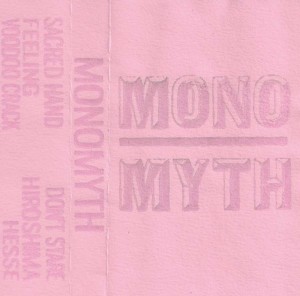 Monomyth
Monomyth
(Self Released)
Halifax, NS
From the sacred hands of Tobias Rochman:
Like most modern acts, Monomyth's palette is wide. Several seeds are sewn to create the over all, glue-heavy, floral print, guitar-jungle, info-age, post-mailorder decoupage. The A-side is all hooky, ramshackle, Flying Nun, weirdo pop anthems wherein several young men all sing the same thing at the same time. Ze B-side is more textural, very '90s, very foggy British haze-gaze psychedelia. Basic beats scale back the cheese and slather on ze butter. It's pretty enough to be popular but you get the impression they are "taking the piss" rather than "taking a piss". Hopefully all the prospective labels out there get ze memo about ze demo. Halifax always has between 2-4 2,000 – 4,000 (*) good bands at any given time. In my opinion Monomyth are on the tippy-top of that heap.
(*) Editor's Note: we at Weird Canada know Halifax to be one of Canada's strongest terrestrial power points, as evidenced by its infinite proliferation and continuous leadership across the Canadian musical cosmos. After consulting with several real life mathematicians and counting the plethora of Haligonian cassettes prominently displayed at Weird Canada HQ, we've added some zeros to the original estimation.
Des mains sacrées de Tobias Rochman: (Traduit par les mains épuisées de Maya Keshav)
Comme la plupart d'actes modernes, la palette de Monomyth est grande. Plusieurs graines sont cousues pour créer le decoupage général, trempé de colle, floral, jungle-de-guitare, âge d'informatique, post-correspondance. La face A n'est que les hymnes bizarres, accrocheux et délabrés à la Flying Nun, dans lesquels plusieurs jeunes hommes chantent tous la même chose en même temps. The face A est plus texturée, tellement années 90, le psychédélisme tellement flou et anglais et haze-gaze. Les rythmes simples réduisent la ringardise et étalent the beurre. C'est assez beau d'être populaire mais il te donne l'impression qu'ils sont auto-dérisoires plûtot que détendus. Avec un peu de chance, toutes les étiquettes vont recevroir the annotation à propos de the demonstration. Halifax a toujours entre 2-4 2,000 – 4,000 (*) bons groupes à n'importe quel moment. Selon moi Monomyth est sur le sommet de ce tas.
(*) Le redacteur ajoute: nous à Weird Canada sait que Halifax est un des points de pouvoir le plus fort du Canada, tel que vu avec sa prolifération infinie et sa direction continuelle à travers le cosmos musical du Canada. Après avoir consulter avec quelques mathématiciens vraie-vie et d'avoir numeré la pléthore de cassettes Haligoniennes qui sont mis en vedette au siège de Weird Canada, on a ajouté quelques zéros à l'estimation originale.
Actual Water
La Violence sur Les
Champs-Élysées
[Director: Danielle Nemet]
Toronto, ON

Actual Water have been spitting out some freaky-deaky and/or brilliant low run
tapes
and
lathes
over the past few years. Now they're finally gearing up for their first full-length LP, which comes out next month on Unfamiliar. I'm happy to report that the promo-video/single has just dropped and the weird ones have caught it. The group is working some happy,
Flying Nun
thing
that's a nice change of weather from all the goth-waves washing up our shores. Please don't let me be misunderstood. I love all the depressing
blizzard-queen/rave-witch
stuff, but it's great to take a short break from it as the weather starts to get colder. That's how I'm feeling anyway.
I've always liked director Danielle Nemet's photo-blog, Sombre Reptiles, so it's nice her footage puts you in the same warm-world as the snapshots. Kinda had my fingers crossed the singer would bust out rapping by the end but he never did. It's still the most fun video I've seen in a long time. Thanks Actual Water!
Dirty Beaches
White Sand
[Director: Tsien-Tsien Zhang]
[Cinema.: Christopher Doyle]
Vancouver, B.C.

Not exactly sure how the entire world missed this one. Very quietly sometime last week Alex Zhang Hungtai a.k.a.
Dirty Beaches
posted the final product of one of his dreams come true: a music video directed by Tsien-Tsien Zhang with cinematography by
Christopher Doyle
. Mr. Doyle is of course the man who helped give legendary Hong Kong director Wong Kar-wai's films their distinct look with his fast & loose approach to shooting. The result of this unique technique gives the work a very natural, human perspective. You quickly forget you are even watching a film and sink deep into the world they create.
Doyle & Kar-wai's collaborations include a long list of masterpieces such as Chungking Express (1994), Fallen Angels (1995), Happy Together (1997), In the Mood for Love (2000), etc, etc. The video for "White Sand" feels very much like a vignette from one of these films with its voyeuristic, fly-on-the-wall approach, moody drifting shots and abundant (but mild) NSFWisms. It's clear with the absence of >tired tropical tropes, that is to say the imagery that indie-rock has beyond pillaged in the last few years, that "White Sand" stands as simply a state of mind.
In the days where most young bands use old sourced footage to make quick videos on the cheap in a fast grab, the impact might not be as heavy seeing something so eloquent, warm grainy and hypnotic. Your connectopathic brain is trained to think that something so beautiful could not possibly be original. However when you are informed that this is original footage, shot and directed by professionals specifically to accompany the music it takes on a whole new life and meaning. We are simply not used to seeing this type of thing attempted by unsigned bands in the underground.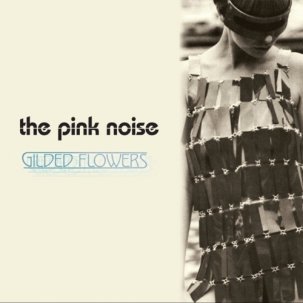 The Pink Noise
Gilded Flowers
Montreal, QC
From the tinted soul of Tobias Rochman:
Once again, Pink Noise mastermind Mark Sauner sounds like a laid-back, drug dealing, cartoon street hustler leaning against a brick wall trying to sweet-talk you. Are you going to get inside his black Cadillac and go for a cruise? I warn you he's headed for a futuristic district. The windows to this man's soul may be tinted, but it's a luxury ride to the finish line. This is mutant-making music. These anthems would provide the suitable soundtrack for a dystopian inner-city youth centre with a poisoned water supply. The Pink Noise is truly a national treasure and sorely under recognized for its achievements in the field of sleaze. // [Editor's note: Yes, we already posted about this album in its original format. This is its fourth pressing and first on wax from the good foks at Pleasence, and it sounds sleazier than ever…]
De l'âme teintée de Tobias Rochman: (Traduit par Odile Leclerc)
Une fois de plus le génie de Pink Noise, Mark Sauner sonne comme un escroc d'animations de rue, relax, marchandeur de drogue appuyé contre un mur de brique essayant de vous flatter. Allez vous entrez dans sa Cadillac noire et partir pour une croisière? Je vous avertis : il se dirige vers un district futuriste. Les fenêtres vers l'âme de cet homme sont peut-être teintées, mais c'est une promenade luxueuse vers la ligne d'arrivée. C'est une musique faiseuse de mutants. Ces hymnes fourniraient la bande sonore appropriée pour un centre jeunesse dystopien à l'intérieur de la ville avec un approvisionnement d'eau empoisonnée. Le Pink Noise est réellement un trésor national et fortement sous-reconnu pour ses réussites dans le champ de lie. // [note d'Ed : oui, nous avons déjà publié à propos de cet album dans son format original. C'est son quatrième pressage et son premier sur de la cire des bon gens à Pleasence, et ça sonne plus malveillant que jamais…]
The Pink Noise – Shy Guy Beach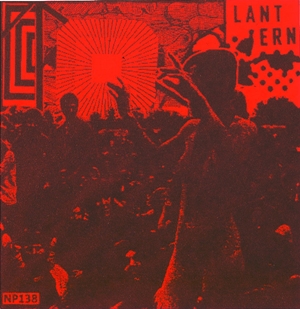 Lantern
Stranger I Come. Stranger I Leave.
Halifax, NS // Montreal, QC // Phila., PA
From the Chevy Chase face of Tobias Rochman:
With this newest offering, Lantern have fully harvested their Hasil Adkins hee-haw while continuing to bury themselves alive in a blizzard of Bo's beats. What am I talking about? A refreshing bad-breath, proto-punk, Rat Fink mud bath in which you can finally erase your pockmarked Chevy Chase face. You the listener are transported via the filth to the absolute crispiest and most burnt ends of the fuzz n' buzz spectrum. There are too many notes in the solos to say they sound like The Cramps, but you get the idea. The opening title track steers the clearest, with an instrumental dub-stomp my co-workers agree is trippy. Lantern is the best band in North America.
Du visage Chevy Chase de Tobias Rochman: (Traduit par la crasse de Maya Keshav)
Avec cette dernière création, Lantern ont moissonné complètement leur hi-han à la Hasil Adkins pendant qu'ils continuent de leur enterrer vivants dans un blizzard des rythmes de Bo. De quoi je parle? Un bain de boue rafraîchissant de mauvaise haleine, de proto-punk et de Rat Fink dans lequel tu peux effacer enfin ton visage grêlé de Chevy Chase. En tant qu'écouteur tu es transporté via la crasse aux extrêmes les plus croustillants et brûlés de la gamme de duvet et bourdonnement. Il y a trop de notes dans les solos pour dire qu'ils ont l'air de The Cramps, mais tu comprends l'idée. La titre-chanson d'ouverture reste la plus à l'écart, avec un dub-stomp instrumental à propos duquel mes collègues sont d'accord: c'est psychédélique. Lantern est le meilleur groupe de l'Amérique du Nord.
Lantern – Stranger I Come. Stranger I Leave.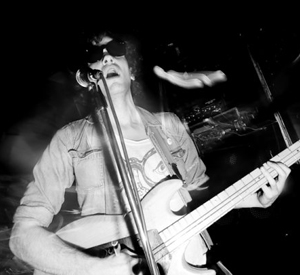 Tobias Richman (Grand Trine)

Montreal, QC
Way back in June, when Weird Canada was just a baby and myself a hopeful daddy, Grand Trine's Bruised Tongue debut was an easy target for the early review block. Their fastidious minimal-synth-mockery and blasted anthems had me swooning like my first MJ concert. So, it was my pleasure to publish Zachary Devereux Fairbrother's interview with Tobias Rochman, Grand Trine's leading bass-shredding vocalist. Zach plays with Omon Ra/Omon Ra II and has his own eccentric gravity well called Avant Lard. Because one back-rub begets another, keep your homepage set to Avant Lard and a special Weird Canada mix will soon be yours for the sexing.
Aaron Levin
Weird Canada / Cantor Records
————
Zachary: Your music both past and present has always incorporated images of mythology, spirituality, and magic. Along with music that is quite, "heady", and your new record, "Sunglasses," you say is a tribute to their "iconic symbol of rebellion." How do these images and symbols shape your art and life?
Tobias: When I said Sunglasses were an iconic symbol of rebellion I was referring to the instant detachment they provide. I suppose I was gesturing at a classic detachment equals enlightenment debate. But the bait was never taken. Even moving past that conversation (which never happened as I said) to detach equals to rebel. To defect. As a symbol in our culture we see it in everything from The Black Panther Party to The Jesus and Mary Chain. It is completely ingrained, understood and unquestioned. I wanted to use something obvious, blunt and digestible that conveyed this message or transmitted these values very clearly and instantly. I wanted caveman-like simplicity with no room for interpretation or imagination. All the pretentiousness aside it is also a very stupid name – which I love!
They don't as much shape my life as they do our culture as a whole. I guess trying to think about it right now, the last release I did for Divorce was 'Vision Correction' (with Be Bad) and after you get your eyes fixed there is usually a period of aftercare where your eyes can't process regular light and you have to wear polarized sunglasses for a week as your eyes are crusting over. Maybe unconsciously there is some greater concept being played out. Maybe 'Sunglasses' is just the next step. Or maybe I am obsessed with alterations and adornments to the "window of the soul" and what that might mean. I'm too close to it to know what it might say about me. Or maybe I am just grasping at straws here.
Honestly with our name being esoteric.. I make a conscious effort to eliminate overt spirituality (especially references) in this project. I don't want it to be corny and cheap. More and more I have been obliterating those themes to balance everything out. There are two projects I have seen recently which have a really in-your-face spiritual-jargon-wank-fest and both left a really bad taste in my mouth and helped me re-think the approach. I think it was Aleister Crowley, or maybe it is just a popular occult saying that goes "Those who know, say nothing." Very often the people who talk the most about these things, and are eager to talk the most about that them, know very little or nothing at all. I have no interest in exploiting occult symbolism. Or shticks in general for that matter. It's okay to just read books about strange topics of interest, without feeling the urge to ram it down the throats of your listeners.
I remember in a conversation we had that you said that you believe you can do anything with the power of rock and roll, or something to that extent. Can you expand upon this?
I'm sorry I don't remember that conversation. It sounds like awful Bono rhetoric out of context. You must have caught me in a moment where I was leaking idealism. I am fairly moody sometimes. I can tell you for sure that "Raw power's got a healin' hand. But raw power can destroy a man. Raw power is more than soul. Got a son called rock and roll. Raw power honey just won't quit. Raw power I can feel it." if that offers any insight on the topic.
You come from a musical lineage so to speak, your father played in garage rock band called "The Bohemians" in Montreal in the 1960's. You appear to be following in his footsteps. You've also mentioned to me that your saxophone player is a third generation saxophonist. How does this idea of lineage and personal heritage shape your personal mythos and your bands?
Well my father moved to Australia when I was in my early teens and we were not very close at that time. I think by moving to the city he was born in, playing the instrument he plays, and roughly the same style of music probably says something. I know Carl Jung says about children trying to live our their parents unlived dreams. I just don't see it as a negative thing. I had a good conversation with Alex from Dirty Beaches on this topic. He was telling me his father was a doo-wop singer and the only trace of this former life that survived was one photograph. But we we discussed the importance of that photograph to him and his development as an artist. And how Dirty Beaches started as an experimental project, and slowly evolved, release by release into a 1 man doo-wop act (although still modern & innovative in his setup). I suppose you could say something similar might be happening starting with very abrasive noise-rock with Be Bad and now moving or growing into more hook-based garage-rock in Grand Trine. But the transformation has been a little bit demented. For instance, I still bleed most times when I play. And although I am working on it I still struggle to sing and not yell. Maybe it's a lack of talent on my part. My biggest strength has always been choosing quality collaborators. I would love for Grand Trine to cover The Bohemians' B side "Say it" and to have that released as a 45rpm B side.
How has your new home of Montreal changed they way you make music? Thinking in terms of language, social environment, scenic institutions, and employment.
The most obvious influence it just the total stream of new ideas and music coming through constantly. You see all the legends Sonic Youth, Butthole Surfers, The Jesus Lizard, Sun City Girls and all of the best new bands in the underground Human Eye, Tyvek, Thee Oh Sees, Wet Hair etc.. You get to see everything and then decide for yourself what is good and why it is good. I have been able to see and meet lots of the people who I used to play on my radio show in Halifax. I feel like seeing and experiencing first hand is the best way to learn. And maybe just seeing that everyone who plays in these groups are just normal people (maybe with the exception of Timmy Vulgar from Human Eye who is a paint gargaling rock and roll animal).
The most obvious influence it just the total stream of new ideas and music coming through constantly. You see all the legends Sonic Youth, Butthole Surfers, The Jesus Lizard, Sun City Girls and all of the best new bands in the underground Human Eye, Tyvek, Thee Oh Sees, Wet Hair etc.. You get to see everything and then decide for yourself what is good and why it is good. I have been able to see and meet lots of the people who I used to play on my radio show in Halifax. I feel like seeing and experiencing first hand is the best way to learn. And maybe just seeing that everyone who plays in these groups are just normal people (maybe with the exception of Timmy Vulgar from Human Eye who is a paint gargaling rock and roll animal).
The underground/DIY/loft-scene here is amazing and sometimes shows can be like raves (with better music). 200 people. Byob. There is nothing better. There is just a general sense of being in the right place at the right time. You don't even have to say that out loud to your friends. Everyone just knows. The plotlines of future documentaries are being played out in front of our eyes. This is a special city in a special time.
Lastly, we are entering winter, a time for reflection, especially for many of those in the cold winters of interior Canada. You must be thrilled with how things have come together over the last year, what do you hope for 2010?
Grand Trine will have a string of vinyl eps and singles coming out during the winter months. After that we will start touring for longer periods of time. Actually all of our friends bands (Dead Wife, Ultra Thin etc) are starting to play more shows outside of the city and are all about to make the jump from release cassettes to vinyl. A lot of groundwork has been laid in 2009 to make 2010 as exciting as possible for everyone in the MTL scene. Its starting to feel like the weeks are passing like minutes. Right now I am just focused on making our 12″ release show the biggest party possible. That will be January 2010. We are just trying to find the right location to hold it. The line up has been confirmed and it's going to be new local power-duo The Homosexual Cops & the awesome new girl-group garage rock band The Peelies.
Zachary Devereux Fairbrother:
(Traduit par Odile Leclerc)
De retour en juin, quand Weird Canada n'était qu'un bébé et moi-même un père plein d'espoir, les débuts Bruised Tongue de Grand Trine était une cible facile pour le jeune bloc d'examen. Leur fastidieuse moquerie de synth minimale et les hymnes à fond m'ont fait vaciller comme mon premier concert de MJ. Alors, ce fût mon plaisir de publier l'interview de Zachary Devereux Fairbrother avec Tobias Rochman, le chanteur déchireur de basse en tête de Grand Trine. Zach joue avec Omon Ra/ Omon Ra II et il a son propre puits de gravitationnel excentrique appelé Avant Lard. Parce qu'un grattage de dos en engendre en autre, garder votre page d'accueil réglé sur Avant Lard et un mix spécial de Weird Canada va bientôt être le vôtre pour du sexting.
Aaron Levin
Weird Canada / Cantor Records
————
Zachary: Votre musique autant celle d'avant et de maintenant, a toujours incorporé des images de mythologie, de spiritualité et de magie. Avec la musique qui est assez "rigoureuse" et votre nouvel enregistrement, "Sunglasses", vous dites que c'est un hommage à leur "Symbole iconique de rébellion". Comment ces images et symboles transforment votre art et votre vie?
Tobias: Quand j'ai dit que Sunglasses était un symbole de rébellion je faisais allusion au moment de détachement qu'il donne. Je présume que je faisais signe qu'un détachement classique égale à un débat d'éclaircissement. Mais personnes ne mordit à l'hameçon. Même en passant par dessus cette conversation (qui n'est jamais arrivé, comme je l'ai dit) pour détacher des semblables à se rebeller. À abandonner. En tant que symbole de notre culture nous le voyons dans tout, partant de The Black Panther Party à The Jesus And Mary Chain. C'est complètement engrainé, compris et non questionné. Je voulais utilisé quelque chose d'évident, de cru et digestible qui communiquait bien ce message ou qui transmettait ces valeurs très clairement en instantanément. Je voulais une simplicité d'homme de caverne sans espace à l'interprétation ou l'imagination. Toute prétention de côté, c'est un aussi un nom vraiment stupide-lequel j'adore!
Ils n'ont pas vraiment transformé ma vie comme ils le font pour notre culture en tant qu'un tout. Je devine qu'essayer d'y penser maintenant, la dernière mise en vente que j'ai faite pour Divorce était 'Vision Correction' (avec Be Bad) et après que vos yeux soient ajustés, il y a généralement une période de suivi où vos yeux ne peuvent pas traiter la lumière normale et vous devez porter des lunettes de soleil polarisées pour une semaine pendant que vos yeux s'encroutent. Peut-être qu'inconsciemment il y a un concept plus grand prenant place. Peut-être que "Sunglasses" est simplement la prochaine étape. Ou peut-être que je suis obsédé avec les altérations et les ornements à la '' Fenêtre de l'âme'' et ce que ça pourrait dire. J'y suis trop près pour savoir ce ça pourrait dire à propos de moi. Ou peut-être je suis juste entrain de m'accrocher au moindre espoir ici.
Honnêtement, avec notre nomme étant ésotérique, Je fais un effort conscient pour éliminer une spiritualité transparente (spécialement des références) dans ce projet. Je ne veux pas que soit banal et bon marché. De plus en plus j'ai effacé ces thèmes pour équilibrer le tout. Il y a deux projets que j'ai vus récemment qui a vraiment un air de fête-de- branlettes -en-jargon-spirituel-dans-ta-face et les deux ont laissé un mauvais goût dans ma bouche et m'ont aidé à repenser l'approche. Je pense que c'était Aleister Crowley, ou peut-être c'est juste un occulte dicton populaire qui dit : "Ceux qui savent, ne disent rien." Très souvent, les gens qui parlent le plus à propos de ces choses et qui sont désireux d'en parler encore sont ceux qui n'en connaissent rien ou peu. Je n'ai pas d'intérêt à exploiter le symbolisme occulte. Ou à faire un numéro en ce qui me concerne. C'est correct de juste lire des livres sur des topiques d'intérêts étranges sans ressentir le besoin de l'enfoncer dans la gorge de votre auditoire.
Je me souviens dans une conversation que nous avions eu, vous aviez dit que vous croyez être capable de tout sans le pouvoir du rock and roll, ou quelque chose comme ça. Pouvez m'en dire plus à ce juset?
Je suis désolé, je ne me souviens pas de cette conversation. Ça sonne comme une affreuse rhétorique hors contexte de Bono. Vous devez avoir tombé sur moi dans un moment où j'avais une fuite d'idéalisme. J'ai des sautes d'humeur parfois. Je peux vous dire assurément que "le pouvoir brut a une main guérisseuse. Mais du pouvoir brut peut détruire un homme. Du pouvoir brut est plus que l'âme. L'a un fils appelé rock and roll. Le pouvoir brut chérie ne va pas abandonner. Le pouvoir brut je peux le sentir." Si ça peut offrir un aperçu du topique.
Vous venz d'une lignée musiquale si on veut, votre père jouait dans groupe rock de garage appelé "The Bohemians" à Montréal dans les 1960. Vous semblez suivre ses pas. Vous m'avez aussi mentionné que votre joueur de saxophone était un saxophoniste de troisième génération. Comment cette idée de lignée et d'héritage personnel transforme vos mythes personnels et ceux de votre groupe?
Bien, mon père a déménagé en Australie quand j'étais dans le début de mon adolescence et nous n'étions pas très proches à cette époque. Je pense qu'en allant dans la ville où il était né, jouant de l'instrument qu'il joue, et d'environ le même style de musique, ça dit probablement quelque chose. Je sais ce que Carl Jung dit à propos des enfants essayant de vivre les rêves inachevés de leurs parents. Je ne vois tout simplement pas ça comme une chose négative. J'ai eu une bonne conversation avec Alex de Dirty Beaches sur le sujet. Il me disait que que son père était un chanteur de doo-wop et que la seule trace son ancienne vie ayant survécue était une photo. Mais nous avons discuté de l'importance de cette photo pour lui et de son développement en tant qu'artiste.Et comment Dirty Beaches avait commencé comme un projet expérimental et avait tranquillement évolué, de parution en parution vers un acte de doo-wop d'un homme (bien qu'encore moderne et innovatif dans son installation). Je suppose que vous pourriez dire quelque chose de similaire pourrait être entrain d'arriver, commençant par un bruit-rock très abrasif avec Be Bad et maintenant entrain de bouger ou de se transformer en un rock de garage à base de crochet dans Grand Trine. Mais la transformation a été un petit peu démente. Par exemple, je saigne presque tout le temps quand je joue. Et bien que je travaille là-dessus, j'ai encore de difficulté à chanter et non crier. Peut-être c'est le manque de talent de ma part. Ma plus grande force a toujours été de choisir des collaborateurs de qualité. J'aimerais que Grand Trine fasse la couverture de The Bohemians' B side "Say it" et d'avoir cette parution comme 45rpm B side.
Comment est-ce que votre nouvelle maison de Montréal a changé la façon que vous faites de la musique? En pensant en termes de langage, d'environnement social, d'institutions scénique et d'emploi.
L'influence la plus évidente est simplement le total courant de nouvelles idées et de la musique survient constamment. Vous voyez toutes les légendes Sonic Youth, Butthole Surfers, The Jesus Lizard, Sun City Girl et tous les meilleurs nouveaux groupes dans le clandestin Human Eye, Twek, Thee Oh Sees, Wet Hair etc. Vous avez la chance de tout voir en ensuite de décider vous-même ce qui est bon et pourquoi c'est bon. J'ai été capable de voir et de rencontrer beaucoup de gens qui jouaient autrefois sur mon spectacle de radio à Halifax. Je sens que voir et faire l'expérience directement est la façon d'apprendre. Et peut-être que juste voir tout ceux qui jouent dans ces groupes sont simplement des gens normaux (sauf peut-être à l'exception de Timmy Vulgar des Human Eye qui est une peintre gargarisant du rock and roll animal). Les clandestins/DIY/scène-loft ici est génial et parfois les spectacles peuvent être comme des raves (avec de la meilleure musique). 200 personnes, Byob. Il n'y a rien de mieux. Il y a jsute un sens général d'être au bon endroit au bon moment. Vous n'Avez pas besoin de dire ça tout haut à vos amis. Tout le monde sait simplement. Les intrigues de futurs documentaires sont entrain de jouer devant vos yeux. C'est une ville spécial dans une époque spéciale.
Dernièrement, nous nous approchons de l'hiver, un temps pour réfléchir, spécialement pour plusieurs d'entre ceux qui sont dans les hivers froids du Canada intérieur. Vous devez être excité par le déroulement des choses durant la dernière année, qu'espérez-vous pour 2010?
Grand Trine va avoir une suite d'EP de vinyle et des solos qui vont sortir durant les mois d'hiver. Après ça, nous allons débuter à faire des tournées pour de plus longues périodes de temps. Actuellement, tous nos groupes amis (Dead Wife, Ultra Thin etc) commencent à faire plus de spectacles hors de la ville et sont tous sur le point de passer de parutions de cassettes aux vinyles. Beaucoup de préparations ont été faites en 2009 pour rendre 2010 aussi excitante que possible pour tout le monde dans la scène de MTL. Ça commence à paraître comme si les semaines passent comme des minutes. Maintenant, je suis juste concentré à rendre notre 12'' spectacle de parution le plus gros party possible. Ça va être en Janvier 2010. Nous essayons simplement de trouver le bon emplacement pour accueillir celui-ci. La ligne d'attente a été confirmée et ça va être le nouveau duo de choc local The Homosexual Cop et le nouveau groupe de filles génial, un groupe rock de garage les The Peelies.
---