Tag: thoughts on air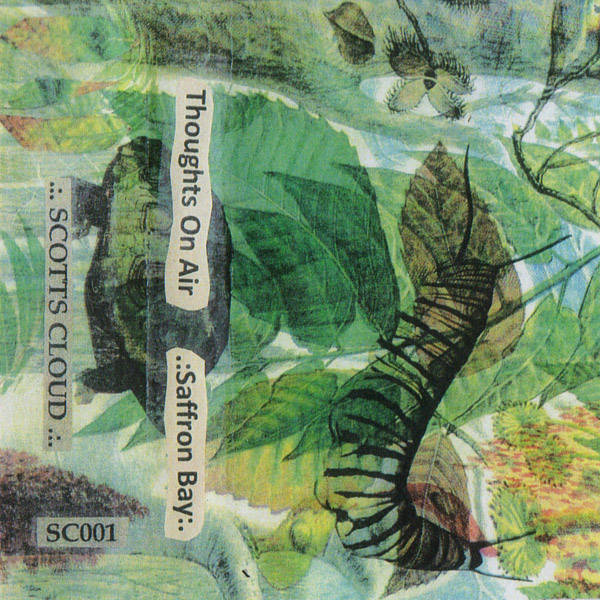 Thoughts On Air
Saffron Bay
(Scott's Cloud)
Hamilton, ON
From the psychic connections of Kevin Hainey:
On which Scott Cloud of Hammer, ON continues his elegiac ascent into the heavenly clouds of his namesake via Thoughts On Air, his hypnagogic melding of trance, drone, psychedelia, and glistening folk shanties. This cassette features two side-long trips across the light fantastic, and you're certainly bound to find yourself closer to the holy spirit of humankind having experienced it. Purely hypnotic chord hammering over river beds of murky tape music, and the voice of an angel shining through it all. Great stuff from the distant stars radiating its alien response.
Des connexions psychiques de Kevin Hainey:
(Traduit par Alike Harel)
Sur cet album, Scott Cloud de Hamilton (Ontario) poursuit son ascension homérique vers la voûte céleste — en toute aptonymie — grâce à Thoughts On Air, alliage léthargique de trance, de drone, de psychédélique et de ritournelles bien rissolées de flibustiers. La chorégraphie fantastique se prolonge sur toute la face A, puis la B… et, expérience personnelle à l'appui, vous vous sentirez assurément près du grand Esprit de l'humanité. Le martèlement des accords vous hypnotise carrément et suit le cours d'une rivière au son discordant de la bande magnétique; une voix d'ange perce la nuée musicale d'un bout à l'autre. Une bonne cuvée en provenance des confins de l'univers, où une forme de vie extraterrestre entonne une réponse aux humanoïdes.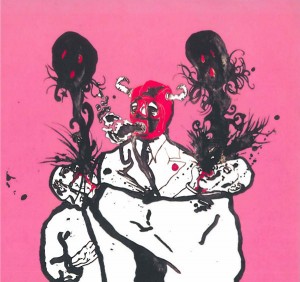 WTCHS // Thoughts on Air
Split 7"
(Perdu)
Hamilton, ON
From the free and easy mind of Christina Bell:
"Mr. Hands" – WTCHS' contribution to this eerie steel-town piece of genius – is over four minutes of vital, crushingly heavy rock. Exercising their musical mathematics, WTCHS delivers sharp call-and-answer segments throughout, as industrious guitar riffs back luridly distant vocals. The driving force of the aggressive, acute drum line drives the track forward energetically. "Mr. Hands" is a serious shot in the arm of pure rock n' roll. On the flip-side, Thoughts on Air's "Harness" is a slower tune that rocks just as hard. As always, TOA's experiment with sound results in a mesmerizing song, both dark and hopeful.
De l'esprit libre et tranquille de Christina Bell:
(Traduit de la force envoûtante de Dominic Mpile)
Jouant plus de quatre minutes cruciales, la toune « Mr. Hands » est un heavy rock percutant qui découle de la contribution de WTCHS sur Thoughts on Air 7", lequel est un étrange tube métal industriel de génie. En jouant une musique mathématique, le groupe WTCHS livre des segments action et réaction pointus sur le tube « Mr. Hands ». Les riffs de la guitare électrique reprennent les harmoniques des voix lointaines. La force envoûtante du tambour, agressif et grave, anime la toune énergiquement vers l'avant. En effet, « Mr. Hands » de WTCHS est un important électrochoc du pur rock n' roll. En revanche, « Harness » de Thoughts on Air est une chanson lente qui fait aussi bouger. Comme toujours l'essai avec son de TOA résulte en une chanson qui hypnotise, à la fois sombre et pleine d'espoir.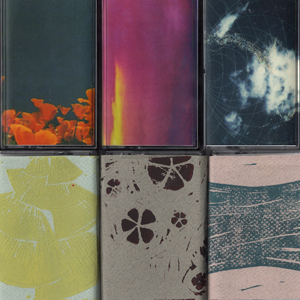 Fadeaway Tapes
Montreal, QC


Drifting and pulsating throughout a shimmery vapour trail of releases, Fadeaway Tapes has quietly gained a foothold in the international cassette cosmos. Alongside fellow voyagers Le Révélateur, Élément Kuuda and the rosters of Hobo Cult, TLWS and Los Discos Enfantasmes, Fadeaway founders Nick Maturo and Ryan Connoly co-captain Montreal's ongoing mission of kosmische discovery. Between label flagship Sundrips, a swath of side projects and likeminded signees, each batch offers a wealth of blissful sounds for third-mind meditation. Nick answered our Qs.
Jesse Locke
Managing Editor
Weird Canada // Texture Magazine
weirdcanada.com // texturemagazine.ca

Belarisk – Belarisk (excerpts)
Pierrot Lunaire – Lantern Floating Vessel (excerpts)
Sundrips – Phased Out (excerpts)
1 :: How did you launch your label and why? C.R.E.A.M.?
Fadeaway started mostly as a means of releasing our own material when nobody else wanted to, but it's gradually turned into a fun way of working with other artists we appreciate and generally trying to create our own label aesthetic. I still consider myself more of a music guy than a label guy, so sometimes it can feel like a bit of a headache compared to just sitting down and jamming, but I'm very proud of all the work we've put into it since we started out.
2 :: To date, which of your releases has been: a) the best-seller, b) your favourite and c) the biggest bummer?
a) Hard to say, I think the batch we put out with 56K, the Thoughts on Air/Trailing split and Tobin's Spirit Guide sold surprisingly quickly despite it being a larger run than we'd done before at the time.
b) Also hard to pick, but I'd say the Sundrips and Ophivchvs collaboration from 2010 still stands out to me as a beautiful tape in terms of both artwork and this crazy music that totally came out of nowhere.
c) Most of the Sundrips tapes we've done on Fadeaway are bummers in one way or another, but I might have to say Basejumping At Cliff Clavin has a particular "bummed" quality that I appreciate.

EVENT CLOAK – Physical Computing from Moduli TV on Vimeo.
3 :: What sets you apart from other labels? Music, art, liner notes, posters, glossy 8.5" x 11" head-shots?
I'd say we're pushing music that's a little bit different from other labels, although I do think there are some kindred spirits out there. Maybe we're releasing things that are a little hazier than a lot of other straight up synth labels, although not necessarily in a lo-fi kind of way. I hesitate to use the word Ambient because I feel like that's a term that's too easy to just throw around for smooth, meditative music, but I guess there is some sort of a cross-over in to that kind of domain. All in all, it's hard to pin it down definitively, as it really feels like a genuine extension of Sundrips and of our own tastes and interests, which can be pretty varied. So I guess that's what makes it special to me.
4 :: Future plans? What can grippers look forward to gripping?
We just put out a new batch right now which includes a new Sundrips tape with a bit of a dreamier sound than usual, as well as a couple of gems from some friends that people will probably make people lose their minds. We have a few things beyond that lined up for Fadeaway in 2012 but nothing set in stone yet. There are also a few more Sundrips releases in the works on other labels, so stay tuned for that.
5 :: Kim Mitchell vs. Randy Bachman?
Tempted to say Randy Bachman out of spite for "Patio Lanterns", but "Easy To Tame" (especially the video) is so great that it redeems him and then some. He also may be the only rock star to have never gotten laid because he was in a band, which is endearing. So, albeit with a little hesitation, Kim Mitchell.
Fadeaway Tapes Discography (to date)
FT001::Sundrips – Basejumping At Cliff Clavin(Cassette, 2010)
FT002::Sundrips – Hidden Dimensions(Cassette, 2010)
FT003::Sundrips – Star Master Live(3″ CD-R, 2010)
FT004::Video Diaries – Carryin' On(Cassette, 2010)
FT005::Sundrips – Diffuse Contours(Cassette, 2010)
FT006::Sundrips & Ophivchvs – Satellites OF The Elders(Cassette, 2010)
FT007::Sundrips – Arrays(Cassette, 2010)
FT008::Cloudland Ballrooms & Sundrips – Split(Cassette, 2010)
FT009::Aphid Palisades – Aphid Palisades(Cassette, 2010)
FT010::56k – Calls In The Night(Cassette, 2010)
FT011::Thoughts On Air / Trailing – Split(Cassette, 2011)
FT012::Tobin's Spirit Guide – Homesick(Cassette, 2011)
FT013::Belarisk – Belarisk(Cassette, 2011)
FT014::Pierrot Lunaire – Lantern Floating Vessel(Cassette, 2011)
FT015::Sundrips – Phased Out(Cassette, 2011)
FT016::Élément Kudda – Flight II(Cassette, 2011)
FT017::Sundrips – The Shapes Of THe Corridors(Cassette, 2011)
FT018::Event Cloak – Physical Computing(Cassette, 2011)
FT019::Trailing – Stingray / From the Top Of The Stairs [pt. 1 & 2](Cassette, 2011)
(Traduit par Odile Leclerc)


Dérivant et palpitant tout un long d'un chatoyant chemin vaporeux de sorties, Fadeaway Tapes a silencieusement gagné une prise de pied dans le cosmos de cassette international. Au long d'autres voyageurs Le Révélateur, Élément Kuuda et les répertoires de Hobo Cult, TLWS et Los Discos Enfantasmes, les fondateurs de Fadeaway, Nick Maturo et Ryan Connoly, le co-capitaine de la mission de Montréal en court pour une découverte de kosmische. Entre le label en vedette Sundrips , une bande de projets en parallèle et de signataires aux mêmes opinions, chaque fournée offre une richesse de sons divins pour une méditation de troisième esprit. Nick a répondu à nos Qs.
Jesse Locke
Éditeur en Chef
Weird Canada // Texture Magazine
weirdcanada.com // texturemagazine.ca
Belarisk – Belarisk (excerpts)
Pierrot Lunaire – Lantern Floating Vessel (excerpts)
Sundrips – Phased Out (excerpts)
1 :: Comment ave-vous lance votre label et pourquoi? C.R.E.A.M.?
Fadeaway a en partie commencé en tant que moyen pour faire sortir notre propre matériel quand personne d'autre le voulais, mais c'est graduellement tourné en façon amusante de travailler avec d'autres artistes que nous apprécions et généralement d'essayer de créer notre propre esthétique de label. Je me considère encore plus comme gars de musique qu'un gars de label, alors ça peut se ressentir un peu comme un mal de tête comparé à être juste assis et de jammer, mais je suis vraiment fier de tout le travail que nous y avons mis depuis que nous avons commencé.
2 :: Jusqu'à maintenant, laquelle de vos sorties a été: a) la meilleure vente b) votre préférée et c) la plus grosse déception?
a) dur à dire, je pense que le lot que nous avons sortie avec 56K, la divisée Thoughts on Air/ Trailing et Spirit Guide de Tobin se sont vendues de façon surprenante malgré qu'elle était plus longue que ce que nous avions fait avant dans le temps.
b) Aussi dur de choisir, mais je dirais la collaboration de Sundrips et Ophivchvs de 2010 se démarque encore pour moi comme une belle cassette autant en termes d'œuvre et cette musique folle qui a totalement sortie de nulle part.
c) La plupart des cassettes de Sundrips que nous avons fait sur Fadeaway sont des déceptions d'une façon ou d'une autre, mais j'aurais peut-être à dire que Basejumping At Cliff Clavin a une qualité particulièrement ''Agaçante'' que j'apprécie.
EVENT CLOAK – Physical Computing from Moduli TV on Vimeo.
3 :: Qu'est-ce qui vous différencie des autres labels? De la musique, de l'art, des livrets, des affiches, de reluisant 8.5'' x 11'' et des photos?
Je dirais qu'on pousse de la musique qui est un peu différente des autres labels, malgré que je pense qu'il y ait quelques gens sur la même longueur d'onde alentours. Peut-être que nous sortons des choses qui sont un petit peu plus vagues que beaucoup d'autres honnêtes labels de synth, même si ce n'est pas nécessairement d'une façon lo-fi. J'hésite à utiliser le mot ''ambiant'' parce que je sens comme si c'est un terme trop facile lancer ici et là pour la musique méditative douce, mais j'imagine qu'il y a un genre d'entre croisement dans ce genre de domaine. En tout, c'est dur de l'épingler définitivement, puisque ça ressemble vraiment comme une extension réelle de Sundrips et de nos goûts et intérêts, lesquels peuvent être très variés. Alors je présume que c'est ce qui le rend spécial pour moi.
4 :: Des plans futurs? Qu'est-ce que les saisisseurs peuvent avoir hâte de saisir?
Nous venons juste de sortir un nouveau lot maintenant lequel inclus une nouvelle cassette de Sundrips avec un peu de son plus rêveur qu'à l'habitude, aussi quelques gemmes de quelques amis dont les gens vont faire perdre la tête à d'autres. Nous avons quelques trucs qui s'alignent pour Fadeaway en 2012 mais rien n'est coulé dans le béton encore. Il y aussi quelques sorties de plus de Sundrips dans les travaux d'autres labels, alors restez sur la touche pour ça.
5 :: Kim Mitchell vs. Randy Bachman?
Je suis tempté de dire Randy Bachman par rancune à '' Patio Lanterns'', mais ''Easy To Tame'' ( spécialement le vidéo) est tellement super que ça le rachète et encore. Il est peut-être aussi la seule rock star à ne s'être jamais envoyé en l'air parce qu'il était dans un bande, ce qui est charmant. Alors, quoique avec un peu d'hésitation, Kim Mitchell.
Fadeaway Tapes Discographie (à date)
FT001::Sundrips – Basejumping At Cliff Clavin(Cassette, 2010)
FT002::Sundrips – Hidden Dimensions(Cassette, 2010)
FT003::Sundrips – Star Master Live(3″ CD-R, 2010)
FT004::Video Diaries – Carryin' On(Cassette, 2010)
FT005::Sundrips – Diffuse Contours(Cassette, 2010)
FT006::Sundrips & Ophivchvs – Satellites OF The Elders(Cassette, 2010)
FT007::Sundrips – Arrays(Cassette, 2010)
FT008::Cloudland Ballrooms & Sundrips – Split(Cassette, 2010)
FT009::Aphid Palisades – Aphid Palisades(Cassette, 2010)
FT010::56k – Calls In The Night(Cassette, 2010)
FT011::Thoughts On Air / Trailing – Split(Cassette, 2011)
FT012::Tobin's Spirit Guide – Homesick(Cassette, 2011)
FT013::Belarisk – Belarisk(Cassette, 2011)
FT014::Pierrot Lunaire – Lantern Floating Vessel(Cassette, 2011)
FT015::Sundrips – Phased Out(Cassette, 2011)
FT016::Élément Kudda – Flight II(Cassette, 2011)
FT017::Sundrips – The Shapes Of THe Corridors(Cassette, 2011)
FT018::Event Cloak – Physical Computing(Cassette, 2011)
FT019::Trailing – Stingray / From the Top Of The Stairs [pt. 1 & 2](Cassette, 2011)
---