Tag: they live we sleep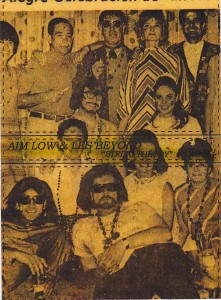 Aim Low & Les Beyond
String Theory
Montréal, QC
From the tiny, tiny particles of Johnnie Regalado:
This collaboration is an innerspace alarm clock that will wake the tiniest specks of your being. Drone-stars team up with a precision picker to create the soundtrack to an eternity in a jettisonned escape pod. These orchestral bellows will vibrate your brain, making you explicitly aware of the existence of your eardrums.
Des minuscules, infimes particules de Johnnie Regalado:
(Traduit par l'orbite de Catherine Gaucher)
Cette collaboration est telle une alarme programmée pour réveiller les particules les plus infimes de votre espace intérieur. Ces vedettes du drone font équipe avec un choix précis afin de créer la bande sonore d'une éternité passée à la dérive, dans un nacelle de sauvetage. Ces souffles orchestraux feront vibrer votre cerveau, vous mettant explicitement au courant de l'existence de vos tympans.

Aim Low & Les Beyond – String Theory (excerpt)

Aim Low & Les Beyond – Guitar Trio (Rhys Chatham cover) (excerpt)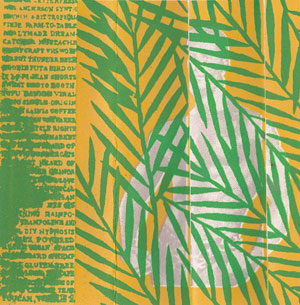 Ocular Gymnastics
Vol. 1
Montreal, QC
From the pedal-jammed meditations of Jesse Locke:
Encased in a squeeze box of screen printed palms, Ocular Gymnastics' debut transmission is as lavishly packaged as it is blissful. Pedal-jammed Casio meditations cast ripples across the mind-pond while the mountain of found-sound percussion clanks and rattles down the cortex. Only Moduli TV could provide suitable visual accompaniment for these C.H.U.D. ravers in a tropical time-warp à la Bamboo For Two.
Des méditations de pédales coincées de Jesse Locke: (Traduit par Odile Leclerc)
Enfermés dans un accordéon de paumes sérigraphiées, la transmission des débuts de Ocular Gymnastic est autant emballé suptueusement que c'est divin. Les méditations de pédale coincée de Casio projettent des ondulations à travers l'étang-esprit pendant que la montage de percussion des sons trouvés cliquète et dégringole dans le cortex. Seul Moduli TV pourrait fournir un accompagnement visuel approprié pour ces raveurs C.H.U.D. dans une dimension parallèle tropicale à la Bamboo For Two.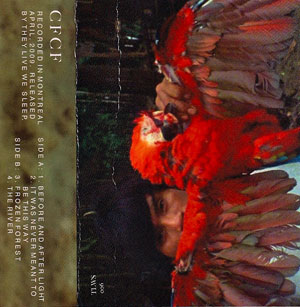 From the popul magic of Jesse Locke:
Bobbing down chopped 'n' screwed rapids like a nightbus driver swilling drank, Montreal's Mike Silver (a.k.a. CFCF) floods ear canals with this limited edition tape dub of The River EP. Tapping into the tropical zones of Popul Vuh's Fitzcarraldo soundtrack, the scene is set with gleaming pools of synth before drifting into jungle (not Junglist) beats, haunted mansion pianos and hair-curling steam blasts. They Live We Sleep founder Rob Feulner (a.k.a. Video Nasties) also graced the EP standout with a hypnolasagnic clip melding memories from Garfield and Friends™. The burden of dreaminess rests on all involved.
De la magie popul de Jesse Locke: (Traduit par les agitations tropicales de Maya Keshav)
En dansant dans les rapides agités et foutus comme un conducteur de bus de nuit qui écluse les boissons, Mike Silver (alias CFCF) de Montréal inonde les canaux auditifs avec cette cassette dub édition-limitée de l'EP The River. En puisant dans les zones tropicales de la-bande son Fitzcarraldo de Popul Vuh, le décor est planté avec les flaques étincelantes de synthé avant de flâner vers les rythmes de la jungle (pas Junglist), les pianos des maisons hantées, et les coups de vapeur à faire dresser les cheveux sur la tête. En plus, le fondateur de They Live We Sleep, Rob Feulner (alias Video Nasties) a contribué un vidéoclip à l'EP hypnouilletique, qui fusionne les souvenirs de Garfield et ses amis™. Le fardeau de rêverie reste sur tout le monde impliqué.
CFCF – It Was Never Meant To Be This Way
---