Tag: the yips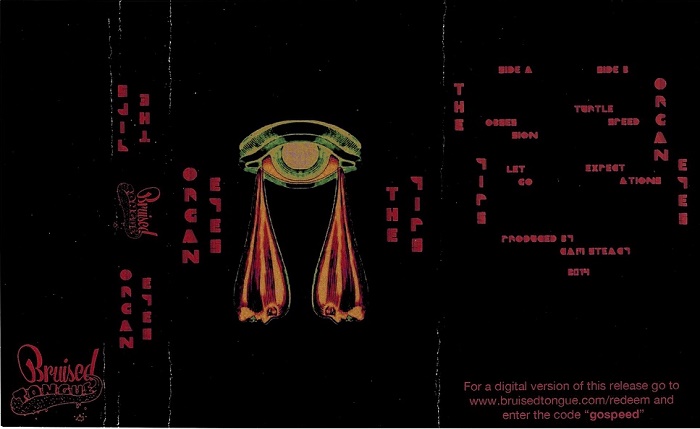 The Yips // Organ Eyes
Split
Ottawa, ON
From the new season of Matthew Blenkarn:
Winter's gone and colour's returned. Bleary-eyed yet bushy-tailed, people snow-crushed souls wake from hibernation and stumble from basement apartments onto clear, sunny sidewalks. Children spout popcorn refrains from recent blockbusters, as radio melodies float from passing cars to rest in pedestrians' ear canals. As bright days fade to humid nights, idle hooks from Centretown streets plants dreams of festivals and patio parties in residents' slumbering subconscious.
De la nouvelle saison de Matthew Blenkarn:
(Traduit par l'hémisphère gauche de Diane Beaupré)
L'hiver est parti, les couleurs reviennent. Les yeux bouffis, mais pleins d'énergie, les âmes des gens écrasées sous le poids de la neige sortent de l'hibernation des sous-sols et émergent sur les trottoirs dégagés et ensoleillés. Tandis que les chansons des radios des voitures qui passent se posent dans les canaux des oreilles des passants, les enfants chantent les refrains entraînants des récents succès. Alors que les journées illuminées se transforment en soirées humides, l'oisiveté s'accroche aux plantes du centre-ville qui rêvent de festivals et de partys sur le patio de résidents endormis béatement.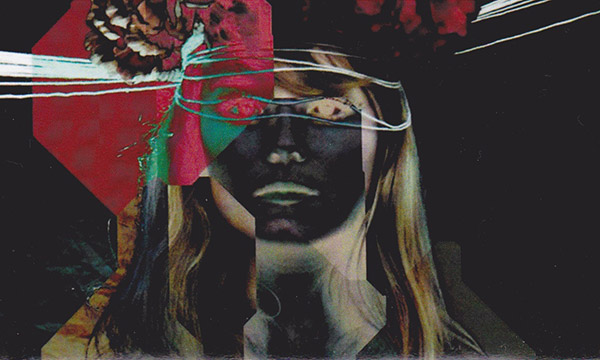 The Yips
Air Loom
Ottawa, ON
From the distorted parapets of Joshua Robinson:
Ouija words spill across distorted distances. Sound waves imbued with garage spirits that once stood so still now force their way through the parapets that keep their potential energy at bay. Air Loom is a staggering edifice of sound; a source of the waves that emanates from the eye of the storm , intorting its breath to the point of becoming the heavy dissonance that turns calm to clamour; 'yeah yeah yeahs' that reverberate across the northernly compass.
Des garde-fous tordus de Joshua Robinson:
(Traduit par Jessica Grenier)
Des mots de Ouija s'étendent sur un horizon déformé. Des vagues de son imprégnées d'esprits de garage, qui jadis restaient si immobiles, essayent de défoncer les garde-fous tenant à distance leur énergie potentielle. Air Loom est un édifice de son vertigineux; c'est la source de ces vagues qui émanent de l'œil de la tempête en tordant sa respiration intérieure, au point de devenir une lourde dissonance changeant le calme en cacophonie. Les « yeah yeah yeah » se répercutent à travers l'étendue nordique.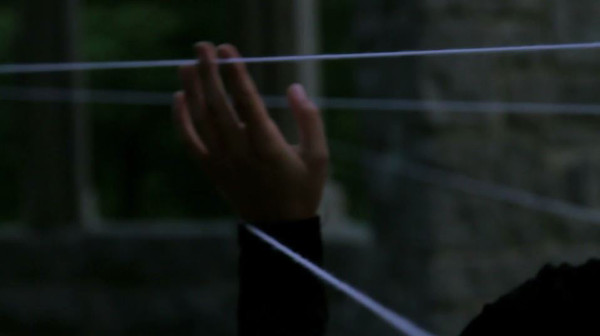 From the long quiet walk of Matthew Blenkarn:
Slow, long shots of a protagonist marching, waiting, and grasping are interrupted by rapid, stuttery cuts to primal images. Fire, spiders, smoke and more highlight the dynamic and energetic music behind them. A forest can be a quiet contemplative space, but in this video that's not so.
De la longue marche tranquille de Matthew Blenkarn:
(Traduit par le poisson babel de Joel Mak)
Des plans longs et lents d'un protagoniste qui marche, qui attend et qui saisit sont interrompus par des coupures stroboscopiques et rapides pour aller à des images primordiales. Du feu, des araignées, de la fumée et autres choses, mettent l'accent sur la musique dynamique et énergique qui joue en fond. Une forêt peut être un moine calme, mais dans ce clip, ce n'est pas le cas.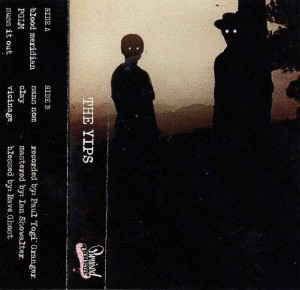 The Yips
The Yips EP
Ottawa, ON
From the nighttime dangers of Jenya Doudareva:
The Yips are howling like a pack of wolves, piercing the cold night air. It's nighttime in a remote village surrounded by dense dark woods, the kind of night when you can't shoo the menace away. This six-song EP is what makes the hair on the back of the villagers' necks stand. The older folk might even be telling their younglings that the Yips hide under their beds at night, ready to pounce if they misbehave.
Opener "Blood Meridian" starts with spine-chilling riffs and grows into something fiery and vibrant. "Clay", "PGLM", and "Sans Nom" bring forth rhythm and noise as menacing and fascinating as nature itself. "Suss it Out" reminds us that spending one's life fearful of the outside world is a dull affair, and perhaps embracing the nighttime dangers is worth it. Finally, "Vicinage", a soulful and eerie tale of loneliness and heartbreak, contrasts the EP's initial ghostliness with touching humanity.
Les cauchemars diurnes de Jenya Doudareva:
(Traduit par les cauchemars diurnes de Catherine Gaucher)
The Yips hurlent comme une meute de loups, perçant l'air froid de la nuit. C'est la nuit dans un village isolé, entouré d'une épaisse forêt, le genre de nuit durant laquelle il est impossible de chasser la menace au loin. Si les villageois ont les cheveux dressés sur la tête, ce EP de six titres en est la cause. Les aînés pourraient même faire croire aux jeunes enfants qu'une fois la nuit venue, les Yips se cachent sous leur lit, prêts à bondir s'ils se méconduisent.
En ouverture, "Blood Meridian" débute avec des accords vous glaçant l'échine et progresse avec fougue et dynamisme. "Clay", "PGLM" et "Sans Nom" mettent de l'avant des rythmes et des bruits aussi menaçants et fascinants que la nature elle-même. "Suss it Out" nous rappelle que passer son existence à craindre le monde extérieur est une terne affaire et peut-être qu'embrasser les dangers nocturnes en vaut la peine. Finalement, "Vicinage" , un mélancolique et étrange conte dépeignant solitude et chagrin, contraste avec l'initial aspect spectral de ce EP par une touche d'humanité.
---