Tag: the one family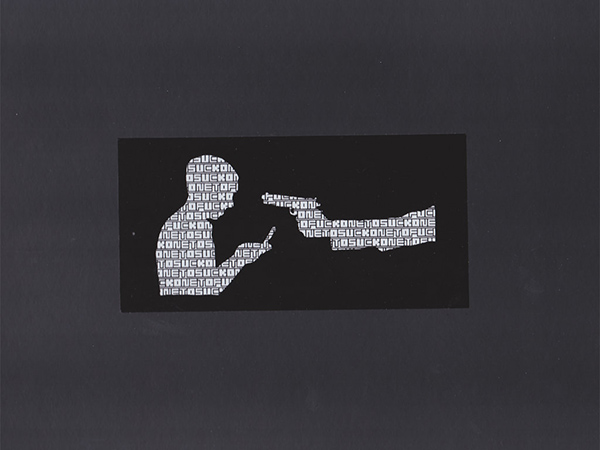 b.burroughs // justin scott gray // the One (family)
ONE TO SUCK, ONE TO FUCK
Toronto, ON
From the confusing paroxysms of Joshua Robinson:
A horde of demarcated stingers and sweetness. Little are we to know that one is the other is the other. All things equal?
Indexicality: smoke and fire, thunder and torn veneer, a closing eye and embezzled light. If patterns were constant and form immutable, we would all be the same. Ergo the change; the inevitability of gyre; tempering, nothing constant. Janus-faced. Austere in their words, but origins the same.
Des paroxysmes confus de Joshua Robinson:
(De l'hémispère gauche de Diane Beaupré)
Tout et son contraire. Difficile de savoir que l'un est l'autre et l'autre. Tout est pareil? Indexicalité : la fumée et le feu, le tonnerre et le contre-plaqué arraché, un œil qui se ferme et la lumière diffuse. Si les motifs étaient constants et les formes immuables, nous serions pareils. D'où le changement, l'inévitable tourbillon; en mouvement, jamais constant. Visages de Janus. Austère dans leur propos, mais fidèles à eux-mêmes.
the One (family) – nounverbnoun
justin scott gray – Drone Strike
the One (family)
the One (family)
Elliot Lake, ON
From the post-feeling of Joshua Robinson:
The astonishing back catalogue of Amok Recordings, reaching back to 2006, is home to much of Canada's finest experimental and ambient, noise, folk and post-rock music. From Jay Morritt to A-mo & Amplifier Machine, the creative output of the friends of Amok is nothing short of awe-inspiring, and the One (family)'s self-titled cassette is yet another offering of minimalist post-rock goodery.
Echoing the stylings of Constellation Records, the duo of Becky Dawn Burroughs and Justin Scott Gray beautifully synchronize the distinct realms of sample-driven ambience and classical instrumentation. The first side bears the distinct stylistic trademarks of post-rock: the ebb and flow of near quiet to emotional upheaval, mice to lions and then back again. The roar subsides, however, during the final minutes of "Hero". Burrough's jilted refrain over quiet keys gives off a tenable sorrow. This vocal styling continues to resonate against the backdrop of lachrymose keyboard, circuitous violin and tape hiss samples on "Rose". The cassette emanates the sense of its being only moments away from total visceral takeover, but, rather than leaving you utterly spent, it leaves you hanging on for something. The One (family) force you into that silent reverie where amorphisms tumble and spill over one another, catharsis pooling in the palm of your hands. This is post-rock for the post-feeling, music for the heaviness in all of us.
Des post-sentiments de Joshua Robinson:
(Traduit par l'amour du post-rock d' AnneMarie Papillon)
Le catalogue ahurissant d'Amok Recordings, remontant à 2006, est la maison d'une quantité importante de la meilleure musique ambiante, noise, folk et post-rock canadienne. De Jay Morritt à A-mo & Amplifier Machine, la production créatrice des amis d'Amok n'est rien de moins que grandiose, et la cassette éponyme de The One (family) est un autre cadeau bonbon de post-rock minimaliste.
Faisant échos au style de Constellation Records, le duo composé de Becky Dawn Burroughs et Justin Scott Gray synchronise magnifiquement les sphères des instrumentations ambiantes et classiques. La face A porte distinctement la marque de commerce stylisée du post-rock ; le flux et le reflux d'une agitation émotive quasi-silencieuse, des souris aux lions, encore et encore. Cependant, les rugissements se stabilisent durant les dernières minutes de « Héro ». Le refrain abandonné de Burrough, sur des notes muettes, montre une tristesse soutenue. Ce style vocal continue de résonner contre la toile de fond du clavier larmoyant, du sifflement éloigné du violon et des échantillons sur « Rose ». L'idée de n'être qu'à quelques instants de la prise de contrôle totale émane de cette cassette, mais, au lieu de vous laisser complètement dépassé, cette dernière vous laisse en attente de quelque chose. The One (family) vous force à entrer dans ce rêve silencieux où les substances amorphes basculent et se renversent les unes sur les autres, une catharsis rejointe dans la paume de votre main. C'est du post-rock pour les post-sentiments, de la musique pour cette pesanteur qu'on a tous à l'intérieur.
---