Tag: the ketamines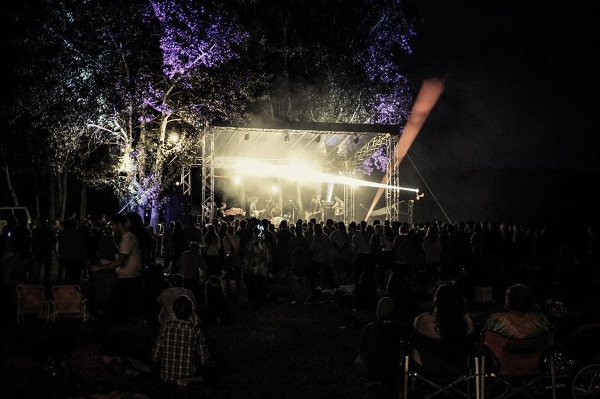 River & Sky
July 18-20, 2014
Field, ON
From the wild blue yonder of Preacher Katie:
"Thou shalt not do" was never whispered amongst the gathering of animals, children, artists, vendors and audience members in the forest of Field, Ontario at the River & Sky Festival. The freedom of expression and civil disobedience was an undercurrent that lingered through the small community atmosphere; this free rein resulted in a mannerly Temporary Autonomous Zone that stonewalled typical structures of control at festivals. No one was harmed, no one was a weirdo, no one OD'd, and an aggressive security guard waving his finger at you had nothing to do with this.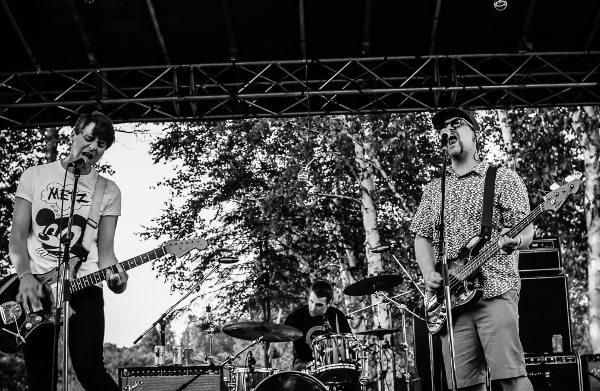 "I've never poured so much beer on my head as I did at this festival. I also discovered I can fit a 12-pack of beer in my jean jacket." – Neil Bednis (Geyser)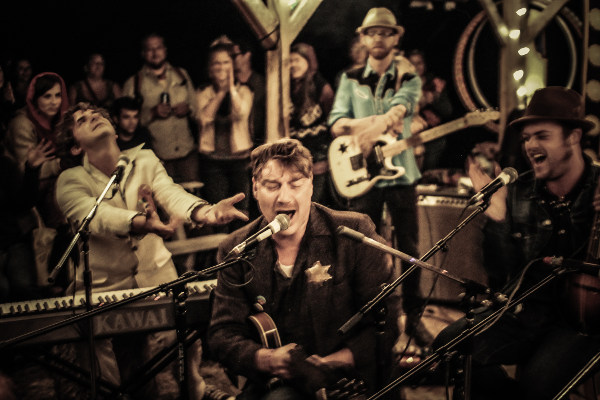 "I loved playing on a beach with the sand under my feet. I liked the idea of a 360 degree stage." – Charlie Glasspool (The Silver Hearts)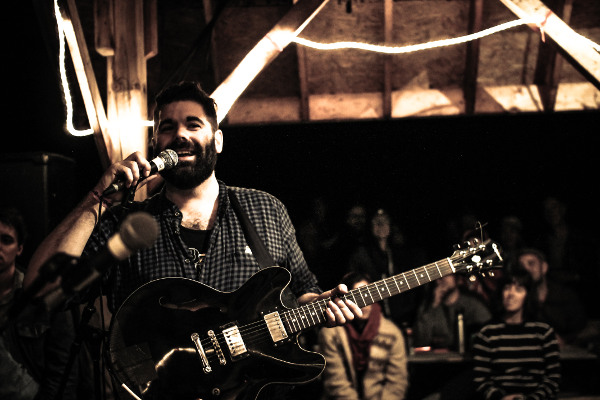 "The Ketamines had an amazing time playing on the beach all night long. We still have sand in our gear, which is a nice reminder that not every show is terrible." – Paul Lawton (The Ketamines)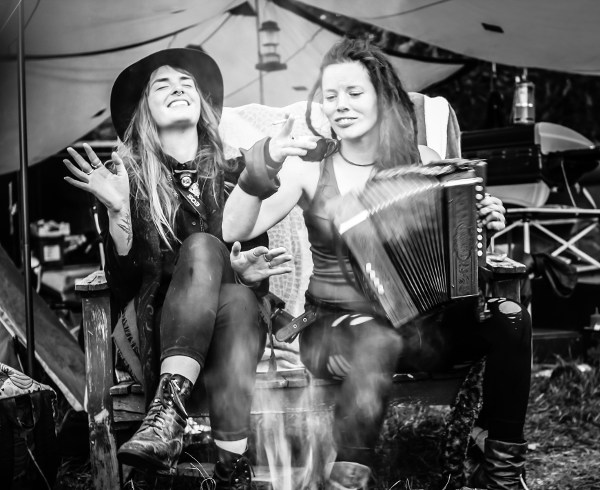 "Any festival where paddle boats are free, dogs are lingering everywhere, and I feel like I am in my own backyard is OK in my Jack Daniels drink." – Jalene Plamondon (Volunteer)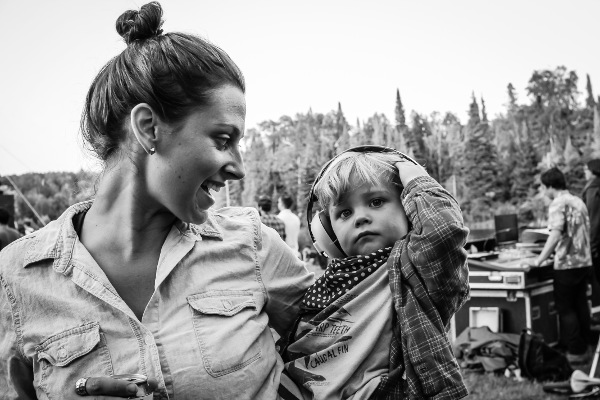 "I love the community feel of the festival, and how family-friendly it is. It is amazing now to see my little one becoming part of that community too." – Jessica Nadel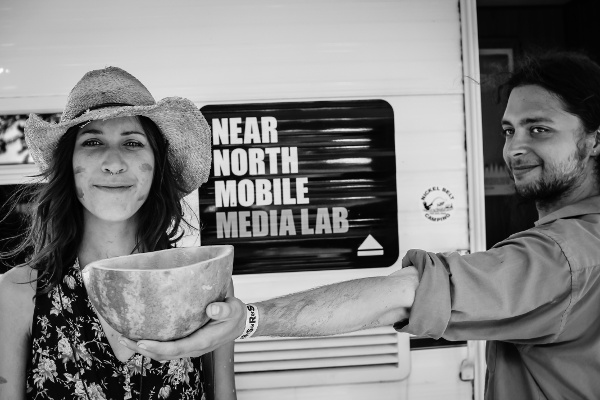 "The Mobile Media Lab embodies everything that River & Sky does – freedom, openness, and capturing natural experiences. That's what it's all about, right? Giving people a chance to get themselves out there and explore." – Brendan Lehman
Par les grands espaces célestes de Preacher Katie:
(Traduit par Nadine Tkatchevskaia)
« Tu ne feras point » n'a jamais été murmuré parmi le rassemblement d'animaux, d'enfants, d'artistes, de vendeurs et de membres du public dans la forêt de Field, Ontario au Festival River & Sky. La liberté d'expression et la désobéissance civile étaient des thèmes communs qui sont restés dans l'ambiance de petite communauté. Ce climat s'est réalisé dans la création d'une zone autonome temporaire qui a déchiré, dans le style des émeutes de Stonewall les structures de contrôle typiques des festivals. Personne n'a été blessé, personne n'était bizarre, personne n'a fait une overdose, et le gardien de sécurité qui pointait les gens du doigt n'y a été pour rien.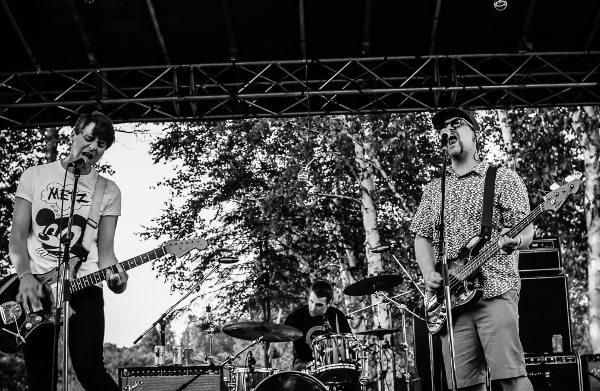 « Je n'ai jamais versé autant de bière sur ma tête qu'à ce festival. J'ai aussi découvert que je peux mettre douze bières dans ma veste en jean. » – Neil Bednis (Geyser)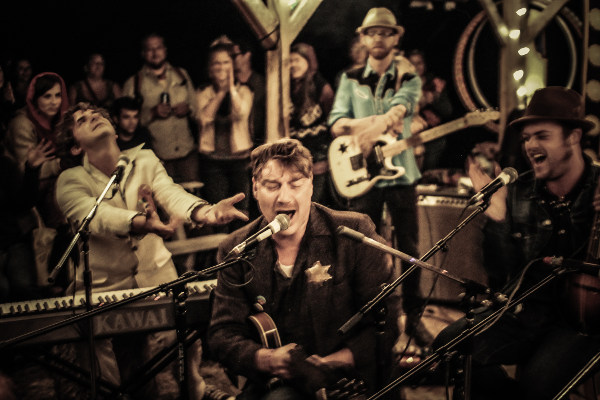 « J'ai adoré jouer sur la plage avec le sable sous mes pieds. J'ai aimé l'idée d'une scène à 360 degrés. » – Charlie Glasspool (The Silver Hearts)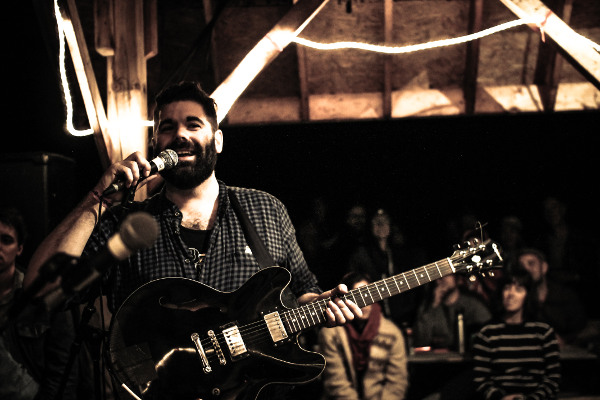 « The Ketamines se sont bien amusés à jouer sur la plage toute la nuit. Nous avons encore du sable dans nos instruments – un bon rappel que tous les shows ne sont pas aussi terribles. » – Paul Lawton (The Ketamines)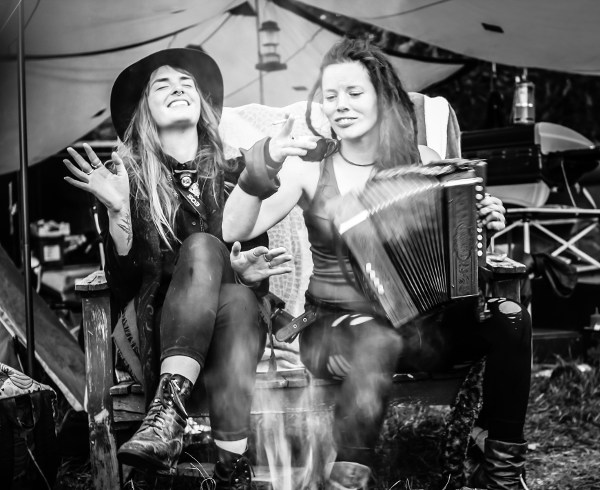 « Lorsqu'à un festival, il y a des pédalos gratuits, des chiens partout et que je me sens comme dans ma cour arrière, c'est bien dans ma boisson Jack Daniels. » – Jalene Plamondon (Bénévole)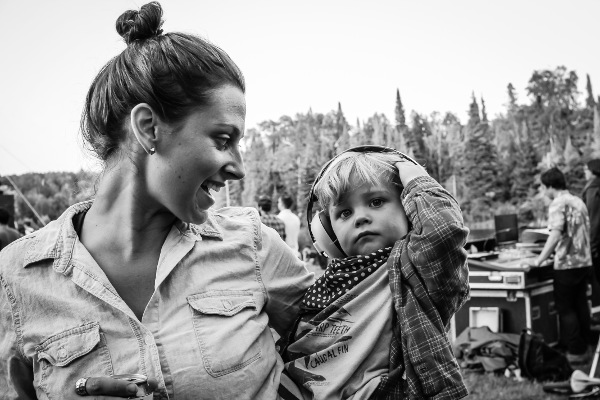 « J'aime le fait que le festival est comme une communauté et qu'il est accessible aux familles. Il est extraordinaire de voir que mon enfant fait désormais partie de cette communauté aussi. » – Jessica Nadel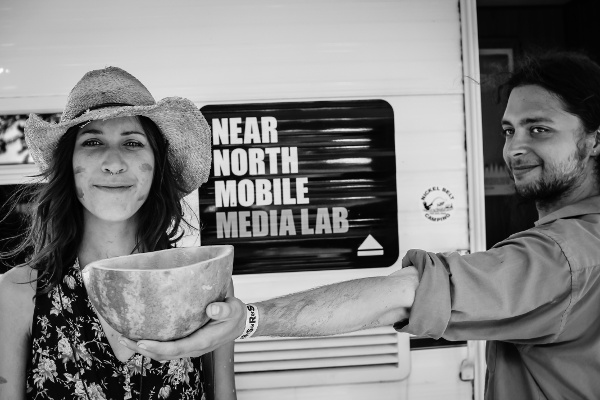 « The Mobile Media Lab illustre tout ce qui fait River & Sky : la liberté, l'ouverture, les expériences naturelles. C'est de ça dont il s'agit, non? Donner aux gens la chance de s'y retrouver et d'explorer. » – Brendan Lehman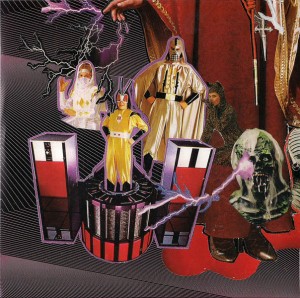 The Ketamines
So Hot!
Toronto, ON
From the spraying hose of Christopher Laramee:
They're dragging the bodies out of the basement again. The quadrilogy nearly complete, our buds in THE KETAMINES embrace the snot and blow it out strong on this HOSEHEAD seven incher. A-side "SO HOT!" pulls into the parking lot with some quality advice for the kidz: Get a job, ya lazy yobs. More Cosby than Cleaver, though. Wire plays blackjack with Count Five for luck, and comes up aces. Next blast "NEW SKULL TATTOO" deals drum machine tease and shit tattoo memories into something Ric Ocasek would be proud to mount above his fireplace. "SUMMER MOTHERS" ends the whole she-bang solid with a bittersweet backward glance on romance, twilight and heavy endings. Six minutes and change. Hits it out of the park like Ortiz. No offence, Jays fans. Next year…
Du pulvérisateur de Christopher Laramee:
(Traduit par Catherine Debard)
Ils traînent à nouveau des corps hors du sous-sol. La quadrilogie presque complétée, nos copains THE KETAMINES étreignent la morve, puis l'expulsent sur ce 7 pouces nommé HOSEHEAD. La face A, "SO HOT!", arrive dans le stationnement avec de bons conseils pour les gamins: Trouve-toi une job petit voyou fénéant. Plus Cosby que Cleaver, cependant. Wire joue au blackjack avec Count Five pour la chance, et nous sort des as. La détonation suivante, "NEW SKULL TATTOO" traite avec une boîte à rythmes racoleuse et des souvenirs de tattoos merdiques et en fait quelque chose que Ric Ocasek serait fier d'avoir au-dessus de sa cheminée. "SUMMER MOTHERS" conclut solidement avec un regard vers l'arrière doux-amer sur la romance, le crépuscule et les lourds dénouements. Six minutes et quelques pièces. Il cogne en dehors du terrain comme Ortiz. Sans vouloir vous offenser, fans des Jays. L'année prochaine…
The Ketamines – New Skull Tattoo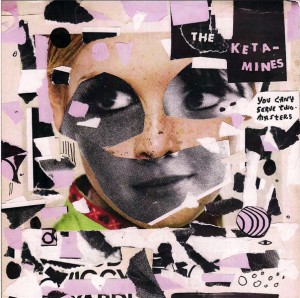 From the lonesome kite of Christopher Laramee:
Eleven songs shot straight to yer heart in the time it takes to make a well done cheese pizza. That's my real time summation of the newest Ketamines platter. Cleaner guitar tones than in the past, lots of fancy panning, a real classy affair and, above all, a step forward. TUNES, dude! The folks really stepped up the melodies and manicured some freaking grand pop confections this time. "Everybody Gets Down" has some horny Motown bump and snotty Archies snarl. Is that a thing? Well, it is now. The 'verb has been stripped back, letting the sunshine in. Lots of high points here, and it takes a few listens to horn it all into your noggin. Not cuz it's a prog-tastic burble-fest – quite the opposite, in fact. Brevity is the order of the day here, in and out, real sneaky-like. A ripped Paul Revere and the Raiders has words with Johnny Ramone lookalikes behind the 7-Eleven (DOUBLE ELEVENS). "Thank Me Forever" ends the whole enterprise with a nice kiss on the lips and some alligator tears raining down a neon street. Unexpected. Fun. Honest. Light a smoke and get out there. It's happening. Y'know what I mean? (Oh yeah, and I like my pizza WELL DONE).
Du cerf-volant esseulé de Christopher Laramee:
(Traduit à travers les larmes de crocodile d'Andréanne Dion)
Onze chansons tirées droit au cœur, dans le temps qu'il faut pour faire une pizza au fromage bien cuite. C'est la durée du nouvel album des Ketamines, en temps réel. Des tons de guitares plus définis que par le passé, beaucoup de panning extravagants, un truc qui a vraiment de la classe, et surtout, un pas en avant. De la musique, man! Cette fois, ils ont vraiment mis le paquet sur les mélodies et ont perfectionnés des confections pop vraiment grandioses. "Everybody Gets Down" a des rythmes cors Motown et les grognements prétentieux des Archies. Est-ce que ça du sens? Ça en a maintenant. Le verbe a été réduit à l'essentiel pour faire place au soleil. Il y a beaucoup de points culminants ici, et ça prend quelques écoutes avant de tout assimiler. Pas à cause de l'avalanche de jacassements prog-tastique – c'est en fait plutôt le contraire. La brièveté est à l'ordre du jour ici – c'est sournoisement rapide. Paul Revere and the Raiders qui discutent avec des sosies de Johnny Ramone derrière le 7-Eleven ("DOUBLE ELEVENS"). "Thank Me Forever" finit le tout avec un baiser sur la bouche et des larmes de crocodile qui pleuvent sur une rue éclairée aux néons. Inattendu. Agréable. Honnête. Allumes une cigarette et sors. Tout est en train de se passer. Tu sais ce que j'veux dire? (Oh, et j'aime ma pizza BIEN CUITE).
The Ketamines – Double Elevens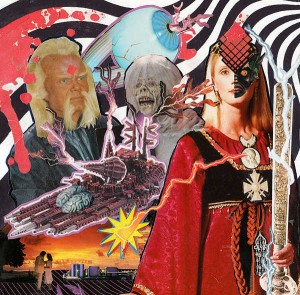 The Ketamines
All The Colours of Your Heart b/w Turning You On
Toronto, ON
From The Mortal Coil of Christopher Laramee:
Tired of smashing your head against the punk rock 'til it bleeds? Nah, me neither. Neither are The Ketamines. As always, they're up to their old tricks again. Side A kicks off proceedings with "Colours"'s wicked Steve-Cropper-jonesing GEETAR licks bumping with some uptight rythym urgency. Hit a sideways pogo to "chase away the gloom", as our heroes say. Besides being a nice (ahem) sexualized horizontal anthem, this punk-as-funk mover's got hooks aplenty. Imagine Sky Saxon lighting boards (JOINTS!, squares!) for The Meters, and you're almost there. Side B's "Turning You On"'s a teen monster movie throb, the one where the zombie rises off the floor and tries to grab some flesh before getting bounced out of the party. I feel like I've seen this show awhile back, but shit, I'm still gonna watch! This single's the first in a four-part series that, when all the covers are assembled, form a certain kind of Jedi-soft-core-daytime pleasure zone. Everyone stays safe, while still feeling threatened. Ummm, Rock'n Roll !?!??!
De l'Enveloppe Mortelle de Christopher Laramee:
(Traduit par le mambo de Hugo Hyart-Dauvergne)
Vous en avez assez de vous taper la tête contre le punk rock jusqu'à ce que ça saigne ? Nan, moi non plus, pas plus que les Ketamines. Comme toujours, les voilà de retour pour nous jouer leurs bon vieux mauvais tours. La face A lance les festivités en procédant avec un méchant jones-ment à la Steve Cropper et des coups de GUITARRRE bien léchés qui s'entrechoquent avec une envie pressante de rythme crispé. Lance-toi dans un pogo sur le trottoir « pour chasser la morosité », pour reprendre les mots de notre héros. En plus d'être une hymne sympa (ahem) sexualisée et horizontale, ce mambo aussi-punk-que-funk est largement fourni en airs entraînants. Imaginez Sky Saxon qui allume des oinjs (des JOINTS ! bandes de coincés du … !) pour The Meters et vous y êtes presque.
La Face B, « Turning On », est un bombardement de films de monstres pour adolescent, celui où le zombie sort du sol et essaie d'attraper un peu de chair fraiche avant de se faire éjecter. C'est comme si j'avais déjà vu ce truc il y a longtemps, mais merde, ça va pas m'empêcher de le reregarder. Ce single est le premier d'une quadrilogie qui quand on en assemble les couvertures forme une certaine sorte de zone de plaisir Jedi-softc¬ore-en-journée. Tout le monde est à l'abri, tout en se sentant menacé. Heeeeeeuuuum, Rock'n Roll !?!??!
The Ketamines – All the Colours of Your Heart
The Ketamines
Spaced Out
Lethbridge, AB
From the teenage emergencies of Aaron Levin:
Taking their blown-out, wasted pop moves to a new level of blasted riff denial, the darlings of Lethbridge unleash another hyperbolic garage-psych monster within the Canadian ether. Spaced Out soars with wings of farfisa and splattered psychedelics, channeling enough Fred Cole and Ariel Pink to catalyze the ridiculous catch laying in concentrate within their reverberated debut. Finally, an album with enough pop-raunch to satisfy the rolling, sexual hills surrounding southern Alberta's bleakest plateau. Grip++.
Des urgences ado d'Aaron Levin: (Traduit par Maya Keshav)
En dépassant leurs pas explosés et camés dans un nouveau niveau de démenti foutu de riff, les chéris de Lethbridge déchaînent une autre monstre hyperbolique du garage-psych dans le vide canadien. Spaced Out vole avec les ailes de farfisa et de psychédéliques éparpillées, en puisant dans assez de Fred Cole et d'Ariel Pink pour accélérer le catch ridicule qui reste en concentré dans leurs débuts réverbérés. Enfin, un album avec assez de popscénité pour satisfaire les collines déferlantes et sexuelles qui entourent le plateau le plus maussade de l'Alberta du Sud. Achetez ++.
The Ketamines – Teenage Rebellion Time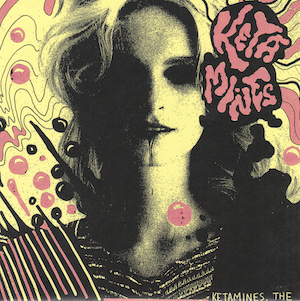 The Ketamines
Line by Line 7″
(HoZaC)
Lethbridge, AB
From the lethal cocktail of Michael Deane:
Sugary sweet melodies and psych-punk explosions collide, creating a perfect distillation of Nobunny bubblepop and Wicked Awesomes-styled monotoned haunt-rock. You're immediately drawn into a comforting K-hole, where you'll ingest a lethal cocktail of melody and hooks that is 2011's twee-punk single of the year, "Line by Line." The deceptively sweet opener (Note: The lines they sing about aren't lines of poetry) is just the start of a slippery slope. Hooks get buried, melodies get blurred and the atmosphere gets murkier as the 7" progresses, bringing a depth and range not normally seen on a debut. It's time to let these Lethbridge abusers lead you through the Gateway. GRIP.
Du cocktail létal de Michael Deane: (Traduit par Odile Leclerc)
Des mélodies aussi douce que de sucre et des explosions de punk psych s'entrechoquent, créant la parfaite distillation d'éclatement de bulle de Nobunny et du haunt-rock monotoné des Wicked Awesomes. Vous êtes immédiatement attirés dans un réconfortant trou-K, où vous allez ingérer un cocktail létal de mélodie et d'accroches qui sont le solo de punk-sensible de l'année de 2011, ''Line by Line''. L'ouverture trompeusement douce (note : les lignes`à propos desquelles ils chantent ne sont pas des lignes de poésie.) n'est que le début d'une pente glissante. Les accroches se font enterrées, les mélodies deviennent floues et l'atmosphère devient plus sombre alors que le 7'' progresse, apportant une profondeur et un étendue qui ne sont normallement pas vus sur un début. C'Est le temps de laisser ces abuseurs de Lethbridge vous guider à travers la Passerelle. ATTRAPEZ.
---