Tag: the haiduks
The Haiduks
1968
Montréal, QC
From the sunflare stare of Jesse Locke:
Christian Richer's inaugural sunshine-pop solo statement has been years in the making, lingering between labels, cooling on a windowsill, and patiently waiting for this scribe to find the right words. With the feather-light fingertips of a wizened sage, he hovers from the library to Canterbury with nary a care. Now that the Haiduks have multiplied into High Dukes, this caravan can pick up speed once again.
Du regard ensoleillé de Jesse Locke:
(Traduit par la plume éclatante de Dominic Mpilé)
Passant d'une boîte de production à une autre, patientant sur le rebord d'une fenêtre ou dans l'attente des paroles justes, l'album pop ensoleillé de Christian Richer en solo a pris des années à voir le jour. Avec la main légère d'un vieux sage, le musicien passe sans effort de la bibliothèque à Canterbury. Maintenant que The Haiduks sont devenus High Dukes, le groupe peut à nouveau accélérer en vitesse de croisière.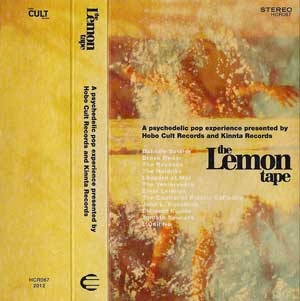 Various Artists
The Lemon Tape
Montreal, QC
From the citric acid flashback of Jesse Locke:
Paisley rays of avant-pop sunshine emanate from this overflowing homage to the Age of Aquarius. Montreal's best and brightest contribute a tune (or two, or three) under a variety of guises, all filed under psych, cosmic and library music taxonomy. From Brave Radar's hazy afternoon bliss-outs to JLK's biker blaze and multiple turns from label founder Christian Richer, this meticulous mixtape is a tie-dye dream come true. All in all, Asaël Robitaille steals the show and proves his secret weapon status with a grip of winners from his various projects. Wake up sucking on a lemon with a grin from ear to ear.
Des flashbacks d'acide citrique de Jesse Locke: (Traduit par Odile Leclerc)
Des rayons de soleil d'avant pop de Paisley émanent de cet hommage débordant à l'Age of Aquarius. Le meilleur et le plus brillant de Montréal contribue à une chanson (ou deux, ou trois) sous une variété de prétextes, toutes remplis de sous psych, de taxonomie musical cosmique et de bibliothèque. Des complètes béatitudes d'après-midi flou de Brave Radar à la splendeur de motard de JLK et de multiples tours du fondateur de label Christian Richer, la cassette mixe est un rêve teint aux nœuds devenu réalité. En tout, Asaël Robitaille vole la vedette et prouve le statu de son arme secrète avec une poigne de gagnant de ses projets variés. Réveillez-vous entrain de sucer un citron avec un sourire fendu d'une oreille à l'autre.
Bataille Solaire – Harpe Pierreries Chatoiement
The Haiduks
Use Up My Time
(Directed By: Moduli TV)
Montreal, QC
From the time wastidity of Jesse Locke:
Like a third generation DGC, Rarities boot melting on Kevin Shields' dashboard, the debut transmission from Montreal's Haiduks is the sound of a popsicle turned to sweet, sweet sugar juice. Switching planes from the ambient bliss-out of his primary project, Élément Kuuda, Christian Richer kicks his amp into overdrive with this unstoppably awesome shoegaze pop fist-pumper. The accompanying visuals from Frank "Hobo Cult" Ouellette flick through sun-bleached memories from a found-footage family vacation, serving up a pitch-perfect song/video combo. I want to jump in a lake.
De la perte du temps de Jesse Locke:
(Traduit par les vacances d'été de Maya Keshav)
Comme une botte DGC, Rarities troisième génération qui fond sur le tableau de bord de Kevin Shields, la première retransmission de Haiduks de Montréal est le son d'une glace à l'eau qui se transforme en jus sucré, sucré, sucré. En changeant dimensions depuis l'ambiance bienheureuse de son principal projet, Élément Kuuda, Christian Richer accélère son amplificateur avec cette chanson poing-agitant shoegaze et irrésistiblement génial. Les visuels qui l'accompagne de Frank "Hobo Cult" Ouellette montre rapidement un flot de souvenirs décolorés par le soleil du found footage des vacances en famille, en créant une combinaison parfaite chanson/vidéoclip. J'ai envie de sauter dans un lac.
---