Tag: The Ether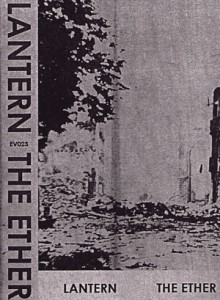 Lantern // The Ether
Lantern // The Ether
Philadelphia, PA // Montreal, QC

Lantern's burning proto-punk and wah-wah workouts provide a much needed
headbang session
to strengthen those aging neck tendons. Their cover of this
trashcan anthem
further proves the cutting-edge theory that silverface fuzz blows away synth-banjo, any day. Meanwhile, The Ether's destructo-wave
ripples into black holes
, a dense mass constantly on the verge of implosion. Here and there, a sparse guitar lead escapes the confines, a split-second before the void pulls you back head first into its crushing fury. Must grip!
Des théories contemporaines de Gabriel Jasmin:
Lantern, leur proto-punk incendiaire et leur wah-wah périlleux, fournissent un exercice nécessaire pour relâcher le cou de ses tendons tendus. Ils osent reprendre ce hit plastique, prouvant désormais la théorie contemporaine voulant qu'un silverface crachant 100 watts de fuzz a plus de couilles que du synth-banjo, et ce, en tout temps. Le destructo-wave de The Ether oscille comme un trou noir, une masse si dense qu'elle frôle constamment l'implosion. Ici et là, un lick de guitare s'en échappera, une demi-seconde d'apesanteur avant d'être ravalé tête première par leur furie écrasante. Encore, s'il vous plaît!
[audio:http://weirdcanada.com/wp-content/uploads/2012/01/Permanent-State-of-Grace.mp3|titles=The Ether – Permanent State of Grace] The Ether – Permanent State of Grace
[audio:http://weirdcanada.com/wp-content/uploads/2012/01/01-America-is-my-Zoo.mp3|titles=Lantern – America is my Zoo] Lantern – America is my Zoo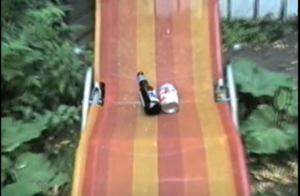 The Ether
I Have Seen the Smile
[Dir. By: Jacqueline Lachance]
Montreal, QC
From the stop-motion back-rub of Aaron Levin:
An audacious chronicle of the family Solanaceae. Jacqueline Lachance takes The Ether's infinite disharmony into ridiculous arrays of VHS mashery, forcing the stop-motion absurdity through burnt colour palettes and neck-churning cut-ups. Wither beside the translucent Tomato-narrative and abandon all attempts to capture the disparate fiction. Shred.
Du grattage de dos d'animation en volume d'Aaron Levin:
(Traduit par Odile Leclerc)
Une audacieuse chronique de la famille des Solanaceae. Jaqueline Lachance apporte l'infini désharmonie de The Ether vers un éventail d'écrasement VHS, forçant l'absurdité de l'animation en volume à travers des palettes de couleurs brûlées et de coupures à en tourner le cou. Flétrissez à côté de la narration de tomate translucide et abandonnez toute tentative de capturer la fiction disparate. Déchire.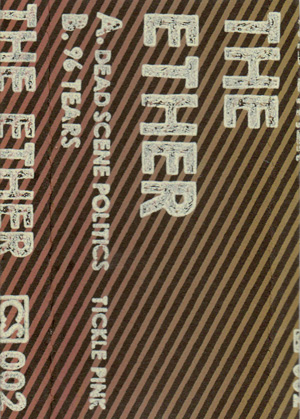 The Ether
Dead Scene Politics b/w 96 Tears
Halifax, NS
From the magnetic singularity of Aaron Levin:
With infinite drones of granular noise, The Ether dismantle ? and the Mysterians "96 Tears" into blissful nihilism. It's the perfect trajectory for the moodier garage-punk of the 21st century: manic threads of derisive tone, painful hollaramas, and the burnt guitar leads of a desolate future. The Ether remain a vision into an apocalyptic groove transcending metaphysical mediums in sinusoidal abandon. Get sicc with it.
De la singularité magnétique d'Aaron Levin: (Traduit par Odile Leclerc)
Avec d'infinis drones de bruits granulaires, les Ether démantèlent? Et les Mysterians ''96 Tears'' en un nihilisme divin. C'est la trajectoire parfaite pour le punk de garage plus tempéramentale du 21e siècle : des fils maniaques de ton dérisoire, de douloureuses hollaramas et ses solos de guitare brûlé d'un futur désolé. Les Ether restent une vision dans une cavité apocalyptique transcendant les médiums métaphysiques dans un abandon sinusoïdale. Synchronisez-vous avec.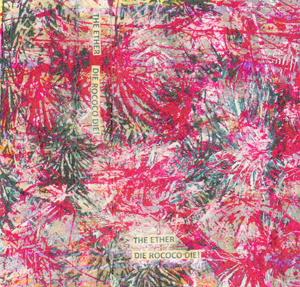 The Ether
Die Rococo! Die!
Halifax, NS
The ether was my favorite physics concept growing up as a kid. Yes, I had a favorite physics concept because I was the 12 year-old loser reading math books instead of Archie. The point is: a pervasive nether-fluid permeating the universe in a futile effort to slow down light is the perfect banner for an experimental punk band from Halifax whose low-end-lo-fi recordings have a penchant for turning up your what-the-fuck-juice viscosity, damping the reverberations of your mind, and raising the Hamiltonian of your trash-hollering mechanicals. I'm not kidding around with this physics crap, either; The Ether is on to something and it's going to be everywhere (pun intended). Listen while you still can. Brought to you by the kind folks from Campaign For Infinity.
L'éther était mon concept de physique préféré quand j'étais jeune. Oui, j'avais un concept de physique préféré parce que j'étais un perdant de 12 ans qui lisait des livres de math au lieu d'Archie. Le point est; le fluide net omniprésent imprégnant l'univers dans un futile effort pour ralentir la lumière est la bannière parfaite pour un groupe punk expérimental d'Halifax dont les enregistrements lo-fi plus bas ont un penchant pour faire monter la viscosité de votre jus de ''c'est-quoi-ce-bordel'', mouillant les réverbérations de votre esprit et levant l'Hamiltonien de votre vieille mécanique qui braille. Je ne blague pas avec cette physique de merde non plus; l'Éther est sur quelque chose et elle va être partout (jeux de mots voulu). Écoutez pendant que vous le pouvez. Apporté à vous par le genre de gens de Campaign For Infinity.
---