Tag: the courtneys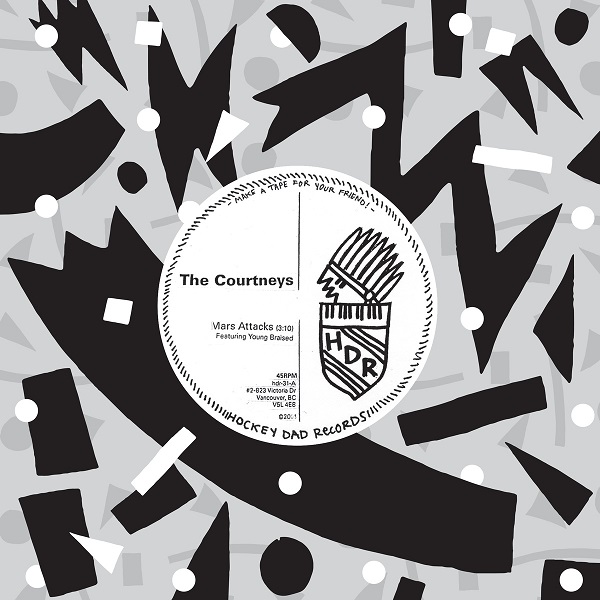 The Courtneys
Mars Attacks 7″
Vancouver, BC
From the dreaded mini tart of Jibril Yassin:
Dragging feel good down into the suburban darkness from whence it came, The Courtneys have shown restraint for not following up a lauded collection of summer goodness with something similar. The summer vacation is winding down and as one can expect, it's starting to get dark – dreams of aliens, under-lit streetlights and Mel Gibson trying to light a joint are what's keeping you awake. But the magic of The Courtneys is you'll likely forget most of this by the time that final chorus comes in. The literature has changed and the cold beer is gone, let's keep up with the times.
Des mini-tartelettes craintives de Jibril Yassin:
(Traduit par Marie-Pier Chevrier)
Traînant les beaux jours jusqu'au fond des ténèbres banlieusardes d'où ils sont venus, The Courtneys se garde bien de donner suite à leur recueil adulé de joies estivales avec quelque chose dans le même ton. Les vacances d'été s'achèvent inévitablement, il se fait tard et des rêves d'étrangers, de lampadaires vacillants et de Mel Gibson tentant d'allumer un joint sont là pour vous garder éveillés. Mais la magie de The Courtneys est telle que vous aurez tout oublié d'ici l'arrivée du dernier refrain. La littérature a changé et la bière froide n'est plus, essayons de garder la cadence.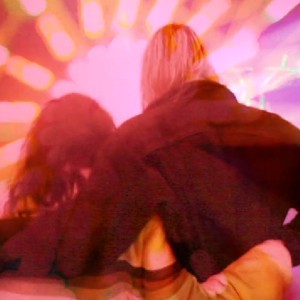 The Courtneys
"Lost Boys"
(Director: Rose Gagnon and Andrew Volk)
Vancouver, BC
From the neon mind of Harriet Wild:
Teen dreaming is fang-tipped and splashed in neon in The Courtneys' latest video: a hedonistic homage to vampire babes and school nights on the boardwalk. Under the spotlight-full moon, this is a teenage riot set to the thrust and jump of the arcade and amusement park; the whiff of cotton candy; the twirl 'n' hurl of no-curfew romance. Ride the Crazy Beach Party tonight!
De l'esprit néon de Harriet Wild:
(Traduit par Hugo Hyart)
La rêverie adolescente est plantée de crocs et aspergée de néon dans la dernière vidéo des Courtneys: un hommage hédoniste aux vampires adorables et aux nuits d'écoles sur les passerelles. Sous la pleine lune-projecteur, c'est une révolte adolescente au rythme de la poussée et des sauts de la salle de jeux-vidéos et du parc d'attraction; la bonne odeur de barbe à papa; le tournoiement lancé de la romance sans couvre-feu. Tous à la Crazy Beach Party ce soir!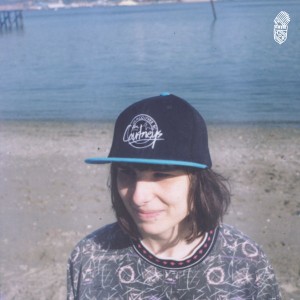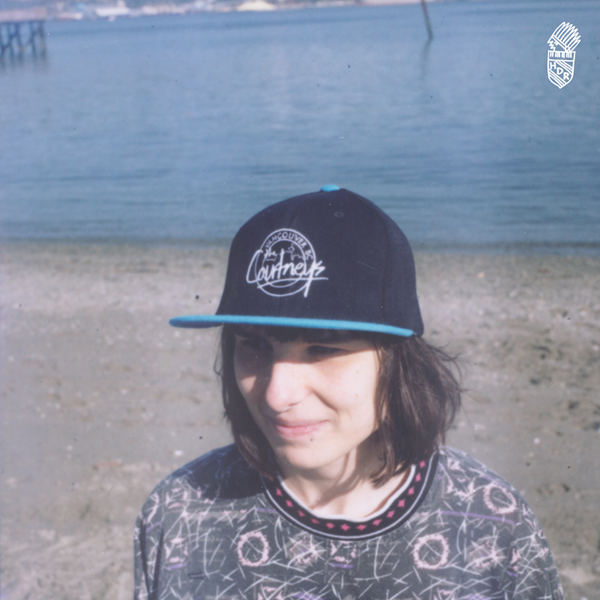 The Courtneys
The Courtneys
Vancouver, BC
From the debauched summer of Chris Sayer:
The Courtneys drift back to the sound of the early '90s while reflecting a fun-in-the-sun west coast mentality. Heavy repeating basslines and snare/kick combos form a punk backbone, while dreamy guitar riffs add a timeless pop element. This is the soundtrack for surfing with beach babes in Tofino, all night dance parties by the bonfire and other fun debauchery. The Courtneys make you forget your worries and hand you a cold beer instead.
De l'été de débauche de Chris Sayer:
(Traduit en revenant de la plage par Hugo Hyart-Dauvergne)
The Courtneys retrouvent le son du début des années 90 avec une mentalité côte ouest très fun-in-the-sun. Lourdes lignes de basse répétitives et combos caisse claire/grosse caisse mettent en place une charpente punk sur laquelle se greffent des riffs de guitare oniriques qui ajoutent une touche de pop intemporelle. C'est la bande-son parfaite pour surfer avec des beautés de plage à Tofino, danser toute la nuit autour du feu de camp et autres jeux débauchés. The Courtneys vous font oublier vos soucis et vous tendent plutôt une bière fraîche.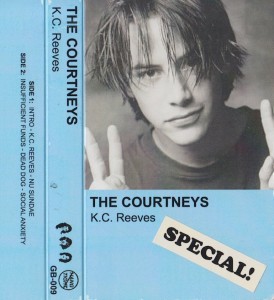 The Courtneys
K.C. Reeves
Vancouver, BC
From the excellent adventure of Bryce Warnes:
Keanu circa '92 is the Courtneys' main crush, and the K.C. Reeves tape, issued by Green Burrito, is ample tribute. When they aren't teaching rock 'n rollers how to lift, Classic Courtney, Cool Courtney and Crazy Courtney are playing theme music for the best summer vacation you never had. The brand new SPECIAL EDITION includes "90210," whose hook hypnotizes like Luke Perry's puppy eyes and resurrects a classic BC lake-jam with a cover of Gob's "Soda." Crank this on your Walkman, close your eyes, and July doesn't seem so far away.
De l'excellente aventure de Bryce Warnes:
(Traduit par l'édition spéciale de Vincent Rondeau)
Les Courtneys ont un faible pour Keanu Reeves (vers 1992) et leur nouvelle cassette sur l'étiquette Green Burrito, K.C. Reeves lui rend hommage en grand. Quand elles n'enseignent pas la musculation aux rockeurs, Classic Courtney, Cool Courtney et Crazy Courtney composent la trame sonore de vos vacances d'été de rêve. Cette nouvelle édition spéciale inclut l'accrocheuse « 90210 » qui vous hypnotise comme le regard doux de Luke Perry ainsi qu'une reprise d'un classique des lacs britanno-colombiens, « Soda » de Gob. Le volume de votre Walkman à fond, les yeux fermés, vous vous croirez presque en juillet.
---