Tag: telephone explosion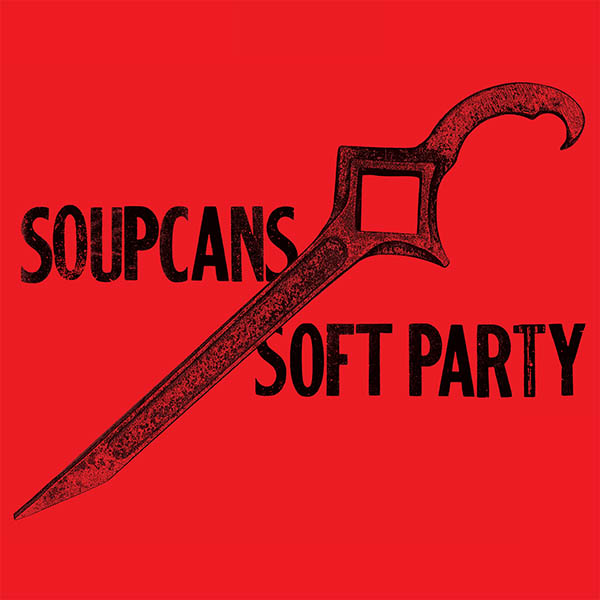 Soupcans
Soft Party
Toronto, ON
From the dank cold cellar of Mitch Jackson:
Word association would suggest a connection between Soupcans and Andy Warhol. That kind of product placement has no place on Soft Party, except if that product placement is for ear plugs. The brutal noise that persists throughout is lifted up by a constant flow of pure meat and potatoes sludge, like they are building a pipeline from the Campbell's Chunky soup factory right into the core of Hogtown, drowning Rob Ford on the Gardiner. Get your spoons ready.
De la cave froide et humide de Mitch Jackson:
(Traduit par le hache-viande plastique de Mackenzie Smedmor)
Les champs lexicaux suggéreraient un lien entre Soupcans et Andy Warhol. Ce genre de placement de produit ne se trouve nulle part sur Soft Party, à moins qu'il s'agisse de placement de produit pour des bouchons d'oreilles. Le bruit brutal qui persiste tout au long est soulevé par un déluge constant de purée viande et de boue de patates, comme s'ils construisent un pipeline de l'usine de la soupe Chunky de Campell's directement au cœur de Hogtown et font noyer Rob Ford sur la Gardiner. Préparez vos cuillères!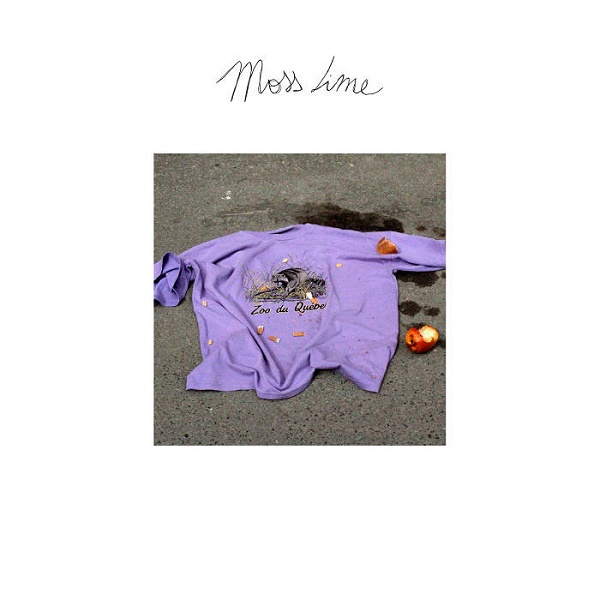 Moss Lime
Zoo du Québec
Montreal, QC
From the memoire footnotes of Rolf Klausener:
The canon of popular music is a thick and robust map of nascent islands and ancient territories. Among them is a land inhabited by the unconscious bass grooves of E.S.G. and the twisted innocence of Beat Happening and the Raincoats; Moss Lime run an eclectic thrift store on its outermost borders. Zoo du Quebec is a furtive tidal wave of immediacy and joy. We're living through a time when vocals are auto-tuned to Adele-ish heights, or stripped of any intimacy by the fog of reverb; singer Hélène Barbier offers glorious contrast. Her dry and dadaist storytelling, sounds like a new friend quietly letting you know, over the din of a packed and sweaty bar, that there's a quiet, late-night cafe around the corner, and it has the best veggie poutine in town; Moss Lime takes your hand, walks you out of the bar, and guides you far from the fray.
Des notes en bas de page de mémoire de Rolf Klausener:
(Traduit par la carte géographique fluorescente de Mackenzie Smedmor)
Le critère de la musique populaire est une carte géographique épaisse et robuste d'îles naissante et d'anciens territoires. Parmi eux se trouve une terre habitée par les grooves de basse inconsciente d'E.S.G. ainsi que l'innocence tordue de Beat Happening et de Raincoats; Moss Lime entretient un magasin d'occasion éclectique sur ses frontières les plus éloignées. Zoo du Québec est un tsunami furtif d'immédiateté et de joie. On vit dans une ère où les chants sont autoaccordés aux apogées à la Adele, ou bien dépourvus d'intimité par le brouillard de réverbération; la chanteuse Hélène Barbier offre un contraste glorieux. Sa narration sèche et dadaïste résonne comme un nouvel ami qui te prévient doucement, au-delà du vacarme du bar bondé et moite, qu'il y a un café nocturne tranquille au coin de la rue qui a la meilleure poutine végétarienne de la ville; Moss Lime te prend la main, t'accompagne hors du bar et te guide loin de la mêlée.
Moss Lime – I Always Get What I Want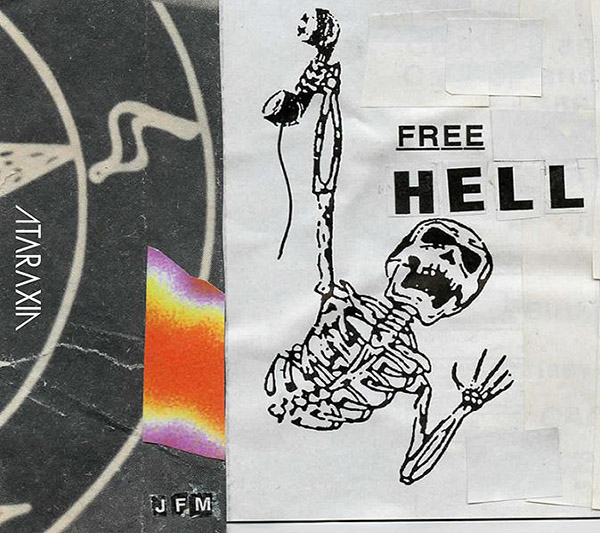 JFM
Free Hell
Halifax, NS
From the dark park head throb of Trevor Angst:
Six decades of Marvin Berry's static activity leaves his skeletal remains in a state of statue. Run a time lapse and watch his hands ossify into a debilitating age of contractured claws to bind an eternal grip around his handset. Pry the landline from his cold dead hands and listen to the receiver closely. Don't mistake it for a dial tone. Jesse Frank Matthews will take you on a journey of a sample-rich miscellany titled Free Hell. Start your descent into this segueing sound collage by dancing to the familiar realms of industrial electro body with a hydraulic lift backdrop. Pan into reverse truncated vocals over a stovetop boil melting BPM breakbeat and carry onward.
De la pulsation de tête au parc sombre de Trevor Angst:
(Traduit par la tempête de cheveux bleu et vert de Mackenzie Smedmor)
Les six décennies d'activité statique de Marvin Berry cèdent ses ossements dans l'état d'une statue. Au fil d'un laps de temps, observez ses mains scléroser en une ère débilitante de griffes contracturées qui serre éternellement dans sa poignée son téléphone. Forcez la téléphonie fixe de ses mains froides mortes et écoutez attentivement le récepteur. Ne le trompez pas pour une tonalité de numérotation. Jesse Frank Matthews vous emmènera en voyage à travers un mélange de prélèvement riche intitulé Free Hell. Débutez votre descente dans ce collage sonore incessant avec une danse au royaume du corps électro industriel devant un fond d'ascenseur hydraulique . Faites un panoramique sur les chants tronqués inversés au-dessus d'une cuisinière aux gros bouillons qui fait fondre les battements par minute du breakbeat et continue vers l'avant.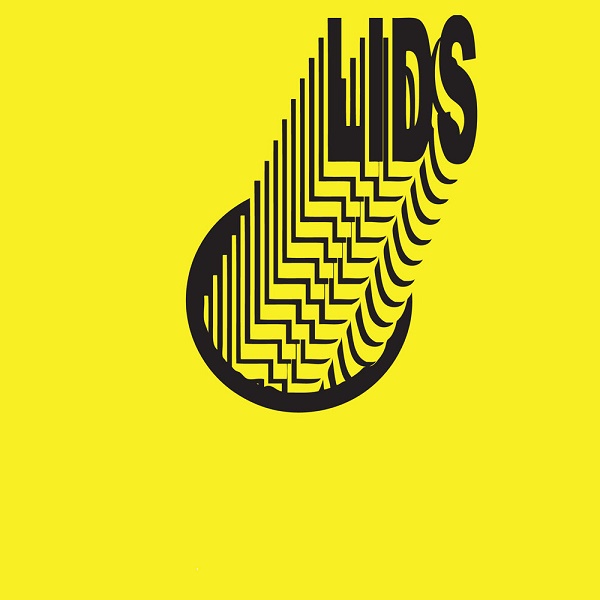 LIDS
SARSFEST B/W BLANK FLAG
Toronto, ON
From the hellish belles of Kevin Hainey:
Lids are rolling thunder, pouring rain. Lids are coming on like a hurricane. Lids' lightning's flashing across the sky. Lids are only young but they're gonna die. Lids won't take no prisoners, won't spare no lives. Lids are putting up a fight. Lids gotta kill, they're gonna take you to hell. Lids gonna get ya, these sides will get ya. Lids kills!
Lids gives ya three sensations from up and down the scene. If you're into METZ then you're a friend of thee. See a fine guy from Constantines who hits notes right. Holy Fuck's Brian Borcherdt's picking it out tight. Lids won't take no prisoners, won't spare no lives. Lids are putting up a fight. Lids gotta kill, they're gonna take you to hell. Lids gonna get ya, these sides will get ya. Lids kills!
Des cloches infernales de Kevin Hainey:
(Traduit par le poète mort de Nicolas Coutlée)
Lids est tonnerre et pluie battante. Lids s'amène dans la tourmente. Lids strie le ciel de ses éclairs. Lids est jeune, mais finira sous terre. Lids ne fait pas de prisonnier, personne ne sera épargné. Lids est prêt pour la bataille. Lids, c'est la mort, prépare-toi pour le croque-mort. Lids aura ta peau, ces chansons auront ta peau. Lids, c'est la mort!
Lids te donne trois sensations de haut en bas de la scène musicale. Si tu aimes METZ, prépare-toi à un régal. Un gars des Constantines qui ne manque pas une note. Brian Borcherdt de Holy Fuck qui n'y va pas de main morte. Lids ne fait pas de prisonnier, personne ne sera épargné. Lids est prêt pour la bataille. Lids, c'est la mort, prépare-toi pour le croque-mort. Lids aura ta peau, ces chansons auront ta peau. Lids, c'est la mort!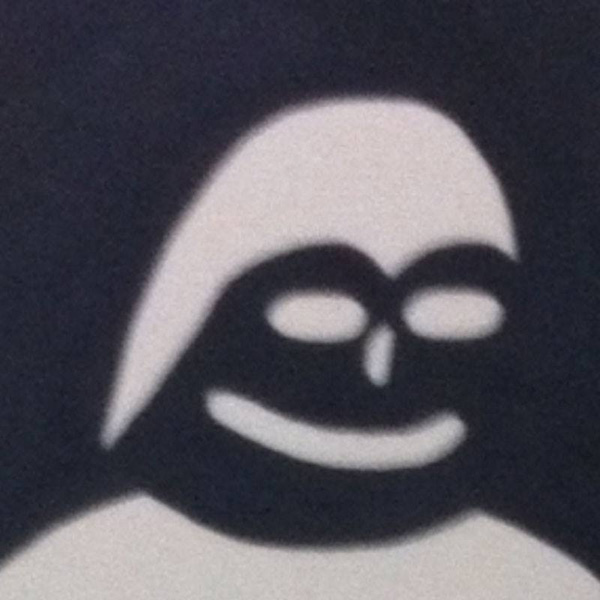 Cellphone
Excellent Condition
Toronto, ON
From the galactic hedonism of Julia Dickens:
Projections of the future are always more appealing when viewed from the past. Nostalgia for an imagined post apocalyptic future punk society looks best with CGI-free green screened special effects. The cold synthesized soundtrack has a comforting, warm warble. Cellphone's past/future vision evokes nihilistic teenage gangs roaming dilapidated cities on their hover boards. Punks hijacking a space ship on a hedonistic tear through the galaxy and straight into hell. Cackle and grin as you twist the knobs on your motorcycle-turned-time-machine and blast off into galactic oblivion.
De l'hédonisme galactique de Julia Dickens:
(Traduit par le nihilisme pimpant de Benoit Arcand)
Vues du passé, les prospections futuristes ont toujours fière allure. Les effets spéciaux plaqués sur écran vert font bien paraître la nostalgie d'une société punk post-apocalyptique fantasmagorique. Douillet, réconfortant même est le silement que produit sa froide trame sonore synthétique. Cette vision d'un passé/à venir est habitée par des bandes d'adolescents sans foi ni loi flânant dans la cité délabrée sur leurs planches flottantes. Des punks détournent une navette spatiale de plaisance et se ruent sans escale en enfer. Fendez-vous donc d'un sourire, d'un ricanement, tandis que la poignée que vous tournez fait vrombir votre moto patentée en machine à remonter le temps, et propulsez-vous dans l'amnésie galactique.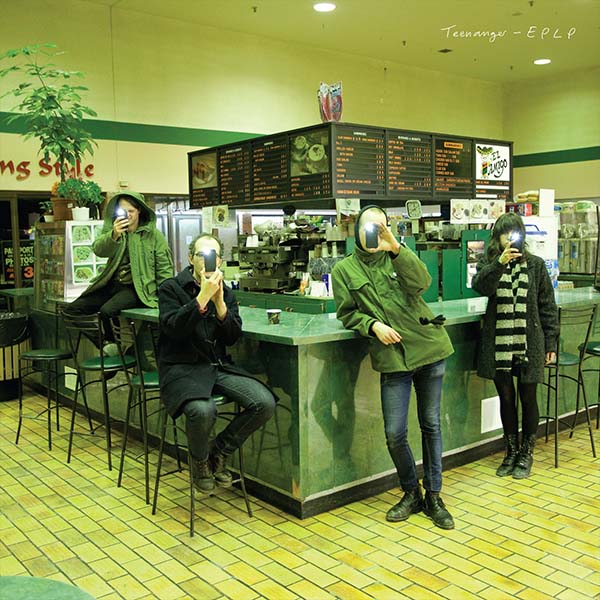 Teenanger
E P L P
Toronto, ON
From underneath the Pizza Shark plates of Mitch Jackson :
Teenanger's E P L P espouses crunchy, raspy guitars and bratty vocals that are as catchy as they are sneering. One stomp on the fuzz pedal and a swig of warm beer and everybody is ready to fucking lose it to these Toronto city slickers. These jams carry a raucous sense of abandon that remind you that it would have been a good idea to do more drugs in high school while your responsibilities were still non-existent. But you remember that you weren't cool enough then. In fact, no one was.
D'en dessous des assiettes de Pizza Shark de Mitch Jackson :
(Traduit par Julie Forget)
L'album E P L P de Teenanger est fait de guitare croustillante et rauque et de voix mal élevées qui sont autant accrocheuses que moqueuses. Un tapement de pied sur la pédale fuzz et une bonne gorgée de bière tiède et tout le monde est prêt à se perdre avec ces Torontois. Les jams dessinent un bruyant sentiment d'abandon, te rappelant qu'il aurait fallu prendre plus de drogues au secondaire lorsque tu n'avais aucune responsabilité. Mais tu te souviens que tu n'étais pas assez cool à l'époque. En fait, personne ne l'était assez.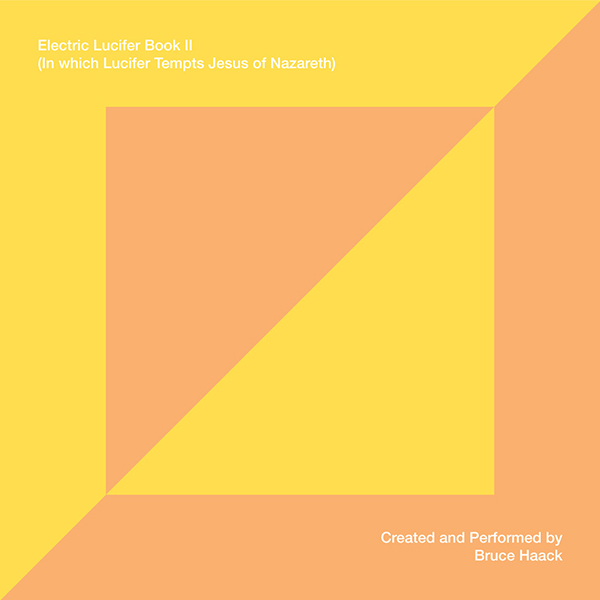 Bruce Haack
Electric Lucifer Book II
Calgary, AB
From the prairie talismans of Jared Majeski:
From the gruff hinterlands of Rocky Mountain House, Bruce Haack is a perpetual anomaly. A prodigious and delightfully confusing lone wolf way, way ahead of his time, he has become revered for personal, technological advances — both in the physical machinery he created and the resulting audio output. Book II, his follow-up to the legendary Electric Lucifer, is lyrically heavy; nursery rhythms and vocoded ruminations layered upon Haack's electronic landscapes. Perhaps it's the premonitory bullseye on the dizzying, beautiful and intensely distracting influence technology has on our lives, but the Haackified vision of the man-machine humanoid has become a perilously real possibility. At this point, one is asked not to just hear and listen, but to try and understand our (d)evolved techno existence.
Des talismans des prairies de Jared Majeski:
(Traduit par Jessica Grenier)
Bruce Haack est une anomalie perpétuelle venant de l'arrière-pays rude de Rocky Mountain House. C'est un prodige de loup solitaire délicieusement confondant et très, très en avance sur son temps, que l'on révère pour ses avancées personnelles et technologiques – tant les machines qu'il a créées que le son qui en sort. Book II, la suite du légendaire Electric Lucifer, est lyriquement lourd : rimes de comptines et ressassages vocodés s'empilent sur les paysages électroniques de Haack. Peut-être qu'il a misé juste en prédisant l'influence intense, belle et étourdissante de la technologie sur nos vies, mais la vision Haackienne de l'humanoïde homme-machine est une possibilité réelle et périlleuse. Rendu là, il ne faut pas se contenter d'écouter, il faut essayer de comprendre la (d)évolution de notre existence techno.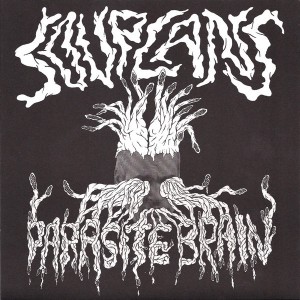 The Soupcans
Parasite Brain EP
Toronto, ON
From the substantia nigra of Brendan Lehman:
Enter the Soupcans. Enter the Soupcans into a world of dystopian chaos, one of grinding distortions and impenetrable walls of sound. Manic screams guide you through dim-lit alleyways vaguely remembered. Living here, it sometimes calms down into a groove, but more days than not it's the unceasing noise of your state oppressor, eating away at your once-sane consciousness. It's hard to tell if it's the cocktail your guy down the street cooked up for you or if that's just the way it has become. Thoughts are fleeting, and you begin to wonder if anyone could ever help. Until you re-emerge, standing in the crowd of your local punk bar, listening to the Soupcans blow your mind. Thankfully it's not the brain-oozing hell you thought it would be, just really good punk.
De la substantia nigra de Brendan Lehman:
(Traduit de la contre-utopie effrayante de Catherine Debard)
Entrez dans Soupcans. Entrez dans Soupcans, dans un monde dystopique, un cauchemar chaotique de distortion écrasante et de murs du son impénétrables. Des cris déments vous guident le long de sombres ruelles vaguement familières. Ici, parfois, ça se calme dans une sorte de groove, mais la majorité du temps, les journées sont imprégnées du bruit incessant de votre oppresseur, qui bouffe tranquillement votre conscience jadis intacte. C'est assez nébuleux, à savoir si c'est le cocktail que ce type en bas de la rue a cuisiné pour vous ou si c'est juste ce que les choses sont devenues maintenant. Les pensées s'enfuient et vous vous demandez si quelqu'un pourra un jour vous aider. Jusqu'à ce que vous émergiez debout dans une foule, dans votre bar punk local, en écoutant Soupcans et en hallucinant carrément. Heureusement, ce n'est pas l'enfer cérébral suintant que vous imaginiez, c'est juste du punk vraiment bon.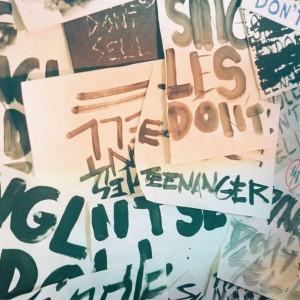 Teenanger
Singles Don't $ell
Toronto, ON
Du buzzsaw ouvrier de James Lindsay:
(Traduit par Jankarza)
La génération favorite de (Snott)Y punks de Toronto et piliers de l'importante maison de disques Telephone Explosion laissent le garage pour un new wave sale en continuant de hurler un rock buzzsaw de façon astucieuse, sexy et cynique. Ils sont devenus des adultes (dans un bon sens), mais pas nécessairement plus matures (aussi dans un bon sens), tout comme quelque riche garçon fou et désorienté que tu ne peux cesser de regarder.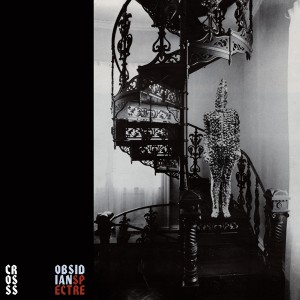 Crosss
Obsidian Spectre
Hamilton, ON
From the mantra-verse of Taylor Burgess:
"Look now, it's past twelve. The witching hour is nigh. Use the evil eye." Left-handed guitarist Andy March leads this disc into the chalked-up garage for a solemn ritual to open portals between two worlds: sludge doom and punk giddiness. Once invoked, the obsidian spectre is both punishing and playful, teaching tricks and reminding us of the golden fight. The stripped-down trio Crosss play along, bouncing reverb-drenched licks off the walls to make their mantra-verse-mantra songs pop. But when the 20-minute B-side "Will-o'-The-Wisp" hits, there's no structure in sight. It's like you've gotten lost in the dark, psychically gripping for any familiar sensation, eventually relieved to encounter mysterious light.
Du refrain-mantra de Taylor Burgess:
(Traduit du spectre de l'obsidienne de Dominic Mpilé)
"Regarde, il est minuit passé. L'heure des sorcières approche. Utilise le mauvais œil." Le guitariste gaucher Andy March mène cet album dans le garage au pentacle de craie pour un rituel solennel afin d'ouvrir les portails entre deux mondes : le sludge doom et le punk vertigineux. Une fois invoqué, le spectre de l'obsidienne s'avère à la fois cruel et ludique, nous enseigne des tours tout en nous rappelant la bataille flavescente. Le trio minimaliste Crosss envoie rebondir contre les murs ses riffs noyés d'écho pour que surgissent leurs chansons mantra-refrain-mantra. Or quand s'abat "Will-o'-The-Wisp", la face B de 20 minutes, il n'y a plus de structure à l'horizon. Perdu dans les ténèbres, à tenter de vous accrocher mentalement à quelque sensation familière, vous serez enfin libéré au moment de pénétrer la lumière mystérieuse.
---