Tag: taylor burgess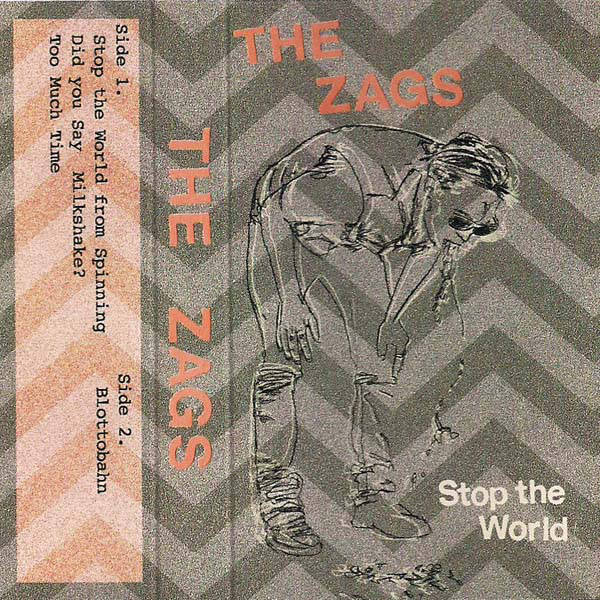 The Zags
Stop the World
(Self Released)
Winnipeg, MB
From the blottobahn of Jesse Locke:
Cold chillin' in the booth at Lou's Cafe, Winnipeg's Zags plot their next move. These prairie-punk slackers are fiending for the slurp, fueling up for their next gig at the sock hop. With a sugar-rush punch of friendly fuzz, this trio pogos in style like a landlocked Les Savy Fav.
Du blottobahn de Jesse Locke:
(Traduit par la langue bleue de Jessica Grenier)
Les Zags de Winnipeg manigancent leur prochaine action en relaxant sur une banquette du Café 80. Ces punks paresseux des Prairies amateurs de slurp font le plein avant leur prochaine gig : une soirée pour ados. À coup de fuzz en surdose de sucre, le trio danse le pogo avec style, comme un Les Savy Fav les deux pieds au sol.

The Zags – Did You Say Milkshake?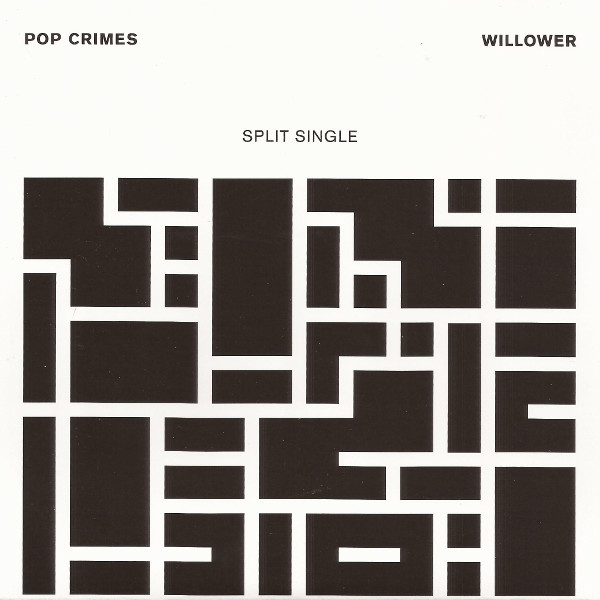 Pop Crimes // Willower
Split
Winnipeg, MB // Toronto, ON,
From the antennae occupation of Taylor Burgess:
This split is a slow, six-legged pull of your belly over the static and hum — before the RGB detonates and sends you into antennae-occupied space. Pop Crimes are brandishing buzzsaws while singer/guitarist Stefan Braun delivers a maniacal monologue of some sick Cronenberg persuasion; Long live the new flesh, and keep running around. Willower is on a modal meditation of what was once west, which winds can be commanded up, and whose waves will wind up on empty shores. The medieval script's source has yet to be unearthed, but Crosss' Andy March conjures the b-side all by his lonesome.
De l'occupation par les antennes de Taylor Burgess:
(Traduit par Jessica Grenier)
Ce split se fait sentir lentement, ses six pattes vous tirant par le ventre au-dessus des parasites vrombissants – juste avant que le RVB n'explose et vous envoie dans l'espace occupé par des d'antennes. Pop Crimes brandissent des scies mécaniques pendant que le chanteur-guitariste hystérique, Stefan Braun, se livre à un monologue tordu à la Cronenberg. Longue vie à la nouvelle chair, qu'elle poursuive son œuvre. Willower s'adonne à une méditation modale sur ce qu'était jadis l'Ouest, sur quels vents peuvent être commandés et sur quelles vagues viendront s'abattre sur le rivage désert. La source de l'écriture médiévale demeure enfouie, mais Andy March, de Crosss, sait évoquer la face B seul.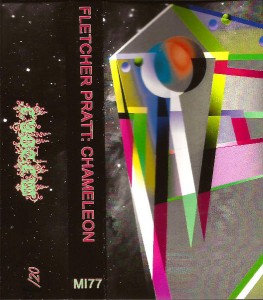 Fletcher Pratt
Chameleon
Winnipeg, MB
From the stereoscopic eyes of Taylor Benjamin Burgess:
Ever changing, Fletcher Pratt keeps swaying on, making his kaleidoscope way through the ever-spooling landscape. Departing from early tape collages, he drove rhythmic noise over the edge, steered into and out of squealing absurdity, and rolled the top down to show off his spacey reggae. Chameleon returns to the arrhythmic, sounding every bit as disorienting (yet charming) as stereoscopic eyes and chromatophores. It's like a sentient Nintendo cartridge finally took one too many blows, broke up and said, "Y'know what? Fuck it," and went far, far off the grid. Into the woods, to prance and creep around. For the glam chameleon
Des yeux stéréoscopiques de Taylor Benjamin Burgess:
(Traduit par le regard ondoyant de Joannie Pharand)
En perpétuelle évolution, Fletcher Pratt continue son déhanchement, traçant son passage de façon kaléidoscopique à travers la bobine éternelle du paysage. Commençant par des premiers collages audios, il a poussé le rhythmic noise par-dessus bord, conduit à l'intérieur et à l'extérieur d'une absurdité grinçante, pour enfin rouler les fenêtres baissées et faire rayonner son reggae planant. Le Caméléon retourne à l'arythmie, sonnant tout aussi désorienté (quoique charmant) que des yeux stéréoscopiques et des chromatophores. C'est comme une cassette de Nintendo douée de sens qui, après avoir reçu trop de coups, s'était brisée et s'exclamait finalement : « Tu sais quoi ? D'la marde, » et dégageait de la place, s'en allait bien loin. Dans les bois, pour se pavaner et rôder. Pour qu'il sonne de cette façon, ce caméléon glamour devra tout d'abord se transformer en soupe primaire.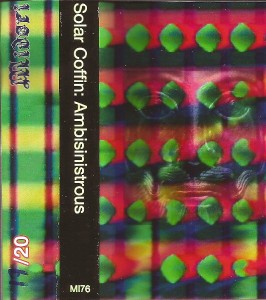 Solar Coffin
Ambisinistrous
Winnipeg, MB
From the time-lapse cocoon of Taylor Burgess:
Clicking in this cassette will be your final nail. It shall shunt you off into deep, lifeless space. No prospect of a return trip. And as you drift further, so does Ambisinistrous; it's a time-lapse cocoon, building the oscillating void around and within you. The duo makes use of all oscillations, creating rapt crowds in their great audiovisual din. It should be no surprise that Fletcher Pratt is half of the droning bliss behind this small-run cassette, with Erik Larsen taking the rest of the knob-twisting to the stars.
Du moment de cocon de Taylor Burgess:
(Traduit par Jacinthe Laplante)
Cliquer sur cette cassette sera votre coup de grâce. Elle vous mènera aux confins d'un espace sans vie. Sans possibilité de retour. Comme vous, Ambisinistrous dérive plus loin, un moment dans un cocon, créant un vide vibrant autour et à l'intérieur de vous. Ce duo utilise toutes les oscillations, captivant les foules avec leur grand boucan audiovisuel. Il n'est pas surprenant que Fletcher Pratt soit derrière le bonheur bourdonnant de cette courte cassette avec Erik Larsen qui nous porte jusqu'aux étoiles en jouant avec les boutons de réglage.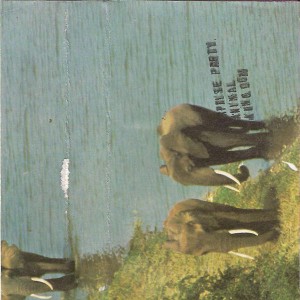 Surprise Party
Animal Kingdom // Continents of the World
(Self Released)
Winnipeg, MB
From the one-eyed wink of Taylor Burgess:
Ah, misguided youth. Both the muse and the balladeer of the doomed. Surprise Party wrap it up in such a lovely package, complete with nine earworms to make you twist your head and get down! But shouldn't these scrappy punks be shunted from the city for their crimes of energetically singing about calling in sick, super cool girlfriends, and damning their own immaturity? Banish them out, but the band (led by Mischa Decter and backed by a couple of The Hoots) are bound to swoop back in, carry off the kids, and, like their online cover art, turn around for a final one-eyed wink.
Du clin d'œil de Taylor Burgess:
(Traduit par le sourire narquois de Joannie Pharand)
Ah, les jeunes malavisés. À la fois les muses et les chanteurs romantiques maudits. Surprise Party emballe dans un très joli paquet contenant neuf vers d'oreilles qui vous feront bouger et vous éclater. Ces punks morcelés ne devraient-ils pas être expédiés de la ville pour avoir chanté énergiquement au sujet de congés de maladie, de copines super cool et de la condamnation de leur propre immaturité ? Chassons- les ! Mais, le groupe (dirigé par Mischa Decter et appuyé par quelques membres de The Hoots est certain de plonger de nouveau, de transporter les jeunes et tout comme sur la [pochette de leur album] [http://surpriseparty420.bandcamp.com/album/animal-kingdom-continents-of-the-world-2], de se retourner juste à temps pour un dernier clin d'œil.
Surprise Party – Beach Birthday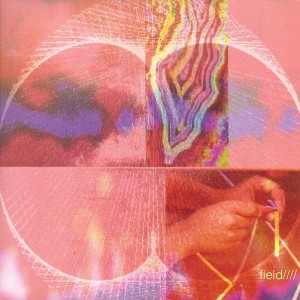 field ////
field ////
(Self Released)
Winnipeg, MB
From the DADADADADADADA of Taylor Burgess:
The matter of field //// is one of a boundless journey, once you subtract the quartet's self-imposed limitations. On each of their "compositions," instrument changes are predetermined to the second. Tone, technique and motifs are not. Soon, the four grown men of field //// (including members of Philia, Auntie Dada and Mahogany Frog) are flying and fooling alongside one another, collectively passing through the timer, never to return to the sonic combinations which made you wince or pause to deliberate. Projections of Charles Ives and AIDS Wolf watch overhead, detached. A performance of "Enfolded Origins" will never again have pulsing keys fading into deadened jungle drumming, but will always end with the buzzer at 16 minutes and 13 seconds, bringing the arranged freeform quartet back to earth and the big, open stages they often play.
Du DADADADADADADA de Taylor Burgess:
(Traduit par le pouls ralenti de Patrick Du Tremble)
La question de field //// en est une de voyage sans borne, une fois les limites auto-imposées par le quatuor retirées. Sur chacune de leurs « compositions », les changements d'instruments sont prédéterminés à la seconde près. La tonalité, la technique et les motifs ne le sont pas. Donc, rapidement, les quatre hommes de field //// (incluant des membres de Philia, Auntie Dada et Mahogany Frog) s'envolent et jouent l'un à côté de l'autre, passant collectivement le temps sans jamais retourner aux combinaisons sonores qui vous ont fait tressaillir ou arrêter pour réfléchir. Des manifestations de Charles Ives et de AIDS Wolf observent avec détachement. Une performance de « Enfolded Origins » n'aura jamais plus la pulsation des claviers qui se dissipent en laissant place aux rythmes tropicaux feutrés, mais se terminera toujours avec la sonnerie à 16 minutes 13 secondes, ramenant le quatuor de freeform arrangé sur terre, sur les grandes scènes ouvertes sur lesquelles ils se produisent souvent.
field //// – Frankenstein Movements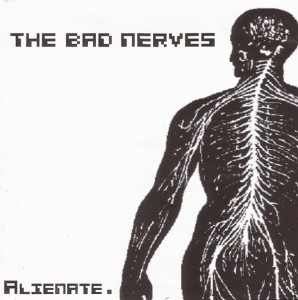 The Bad Nerves
Alienate
(Self Released)
Winnipeg, MB
From the 122 hours of Taylor Burgess:
Synth-punk trio the Bad Nerves can't grok what the shit's going on around them in this strange land, sending them headlong into a prolonged period of fear and a brutal disassociation with the human race. Watch them spaz out in anxious fits, crying to be accepted beyond this world. There aren't any UFO synths sweeping within Alienate, but the trio's phasers are set to induce helplessness, paranoia, and general chaos. Hold tight, because the Bad Nerves are on the attack until someone takes them home.
Des 122 heures de Taylor Burgess:
(Traduit sur un lit assis en indien, par Juitch)
Bad Nerves, le trio de synthé-punk, ne catche vraiment pas ce qui se passe autour de lui en cette terre étrange, qui les fait plonger la tête la première dans une période prolongée de peur et une dissociation brutale avec la race humaine. Regarde-les péter leur coches dans des crises de nerfs, suppliant d'être acceptés dans l'autre-monde. Il n'y a aucun synthé-OVNI qui balaye Alienate, mais les phrasés du trio s'apprêtent à causer l'impotence, la paranoïa et le chaos général. Accroche-toi bien car les Bad Nerves sont au front attendant qu'on les ramène à la maison.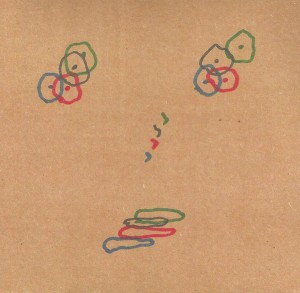 The Girth
The Girth
(Self Released)
Winnipeg, MB
From the proto-pogo of Taylor Burgess:
Fronted by the absurd Steve Basham, The Girth can be considered amongst the best jokers, jesters, and harlequins. Well versed in the schools of pogo and proto, they warble through one non-sequitur after another—chased by the "Messy Man," conversing with fish, or dealing with an outbreak of scabies. And the parts of their tunes that aren't imagined (actually, the scabies outbreak was real) all coalesce into a whimsical and impassioned journey. Their armpits reek of art school funk, their notebooks are full of 4 a.m. observations, and their throats are sore from screaming along to one last side before the night's gone bright again.
Du proto-pogo de Taylor Burgess:
(Traduit de la bouffonnerie par Audrey Roy)
Piloté par l'absurde Steve Basham, The Girth compte parmi les meilleures troupes de blagueurs, de bouffons et d'arlequins. Versés dans les arts du pogo et du proto, ils bondissent d'une fausse conclusion à une autre, poursuivis par l'"Homme Désordonné", en pleine discussion avec un poisson ou aux prises avec une épidémie de gale. Les parties de leurs chansons qui ne sont pas inventées (car il y a vraiment eu une épidémie de gale!) fusionnent toutes pour se transformer en une aventure exaltante et fantasque. Leurs aisselles suintent de funk d'école d'art, leurs cahiers de notes sont pleins d'observations faites à 4 heures du matin et leurs gorges sont endolories à force de s'époumoner sur ce dernier côté, avant que la nuit ne soit de nouveau éclairée.
Microdot
Middle-Age Dating
Winnipeg, MB
From the bittersweet beach of Taylor Burgess:
Kick the biggest flanger pedal around and kick back, because here comes Microdot's newest take on kiwi-pop. This time, Rob Nay and Bill Northcott are back with a vengeance for their relatively cold realities — they'd rather not impress prospective mates, they have no money for their broken car, and they just can't unwind. Don't worry though — what sounds like a heap of bummers actually makes for a heap of bittersweet beach tunes and you could easily run this tape thin by rocking it and rewinding it, which you probably already did to their first outing by now.
De la plage douce-amère de Taylor Burgess:
(Traduit par l'ex-Parisien Juitch)
Donne un bon coup de pied sur la plus grosse pédale de flanger à ta disposition et détends-toi, car voici la nouvelle attaque de Microdot contre la kiwi-pop. Cette fois, Rob Nay et Bill Northcott sont de retour pour se venger de leurs existences plutôt mornes (ils préféreraient ne pas faire bonne impression auprès d'éventuels amis, n'ont pas d'argent pour réparer leur char pété et sont tout simplement incapables de se calmer). Pas d'inquiétude, ce qui semble n'être qu'un tas de situations poisseuses est en réalité un tas de chansons de plage douces-amères rassemblées sur une cassette dont tu pourrais facilement ruiner la bande audio en l'écoutant en boucle, ce que tu as probablement déjà fait avec leur première parution.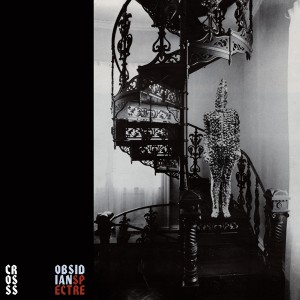 Crosss
Obsidian Spectre
Hamilton, ON
From the mantra-verse of Taylor Burgess:
"Look now, it's past twelve. The witching hour is nigh. Use the evil eye." Left-handed guitarist Andy March leads this disc into the chalked-up garage for a solemn ritual to open portals between two worlds: sludge doom and punk giddiness. Once invoked, the obsidian spectre is both punishing and playful, teaching tricks and reminding us of the golden fight. The stripped-down trio Crosss play along, bouncing reverb-drenched licks off the walls to make their mantra-verse-mantra songs pop. But when the 20-minute B-side "Will-o'-The-Wisp" hits, there's no structure in sight. It's like you've gotten lost in the dark, psychically gripping for any familiar sensation, eventually relieved to encounter mysterious light.
Du refrain-mantra de Taylor Burgess:
(Traduit du spectre de l'obsidienne de Dominic Mpilé)
"Regarde, il est minuit passé. L'heure des sorcières approche. Utilise le mauvais œil." Le guitariste gaucher Andy March mène cet album dans le garage au pentacle de craie pour un rituel solennel afin d'ouvrir les portails entre deux mondes : le sludge doom et le punk vertigineux. Une fois invoqué, le spectre de l'obsidienne s'avère à la fois cruel et ludique, nous enseigne des tours tout en nous rappelant la bataille flavescente. Le trio minimaliste Crosss envoie rebondir contre les murs ses riffs noyés d'écho pour que surgissent leurs chansons mantra-refrain-mantra. Or quand s'abat "Will-o'-The-Wisp", la face B de 20 minutes, il n'y a plus de structure à l'horizon. Perdu dans les ténèbres, à tenter de vous accrocher mentalement à quelque sensation familière, vous serez enfin libéré au moment de pénétrer la lumière mystérieuse.
---